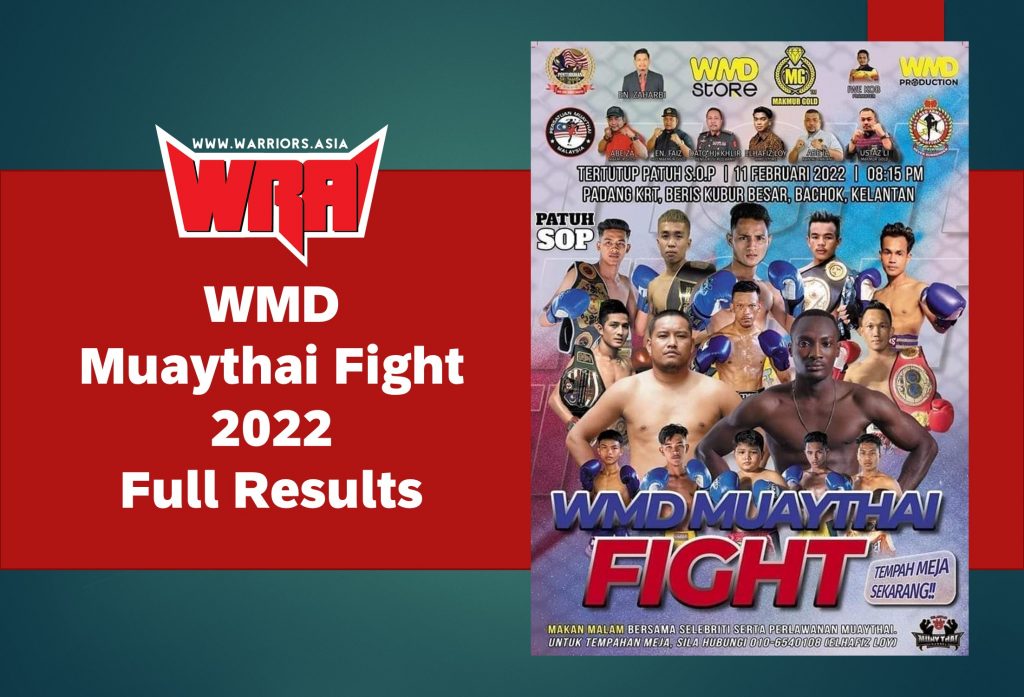 11 FEB 2022
WMD Muaythai Fight 2022 was organized in the heartland of Malaysian Muaythai – the state of Kelantan. This state has many influences from Southern Thailand and Muaythai being one of its most popular one.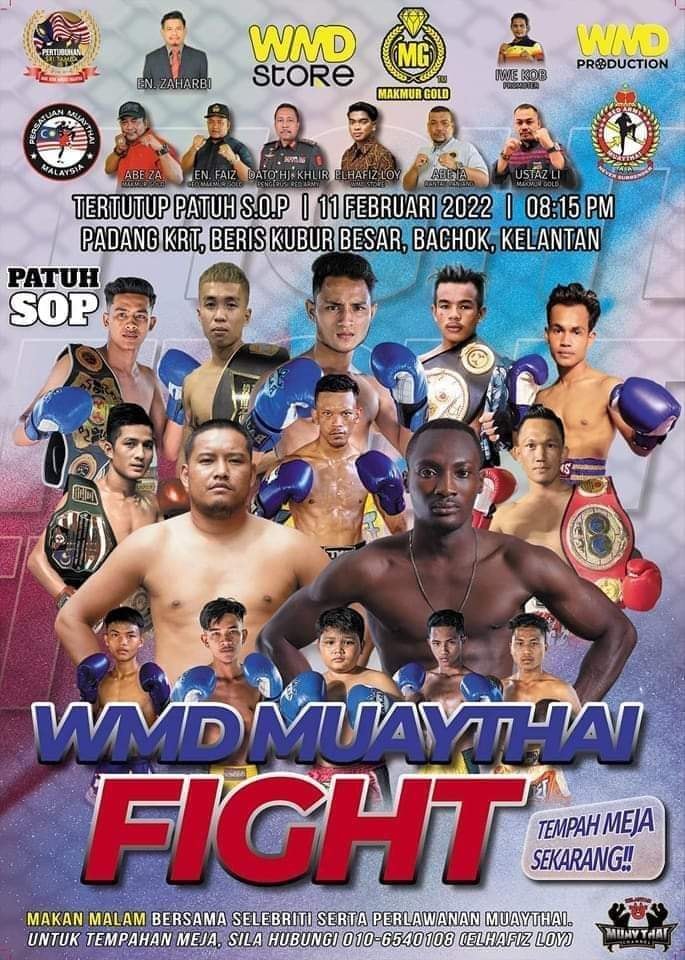 Tomoi as its known in Malaysian lingo or at times just simply call Motai, it is a regular activity in Kelantan. Before the pandemic hit, there were events every other week being organized. So, for more than 2 years during the pandemic, it has been very quiet. Fighters are itching to enter the ring, fans are eager to see action & promoters and sponsor are just waiting for the right time.
As Malaysia is entering the endemic stage of Covid19, plans were put in place for a grand event to kick-start Kelantan back into Muaythai action.
WMD Muaythai Fight 2022 was organized by the WMD Store team and two main sponsors were Makmur Gold& CIMB Islamic (Kelantan) and the support fromMuaythai Malaysia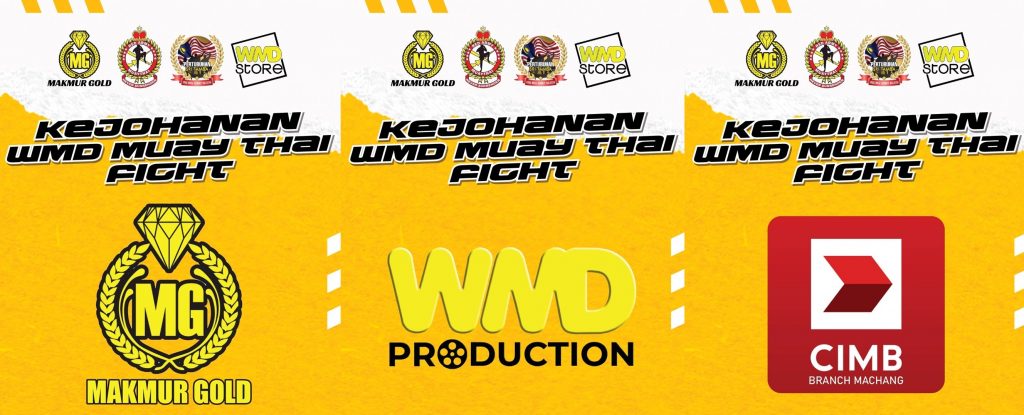 Seats for dinner tables were sold for attendance & it was sold out quickly!
This was a grand event for Kelantan with proper stage, walk out platform, stage lightings & good sound system put in place.  Local celebrity was invited to entertain the crowds. A theme song was also created to hype up the event.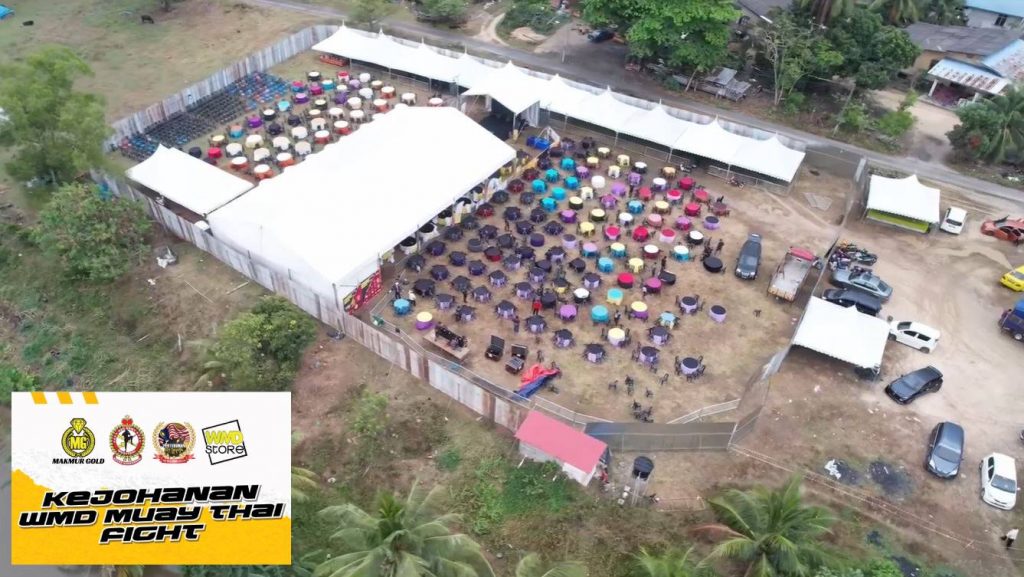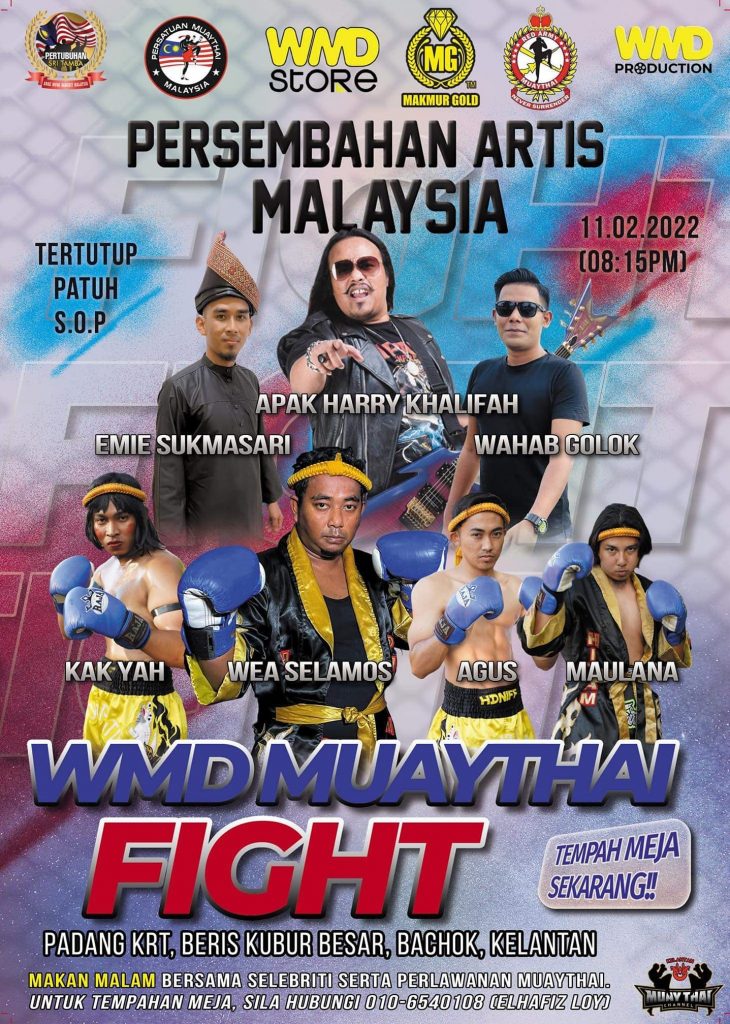 Celebrity appearance to entertain the crowd
Click here to check out the theme song
Only 8 bouts were competed. The fight was using the Kelantan style of rules set where, only a Knockout can win the fight, no judges decision. If no one gets knocked out, then the fight is rule a draw. This has been the tradition in Kelantan for a long time. Reason is… to dispel any dispute raised from disagreement of judges' decision.
Only 3 bouts saw an outright winner by knock out.
Below are the full results: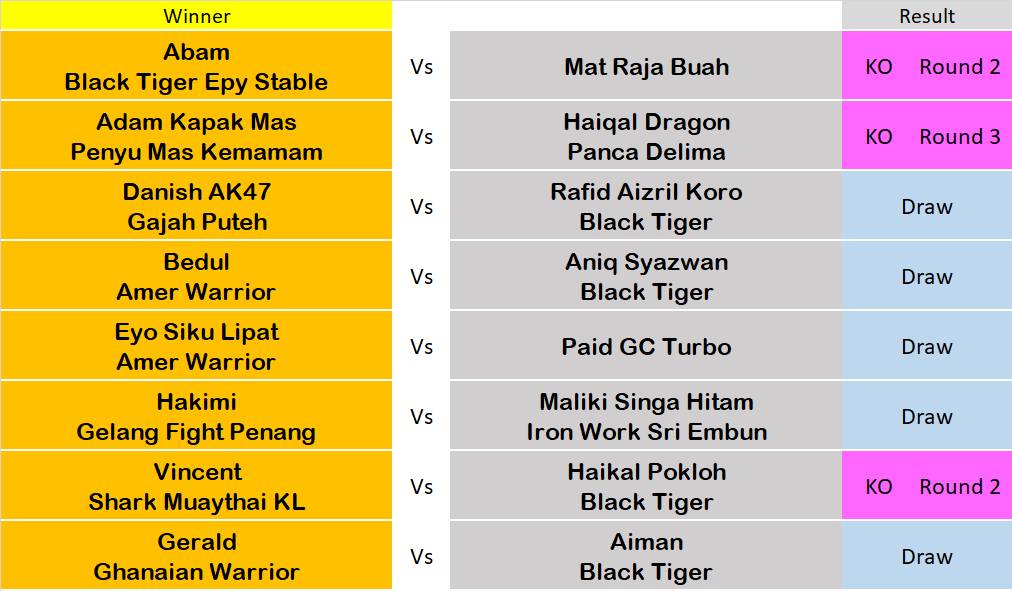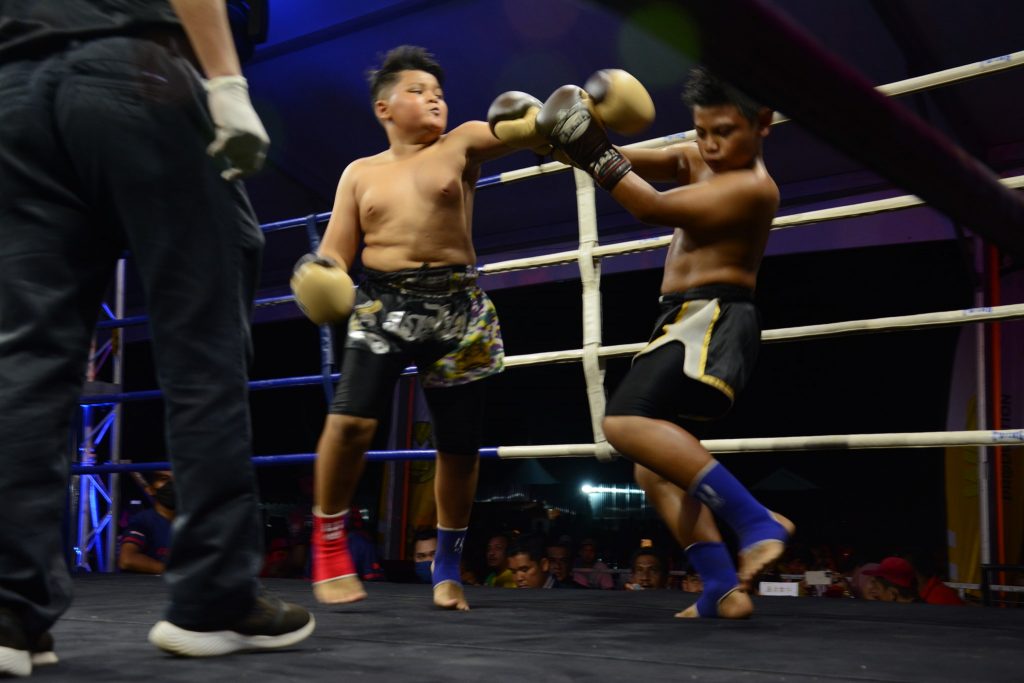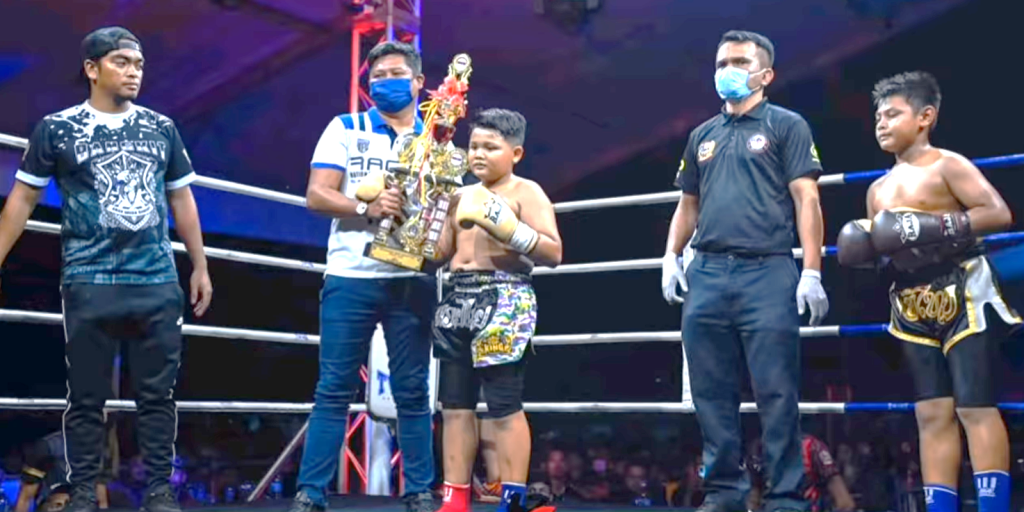 The fights were open by a junior category fight between Abam Black Tiger Epy Stable (RED) vs Mat Raja Buah (BLUE), a very spirited fight by both this junior and Abam took home the victory trophy by KO in Round 2
Click here to watch the fight: Abam Black Tiger Epy Stable (RED) vs Mat Raja Buah (BLUE)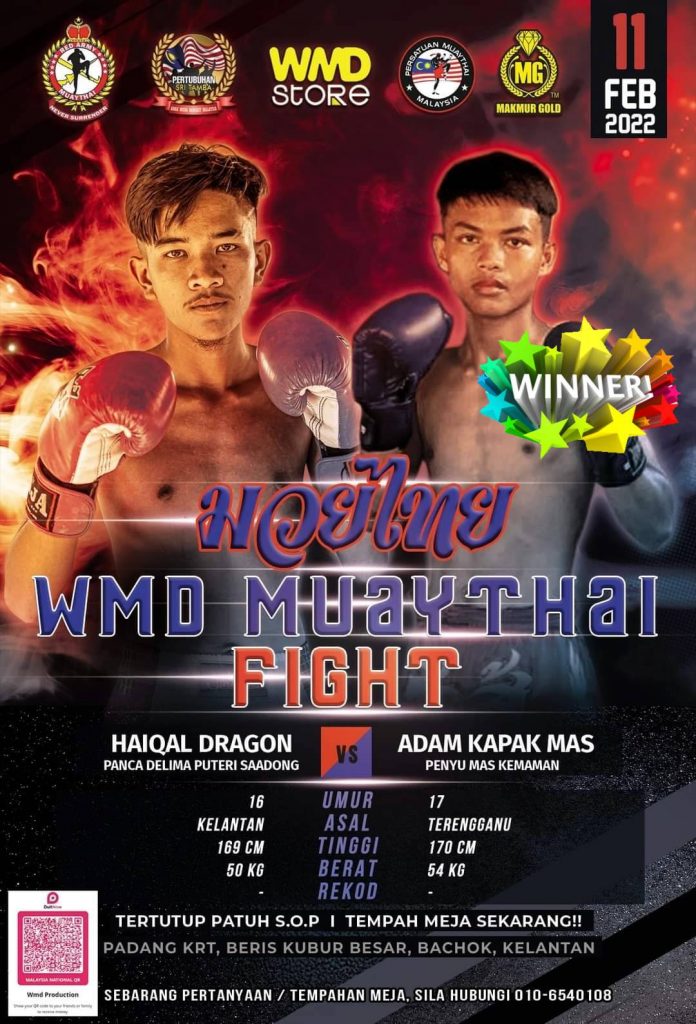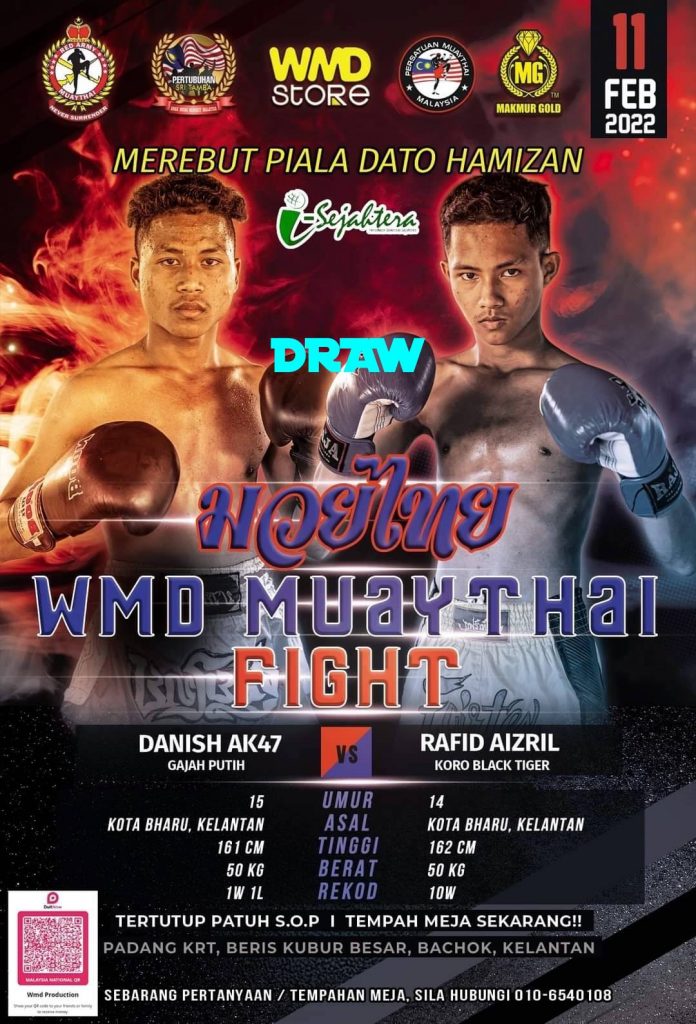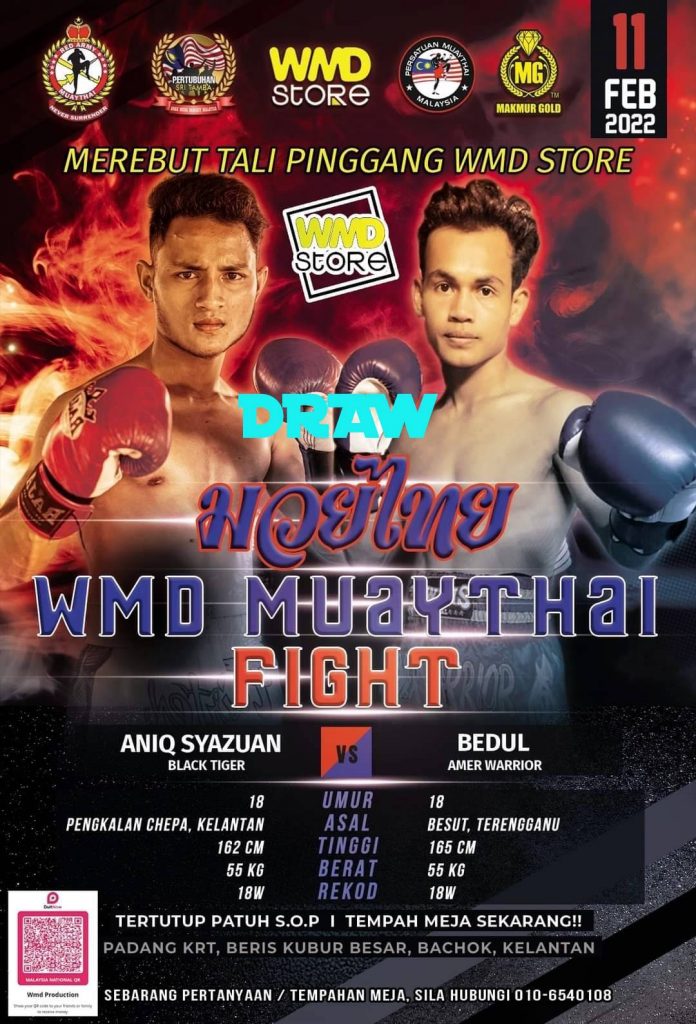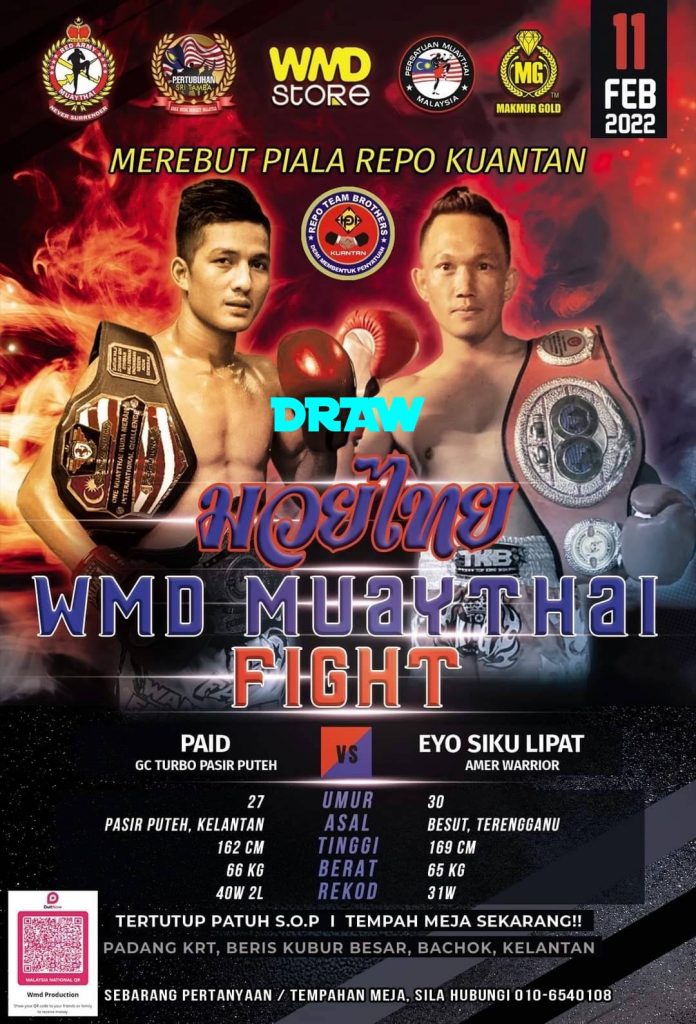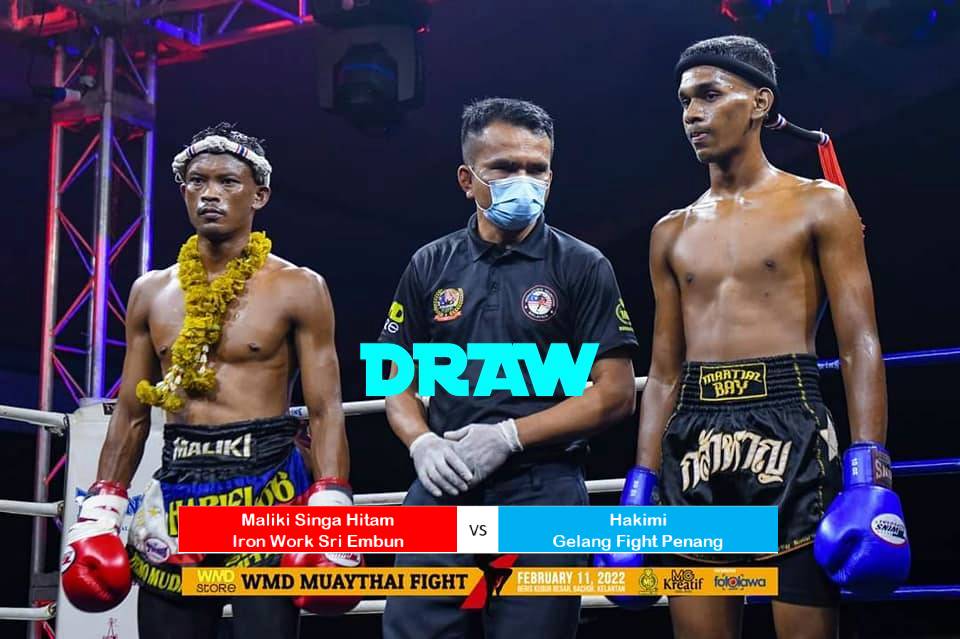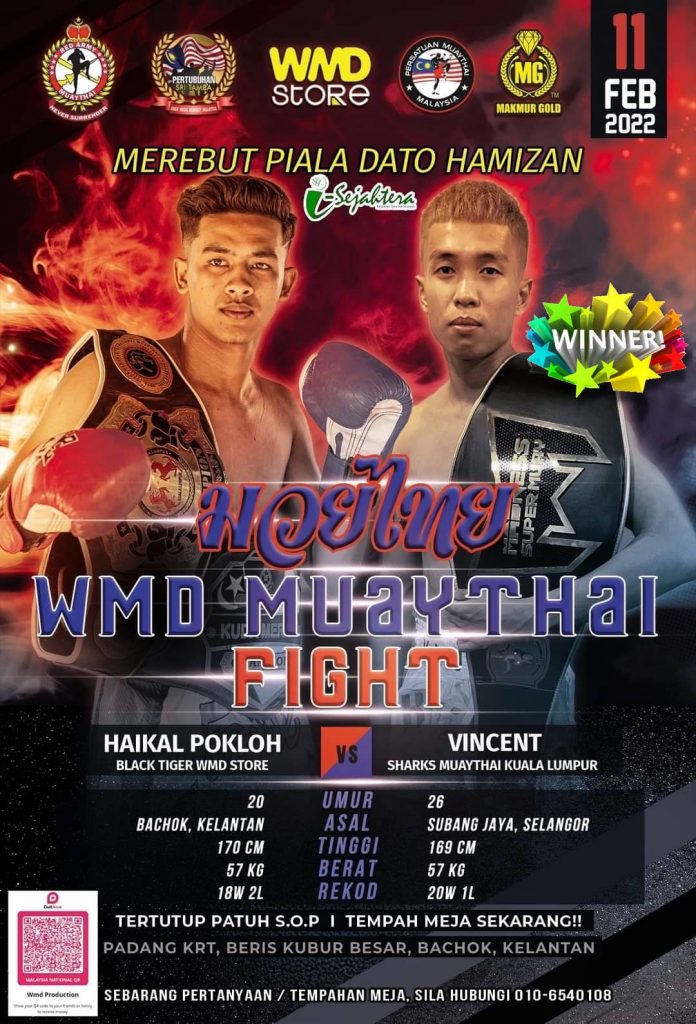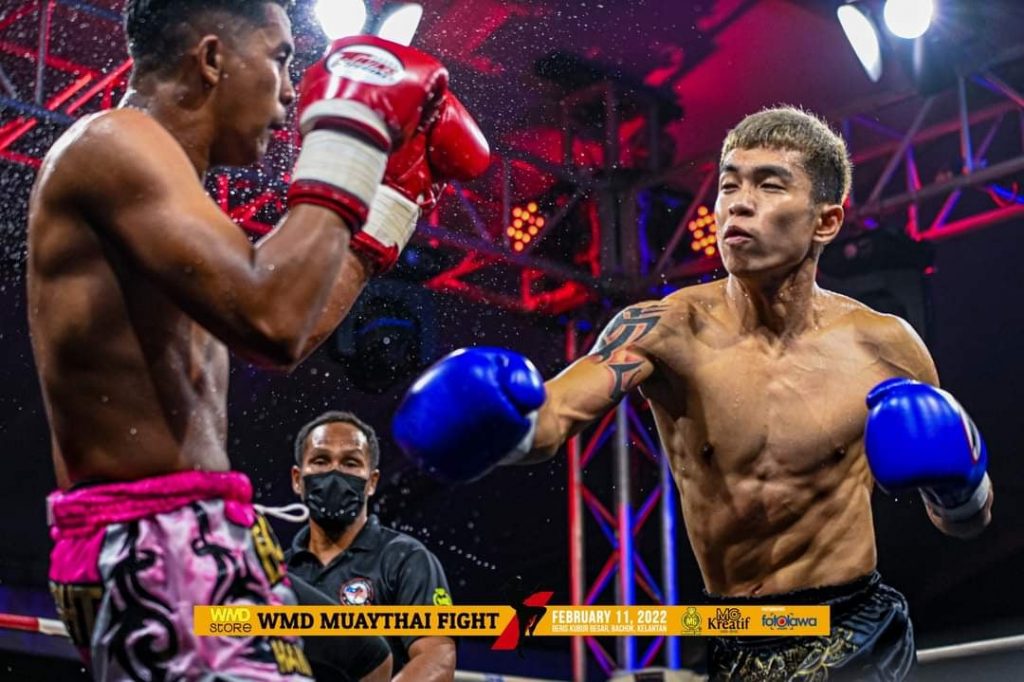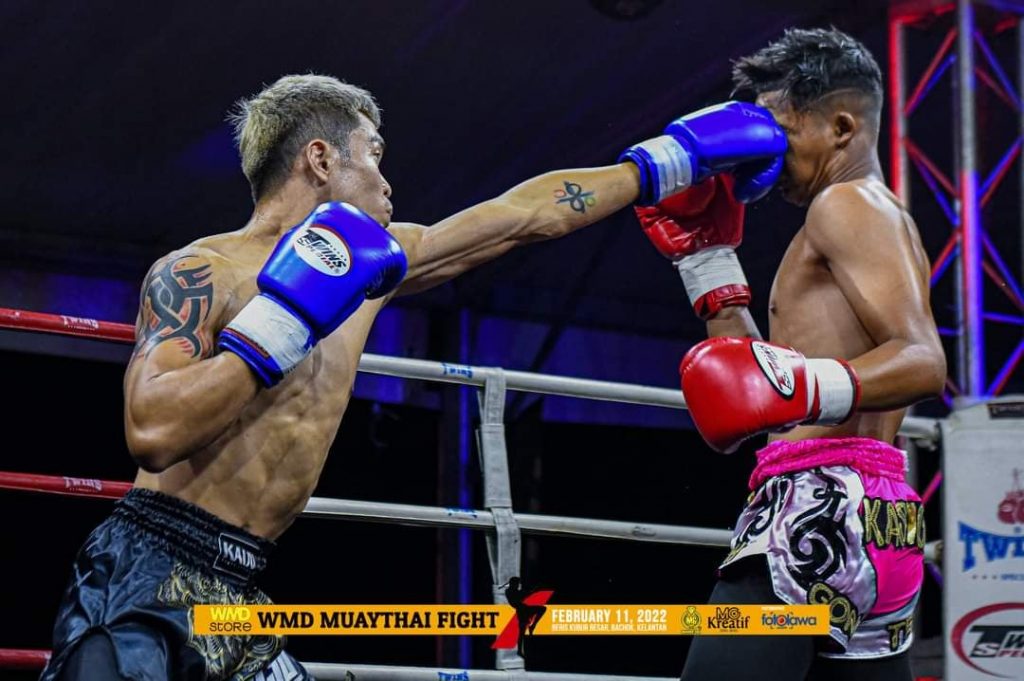 Vincent Seaw of Sharks Muaythai manage to extend wins in Muaythai. Vincent was 2020 MADNESS Super Muay Asian Challenge Champion. He last fought in 2021 AMG Challenge.
Vincent secured the win over Haikal Pokloh in round 2 with a combination of punches.
Watch the fight ending combos here : Vincent Seaw vs Haikal Pokloh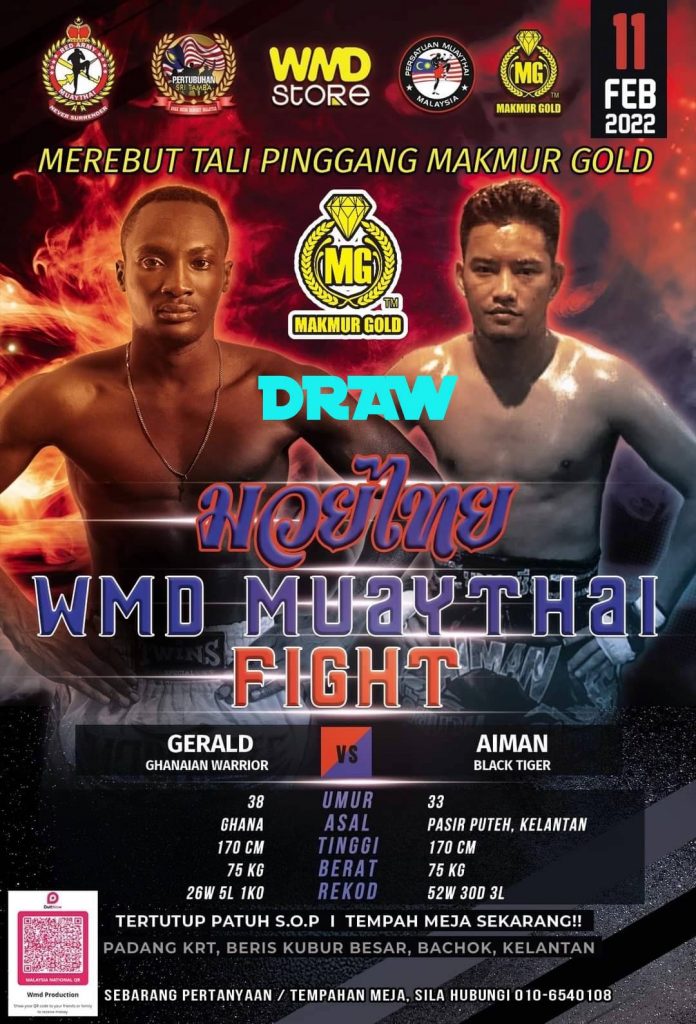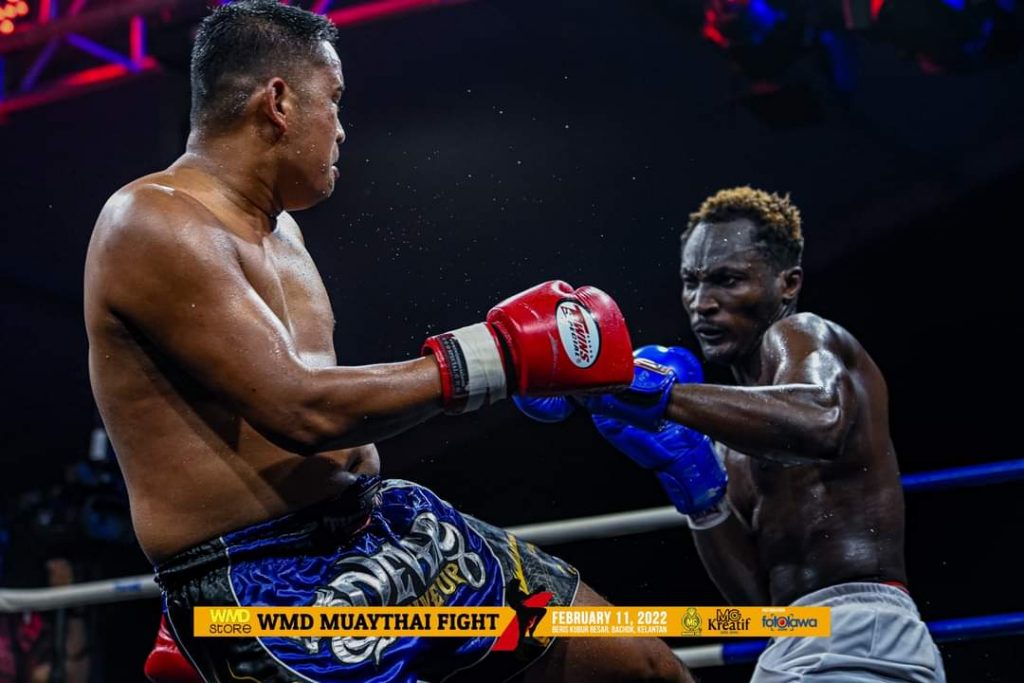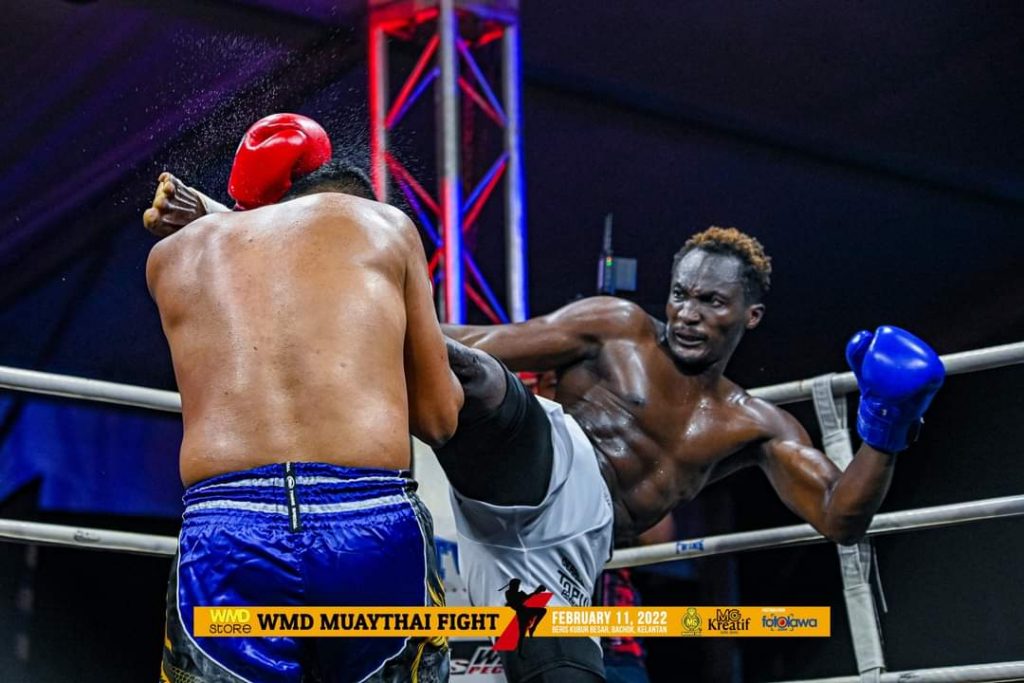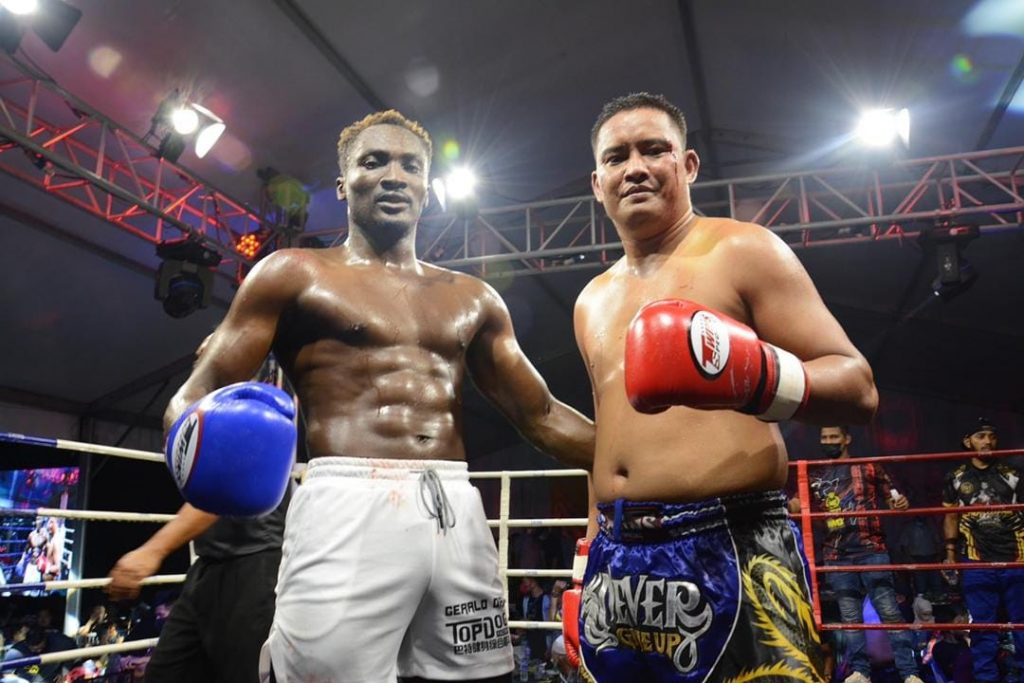 In the closing main event, it was for the heavy hitters in the 75kg between Aiman & Gerald.
Aiman is well known in the local Muaythai scene & has appeared in many main events. He has unofficially retired and has not fought for the last 3 years but came out to fight to bring back the glory of Muaythai to Kelantan.

Gerald Dah is from Ghana but resides in Miri, Sarawak. He is a black belt in Taekwondo, is an instructor in Top Dog Gym Miri & has numerous experiences fighting in & out of China.
In Round 1, Gerald almost walks away with a head kick KO that floored Aiman. But Aiman home-town crowd cheered him on & he manage to stand up & continued the fight. Click here to see the video : Aiman Black Tiger vs Gerald Ghanaian Warrior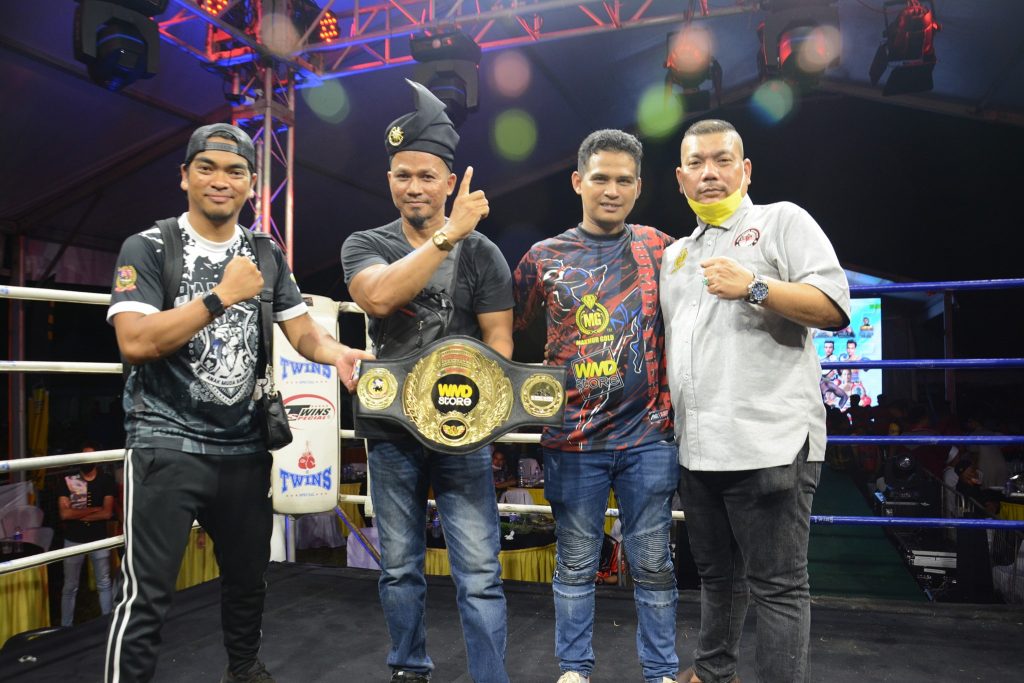 People that made WMD Muaythai Fight 2022 possible.
Left to right: En. Hafiz – Event Director (WMD Store), En. Suhaimi – Technical Director, Farid Izuan – Fighter Management & Abe Ja – representative from Muaythai Malaysia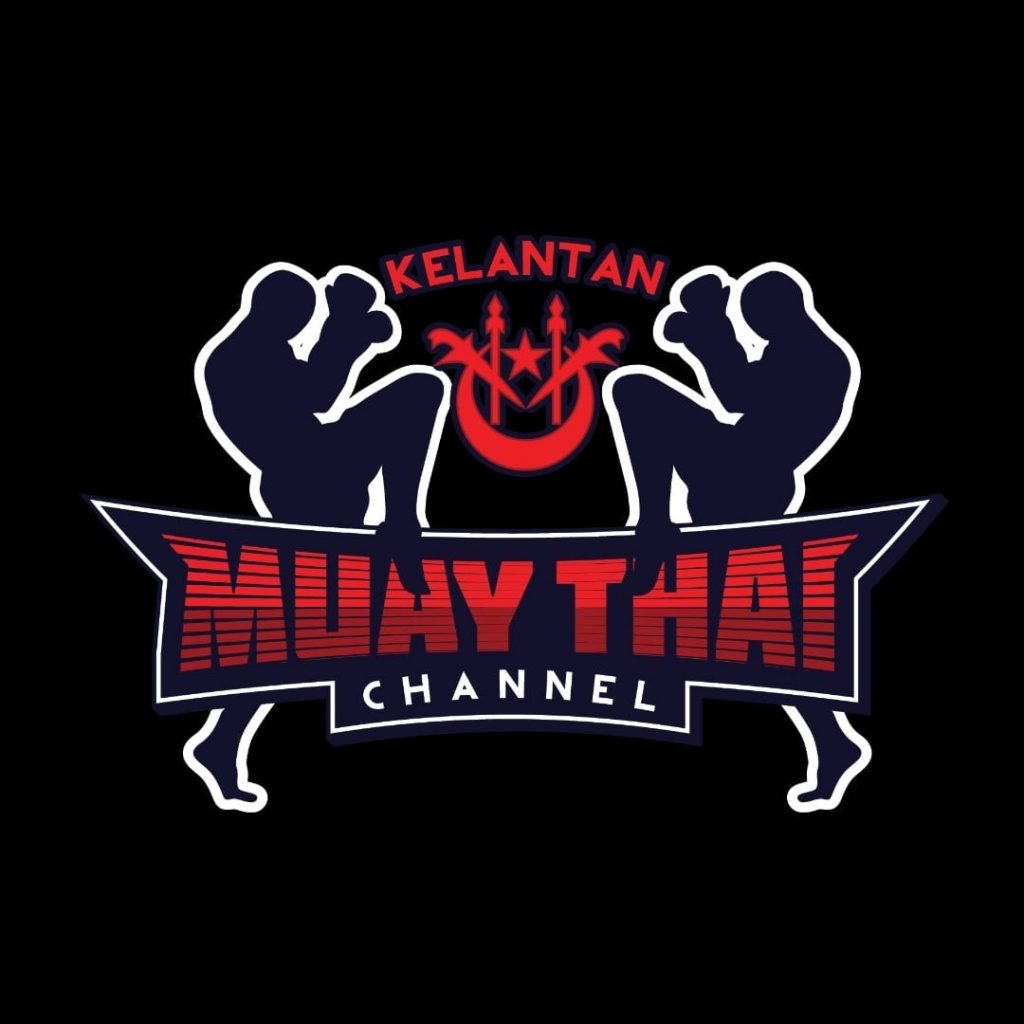 This event was also widely cover by Kelantan Muaythai Channel, the media partner.
Do check out their FB page & Youtube channel to see plenty of Muaythai action in the state of Kelantan.