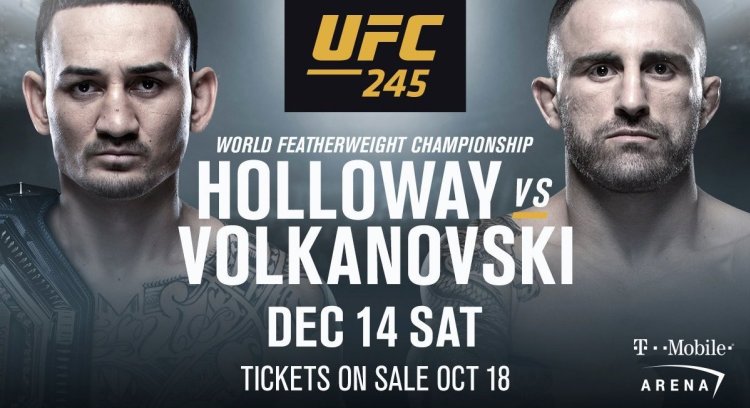 UFC 245: USMAN VS. COVINGTON takes place Saturday, December 14 (Sunday, December 15 in Japan) at T-Mobile Arena in Las Vegas, USA.
As one of three title fights, UFC featherweight champion Max Holloway looks to net his 15th consecutive win at 145 pounds by taking out one of the division's toughest contenders, Alexander Volkanovski.
Holloway is on a 14-fight win streak, and has not lost in his division in over six years. In his stellar career, he holds wins over former champions Jose Aldo (twice), Frankie Edgar and Anthony Pettis.
Volkanovski became the No. 1 ranked featherweight contender with a 17-fight win streak, with wins over Jose Aldo, Chad Mendes and Darren Elkins.
ON THE DIVISION
Holloway said, "This is mixed martial arts. Every two weeks there's a new face in the game.. I will be here. I'll stay here. Whoever you put in front of me, I will fight."
Volkanovski said, "I believe I'm too strong for these featherweights. Maybe I'll move up, too."
ON JOSE ALDO
Volkanovski said, "Aldo was just another job. After I won, reality hit, and I was able to soak in that I beat one of the all time greats."
Holloway said, "When he fought Aldo in Rio, and he got it done. He did enough to win the decision. Good for him. He's the number one contender now and I get to see him on Saturday night across the Octagon."
HOW THE FIGHT WILL GO
Holloway said, "We've got a bunch of questions that Alex presents, and we can't wait to answer them. I'm getting anxious and excited."
Volkanovski said, "I'm the guy for the job. The things that he does very well, just do not work with me. Basics like wrestling, strength and power go a long way. But I believe my high fight IQ and calculated style pull it all together. It will definitely be a challenge for Max and all the future opponents."
FIGHTING FOR FAMILY
Holloway said, "My son is here right now with me. It's giving him experience. We don't know when this ride is going to end. It's life experience: the ups and downs, the good times and bad times. He's only seven. He was born on the same day as I got my UFC contract. I can literally say he was born into this life.
Volkanovski said, "This fight is very important. It means success for the future for my family. Family is everything for me, this is why I do my job. I'm winning that belt for them."
In this featherweight thriller at UFC 245, Max Holloway hopes to continue his dominance over the featherweight division against surging contender Alexander Volkanovski.
For event updates, please check UFC.com and follow us on Facebook (UFC Asia), Twitter and Instagram (@ufc).
Visit the UFC ® Press Portal for information and content to support your UFC coverage. Please click here to apply for the event.

About UFC®
UFC® is the world's premier mixed martial arts organization (MMA), with more than 300 million fans and 70 million social media followers. The organization produces more than 40 live events annually in some of the most prestigious arenas around the world, while broadcasting to nearly one billion TV households across more than 170 countries. UFC's athlete roster features the world's best MMA athletes representing more than 60 countries. The organization's digital offerings include UFC FIGHT PASS®, one of the world's leading streaming services for combat sports. UFC was acquired in 2016 by global entertainment, sports and content company Endeavor, along with strategic investors Silver Lake Partners and KKR. UFC is headquartered in Las Vegas, Nevada. For more information, visit UFC.com and follow UFC at Facebook.com/UFC, Twitter, Snapchat and Instagram: @UFC.