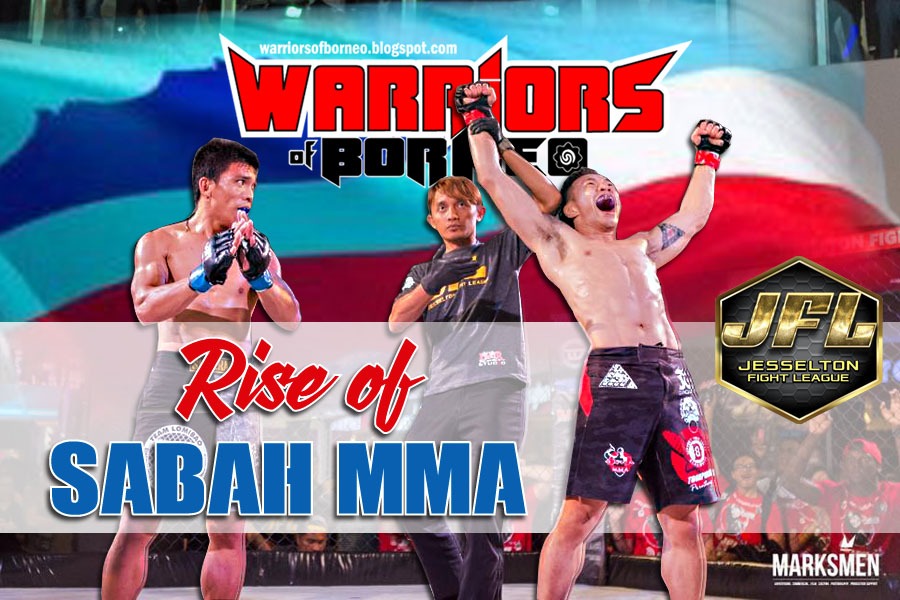 Jesselton Fight League (JFL) series 2 that took place on 24 Sept 2016 at 1 Borneo Hypermall will go down in Borneo history as the 1st MMA event featuring pro fights. Crowds were entertained to 8 amateur fights and 4 Pro fights. JFL is a homegrown MMA promotion founded by former ONE Championship fighter, Rayner Kinsiong of Karabaw Martial Arts & Fitness.(click here to read about JFL)
Appy is a Sabahan singer song writer with influence of R&B, soul and jazz in his music. He is famous for his hits "Aku dan Love" and "For You" from his 2012 EP – "Happy Thoughts" But he also an avid martial artist. Learning it in 2013 with
Sabah Top Team
. Under Coach
Antonnio Battistesa
, he learned Boxing, Luta Livre and Muaythai.
He learned martial arts as way to keep fit and also for self defense. But he has not been training regularly due to his career commitment. But he took the fight to support Rayner Kinsiong and his friend Mr Ahmad Zaki as the fight is also a way to draw crowd and create buzz. To prepare, Appy went back to serious training for 2 weeks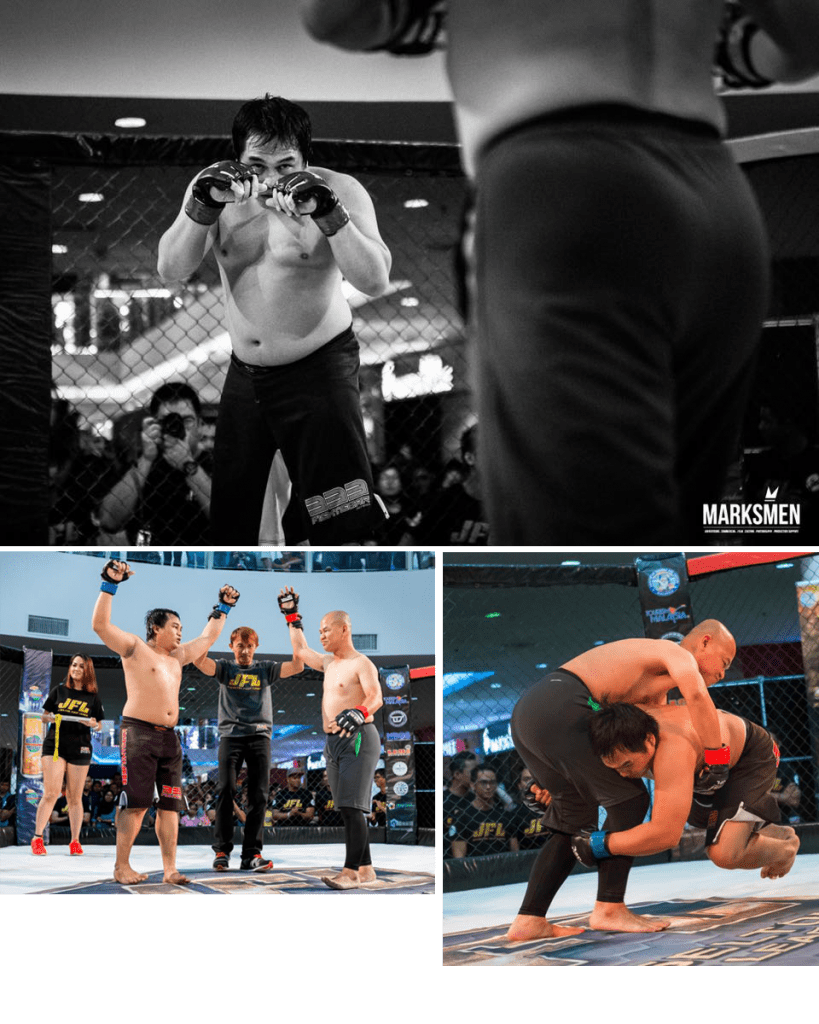 The fight ended in a draw. Received great crowd support for both fighters. After the fight, Appy said, " It was indeed intense since I never encounter any Silat fighter before and a southpaw too. Zaki's gravity and techniques are amazing; making me hard to lay punches and take downs. I need to improve my stamina and go back to polish my worn out techniques."
According to En Ahmad Zaki, the reason why MOTAC decided to support JFL is because it's a home grown event with huge of potential for world wide exposure. The exposure to foreign countries on Sabah as a venue for sports tourism is in line with MOTAC's direction. JFL with it's affiliation to World Series of Fighting Global (WSOFG) gives huge coverage for Sabah and opens up a new target market; which is the combat sports groups.
This is JFL's second series after the start in 2014/2015 as a tournament format to unearth new talent. This year it attracted 10 foreigners and venue was at 1 Borneo Hypermall to give opportunity to watch it as there's no entrance fee charged. MOTAC sponsored the Sabah Tourism Cup for the main event, Allen Chong vs Joben Superales
Aside from MOTAC, other main sponsors was also present to complete the event.
Power Root
as the official energy drink set up kiosk to offer their energy boosting products and opportunity to win prizes via their contest.
Fruto Juice
was the official fruit juice provider, offering a plethora of healthy fruit juice for everybody. Black Ink Tatoo sponsored the official design for the t-shirt.
The hard rocking music that was played during fighters walked out was a great way to hype the anticipation for the fight and build the mood.
If you missed the fights on Saturday , don't worry Warriors of Borneo blog got you covered. Let's go to the fights…
( or check out Warriors of Borneo Blog FB page for updates on the video )
Bout 1
Mike Sidis (Borneo Combat Gym-Labuan) vs Hamid Ismail (Independent)
Mike the taller opponent managed to use his height to control Hamid who was looking to take the fight to the ground. Mike threaten with punches to prevent take down. Hamid charged forward but Mike controlled his head and swung him down on the canvas. Dropped bombs from left and right, transition to mount and the bombs continue. Referee Michael Chong seen enough of ground and pound and stopped it at 2:20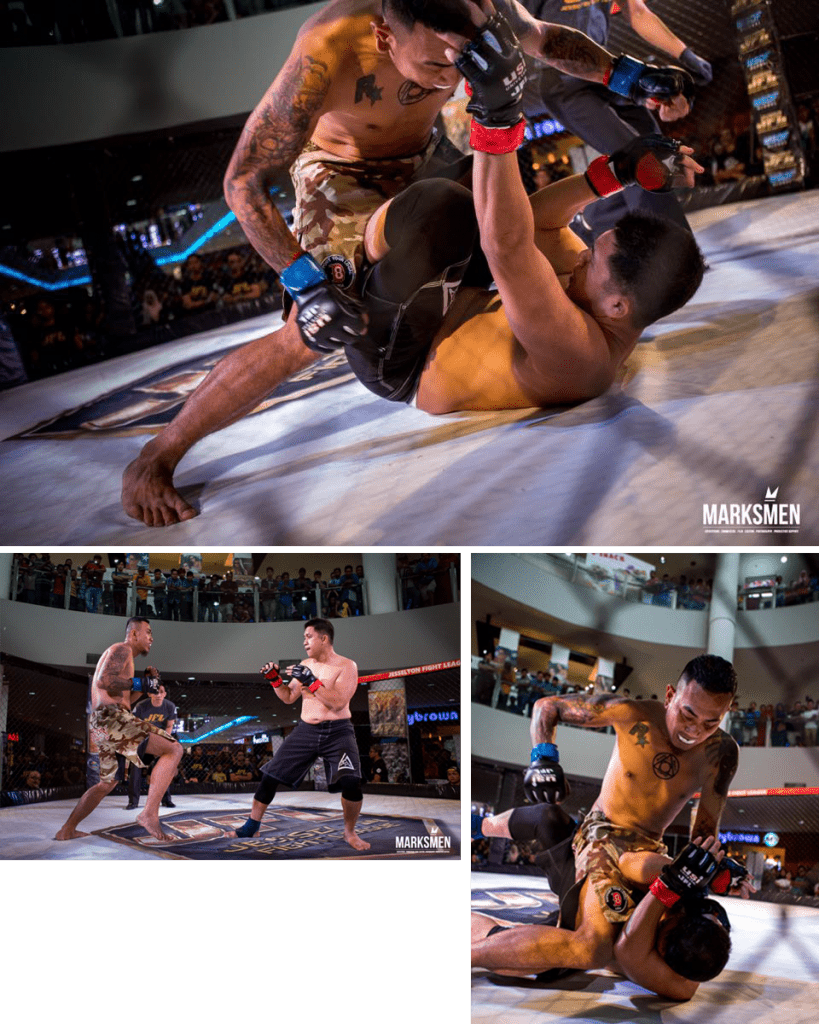 Mike spot a Mental Alchemy symbol tatoo on his chest. Upon asking, Mike explained,
"Mental Alchemy is the process of transmuting your thoughts to improve a person's life and expand their mind"
Mike is practicing Mental Alchemy through self learning. According to him it involves lots of meditation. It creates positivity in a person, he is still learning about it. He said it helps him in his work and martial arts training.
Bout 2
Lu Yi Ran (D-30 Muaythai-Sarawak) vs Vallent Pierre (Sabah Top Team)
This is for both of them their debut in MMA fight. Vallent look more confident. Lu's went high with his right kick but Vallent caught it and drove a take down to the cage. In half guard trying to posture up. Lu stayed closed. Vallent manage to get full mount and drop left and right. Throwing more than 30 strikes before Lu rolled over gave his back and Vallent sunk in a rear naked choke that Lu tap out at round 1. 1:08
Bout 3
Md Rashidin (Kuda Hitam-Sabah) vs Allan Chong (Tomoi-Labuan)
Rashidin walk-out with his cool shades and full of confidence as he swagger into the cage. This is his 6th MMA fight. The taller Rashidin effectively uses his leg to penetrate and follow up with combos punch. Twice he was able to sweep Allan off his feet with low kick. He connected with a roundhouse that shot at Allan's face. But Allan is tough, still moving forward. 2nd round. Rashidin got an over and under and swung Allan to the ground, mount and ground pound to a referee stoppage at round 2, 1:50 mark.
Bout 4
Joel Nickolson (Sabah Top Team) vs Nathan Hynes (Australia)
Joel eager to get in the win after his lost in MIMMA Semi-finals due to knee injury. Both exchange kicks in early round to test each other. Nathan caught Joel with a left, knock down but Joel back up cage control to take down, full mount and raining punches from top, Nathan with his rubbery leg got a body triangle. They stand and Nathan sunk in a guillotine. They dropped to the canvas, Joel pressure hard with his left wrist on Nathan's neck. In Nathan's full guard he executed knees to Nathan's rear. 2nd round, Joel counter with a spinning back kick, they scuffle and pressure on the cage, Nathan went low and Joel found his neck, connect his hands & executed a standing guillotine which lifted both Nathan's leg up in the air as Nathan tapped out at round 2. 0:46
Bout 5
Rudranash Azad (Fit & Fight India) vs Md Rizal (Team Karabaw-Sabah).
Md Rizal stepped up in short notice when Indonesian Riko didn't get his passport in time. 4 days before, Rizal represented Sabah in the National Muaythai tournament in KL.
Action pack 1st round. Rizal with good kicks. Rudranash avoid damage by closing in and executed Muaythai clinch, pressure on the cage. Rizal was very active with knees. 1st round end with full mount by Rudranash and ground and pound
2nd round, again with hard kicks from Rizal, Rudranash closed in by clinch. Pressure on the cage. As ref Michael Chong warn Rudranash on holding the cage he stomp on Rizal right feel, Rizal dropped in pain. Rizal given 5 minute to recover as in amateur fight stomping is not allowed. Medic check and crowd cheered Rizal on and Rudranash wanting the fight to continue too, urged the crowd to continue cheering for Rizal. Rizal recovered and end round 2 with some combo punch.
3rd round started slow, but suddenly Rizal exploded into a barrage of right hook to the head. Rudranash again close in with a clinch and manage to take down in half guard and got a choke. Rizal is one tough cookie, survived it, but became target of ground and pound by Rudranash. Rudranash decide to go for a arm triangle choke. Rizal struggled and got a sweep and stood up but no time for more exchange as fights ends.
Rudranash won by 3 round unanimous decision.
Rudranash in his victory speech thank his father for the sacrifice and the support from him.
Bout 6
Nor Hidayat (Busiido Brunei) vs Kishan Gupta (Fit & Fight India)
Hidayat the shorter one with a one win fight record. Kishan the taller by 8cm and more experience with 7 wins. Technically sound, Hidayat with good head movement and boxing. He attack and counter well. He control the 3 rounds with successful take down and cage control. Round 1 almost got an armbar but Kishan survived it. Kishan seems lethargic. Probably due to his hospitalization. He was admitted for suspicion of Denggue. He was warded for 10 days before doctors cleared him 5 days before JFL. Kishan was adamant to fight as he does not want to disappoint his team, his opponent and JFL. Hidayat dominate the 3 rounds and won by unanimous decision.
Bout 7
Morris Hii (D-30 Muaythai-Sarawak) vs Ian Loo (Team Karabaw-Sabah)
Morris with 5 fights under his card and Ian looking to get his first win. Morris started aggressive. But Ian manage to retreat to the cage and pressured him there. Wrestled him to the canvas. Morris able to sweep and strike from top. Ian attempt an armbar. Morris slammed him down but Ian still hold on as round ends. 2nd round, Ian got a take down but went into Morris's guillotine, he escaped. Mounted but Morris bucked and reversed but Ian grab an arm & bellied down armbar. Morris was resilient uses knee to strike, Ian locked a triangle but round ends. During break medic team checked on Ian's left eye and advices him not to continue as the bleeding look serious.
Morris won by referee stoppage due to eye injury of Ian, doctor does not allow Ian to continue round 3.
Bout 8
Clement John (Team Karabaw-Sabah) vs Naimul Amal (Monarchy –CTR313- K.L.)
Highly anticipated fight between this two after a heated face-off during media weigh-in the day before. Clement failed to make the bantamweight limit and this fight was in catchweight.
Wasting no time Naimul jump in with a flying side kick at the bell, misses as Clement side stepped. Naimul the aggressor with kicks and combos of left and right till they ended on cage and wrestle there till round end. 2nd round Clement got a body lock and brought Naimul to the ground and got his back and hooking in his legs, looking for the rear naked choke. Three attempt from Clement; the last was deep but the resilient Naimul survived and got free and reversed to Clement's full guard. 3rd round Naimul went on attack mode. Tripped Clement to canvas, knee on belly. What look like a illegal heel hook gave Naimul a bit of a tangle. After a scuffle, Naimul went on top. Active with his hands. Clement's managed to move his left leg over Naimul shoulder and got a triangle. The tough 'Convict' escaped again as they wrestle for position and round 3 ends. Clement won by 3 round split decision.
Bout 9
Niko Sue (Impact MMA-Singapore) vs Joemar Gallaza ( HyperMMA –Philipines)
1st pro match of the night delivered the action. Both fighters exchange sharp kicks and punches. Niko with a double leg take down. Joemar tried to use the cage to get up. Niko controlled and got to a mount, rolled and got Joemar's back, sunk in a choke. Joemar escaped, Niko on half guard; uses his right hand to elbow Joemar's rib, he then burst to full mount. Rained plenty of hard hard elbows from top. The impact was tremendous! Joemar forehead was cut and he starts to bleed. Red blood began to stained the white canvas. Seing this Niko continued to strike, wanting a KO finish. The spirited Joemar's still defending actively. Niko continued with the strikes and elbows. Joemar got a sweep but his arm got trapped and Niko rolled into an armbar and Joemar tapped out at the 3:51 mark. Medic team rushed in to attend to Joemar.
Niko won by tap out due to armbar. Round 1 . 3:51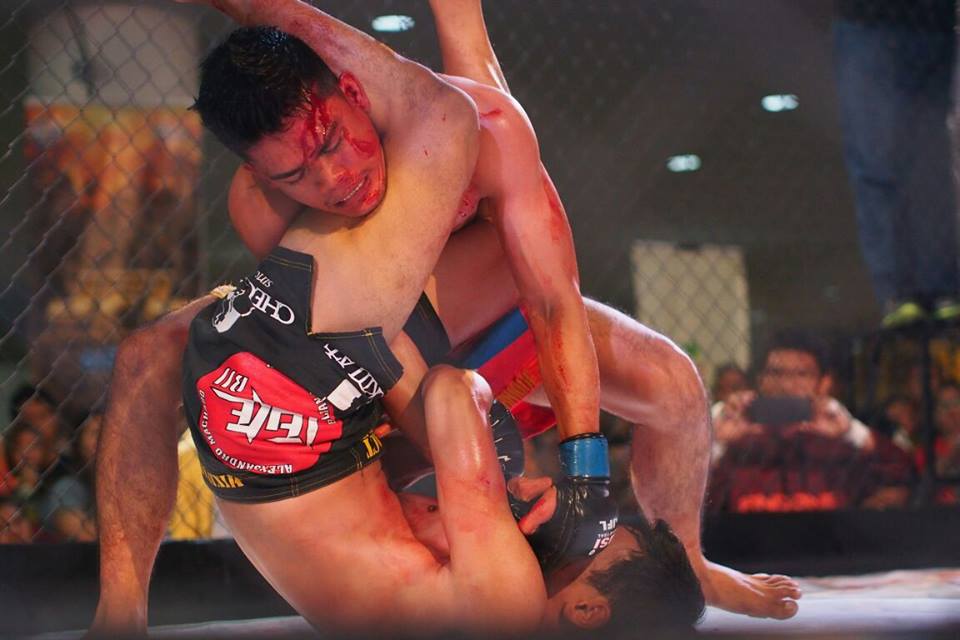 The bloodiest fight in JFL – pix by Ricardo Unto of Daily Express
Bout 10
Cody Young (UFC GYM Vietnam –USA) vs Arnel Lamibao (HyperMMA-Philipines)
Cody's heavier and taller look very intense and hyped up. Arnel look calm and easy.
Arnel with the low kicks and a huge overhand right. Cody cover and rushes in. Chased with punches and got a take down. Inched his way to full mount. Land strikes from top. Arnel turned and gave his back. Cody adjusted with a leg lock on Arnel's body and landed huge right hands and Arnel tapped at 1:27. Cody's hand raised for the dominating victory and Arnel went for medic check. And he said he tapped due to the big right hands from Cody one of the strikes, the thumb got his eyes.
Cody won by tap out due to strikes. Round 1 . 1:27
Bout 11
Adrian Tham (Team Nomad) vs Budi Kalbar (Indonesia)
Adrian look to secure a win for his 2nd pro fight after a tough close battle which he loss in Yoddha FC.
After a short feeling out, Adrian uses his bread and butter move, lunged in for a body take down, Budi defend with a choke. Adrian was calm and patient. He moved to full mount. Head still in Budi's choke…managed to popped out from Budi's grip. Budi with a body lock hugged close. Adrian adjusted and move closer to the cage. Adrian pry him off and began to land elbows. Constantly hunting for an armbar. Budi defend by using his long legs to push on the cage and then moved it in front to cross on Adrian's body. Stalemate for a short while, as Adrian stayed patient and tried to pry open Budi's leg. Budi adjusted to a body triangle, Adrian posture up and land punches & instantly Budi tapped out at round 1. 2:36. In his victory speech, Adrian said that his mission is to go in and finish the fight as early as possible. He doesn't want to waste time.
Adrian won by tap out due to strikes. Round 1. 2:36
Bout 12
Allen Solomon Chong (Alpha MMA-Sabah) vs Joben Superales (HyperMMA-Philipines)
Both cautious at the start. Joben test with jabs and low kick. Allen even had time to do a side stretch. Low kick from Joben caught by Allen and he drove it in for take down into side control as he grip Joben's head. Moved his right leg into full mount; but instantly Joben reverse into Allen's full guard. Allen executed a hook sweep to went on top again. In half guard, move straight to mount, trying to stretch Joben out and look to isolate the arm. Joben kept moving and trying to prevent Allen from posturing up. Allen uses his left wrist to press down hard on Joben's face, Joben turn to his back to relief the pressure. Allen stretched him out and applied a choke, not deep enough, he started striking to soften Joben up and then executed a deep rear naked choke and Joben tapped out at round 1. 3:11.
Allen won the Sabah Tourism Cup presented by Mr Ahmad Zaki. In his victory speech, Allen ask all supporters to make more noise to hype this win so that UFC will take notice. Allen wants to get back into UFC and he needs all the locals' support. Local MMA fans, lend your support and make our Sabahan fighters get in the big league!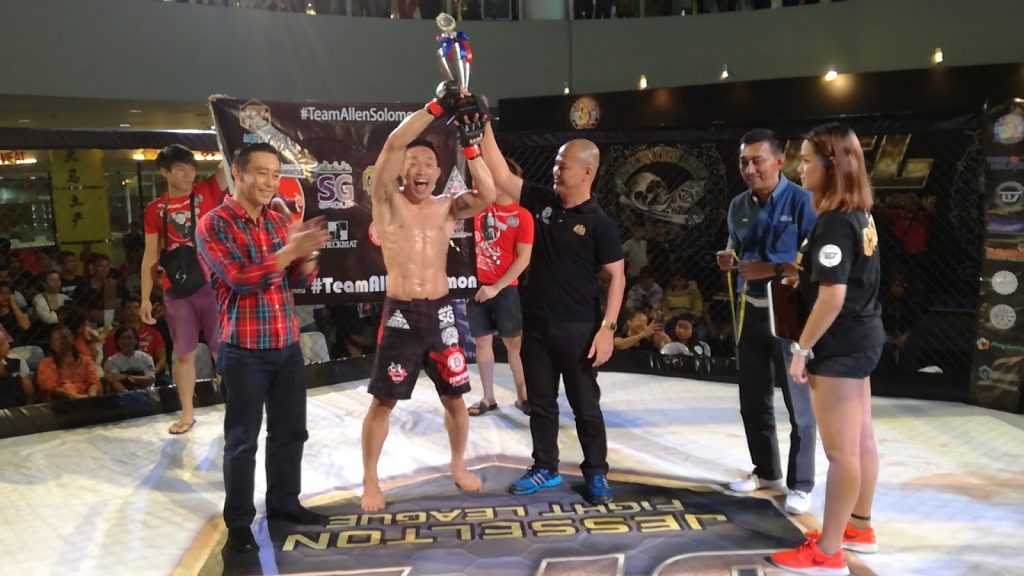 Sabah Tourism Cup – presented by Ag Ahmad Zaki to Allen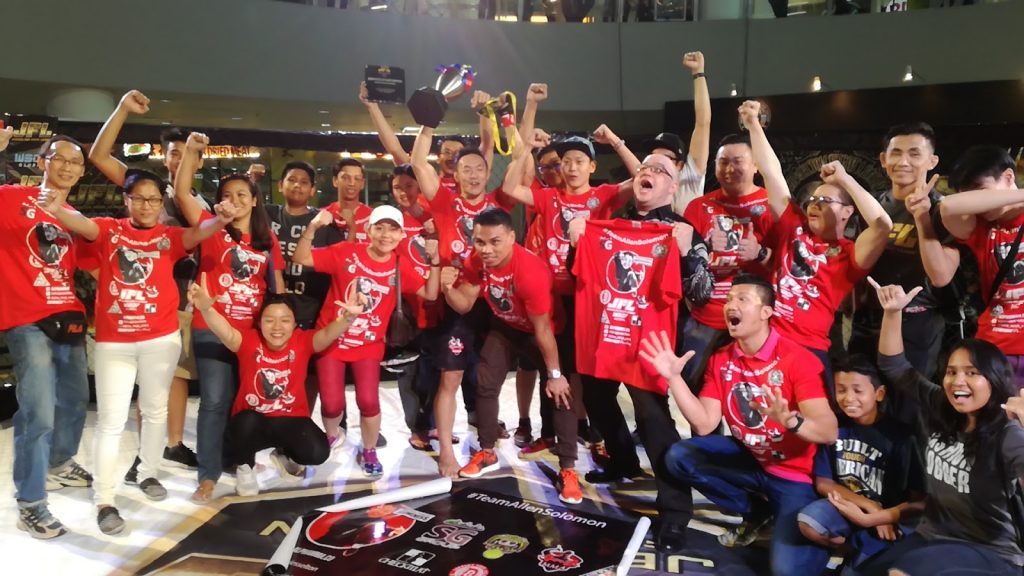 Team AllenSolomonChong – the red tide!
Organiser , Karabaw Martial Arts and Fitness promise that JFL will return bigger with more international fight cards.
All fight photos by MARKSMEN