Sabah BJJ Open concluded on the weekend of 22-23 Aug 2015. It was the biggest BJJ tournament ever held in Malaysia, with near to 150 participants! On the platform of Sabah Fitness Festival…itself also record breaking as the biggest CrossFit tournament in Malaysia.
Here are the official results.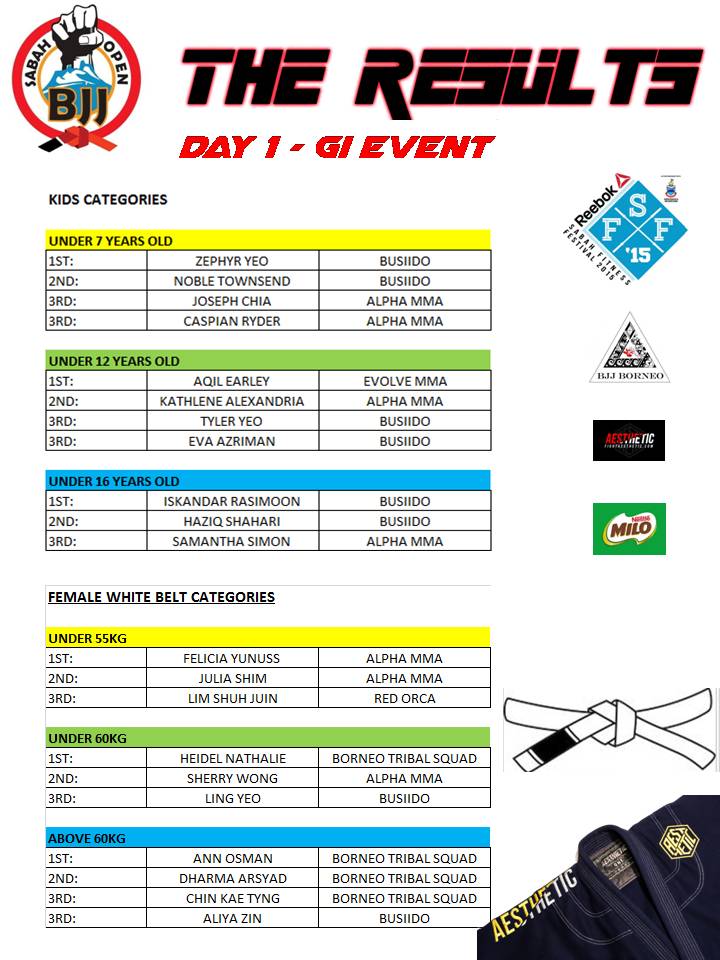 Day 1 ( Gi ) – Categories: Kids & Female White Belt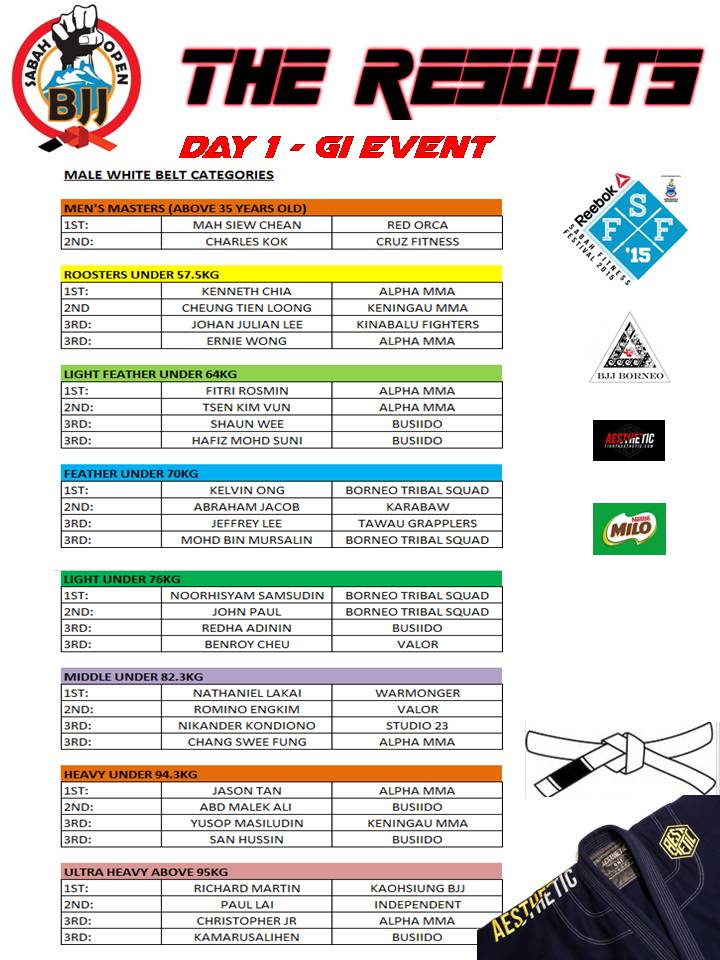 Day 1 ( Gi ) – Categories: Male White Belt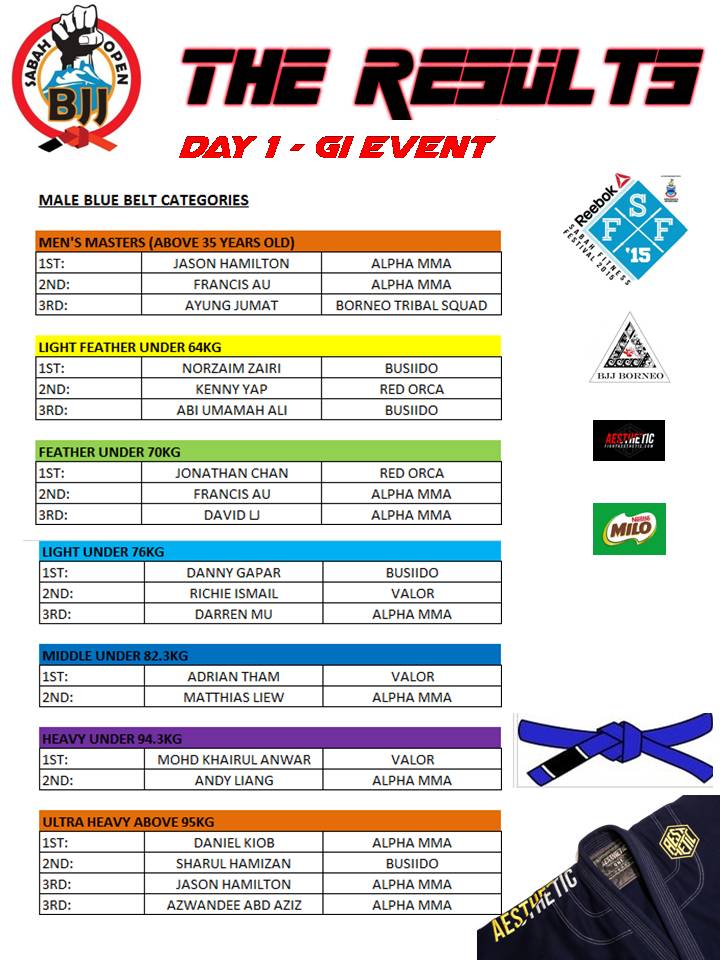 Day 1 ( Gi ) – Categories: Male Blue Belt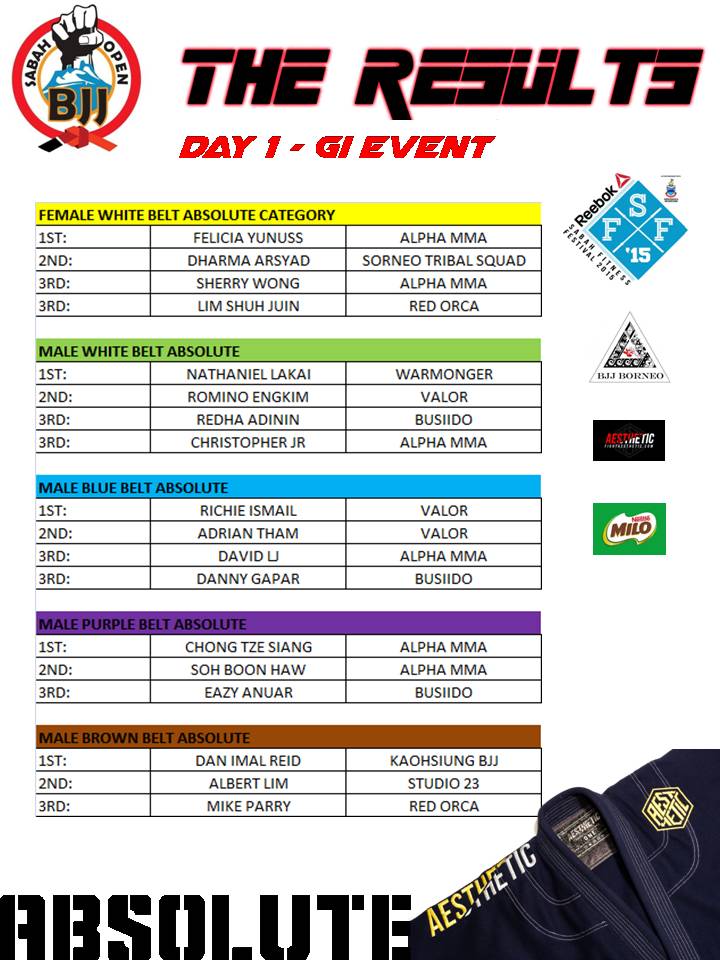 Day 1 ( Gi ) – Categories: Male Absolute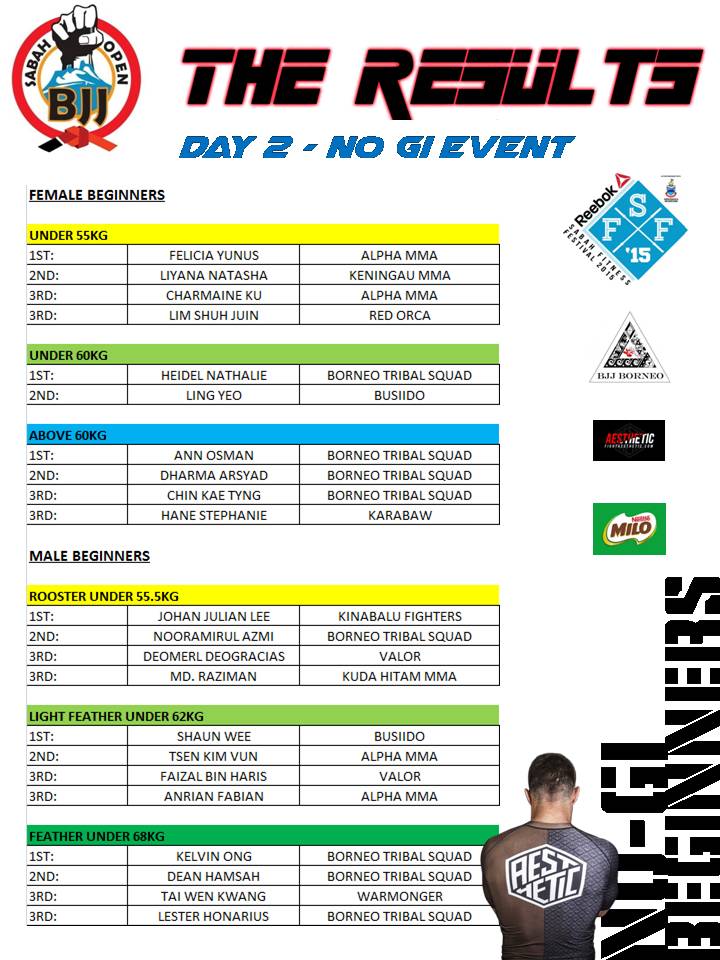 Day 2 ( No Gi ) – Categories: Beginners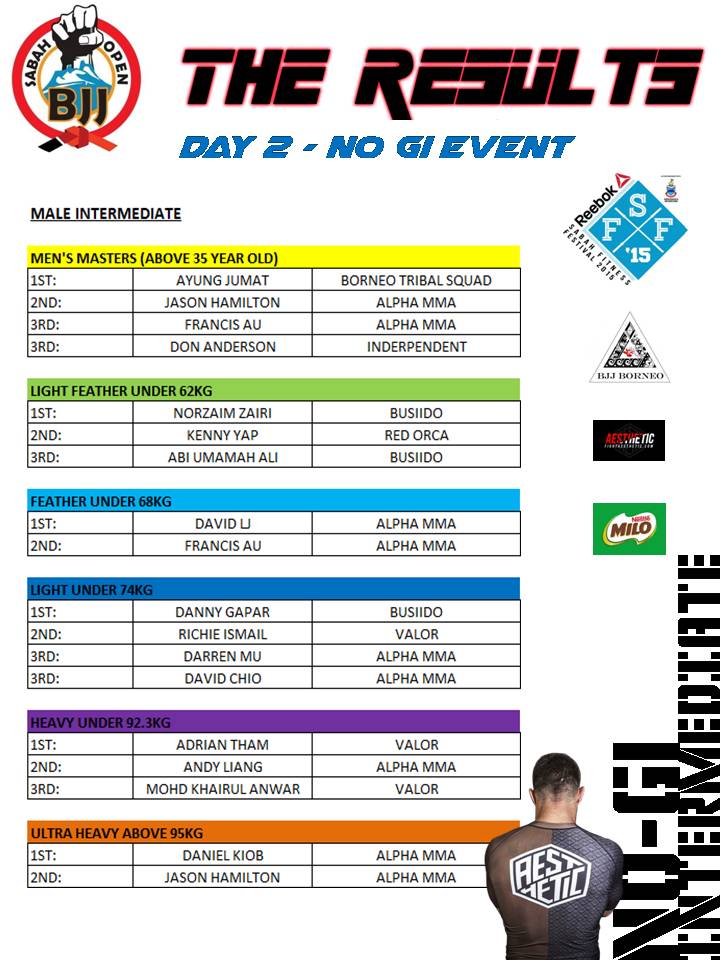 Day 2 ( No Gi ) – Categories: Intermediate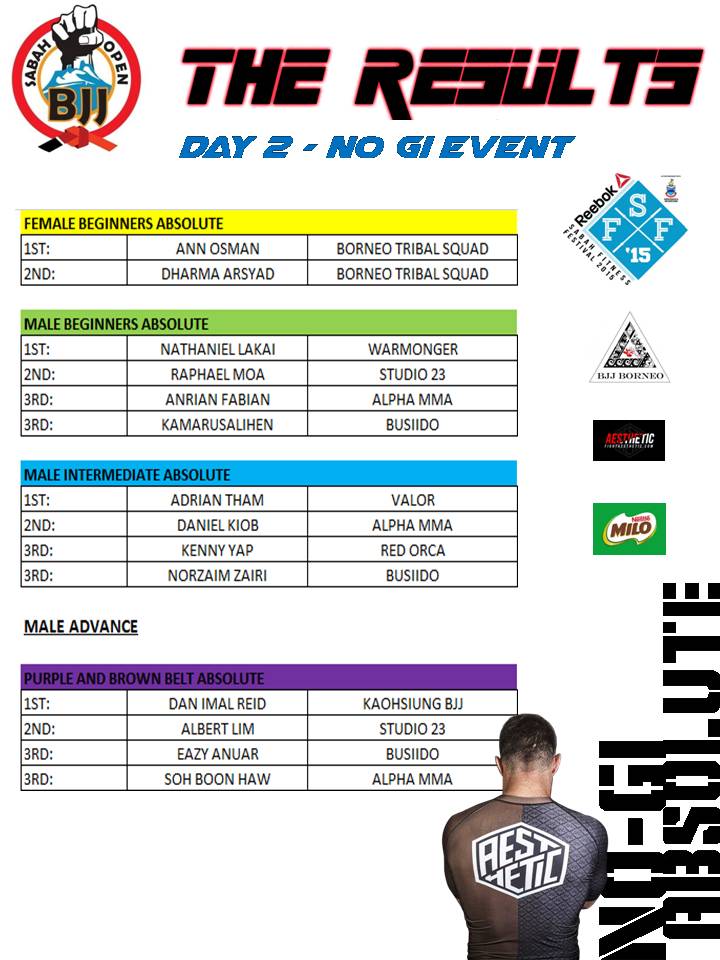 Day 2 ( No Gi ) – Categories: Absolute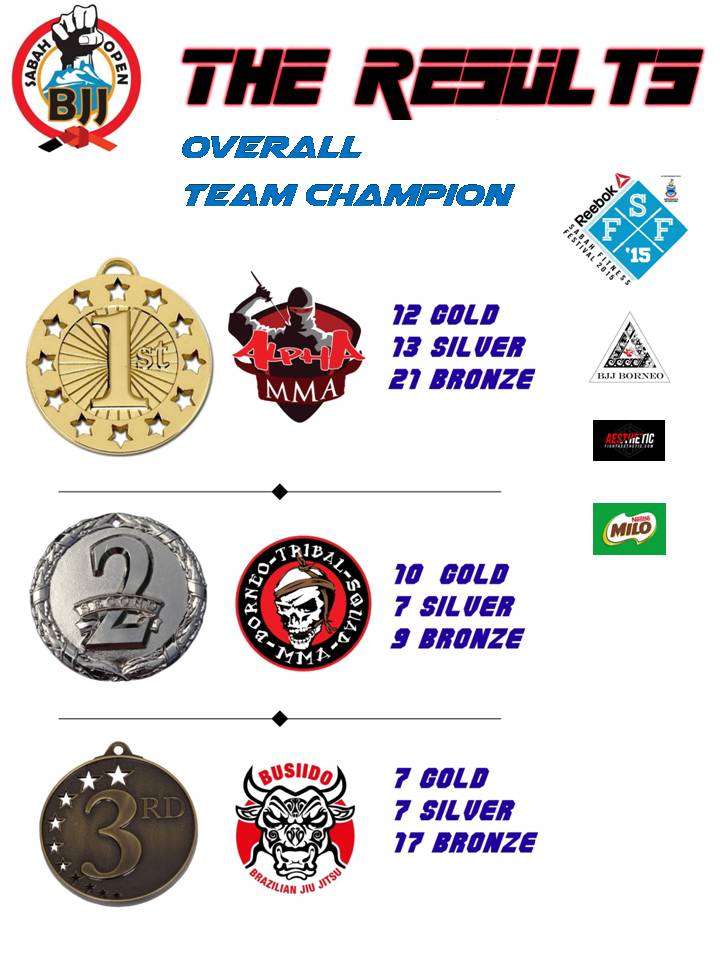 Overall Team Champion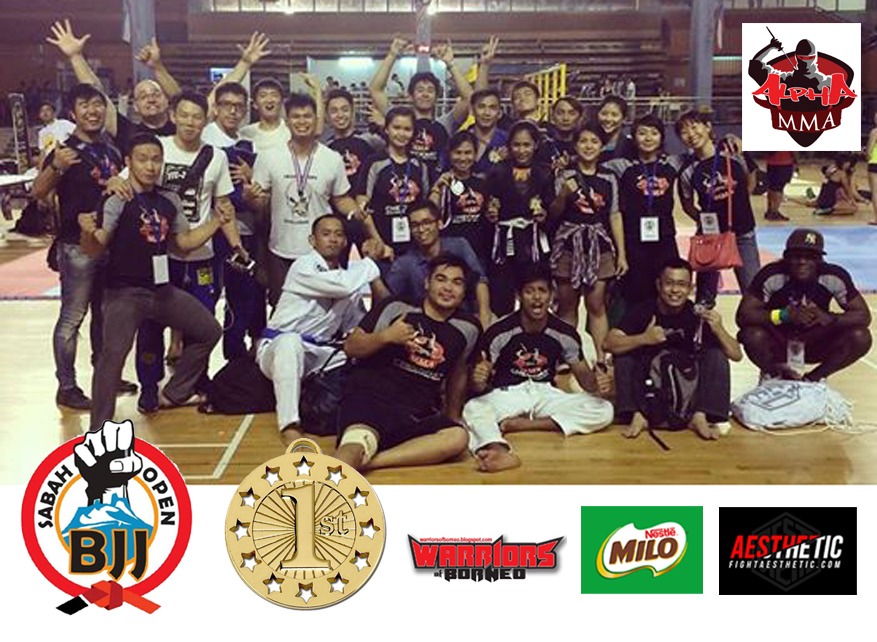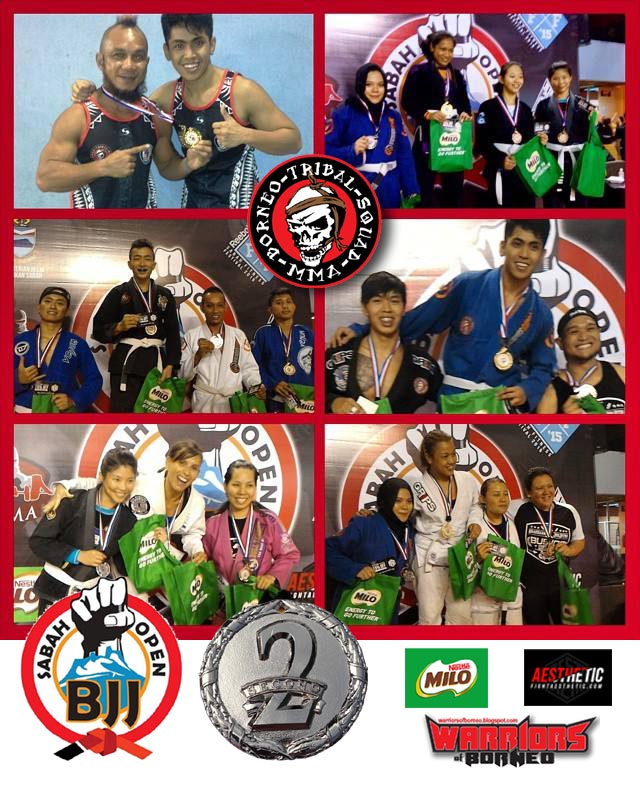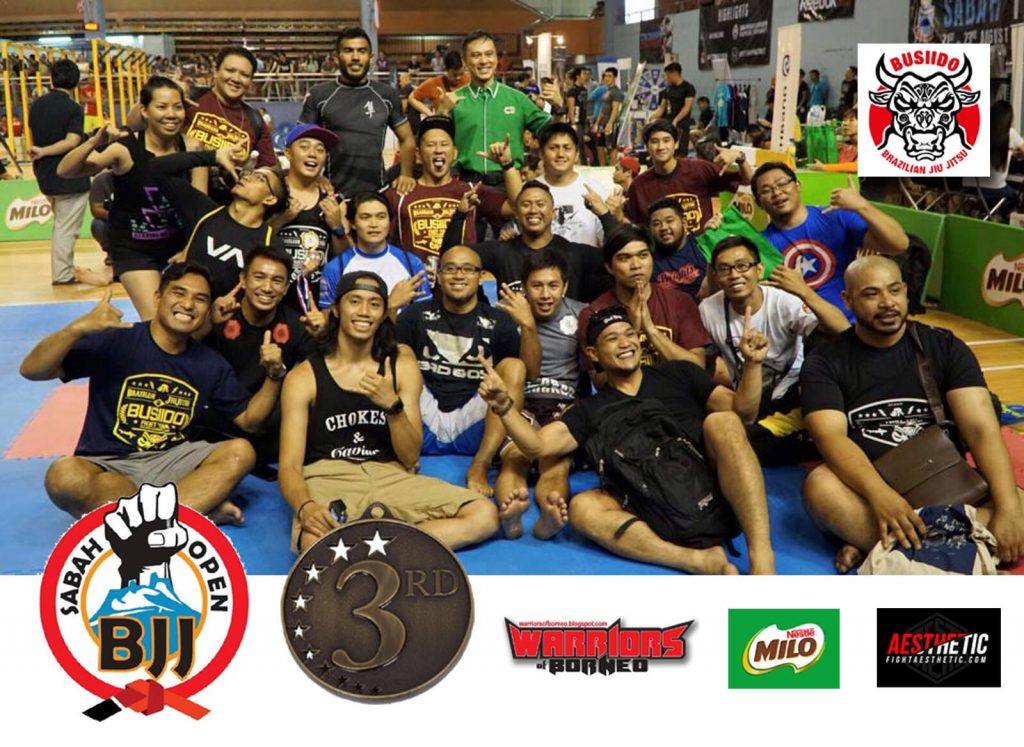 2 days of events saw a great ethusiasm and sportsmanship from all participants.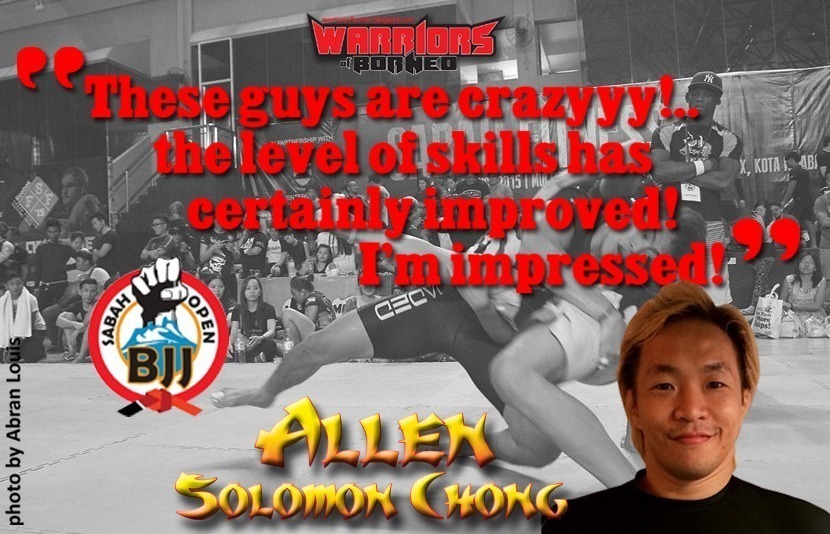 As a pioneer of BJJ in Borneo, and as the person who tries to bring BJJ to the forefront of sports in Borneo, Allen's words carry weight. He has seen the development from the early days of BJJ in the many Headhunters Challenge he organised.
Winners bring home medals, and prizes from MILO & AESTHETIC. On the final day Minister of Youth & Sports Sabah, Datuk Tawfiq Abu Bakar Titingan accompanied by the ministry's permanent secretary Datuk Suzannah Liaw grace the closing ceremony by giving out the prizes. The show of support from a state minister surely augurs well for the future of BJJ in Sabah & Borneo generally.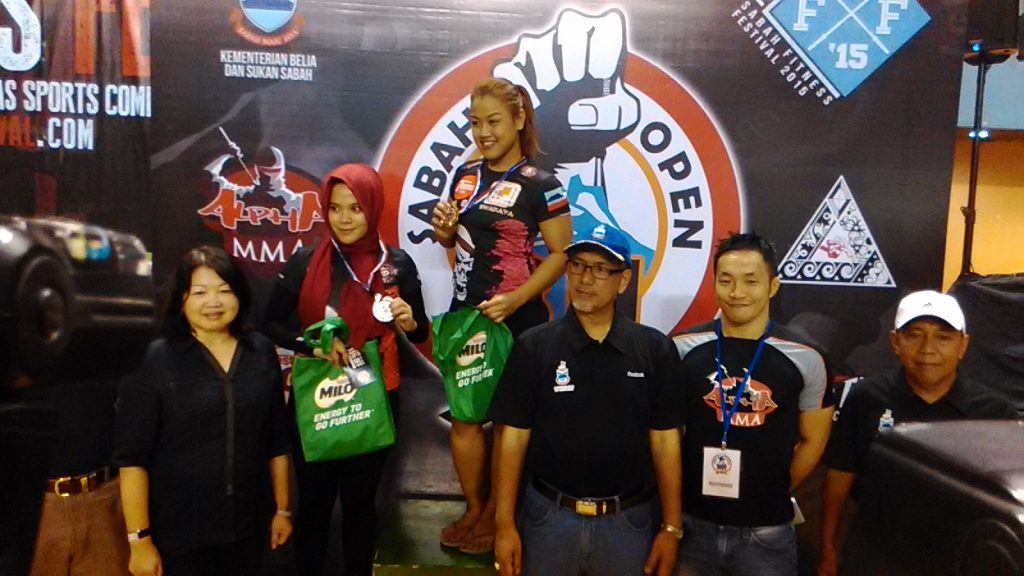 Ann Osman winning the Gold ( No Gi Beginners ) with her team mate from Borneo Tribal Squad Dharma with the silver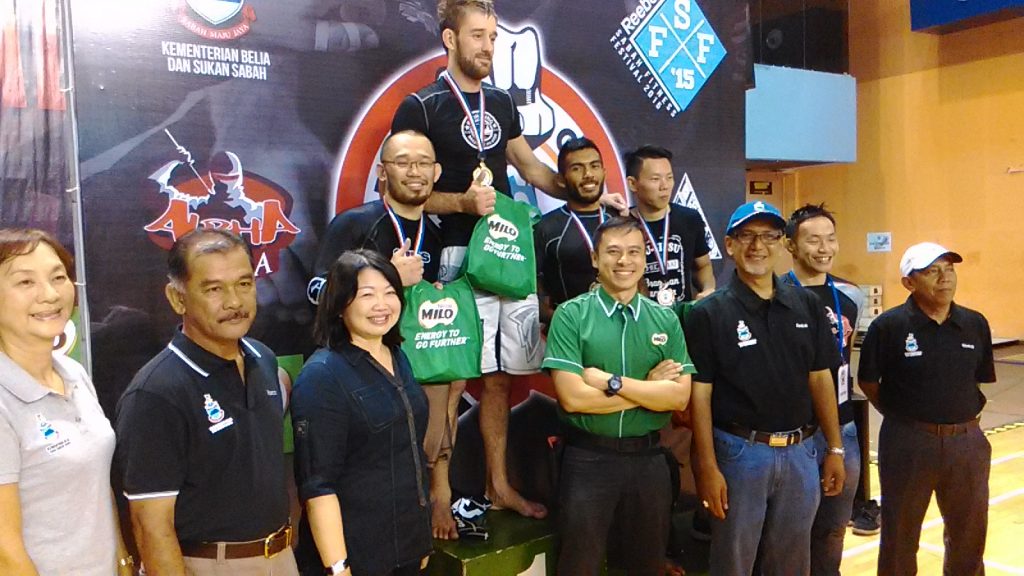 Dan Reid – Kaoshiong BJJ, Taiwan, brings home the gold in No Gi Absolute – Male Advance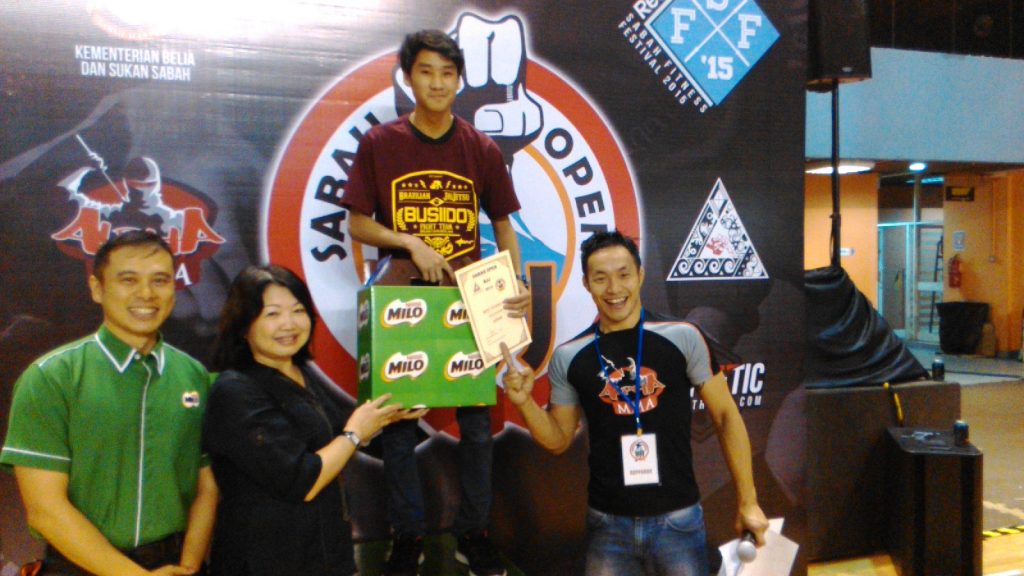 The future of Borneo BJJ….Iskandar Rasimoon of Busiido Brunei, winning the most technical kid category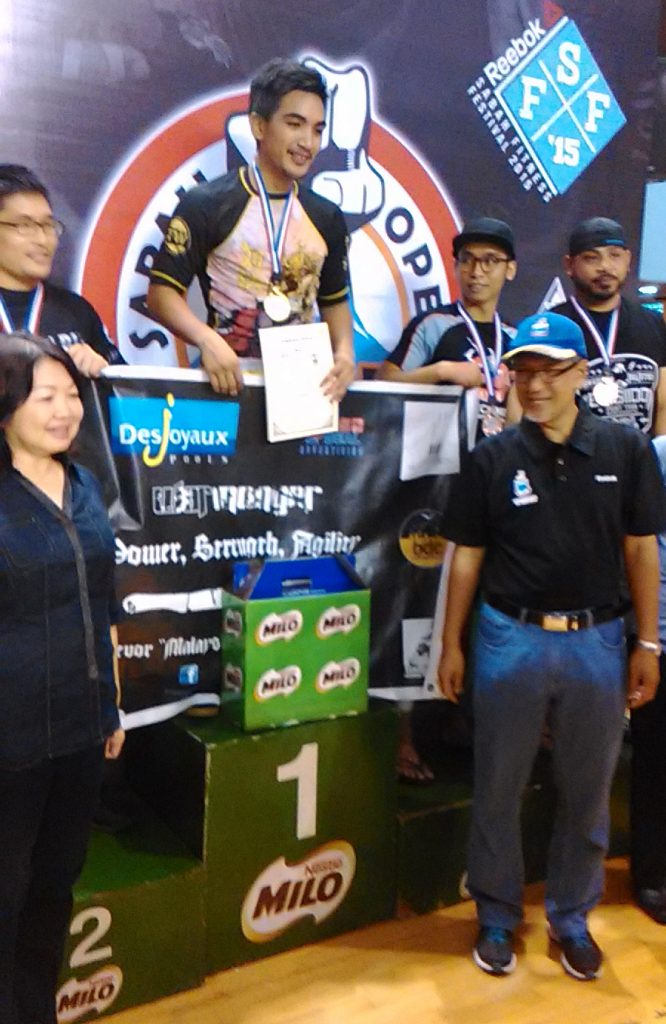 Nathaniel Lakai of Warmonger Miri, Sarawak won the best technical adult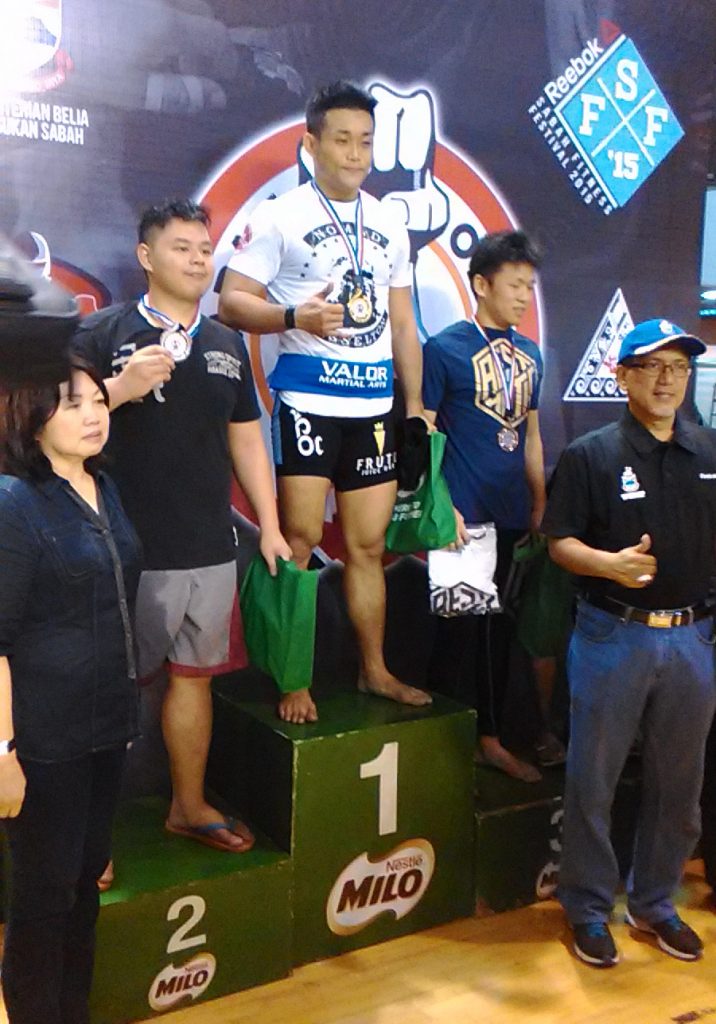 Adrian Tham of Valor Martial Arts won the Gold for No Gi under 92kg ( male intermediate )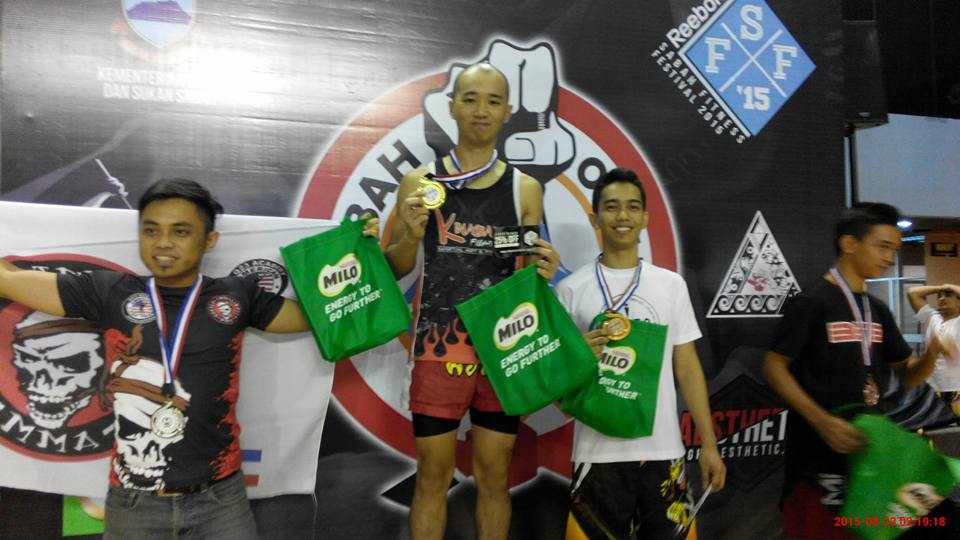 Johan Julian Lee of Kinabalu Fighters with the gold for male rooster weight ( male beginners )
Johan Julian Lee..( himself a seasoned organiser of martial arts events such as Friday Fight Night, Borneo Fighting Championship and Fight Fest ).
Johan won Gold in No Gi – Male Beginners, 55kg.
Comments from him….
How do you think about your win?
Happy, I had a lot of fun this comp compared to my other BJJ competition.
Are you satisfied with your results?
Honestly I'm very new to BJJ. I think I can do better. A lot to improve on.
What do you think of Sabah Open?
Very well done & totally satisfied.
The earlier fight ( Gi ) you got dq, u think its fair?
Yes, it was a mistake on my part. The referee made the right call.
Any part you think the event need to improve?
Nothing in my opinion. I was pretty satisfied with everything
Busiido Brunei came with a huge group, bringing home the bronze for the overall team title.
lead by Eazy Annuar.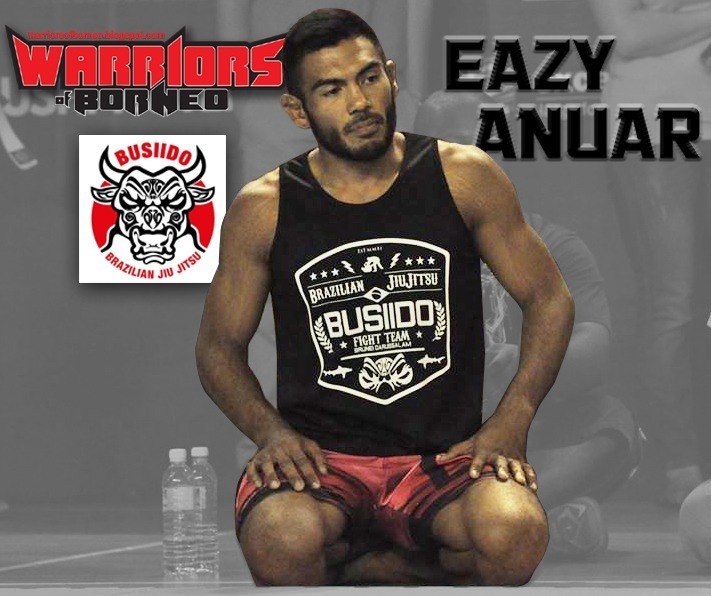 Eazy , head coach of Busiido Brunei…a picture of calm & composure

Eazy vs Dan…a match fit for the finals
How you feel about the event?
The event was really good, happy with how it was conducted and the number of participants have increased. The level has also improved which in the long run helps step everyone's game up.
How do think ur team perform?
Overall I am happy with how my team performed.. all the techniques we drilled throughout the camp showed during their fights. Their cardio also pulled through. From a coach's stand point, nothing makes me more satisfied then seeing my students do well and winning, even if it means sacrificing my own progression.
Your fight with Dan Imal were fit for the finals….what's your take on it?
The fight with Dan Imal was an amazing experience, let alone rolling (sparring training) with a higher belt, but in a competition situation, makes it even more fun. I try to soak up all that I can from that fight. he gave me a good fight and didn't make it easy for me,
I appreciate that. I'd like to fight the best of Dan Imal just to see how I fair out. I hope I gave him a good match as well. Although I would've liked the match to be in the finals, but it is what it is. We stopped the fight when my ankle popped when he submitted me with a toe hold,
chose not to continue as it was not worth getting hurt, plus he had the better position. Thanks Dan for the opportunity to exchange grappling positions.
Who is ur team member u think improve most? Or did beyond ur expectations
I'm not going to highlight anybody in particular, I saw everybody give their 110%, the best and most of their capabilities. To me, that alone is worth the highlight. Everybody improved a lot, from where they started before training camp until the end of the tournament.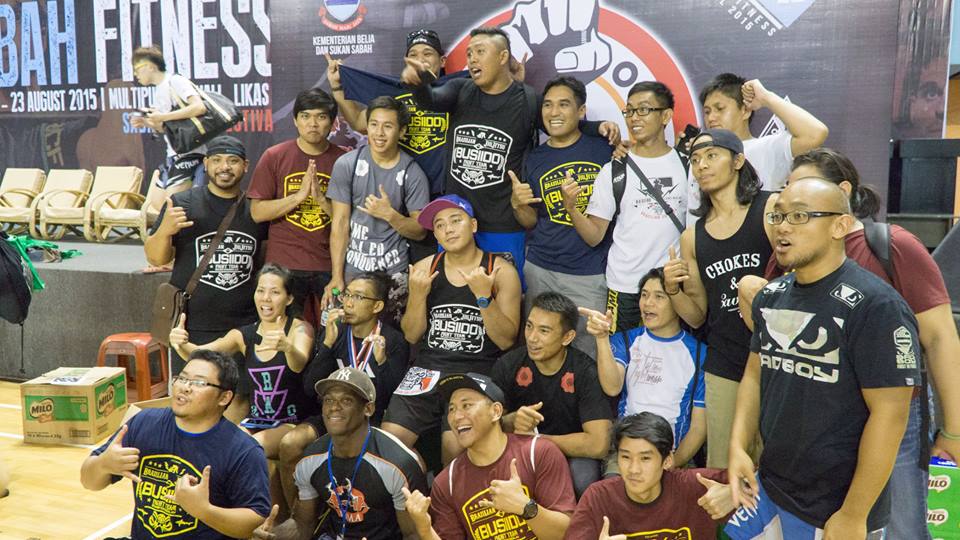 Busiido Brunei team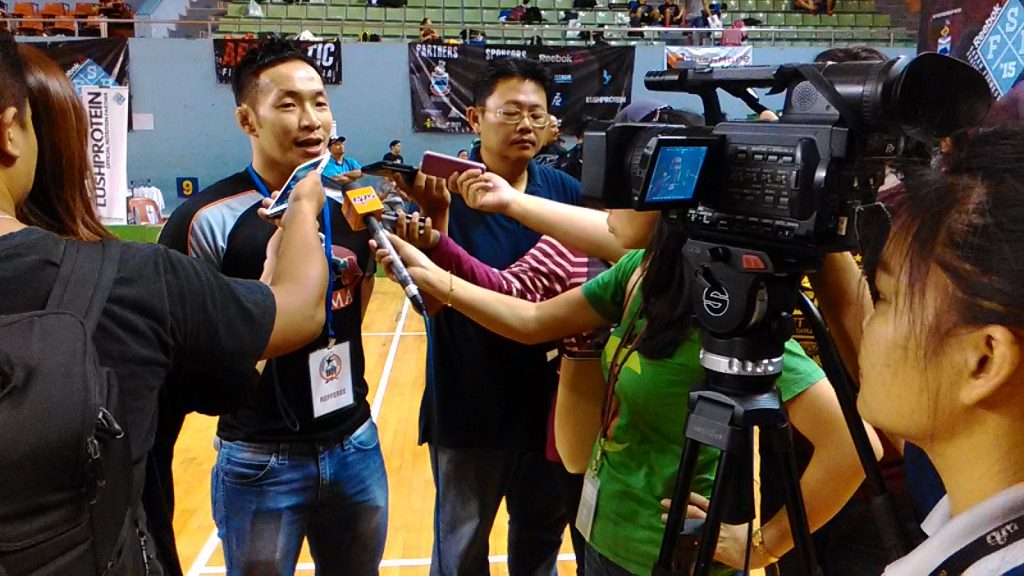 Allen surrounded by the media…spreading the love of BJJ
But let's not forget the kids. Yes Sabah BJJ Open is also a platform to bring more awareness to parents about BJJ. This is to enable parents enrolling children in BJJ and hence build the next generation of BJJ athletes.
These are the future of BJJ in Borneo.
Congrats to all the winners! See you again in Borneo Headhunters.