Rio Olympic Mens Badminton Semi-finals…Lee Cong Wei slog it out tooth and nails beating his arch nemesis Lin Dan. Similarly in the MIMMA4 Contender fights, was the day of reckoning for fighters. Time for them to give their all and leave the cage with pride no matter what the results. Winners will bask in the glory of appearing in a bigger stage, where spot lights and media attention will swarm them. And obviously a chance to become champion themselves as they challenge the defending champion for the title.
Those who leave the cage as losers should not feel despair, in-fact they should held their head high as they have reached thus far, and I believe all should take inspiration from Muhd Aiman.
Aiman lost in finals in season 1, season 2 reached finals but didn't make weight, season 3 came back went all the way to the finals and emerge victorious as the featherweight champion. Now Aiman is a professional MMA fighter and had won his debut in ONE Championship the night before on 2 Sept 2016.
As if there's not enough fire to burn the spirits of the fighters fighting in the 7 Contender fights & 2 semi-finals (for Foreign Pride), MIMMA add in another 9 feature fights to warms things up.
The feature fights results are:
Before the first Contender match, fighters had a face off.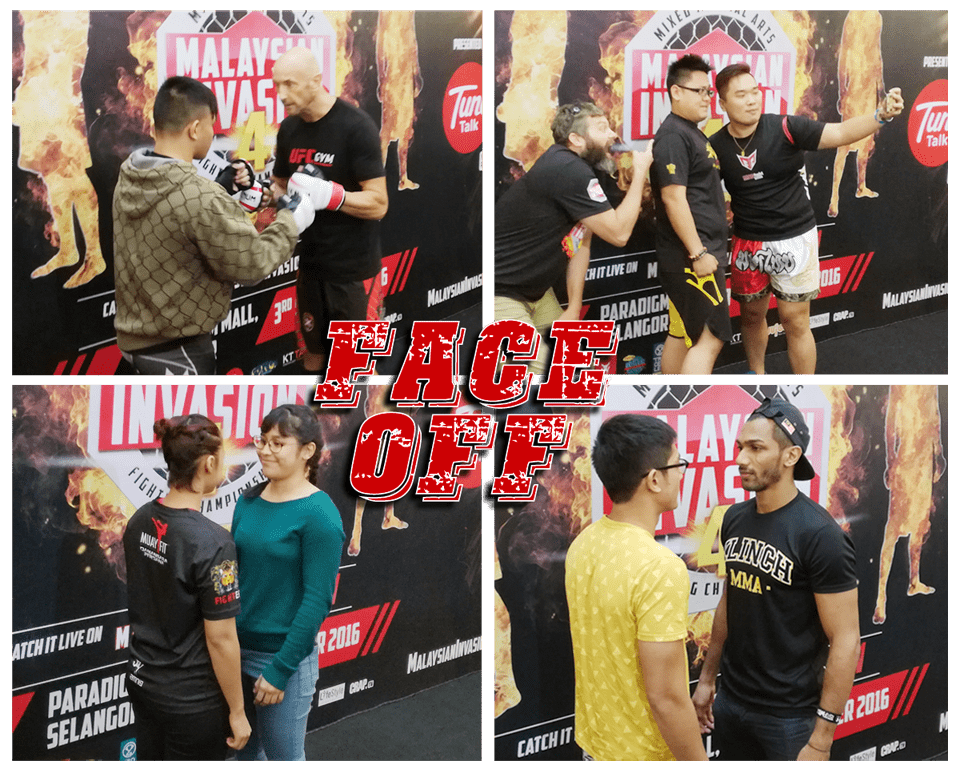 Clockwise from top. Foreign Pride Semi 1: Nazri Sutari (SGP) vs Anthony Vincent Lowe (UK). Heavyweigh. Tsan Nieng Khai (SWK) vs Niker Tan Sian Kai (PEN).  Women : Hayatun Najihin (JOH) vs Nur Sabrina Bt Rafiz Azuan (SEL).  Welterweight : Theeban Govindasamy (KL) vs Aaron Tan Kuan Howe (SWK)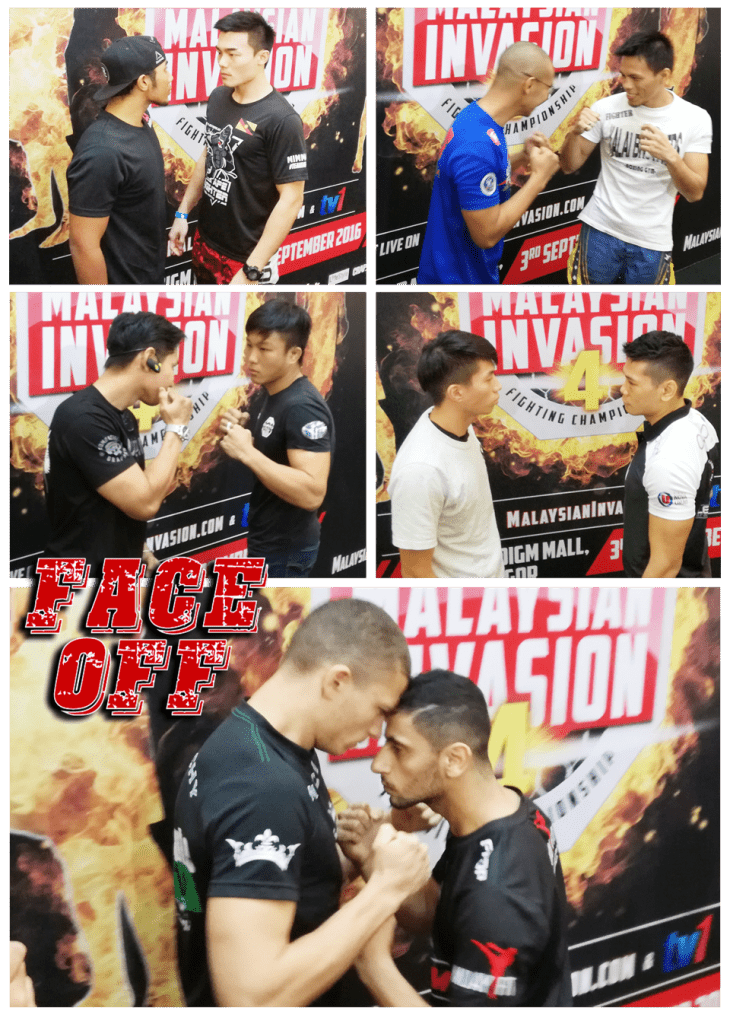 Clockwise from top. Middleweight: Bryant Tan Yi Qin (SWK) vs  Faiz Faisal Roseli (PEN). Flyweight: Eddy Kalai (SAB) vs Mohd Zakhir (SEL). Lightweight: Hui Keng Fai (SEL) vs Muhd Fahim Noh (SEL). Bantamweight: Damon Soo Yan Wei (KL) vs  Liew Meng Jun Quency (SAB). Foreign Pride Semi 2: Shaqueme Rock (UK) vs Amro Sulaiman (PALESTINE)
Ok lets move on to the first match in the Contender Fights.
Foreign Pride Semi 1: Nazri Sutari (SGP) defeated Anthony Vincent Lowe (UK) by unanimous decision.. Referee Olivier Coste (FRA).


Nazri displayed a great game of explosiveness and ground dominance. Executing a beautiful double leg take down that slammed Anthony on the canvas in round 1. Although Anthony was not easy to finish, Nazri was able to exert his will on the ground with ground and pound to win all three judges decision.
Last year Contender Fight, Niker prevented an all Sabahan affair in the grand finals when he beat Tam Yaw Kent to reach the grand final. This year another Borneon was in his way – which happened to be Tam's opponent in Season's 3 semi final, Tsan Nieng Khai from Sarawak.
Women's Power: Hayatun Najihin (JOH) defeated Nur Sabrina Bt Rafiz Azuan (SEL) by unanimous decision. Referee Yeow Chet Lim (KL).


The female category may only be in it's second year but the standard of skills when you watch these two compete was certainly at another level. In fact this match may have more action than some of the other match in the male category.
She will face Joanna Yap of Sarawak in the grand finals, and we may well see another exciting match as both are great jiujitsu athletes.
Theeban Govindasamy (KL) defeated Aaron Tan Kuan Howe (SWK) by unanimous decision. Referee Isaac Yap Weng Choy (JOH).


Aaron limp offed the cage and was not happy with the decision loss as he felt the technique applied on him is not legal in amateur level.
Bryant went in  looking for a finish early, but Faiz of K-ONE MMA Academy was a resilient opponent. The fight stayed standing and this was to Bryant's advantage as his boxing and muaythai background shines. When they are in the pocket he was able to connect with uppercuts and clinch into devastating knees.
It was a three round of energy sapping striking match. Faiz was a worthy opponent that was able to stand toe to toe with Bryant. Upon winning the bout, 2015 Middleweight Champion Muhd Meeraj steps in the cage to face-off with Bryant. Panting from the three round war, Bryant was respectful and cheerished the opportunity to be able to step into the cage facing Meeraj in the grand finals. He said that facing the champ, will ultimately bring out the best in him.
Flyweight: Eddy Kalai (SAB) defeated Mohd Zakhir (SEL) via unanimous decision. Referee Olivier Coste (FRA)
Flyweight are one of the best to watch as they are fast and explosive. Eddy Kalai of Sabah is man on a mission. It's unfinished business for him. Reaching semi-finals for both season 2 & 3, this year he is determined to go all the way.
Although a cheerful and joyful fella out the cage where he always smiles and joke even during face-off, but in the cage he is one determined and focus fighter.
His boxing pedigree shows through his effective jab and being a counter puncher he outstriked Zakhir even when he was on the retreat.
His ground game is understated but it he is an avid learner from watching countless Youtube tutorial. he was able to control Zakhir on the ground.
Seah Zhang Yu of Penang went through hell and back last year defending his CHampionship belt by outslugging Dhiaal Amal. I believe this year will see the same as both are prolific striker. Perhaps the game changer will be who will be the better grappler should the fight goes to the ground.
Keng Fai is a picture of calmness. A veteran of both season 2 & 3 where he reached the Semi-Finals but a fighter that is always on people's mind as he has so much potential to excel. Due to this even though he lost in the 2015 semis, MIMMA offered him a feature fight vs Nazri Sutari in the grand finals. And Keng Fai showed his calmness weathring the explosive charge of Nazri where he was able to apply a standing guillotine choke in round 1.
Facing Fahim, a veteran of F3 Championship, Keng Fai was able to defend against a single leg attempt. Keng Fai was on top position and was able to execute a submission we hardly see – Von Flue choke. This shows the high level jiujitsu Keng Fai has acquired through Professor Pedro Falbo of Muayfit.
Keng Fai will be challenging Jace Law for the lightweight belt. It's going to be a dream match as Jace is a high level athlete that is well known for his JKO bombs. This match I believe will not go beyond 3 rounds as Jace will be on the constant lookout for a finish. Keng Fai may play the defensive game and look for an opening for submission when Jace lunge in. Bottom line is, it's going to be a heck of a fight.
Bantamweight: Damon Soo Yan Wei (KL) defeated Liew Meng Lun Quency (SAB) by split decision. Referee Isaac Yap Weng Choy (JOH)
On paper it looks like Damon will have an easy victory over Liew. Damon was in season 2 & 3 and stumbled in the quarter finals. As a 18 year old, this is Liew's debut in MIMMA, and he has shown much potential by reaching the Contender Fights.
Liew went into this fight with short preparation. He was expecting to appear in the grand finals fighting Damon hence he started a strength and conditioning program under Borneo Titans and planned to cut weight on the final week of the Grand Finals. The rest of the time he trains in Alpha MMA under Allen Chong ( MIMMA 1 Lightweight Champion) polishing his jiujitsu and MMA.
But MIMMA had planned for a rematch of last year grand finalist of Sabahan Effendy Kalai vs Tee Jac Yoe of Johor. This plan didn't work out as Tee could not be back in Malaysia as he was overseas studying. The rematch was worked out due to 2015 grand finals where a no contest was declared when Effendy pass out due to a controversial behind the back strikes by Tee. As Tee was not able to fight, Effendey goes to the grand finals and it's up to Damon vs Liew to see who challenge him there.
As expected Damon was the aggressor. heavy with his hands was able to bring the fight to the ground. But the ground is where Liew excel. he was able to defend well and constantly shift position to look for a submission as Damon was on the offensive with ground and pound. 2nd round was similar.
Damon seems to be gasping for air in the 3rd round. Knowing he is behind on points, Liew decides to keep the fight standing. Using his boxing experience, a slug fest went on towards the end of the round 3 as both go for broke. In the end, Damon hand was raised, winning a close split decision.
Foreign Pride Semi 2: Shaqueme Rock (UK) defeated Amro Sulaiman (PALESTINE) via split decision. Referee Olivier Coste (FRA)
It was a great way to end the day with these two foreigner as the last match. Shaqueme representing Monarchy MMA using his height advantage controls the striking game and on the ground. Executing great grappling. At one point, victory looks certain for Shaqueme when he was able mount Amro and got high up to his shoulder for a mounted triangle and raining punches from top. But Amro does not give up, he was able to escape and bring the fight standing again.
It was 3 rounds of back and fourth with Shaqueme having the upper hand but Amro is constantly surprising people by coming back strong. Amro's supporters that surround the mall was ecstatic when his hand was raised,…a clearly dissapointed Shaqueme walk off the cage dejected.
But a quick turn around after the bouts when MIMMA officials met and discussed the decision. It was later reverse with the victory of a split decision going to Shaqueme. He will be facing Nazri Sutari of Singapore in the grand finals, and the resilient and warrior heart Amro will be given a feature fight to ensure fight fans a great bouts happening in the grand finals that will be on 8 OCT 2016 in Stadium Negara.
The fire that started in early 2016 will culminate in a truly explosive grand finals. Book your tickets early fight fans, this year grand finals may well be the best fight yet in MIMMA's history.