Away from the bustling lights of Kota Kinabalu city  lies the grand Sabah Muaythai Camp, in the area of Papar. It's currently the only Muaythai camp in Borneo. This is the effort from Sabah Muaythai Association in the process of making Sabah a Muaythai powerhouse.
The Camp open in November last year with a Youth Muaythai Championship officiated by
Y. B. Datuk Rosnah Bte Abdul Rashid Shirlin, the member of parliament of Papar and Deputy Minister of The Works Ministry Malaysia. During that time YB Datuk Rosnah promise to continue supporting the development of Muaythai in her area specifically and Sabah in general.
That promise materialised in the organising of YB Datuk Rosnah Muaythai Trophy, which was organised on 17 March 2018. In the dark of the nights among the village houses, Sabah Muaythai Camp became alive with music and energetic music that accompany the 9 bouts contested under pro rules.
The boisterous cheering crowd and the thunderous voice of emcee extraordinaire Vallerio Gumbilai, truly makes the event happening!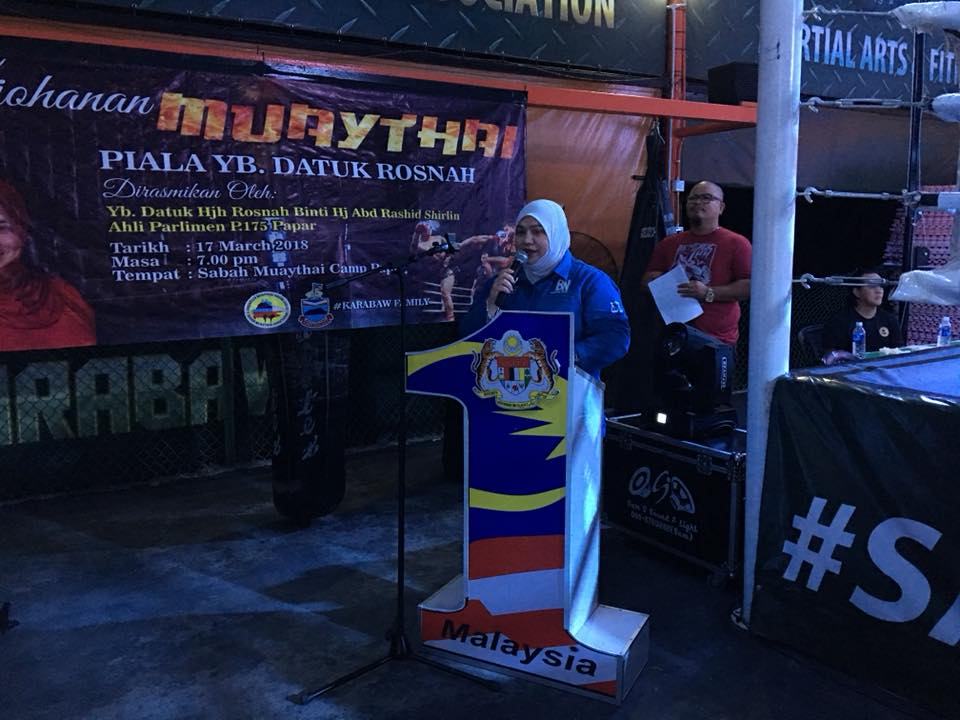 YB Datuk Rosnah in her officiating speech
The attendance was unexpectedly good, curious spectators from around the villages packed the camp and enjoyed a night of combat sports action that combine new upstart young talent and also senior more experience fighters.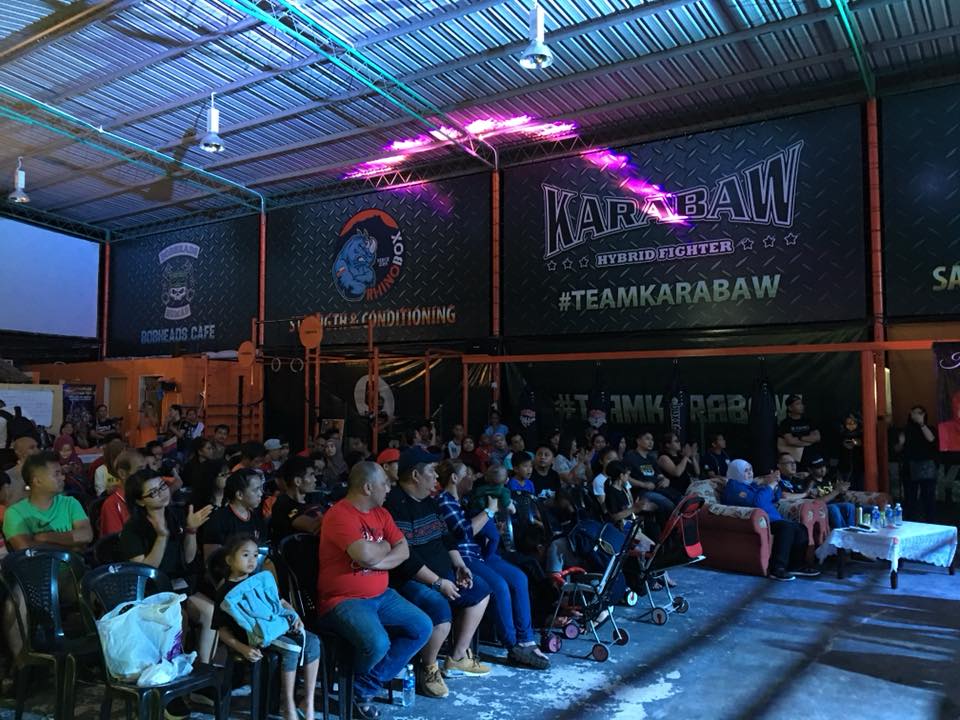 full attendance
It's a good development for the sports, exposing it to more new fans around Papar. Hoping that attendees see the potential of the sports to develop the mind and body of youngsters and support it by encouraging their children to take up Muaythai. Sabah Muaythai Camp is an ideal place for this as it houses good facilities and knowledgable team of trainers.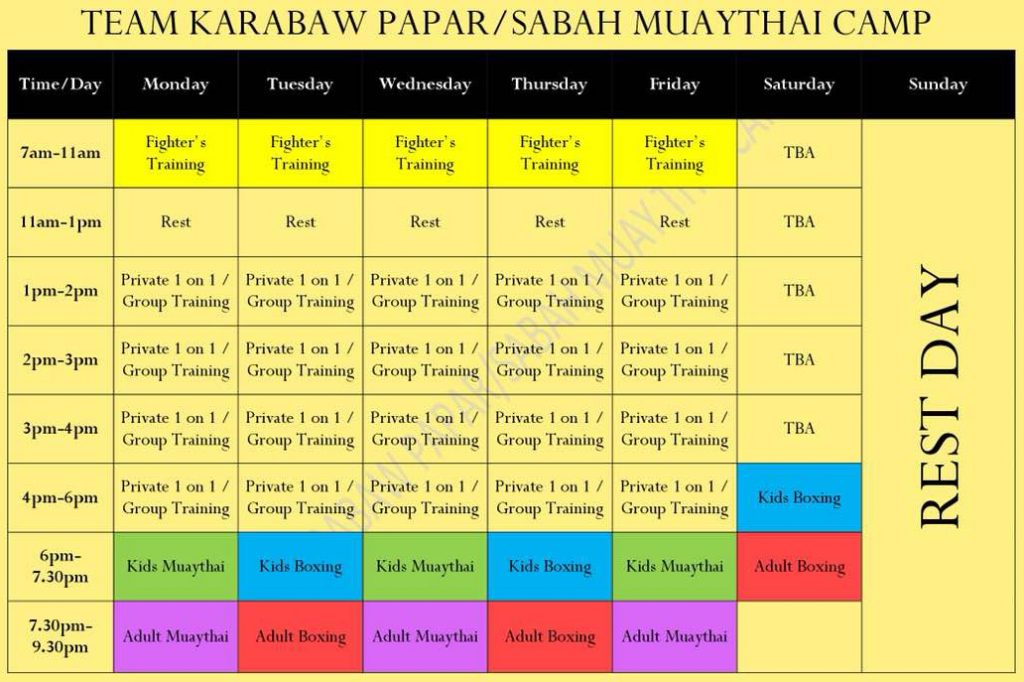 check out the training schedule for Sabah Muaythai Camp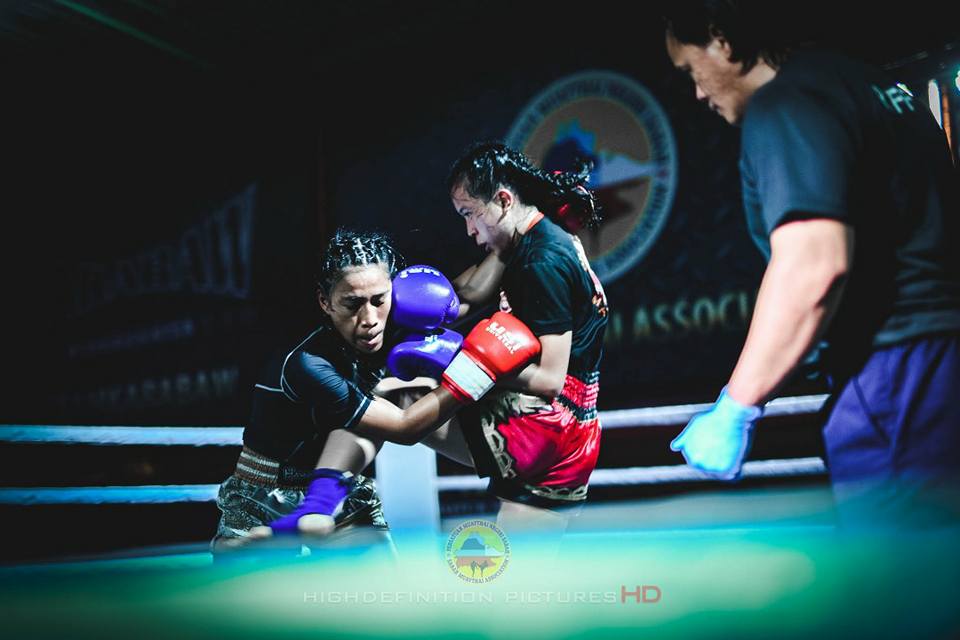 Dolphina – SS Fighter Sarawak ( right ) getting a close decision win vs Mardeana – Revolution Gym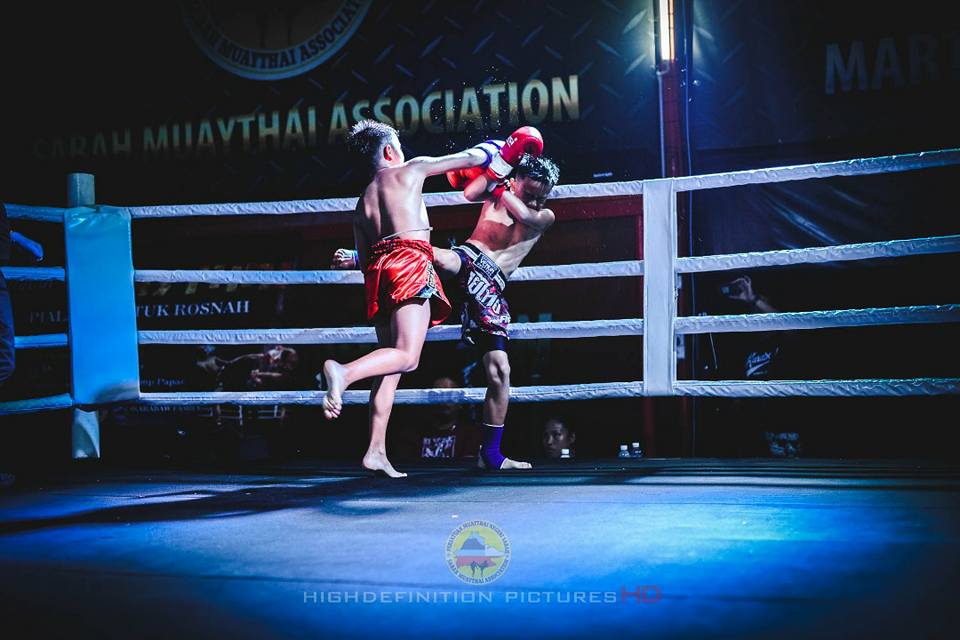 They may be still young, but their fighting spirit is top level!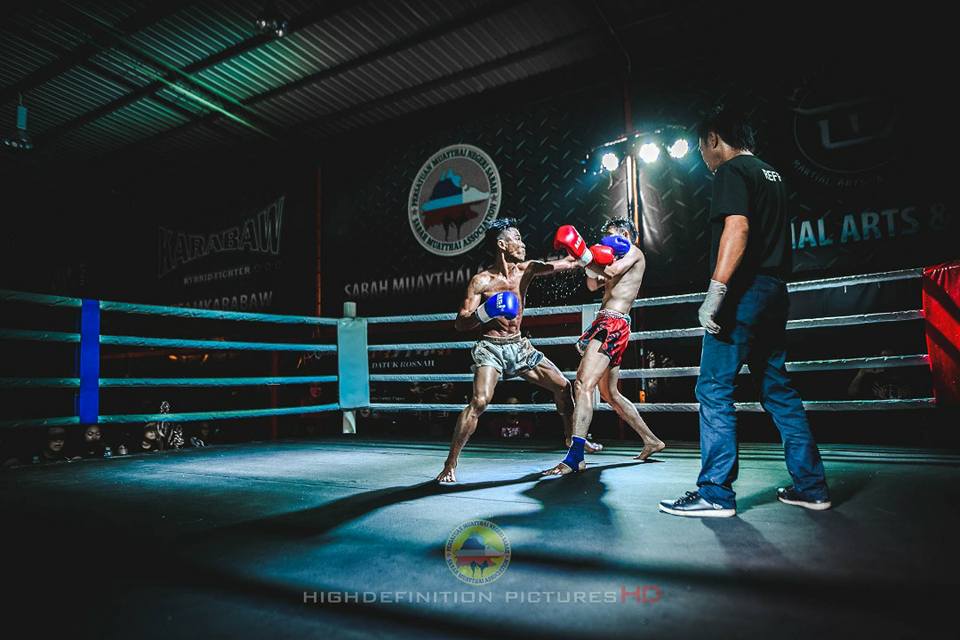 Co-main event , Ady of Karabaw (left )  winning via split decision over Hafiz – 66 Unicorn
The hi-lights being the main card fight for YB Datuk Rosnah Cup, between Ali Hobbit ( Revolution Gym ) and Muliadan ( 66 Unicorn ). This is a come back fight for Ali as he has not been competing for close to 2 years.
Ali from Tanjung Aru, whom is 29 this year began his martial arts journey by learning Tae Kwon-Do from Muslee Tuah. 6 years ago. But as Muslee began to introduce Muaythai techniqes, he showed interest and has focus on making the art of the 8 Limbs his main style of martial arts.
He did dabbled into MMA too by competing in Jesselton Fight League and Fight Fest. But mostly seen his success in stand-up fight. Tasting success in Muayfit Warrior, STAND Kickboxing and his 1st pro Muaythai fight in a Boxxtomoi event in Penang.
Ali has a full time job in Nosoob Penampang, installing kitchen & bathroom accessories. But he supplement his income by teaching Muaythai in private training classes in The Peak condominium and also coach in Revolution Gym.
The title fight vs Muliadan on 17 March night currently is his biggest win. It was a sweet start for him after a long lay-off. It took him 4 round to secure the win via TKO. He is eager to continue being active in competition and want to aim to collect a title belt in future competition. Ali will see action again this end March in Sabah Fights Muaythai.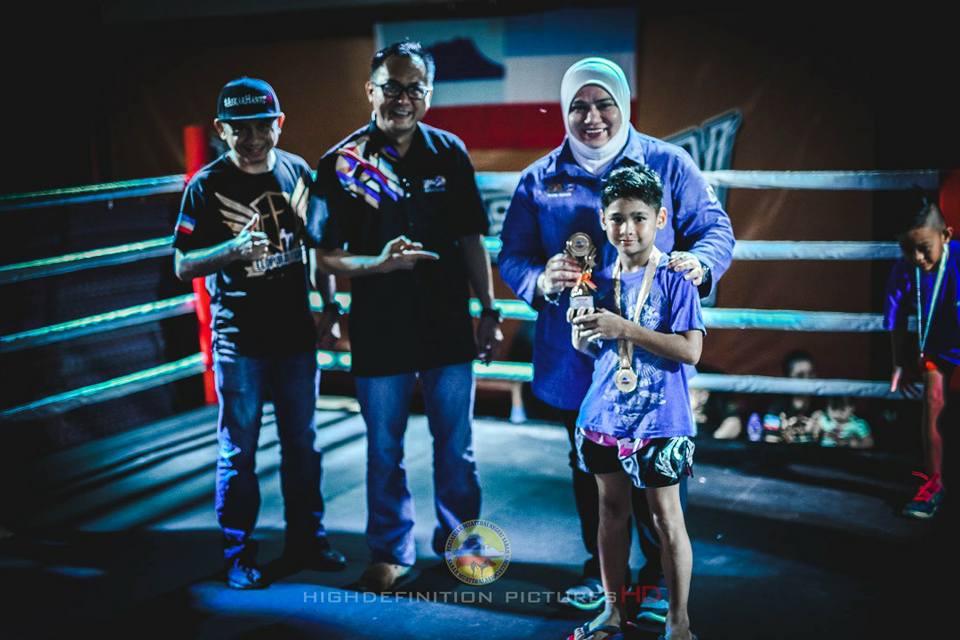 YB Datuk Rosnah present the prizes accompany by Sabah Muaythai president Hj Nazri (2nd from left ) and deputy president Ajman Ajmain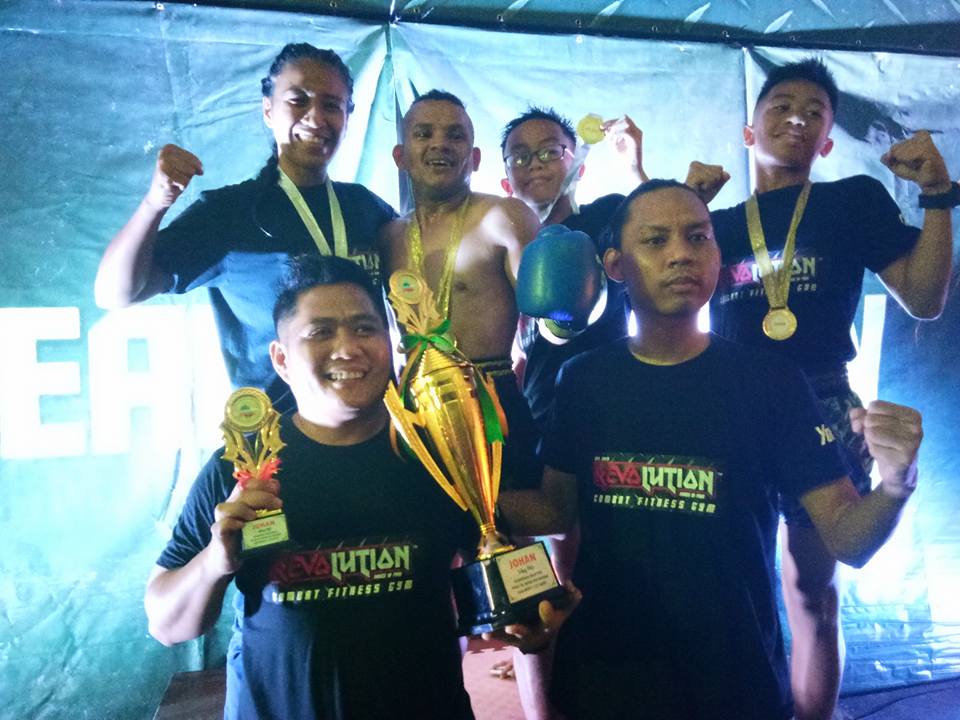 Revolution Gym head coach and founder Dhillon Tahing ( holding trophy ) with his team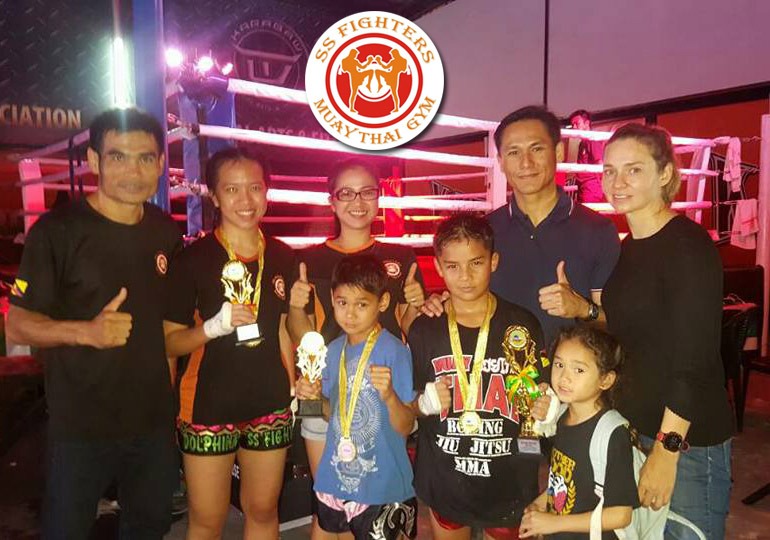 The successful outing for SS Fighter from Kuching with 3 gold