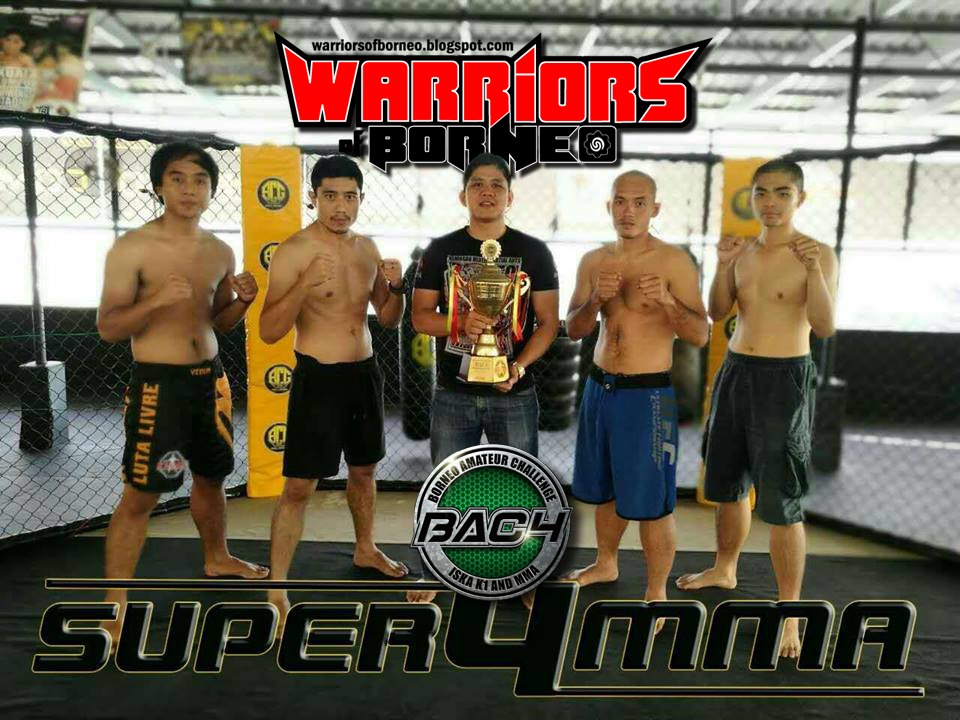 Come Saturday 4 March, around 60 warriorsts from all over Borneo will again converge for the 4th time in the tiny island of Labuan. This is Borneo Amateur Challenge 4! ( BAC4)
BAC is organised by Borneo Combat Gym of Labuan. In one short year in 2016, BAC has successfully been organised 3 times. Held in the roof top of Labuan Times Square inside BCG, overlooking Labuan's scenic harbour view, it has steadily built a reputation as the premier amateur martial arts competition in Borneo.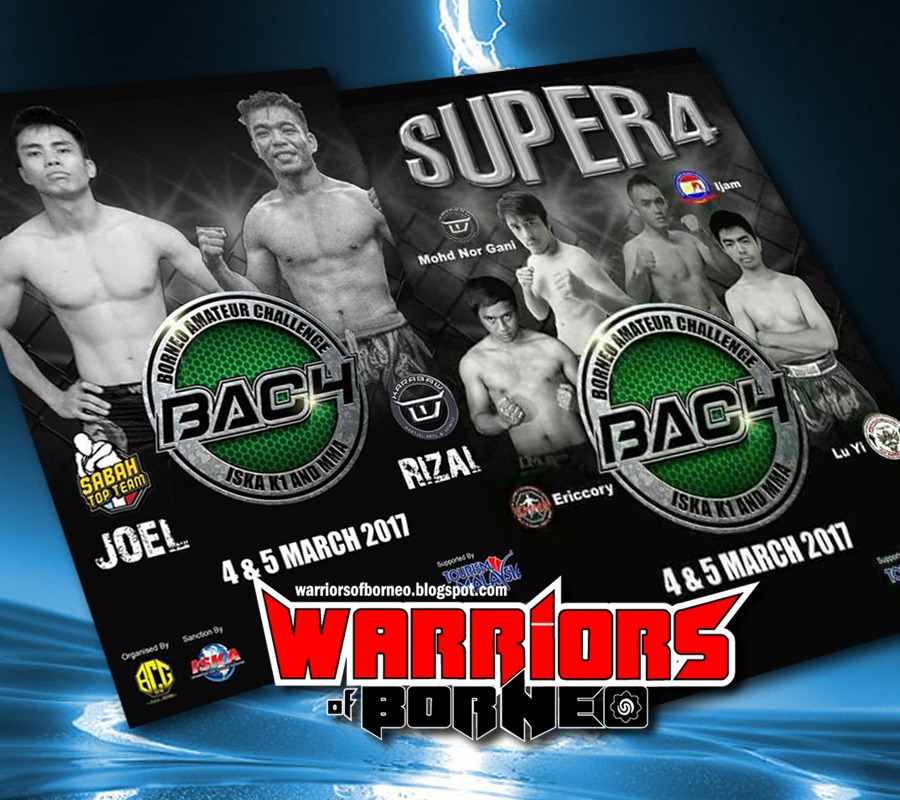 Labuan's economy is in the doldrums this pass 2 years when oil price went low and affected badly the oil and gas industry which is the lifeline of Labuan's industry. The local authorities has since try to revive Labuan's tourism sector to liven back the business sector in Labuan.
In a way the economic downturn is good for the fitness industry. People tend to spend less in the club and night life and opt to vent out their stress in the gym…these creates good , motivated fighters. BAC also attract participants from Brunei, Sarawak & Sabah which brings in the much needed tourism revenue for Labuan, when these participants spend shopping and on food and beverages.
This year Ronald Tee is leading the BCG team as the Organising Chairman for BAC4. According to Ronald,
" Tourism Malaysia involvement will further strengthen our BAC branding and as well to establish better rapport for BCG not only in Labuan but as well in Malaysia. For this year, it will be the first time BAC event being listed in Calendar of Events 2017 by Tourism Malaysia. This strategy co-operation is ideal for mutual benefits and help to boost the local tourism industry"


Coach Alvin Chong, the founder of BCG is a visionary. He doesn't just want BCG to be a place where fighters come and train for fitness and be able to compete, but also building their confidence and character through martial arts. BAC is a way he builds this soft skills for his team of coaches.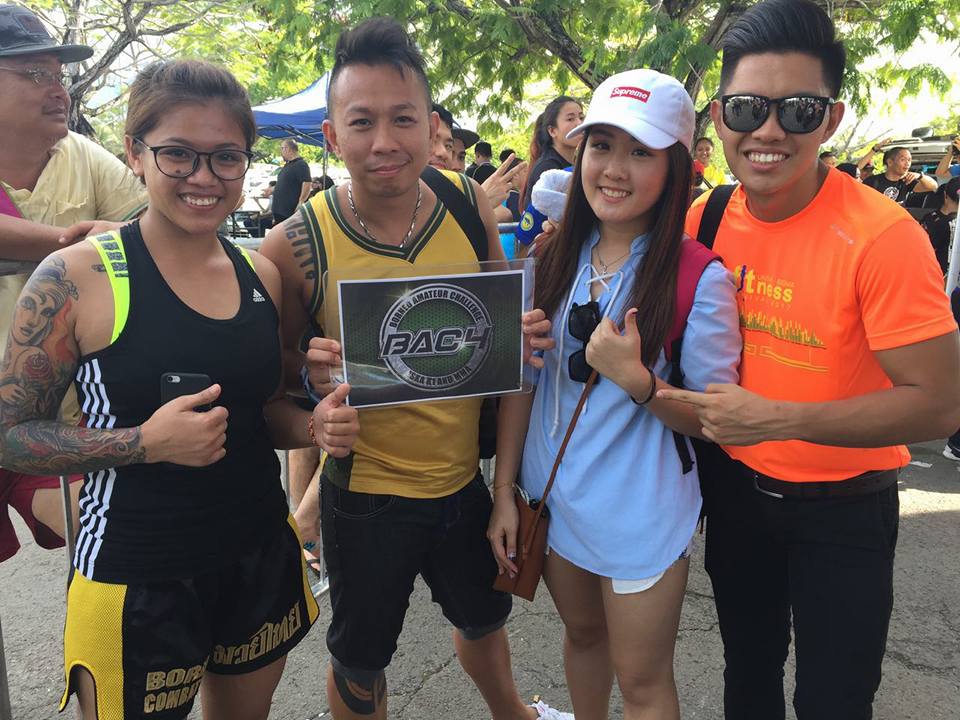 Alvin and his BCG team promoting BAC4
Letting them lead in organising events and competition will help them develop good management skills that will help them to be better leaders. As leaders, in turn he hopes they will contribute back to the communities in helping others.
I ask Ronald on how is the experience so far as the organising chairman.
"It has been a privilege for being selected by Coach Alvin as BAC4 Organising Chairman. The experience is overwhelming but yet gratifying as I have been given a chance to learn on collaborating with sponsor, managing and working with the team, enabling and fostering interpersonal relationship and as well as building my leadership skills."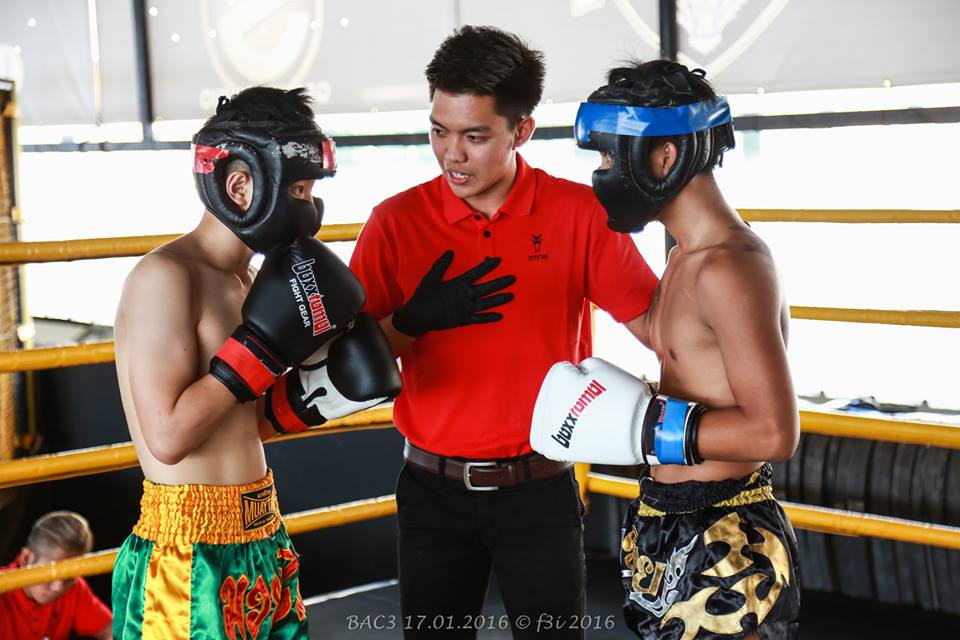 Aside from being a fighter and coach, Ronald is also a certified referee
BAC4 together with STAND & FIGHT FEST in Sabah, is also a continuation of selecting potential athletes for a place in the National K1 Championship, planned to the held in Labuan end of 2017. BAC is a offial ISKA sanction fight.
The hi-light of BCG4 is the Super4 MMA. The fighters involved are Ericorry of Keningau MMA, Shah Rizam of Labuan Tomoi, Md Noor Gani of Team Karabaw and Lu Yi representing Naga Knabalu.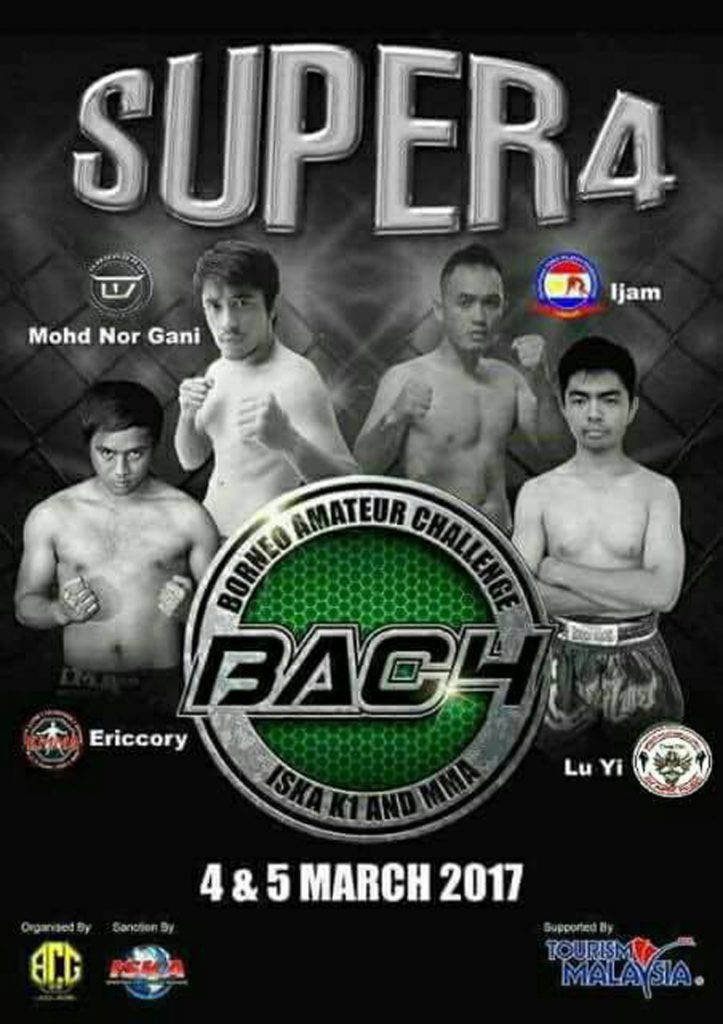 The 1st leg of this Super4 MMA will see Ericcory vs Rizam, 2nd leg is Noor Gani vs Lu Yi.
The winner of 1st leg vs the winner of 2nd leg will be the main event of the night.
The champion will receive a championship cup sponsor by Keningau MMA (KMMA)
According to Mohd Bin Bakri, founder of KMMA,
" I'm glad to sponsor the championship cup, as this will help develop the sports. KMMA has just moved to a newer and better premises and I'm happy that KMMA has grow and many of our fighters has gain much experience by participating in BAC. This is my way of giving back."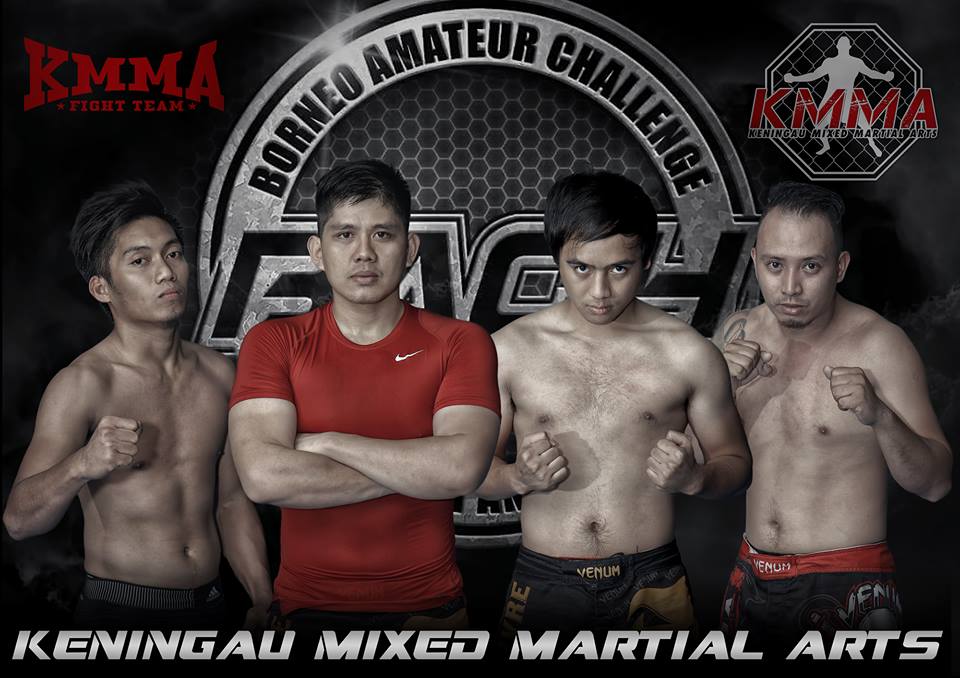 Mohd and his fight team
Ericcory of KMMA is from Tamparuli but has been in Keningau for the last 10 years. At 23 this year, martial arts has always been his interest but never had a chance to take it up until in 2015 when he walked in the doors of KMMA, following a friend.
Ever since, Ericcory has absorb all that has been taught and is raring to go. He participated in BCG and Fight Fest and has a current record of 2-1. Ericcory will rely on his grappling skills as he has develop it through Luta Livre taught by coach Mohd himself and coach Antonio Battistessa of Sabah Top Team. Recently he also took up a MMA seminar in Sabah Top Team taught by coach Mark Sangiao, the successful MMA coach of Team Lakay, Philipines.
In the 2nd leg, look out for Md Noor Gani of Team Karabaw. He is a striker with some amateur MMA experience from Jesselton Fight League. He also fought pro before in freestyle martial arts in the 2016 ONE Silat.
His opponent Lu Yi was train by Master Tang of D-30 Muay Thai Miri. He has since moved to Kota Kinabalu and now represent Naga Kinabalu. This young lad is ferocious in terms of learning. What he lacks in techniques he made it up with relentless spirit, which saw him participating in various martial arts events such as BJJ, Pro Muaythai, No Gi Grappling, MMA and Kickboxing.
In the co-main event is the MMA Super Fight of Joel Nickolson Lawrence (Sabah Top Team) vs Mohd Rizal ( Team Karabaw ). This is a good match as both are strikers. Joel is more technical from his background in Taekwondo.
Joel initially wanted to fight at 56kg but organiser could not find him a match at that weight and Rizal stepped up and they agree to fight at 62kg.
Joel is the semi-finalist of 2016 MIMMA4 losing to eventual champion Damon Soo. He has a record of 3-2. In last year's Jesselton Fight League in 1 Borneo, Joel defeated Australian Nathan Hynes with a standing guillotine, a month later he fought in Fight Fest 3 but lost to Mohd Hasbullah in a thrilling match.
Joel will be relying on the great learning he got from Coach Mark Sangiao in the MMA seminar he attended at Sabah Top team with Ericcory.
Mohd Rizal or known as Ladda to his friends was also feature in JFL last year. He fought Indian Rudranash but lost in a 3 rounds decision. In that fight Rizal has still not fully recovered from his fight a few weeks before in National Muaythai selection, but Rizal showed tremendous fighting spirit…always moving forward and actively looking to engage.
To those who knows him, they attribute one of his strength to his mental fortitude. Rizal has a never retreat never surrender attitude. His is not bothered by pain and taunt. He says he will turn into a beast when he enter the cage. But outside it, he says he is a friendly person. Rizal has experience in Muaythai, Kyokushinkai Karate and K1 and Pro Silat in ONE Silat tournament.
In Sabah Fight last Dec, Rizal fought in the co-main event vs Madjais Opong. He executed an excellent combos of kicks and punches in the fourth round to end the fight with a TKO.
Expect fireworks tomorrow when this two meet!
Competition will start at 9am tomorrow till 7pm. Stay tuned to Warriors of Borneo Blog FB for updates.