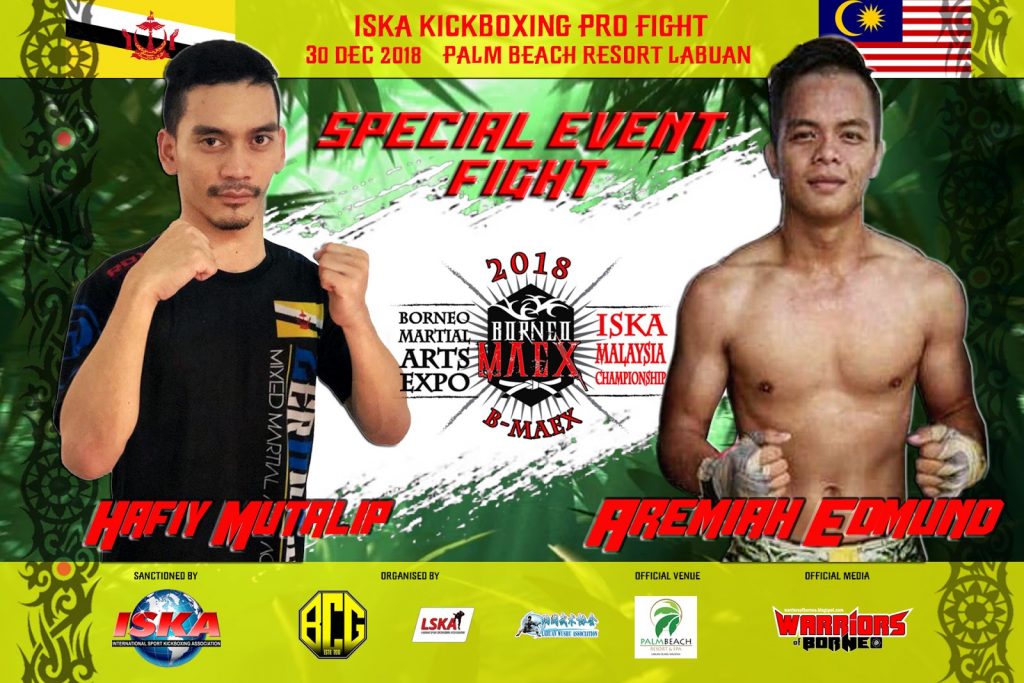 This is a very special fight for the people with disability. It will be in Boxing rules.
Two young fighter, Hafiy Mutalip of Brunei's 018 MMA will face hometown favourite Aremiah Edmund of BCG Labuan for the JY Trophy.
Founder of BMAEX Alvin Chong says that  BMAEX is not an ordinary fight event, it is a platform to promote unity through martial arts. He said BMAEX also help promote Labuan as a tourism destination. Aside from that, BMAEX also strive to develop talent and education, in this situation, to educate the public on the abilities of the disable group.  And educating the disable group to achieve a goal beyond their physical disabilities.
 "I used to dream of being a  champion fighter, but I found my true happiness when I can help others  achieve their dream…I think this is my true calling in life, to help the disable. I will do my best to create better community through martial arts.
Last year, we helped a deaf woman from Sweden to achieve her dream as fighter, and this time we will help other disable person fulfill their beautiful dream to fight for JY Cup." 
JY Cup is named after Alvin's former business partner Joseph Yew whom pass away because of cancer. Alvin created the JY Cup in a noble effort to use it to inspire others to achieve their dream in memory of his friend.
————#WRB———–
Hafiy Mutalip has been overcoming obstacles his whole life. His biggest challenge is getting people to look past his limitation and understand that he is just as capable as the next guy.
Hafiy has always been a boxing enthusiast and this weekend he'll finally be putting on the gloves to fight in a special match for the Joseph Yew Cup during the 2018 Borneo Martial Arts Expo in Labuan.
The Joseph Yew Cup is in remembrance of Joseph Yew, Co-founder of Borneo Combat Gym, Labuan who had lost his battle to cancer. He is honoured every year to demonstrate that above all else, there is love in martial arts.
This weekend, Hafiy will make us proud by being the first 'Orang Kurang Upaya' (OKU) – People with disabilities from Brunei Darussalam to partake in such a sport. Here at STRIKE, you will always be a fighter in and out of the ring. Good luck and all the best.
( above excerpt from STIKE.bn Instagram introducing Hafiy ) .
 ———#WRB——–
profile of Aremiah pending.
——–#WRB———