JFL Grand Finals : Co-Main Event : Jason Chalton Gaban vs Eddey Kalai
This flyweight title fight will see fast action between this two exciting fighters.
Jason journey in JFL started with a surprise. Thrown unexpectedly into JFL by his head coach Rayner Kinsiong, Jason was actually just helping out carrying things during an event with the media for JFL inaugural launch before the tryouts. When the TV1 reporter ask Rayner is there any fighters for them to interview, Rayner said Jason is one of them!.
That's how it began, but initially Jason was reluctant as he felt he was not ready. Especially when he is weighing around 65kg that time. But with the encouragement and the trust given by Rayner and his coach Vallerio Gumbilai of Karabaw Tamparuli, he decided to put all his heart into it. He slim down to 56.7kg to fight in flyweight.
JFL ladder match saw him had a tough battle with a game Kevin Andrew. The fight was back & fourth and Jason won in round 2 by guillotine choke, winning the Fight of the Night award.
In quarter finals, Jason met his match in meeting another bald headed fighter – Johan Julian Lee.
The fight was close and both gave their all. A fight that won Jason another Fight of the Night award.
Semis saw Jason faced the lanky Teo Seng Ming of Tomoi Labuan. But Jason managed to win by controlling the fight on the ground and dishing out lots of ground and pound.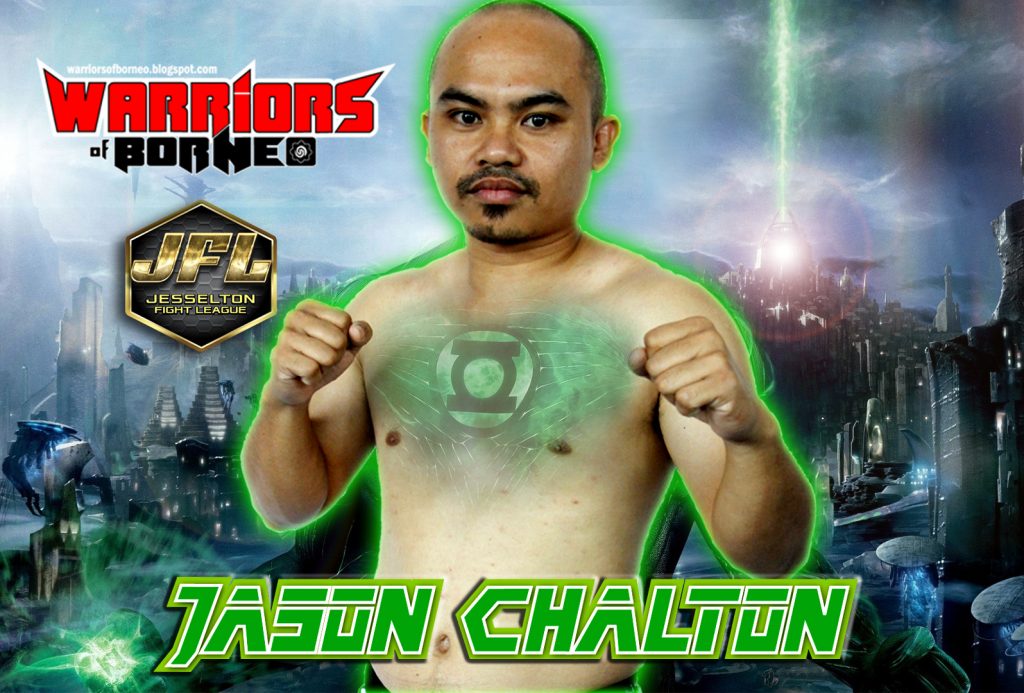 (original heroes character reference frm. DC. Original fighter's
photo by Matt Buvvart. Artwork editing by warriors-of-borneo blog)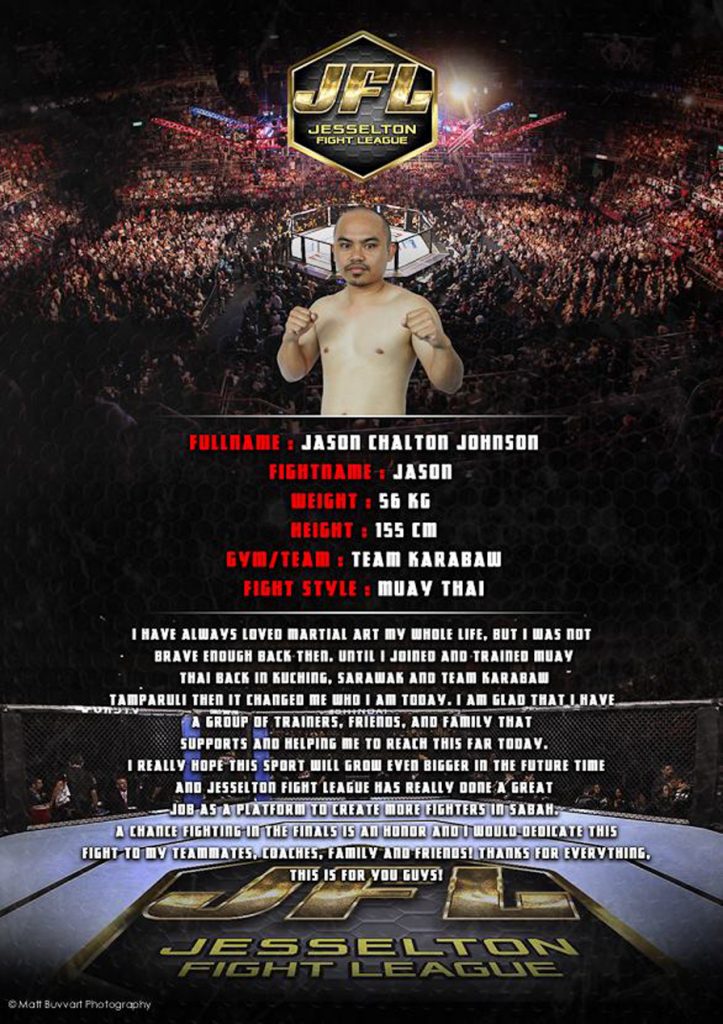 (artwork by Matt Buvvart)
Jason how do you feel going into final?
Excited hahaha! Never actually thought I could go into the finals.
Have you adjusted any training style to face Eddey whom has fast hand due to his boxing background?
Ya, we have set up some game plans facing Eddey. We have been doing a lot of padding sessions where I have to move all the time and to catch the timing on when to go in and out. Also did a lot of sparring session, this is where techniques that I learned I need to try and use it during my fight and so that the muscle remembers. I really hope my game plan works during the fight. It's not a good feeling fighting your fellow friend, but I know both of us wants the belt. So I just hope for the best for both of us.
Do u see your ground game advantage over him?
Can't say for sure.. coz I know he has been training his ground game as well.. he went and joined grappling competition recently, so I guess his ground is more better now..
But, when you enter the cage its all 50/50. No one can actually know who is gonna win, especially if both is good. Unless an experienced fighter who fought in MMA in a long time meets up and fight with a newbie, then I think you can guess who's gonna win kan.. hahahaha
Since you were 'set up' in the 1st place to fight,…what is your motivations? What keep u going?
Hahahaha, sandi o kna set up ma… erm I guess my motivation is that I dont want to let down my two senseis (Rayner and Vallerio) as well as my friends, family and teammates. I want them to be proud of me, proud of what they have produced. That's the thing that motivates me I guess… I can say, without their hard work of prepping me and supporting me till this day, I won't get to where I am now.
What's your way to unwind bro? Hobby? What type of music, which artist you listen to to get you pump up in training?
My way to unwind is usually hanging out with the guys, sharing knowledge and chit-chats, LOL~
I guess martial art and fitness is my number one hobby now hahaha!
In terms of music, I don't really have specific artist that I like… as long as it gives you the feel and motivation to train then, ya that would be the song I'd listen to…
Hip hop? Heavy metal? Lagu dusun?
You know fast tempo stuff like the one use in crossfit… hahahha! and some hip hop lah : D
Tell me about Gymsokid?
Gymsokid is led by Claroy, he's the one that gives us strength and conditioning exercise… it's in his backyard.. but I can say that its fully equipped…
Gymsokid is located at a different place from Karabaw Tamparuli?
Yup hehehehe~ its up the hill going to Kiulu.. that's why they call it Gymsokid
Sokid is it the name of the kampung?
Oh no bro… sokid in Dusun it means hill…ahh if I'm not mistaken lah.
Me, Vallerio, Douglas, Claroy and the some of the guys in Tamparuli are best friends,
childhood friends till now… but actually related too hahahaha!
As a fighter, which is your toughest fight? Fight that you remember most?
I think fighting Eddey is the toughest fight I will ever face, he is a well experienced fighter and I'm sure he is very very tough to fight. But in the positive side this is an opportunity for me to really show what I have and can do. Win or lose, I'm happy to fight him.
Final question, …what is your message for Eddey?
Aiyaa~ the last question is tough bro… hahahaha!
I don't know what to say… I know him rather well.
Ok just to make it fun…"Eddey…get ready bro, get ready for 'tamparan Tamparuli ! LOL hahaha….may the best man wins."
————————————————–
Eddey Kalai is from the renown Kalai Brothers that excel in boxing. Eddey has represented Sabah in SUKMA, and Malaysia at Asia Games, Arafura Games, SEA Games, etc.
This cheerful lad is from Sandakan & has ventured into MMA this last two years. Together with his younger brother Effendy, they participated in MIMMA & JFL actively. Eddey reached the Semis of MIMMA this year.
In JFL ladder match he won by submission over Sharil of Keningau MMA. Then progress to fight another KMMA stalwart, Writh Kapotosan in the quarter finals. Eddy win by having accurate striking and managed to execut few suplex.
In the semis fighting Faizal Dzid, a Capoeira specialist. Eddey won by ground and pound in the 2nd round.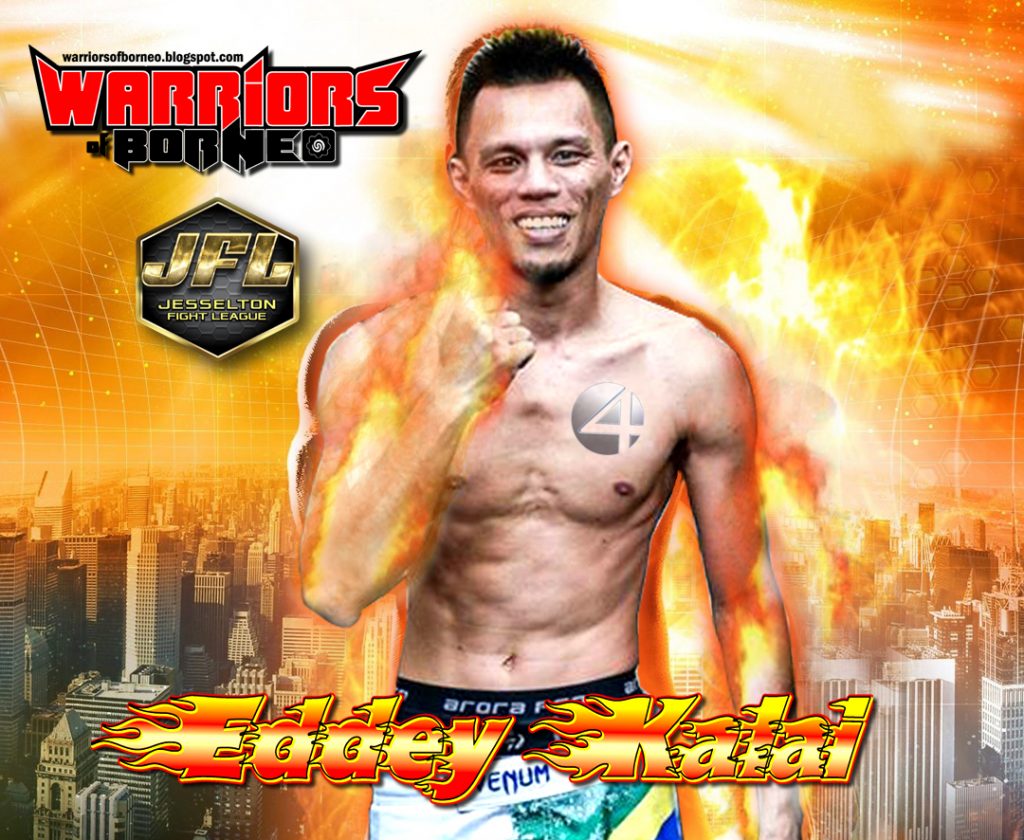 (original heroes character reference from Marvel. Original fighter's photo by Matt Buvvart. Artwork editing by warriors-of-borneo blog)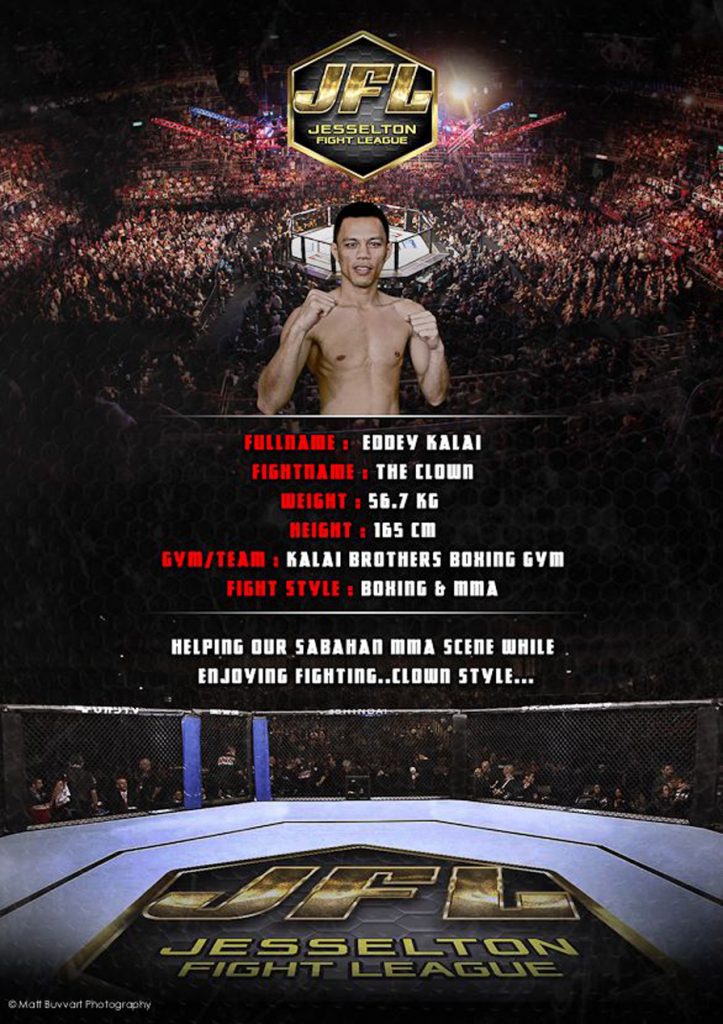 (artwork by Matt Buvvart)
How young are you bro?
I'm 33 this year…but always young at heart…feels like I'm 23 bah…hehehe
You still in the police force?
Yes in PDRM ( Malaysian Royal Police ) under the Selangor State contingent, but I train at PULAPOL KL.( Police Training Center )
Do you coach?
Yes I coach boxing. Currently using the place at Malaysian Boxing Center ( MSN AU2 Keramat ). Sometimes I join my brother Effendy teaching at ELITEZ. But the travelling from KL to Klang through the jam is a big challenge.
What is your strategy facing Jason in this final?
Jason is the fan favourite. I will go all out in the fight, in all aspect, be it stan up or ground
Do you feel the pressure to win due to your experience having more fights?
There will always be pressure in any fights. When facing a formidable opponents such as Jason, yes no doubt there's more pressure.
Doing your preparation in West Malaysia, do feel there's a difference?
The difference is in West Mal due to my coaching commitment, my time is divided with my students, my work and my family. Maybe if I train in Sabah, I can concentrate better as I have lots of friends that can help.
Were you disappointed of your MIMMA3 result?
Yea…because my target was to go to the finals together with Effendy. But looks like my fate is only at the Semis, hope to improve next time around.
Who is your head coach currently?
At work it's Mr. Rosli Yaakup, he is also the head coach for KUDA MERAH MuayThai in PULAPOL KL
In your family, any other siblings into combat sports?
Yes . All of them started from boxing. For MMA only me & Effendy. But my other two siblings are showing interest – Mohd Khairoll Kalai (National boxer ) & Mohd Ridhuan Kalai (Sabah state boxer). So four of us active in combat sports
Who is your source of motivation to fight?
Allah SWT & my family, my dad is my strong supporter. In every fight, I draw strength from my wife and kids.
For this Grand Finals JFL, I will try to win it for them, cause my wife has sacrifice so much of her time and energy to support me. …if not I may be sleeping outside the room…hahaha.
Tell us her name
I'm married to charming Jovinia Dalusin from Tamparuli with 3 kids and counting…..hehehehe
Will you continue to actively compete or will be focusing on coaching?
I'm in transition now between fights and coaching. As long as my body is strong and healthy I'll be competing and also share my experience and knowledge with others.
Do you think JFL fights are as good as in West Malaysia?
Yes, it's on par. We just need more sponsors to bring up the fight scene in Sabah. There's a lot of talented and potential fighters whom cn go far.
So what's your message for Jason in the final?
Hahaha, this is it. Jason don't you try to be serious during weigh-in, if not I'll laugh non-stop.
I respect you bro, lets entertain the crowd.. and after fight….we go for 'mee pangsit!!'