The heat is sweltering in KK (Kota Kinabalu) lately,…you can feel beads of sweat forming on your body starting even as early as 7am…it hasn't been raining for weeks! I am sick of this hot weather…but there's a another type of heat building up & it's gonna explode this Sat 4.4.2015.
It's Jesselton Fight League part 3 – The Quarter – Finals. Now this is a type of heat I don't mind sweating for.

Told u, it's gonna be hot…even the poster is also flaming!!!
Presenting 3 main card , Adrian Tham vs Syafiq Akmal for welterweight, Eddy Kalai vs Writh Kataposan for Flyweight, & Sam Lai vs Terence Bungkilim for Lightweight.
The Seasoned vs the freshie.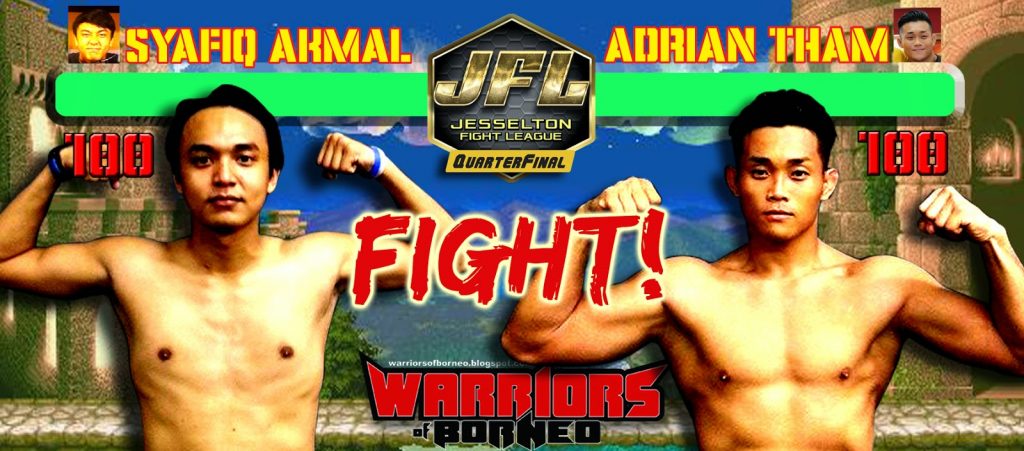 Which fighter u choose? left or right?
Adrian Tham (NOMAD) vs Syafiq Akmal (DIHNAR MMA)
An experience fighter in Adrian vs the newbie in Syafiq. With a record of 5W 1L, Adrian is on a path to collect more wins to build a firm foundation for turning pro. (on Adrian's background, please check out my earlier post ) .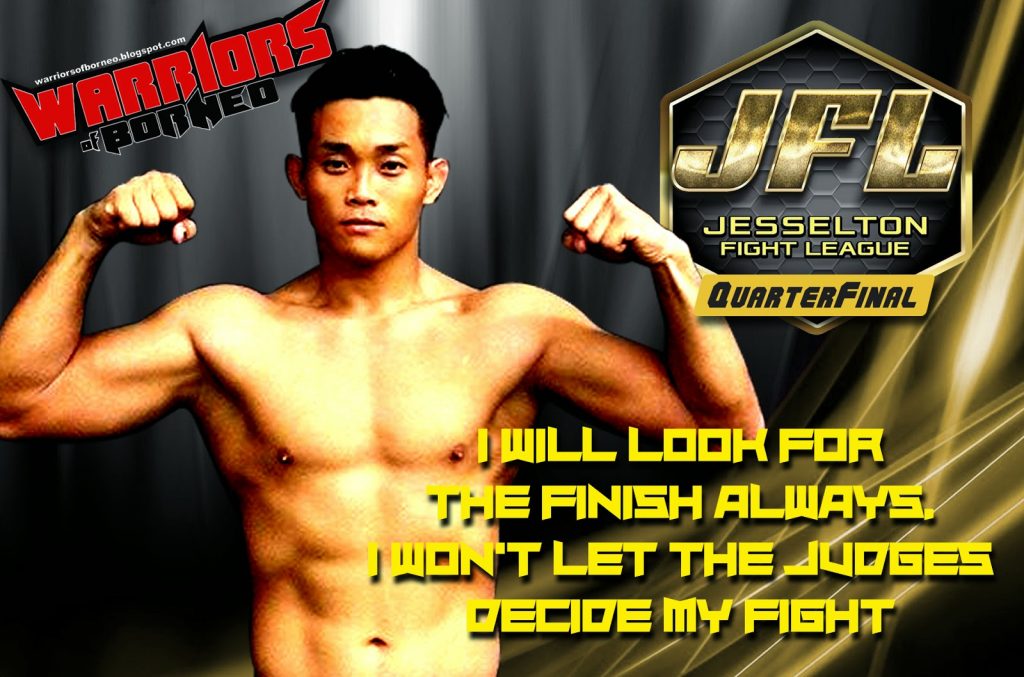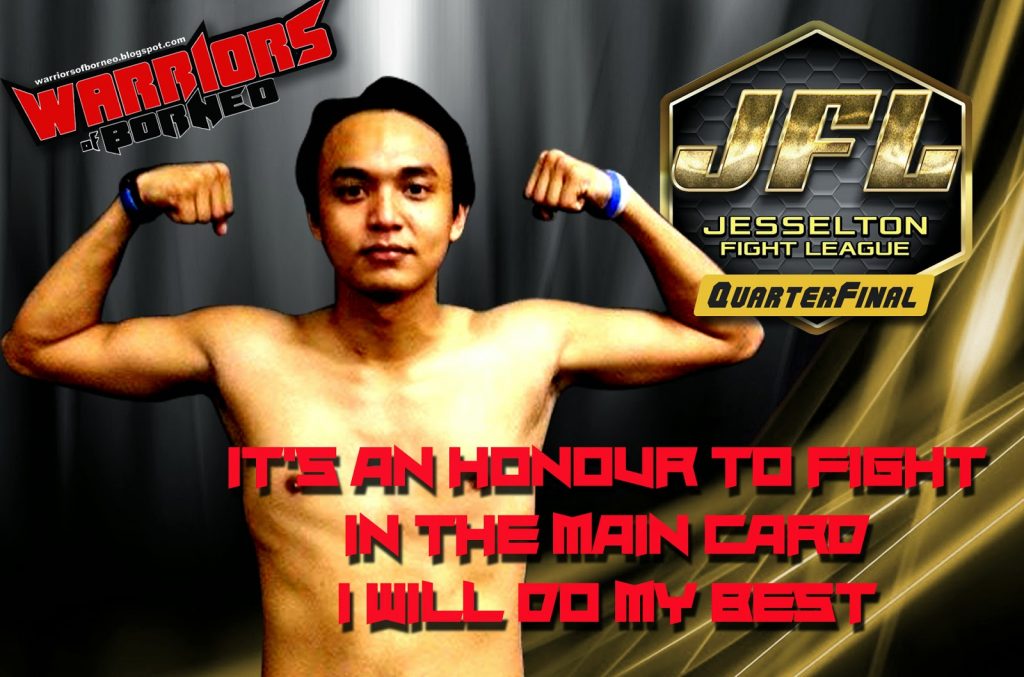 Syafiq, with some background in boxing during secondary school, only seriously took up martial arts when he enrol in MuayThai class at Dihnar Boxx Arena.
He works at Dihnar as a technician & was task at doing some work setting up the wiring of the gym. Watching the training daily eventually lead him to 'why not give it a try'…& the rest they say is history. He pick up a few wins fighting at D1 FC in MuayThai. Virtually no experience in the ground game, this young lad learn BJJ through YouTube! Yes this paid off… JFL 2 saw him winning in round 1 by submission!
But he does not kid himself & decided to learn the ground game seriously…under the tutelage of Rayner Kinsiong…this quick learner is steadily adding better ground game to his arsenal.
Advantage by height & his long limb, Syafiq will have to watch out for Adrian in every area as Adrian is well rounded in stand up & ground &…..he packs a bomb in those hands.
The Ground Maestro vs The Penampang Hulk
Sam Lai 
(BTS)
vs Terence Bungkilim
(KARABAW)
. This will be another exciting match-up.
Two contrasting style. Sam Lai, a seasoned fighter well known for his prowess on the ground has time & again use his style to overcome stand up fighters. Sam is a patient fighters whom calculate his move well.
Sam has a amatuer record of 2-1. His lost only at the hand of Agilan Thani in MIMMA 2 last year, Agilan eventually emerge as the Welterweight Champion of
MIMMA2
. Built up experience in MuayThai & Boxing. BJJ is his core style. Sam is looking forward to this match up.
Knowing Terence's ability to slug it out, Sam has some plans to overcome this.
His wife Val (herself a seasoned female fighter) will surely be there to motivate Sam for a victory.
Terence Bungkilim, although a newbie in MMA whom started to train only in May 2014 is a fan favorite. With his mohawk hairdo & coloured hair, he has build up some following especially from his base in Penampang. With a physique of a hulk, Terence will try to stand with Sam. Even though he has trained in all area. He will focus on avoiding take down & executing fast transition to get out of a tangle on the floor.
" I will give my 200% for this fight"
Looks like it's gonna be war…fight fans, skip the toilet break, pay attention to this fight!
Battle of the BOTAKs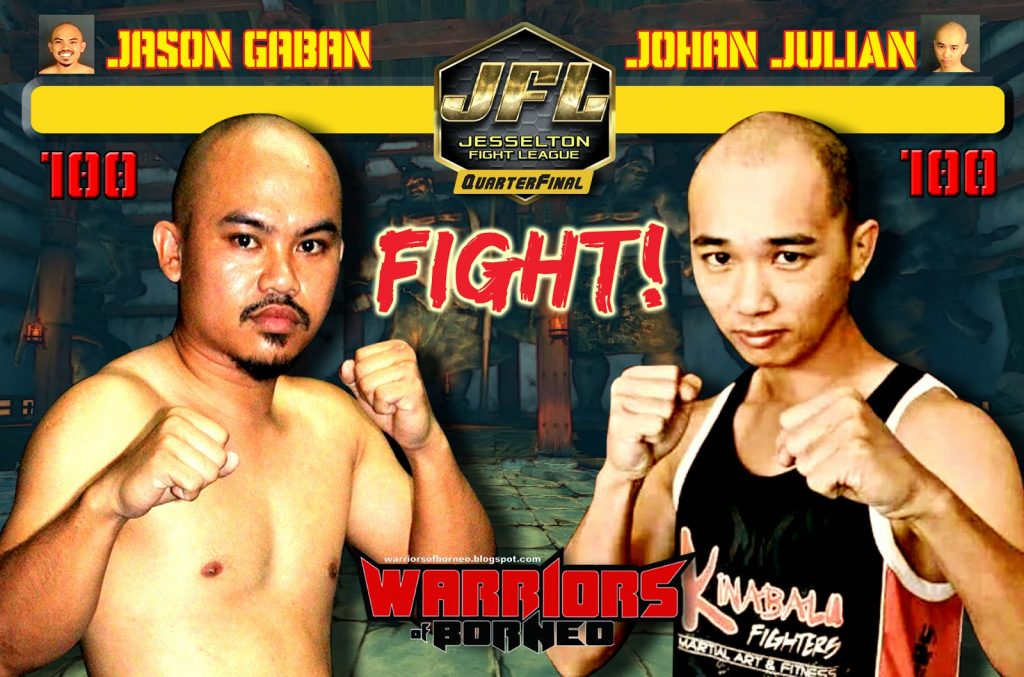 I love to see Jason fight , as this guy swing for the fence. He's not afraid for stand up exchange & willing to slug it out. From his last fight vs
Kevin Andrew
(BTS)
 he showed lots of heart & possesses steel determination. Friends call him Penn Chalton…with a similar bald head to the UFC legend –
BJ Penn
 &  Chalton being his middle name. He learned MuayThai when he was studying in Kuching. learned from the fame
MuayThai gym – SS Fighter
.
He is well aware of Julian being the more experience fighter & is honoured to fight Julian. He is preparing well for this fight & hoping he can execute his game plan well on fight day.
To him, win or loose is secondary, but giving his best & putting in a good show for the fans is what matter most.
Johan Julian is the owner of
Kinabalu Fighters.
 With a record of 2-2 , Julian hold the advantage of being not just the experience MMA fighter but also generally in martial arts, such as MuayThai & karate. Expecting Jason to bring the fight to him, Julian will be in no rush to execute his move.
Will calmness prevail & we see lots of ground game? or will we see both fighter resort to match each others' MuayThai skills.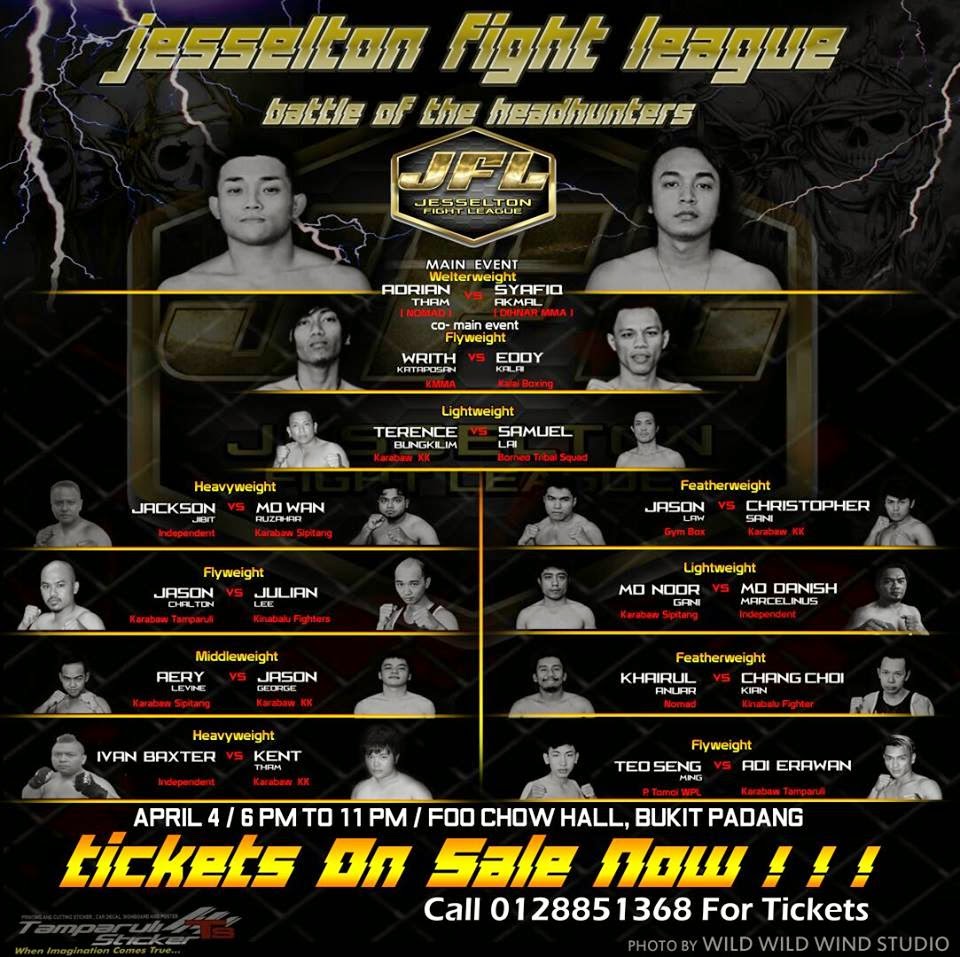 For the rest of the cards, watch out for Eddy Kalai, Md Danish & Jace Law's fight
Fist will connect,…heads will roll…find out the outcome, join me for a night of sweltering heat,
heat from some hard core action in
JFL III!
 (click the link to find out more)
Warriorsofborneo.blogspot.com wishes all the fighters good luck…give us fans a night to remember. Give the judges some rest, dont let them decide, finish the fight by youself!
To the organising team…especially to head honcho
Rayner Kinsiong
, thanks for bringing us fight fans another night of action. All the best for a smooth event….Let's get it ON!