For the 15th edition titled 'Come out to Play', there will be 9 Cageside Gang Tables for 4-6 people for the top gangs in the city. Every Cageside Table will receive 4 complimentary gang-affiliated vests. These are tailor-made original Bangkok motorcycle taxi vests in 9 different colors with actual gang logos from 'The Warriors' movie.
Full list of 'The Warriors' Gangs – Vest Colors – Gyms: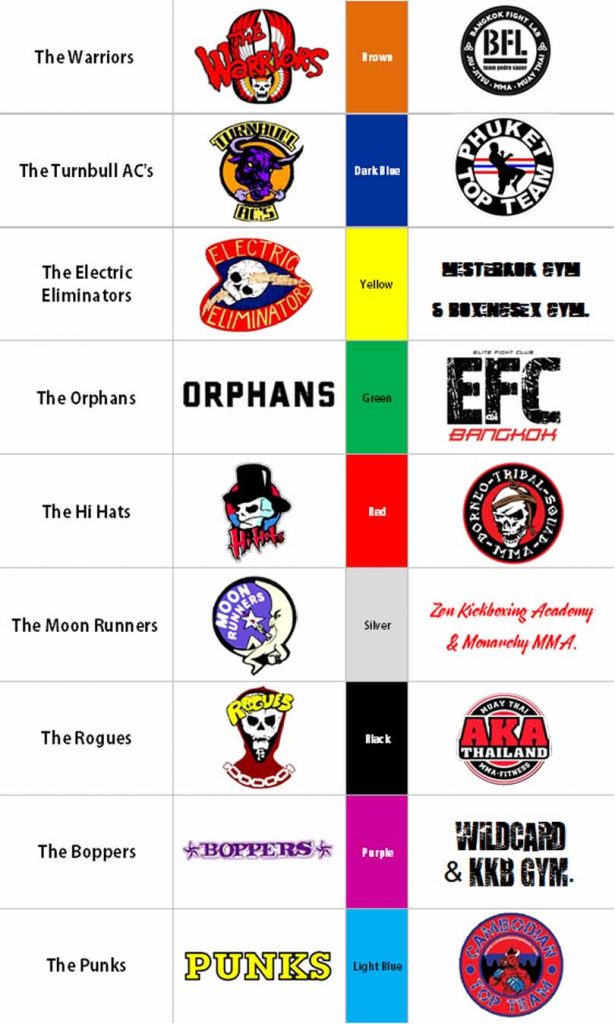 check the colours of your gangs
FMD is pulling no stop to make this edition the best edition yet with plenty of teaser video to whip up fight fans appetite for action.
Tommy fought twice in UFC in 2012 but after the two lost, injuries and a day job kept him away from training. He came to Thailand to have a change of lifestyle and took on a job as a school teacher. But being in the fight center of Asia, he couldn't resist getting back in the cage for a scrap. Meeting Jon Nut and FMD gave him another kick at reviving his MMA career. He is now on a 3 fight win streak after leaving USA.
Tommy's opponent Jason Ponet came from Savate background, he spent most of his fight career in France and the Europe fight scene. But he did record a victory in FMD 2 back in 2014. This young challenger is quick on his feet and possessed a vicious elbow and will be stylistically be a great challenge for Tommy.
But never to be a person that back down from a fight, he stepped in the hexagon cage anyway, but gassed out in 2nd round. Still he managed to last till 3rd round where he got knocked out by Ryan Robertson.