Keningau is an interior town 3 hours drive from Kota Kinabalu. More well known for it's natural forest resources and agricultural produce, you will least expect this place to produce talented MMA fighters, but then again,…if you look at the history, this is the place where fierce Murut warriors come from.
Keningau is also the home for KMMA (Keningau Mixed Martial Arts), helm by Md Bakri aka Matt Buvvart. My first encounter with fighters from KMMA was when I saw Yuri Adana in JFL trial in 2013. He displayed great fighting spirit. Then in JFL quarter finals, Writh Kapotosan vs the seasoned fighter – Eddy Kalai. Even though outskill by Eddy, Writh put up a great fight. He was relentless and kept coming forward.
Then came the fight that brought the house down in JFL Semis. Md Hasbullah won against the favourite Ahmadjon Karimov of GymBox Kuching. Hasbullah (Hasb) was a person on fire that night, he came in like a bull and outstrike Ahmadjon.
Who is this lad  Md. Hasbullah Sanmin? 'The Geragas Man' as he's being given the nickname, means rascal in the local Dusun language. Yup, he was a rascal before. Always got into fights in school & in the streets of Keningau. He did learn some Taekwondo and some boxing before, but not seriously.
He was introduce to MuayThai at Jacky Fitness Gym. He learn fast & as his skills grew he's interest in competition also grew. He was not very familiar with MMA. His initial understanding was that it was kind of like underground fights that he saw in TV. When he first attended Borneo Fighting Championship, he felt that it was something he wanted to do. But his coach at that time felt he was not yet ready for MMA.
Hasbullah participated in D1FC in Ranau in MuayThai, he lost, but redeem himself in a MuayThai event in Aug 2014 in Tg Aru , KK by winning gold. Then work got in the way. He work in logging camp & did not find a regular time to train. Later when work at camp ended, he was introduce to Matt Buvvart. Matt started martial art training at Keningau Sport Complex. A bunch of same interest friends came together and train there for the initial few months before KMMA finally got a permanent place in town.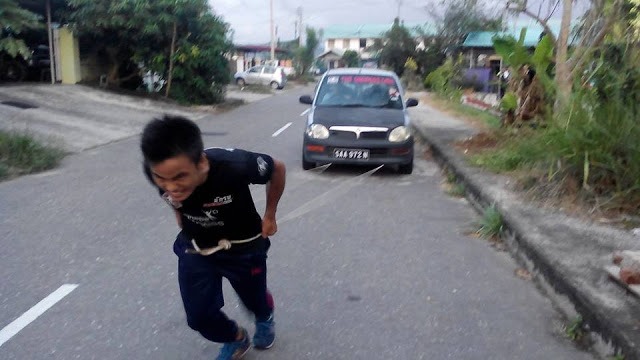 No pain,…No gain
Hasbullah learn MMA from Matt. It was like putting fuel to fire. He soak up all the knowledge and skill being taught. In 2014, Hasb won gold in the no gi category at Borneo Headhunters Jujitsu Challenge at Citymall KK organised by Alpha MMA. Till today…Hasb still does not own a gi. " I'm still saving some money for this"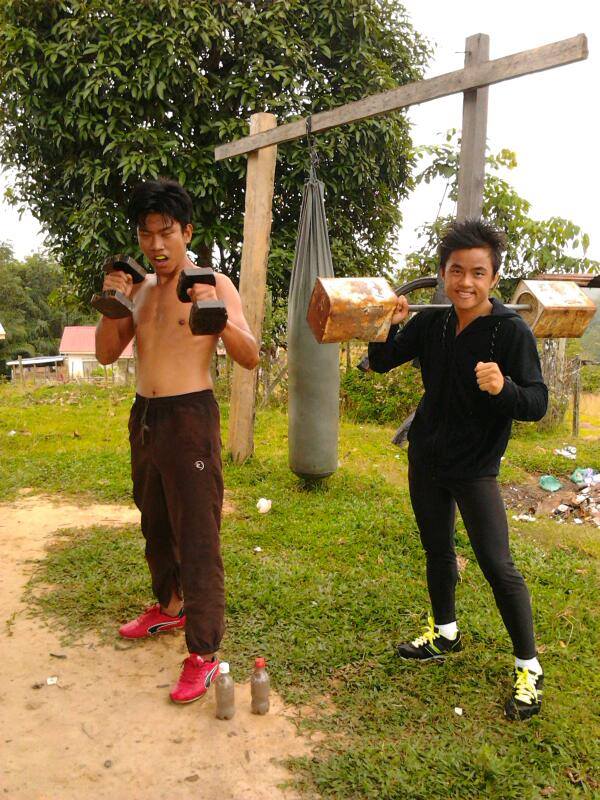 No equipment? This is no excuse not to train…we will build our own!
When coach Antonio Battistessa gave a MMA seminar in KMMA, Hasbullah gain more knowledge, especially from the ground skill taught by Antonio in Luta Livre. Finally Hasbullah register to fight at JFL. From the advise of Sensei Rayner Kinsiong, Hasbullah fight at bantamweight. At the ladder match, got a walkover win when his opponent pull out. After all the training and no fight??!!, he was itchy for a scrap so the next day he participated in Badak Open Grappling organised by Alpha MMA and won gold in no gi.
April 2014, KMMA send him for MIMMA3 tryout at 1Borneo Mall. He was not ready on the 1st day. After registering he was immediately asked to warm up for the stand up & ground skills try out. Then the sparring session met Eddy Kalai, he didn't perform well as he was fighting on an empty stomach. Obvious result  – he was not selected. 2nd day, he was more organised and prepared well and from his better performance on day 2, he was selected to fight at the laddermatch.
At ladder match in KL, he faced Khoo Teik Guan of KL, Hasbullah lost the fight in split decision as he was dominated by lots of take down. Hasbullah felt it was a good learning from that lost, back to the gym to work on the weakness. His focus now is to do well in JFL Semis.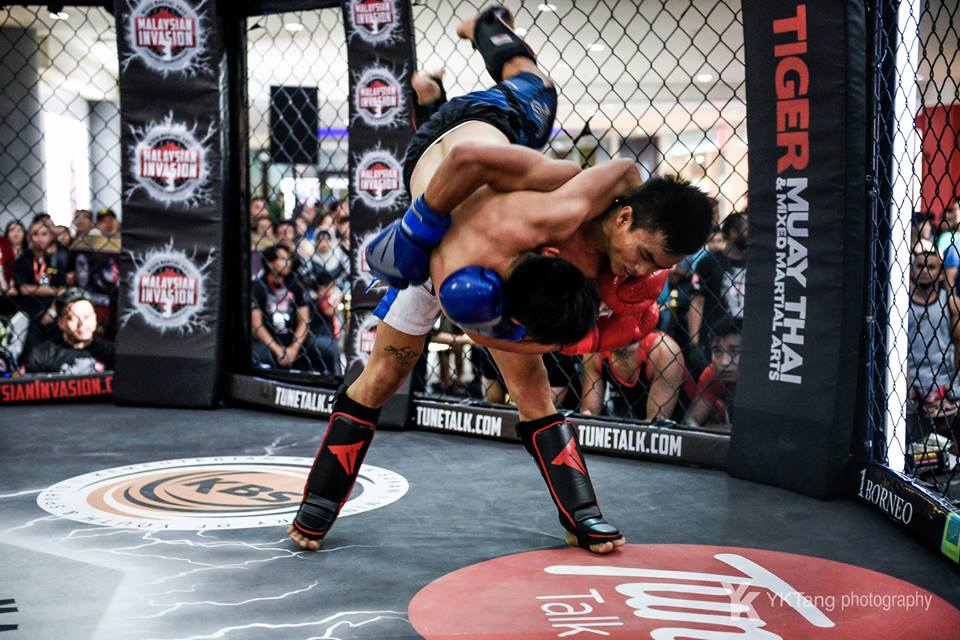 at MIMMA3
And he certainly did. It was a night to remember on 23.5.15 when he fought Ahmadjon Karimov 
( read the review here ) of GymBox Kuching. Ahmadjon was expected to win due to his reputation as a heavy striker. He TKO Effendy Kalai in the JFL ladder match.
Hasbullah shocked the crowds by a convincing win over Ahmadjon, by outstriking the striker.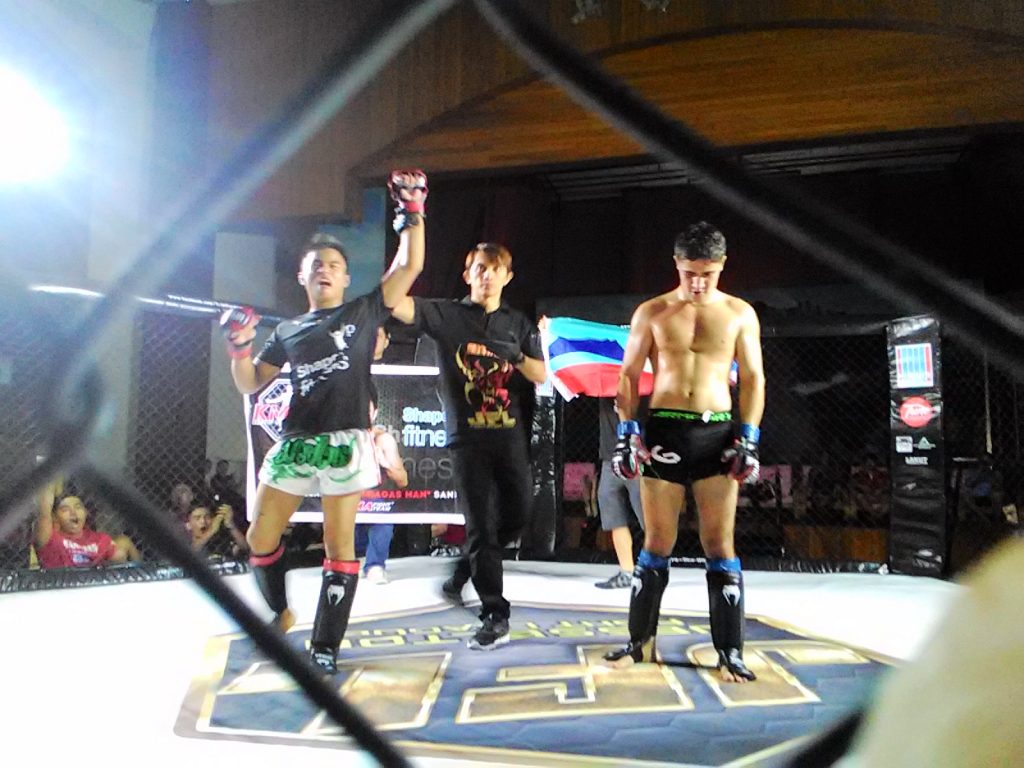 winning the JFL semis
The win was also made sweeter as he was sick on that day. Came down with fever, he was already doubting himself to even make it to the cage. Matt gave him a prep talk…
" You either take this or leave this, this is your biggest opportunity to proof to others what you are made of ".
With that, Hasbullah picked himself up, did light jog to build a sweat and decided that to show up is already a win. The rest he leave it to God to guide him.
From this convincing win in JFL Semis, Hasbullah realised he can do anything as long as he put his mind to it. He had a renew spirit to train harder. In FightFest 2 5 SEP 2015, saw him fighting in the MMA Super4. His first fight he swung into action by locking in a viscious armbar that end the fight in 33 seconds.
Proceed to final, he met Teo Seng Ming of Tomoi Labuan. At the disadvantage of height, but Hasbullah connected with a overhand right that drop Teo and he finished the fight with ground & pound.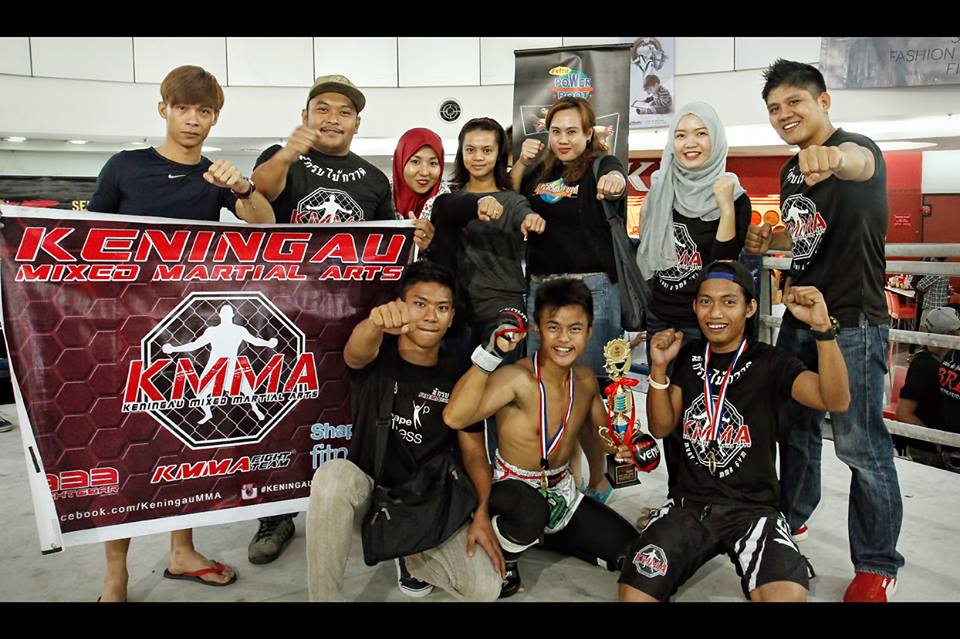 at Fight Fest 2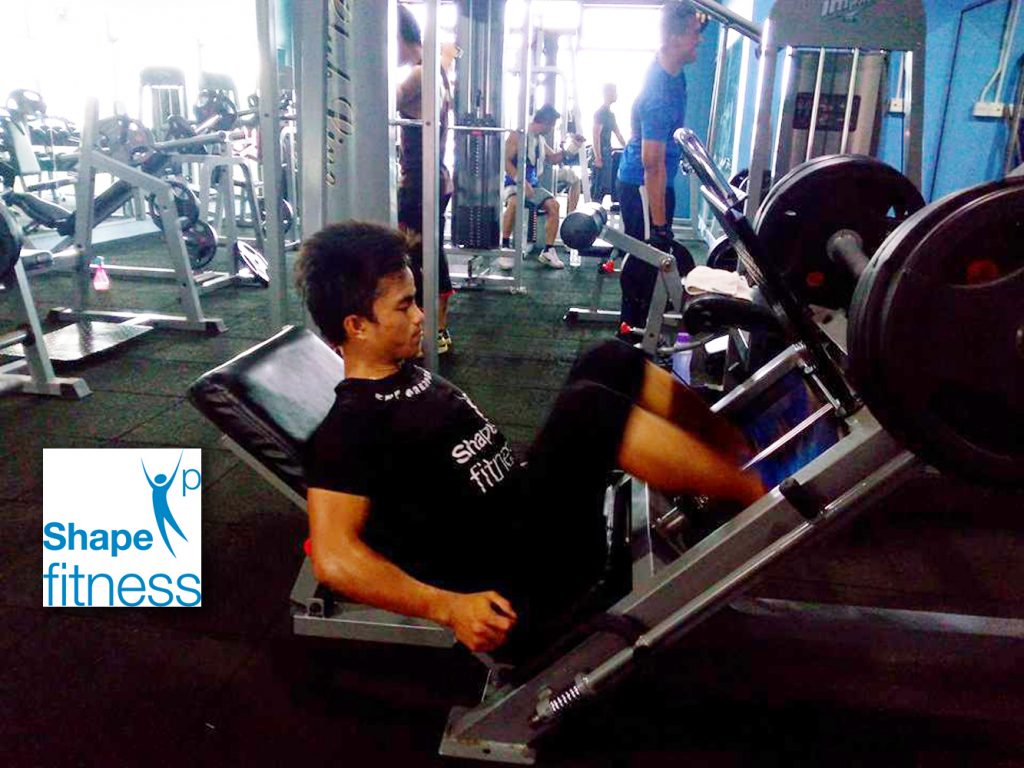 Now thanks to sponsors from Shape Up Fitness Gym Keningau Hasbullah has a great place to do his strenght training
Looking to have another finish for his JFL Grand Final, but aware that his opponent Dean Hamsah is a formidable fighter that he can't take lightly, Hasbullah will utilise all his arsenal for the battle in JFL final.
———————————————————————-
I managed to have a short interview with Matt Buvvart, the founder of Keningau MMA
Hi Matt, how did you started in martial arts?
I started with TaeKwonDo (ITF), competed at state level. Then progress to Boxing…subsequently to MuayThai and now MMA.
What about the ground game?
My BJJ I mix with BLL ( Brazillian Luta Livre ), we focus on no-Gi. Coached by Antonio
Batisttessa of Sabah Top Team.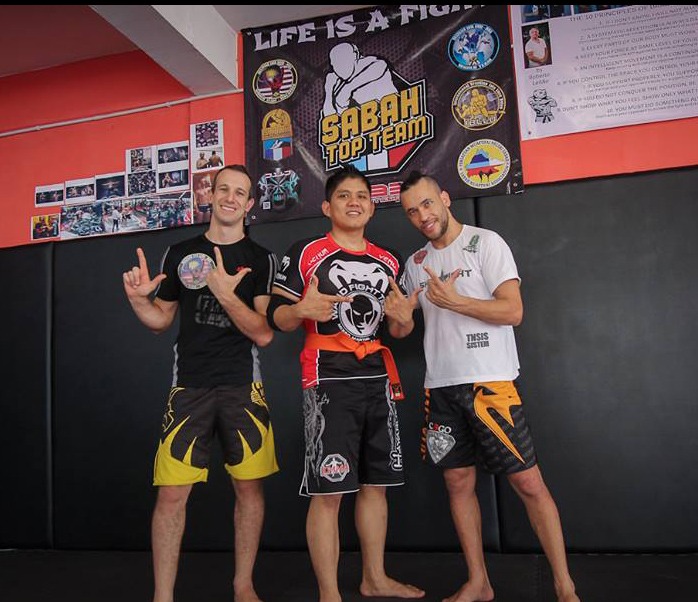 Matt earning his Luta Livre belt from master Afonso Cego with Coacj Antonio on the left
When did you start coaching?
Around 2013 , coach MuayThai. Then I stop d
ue to work commitment. Early 2014 I started KMMA & began coaching again.
We use to train at Keningau Sports Complex…but now I'm thankful that we have a permanent place at Appolo Atrium to call home.
It's small but at least there's a proper place to train for the team.