After 42 years of absence, finally pro Boxing returned to Kuala Lumpur. WBC BoxingFest by BoxRanx ( read about the pre-event write up here ) was held over last weekend 8-9 July 2017. 1st day was 10 bouts of semi-pro boxing and day 2 was another 10 bouts; pro boxing.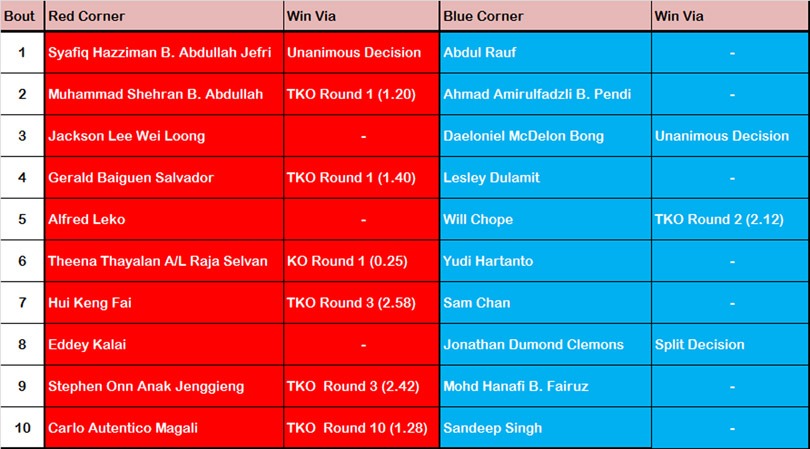 9 JUL 2017 full results
The hi-light of the night (day2),  albeit a very very short one went to bout no.6, featuring 19 year old Malaysian upstart Theena Thayalan, in his pro debut, KOed his Indonesian opponent Rudy Hartanto in a swift 25 seconds in round 1. Theena started boxing at 17 and he has amassed an impressive record of 95 amateur bouts. This win was definitely a good start for his pro career.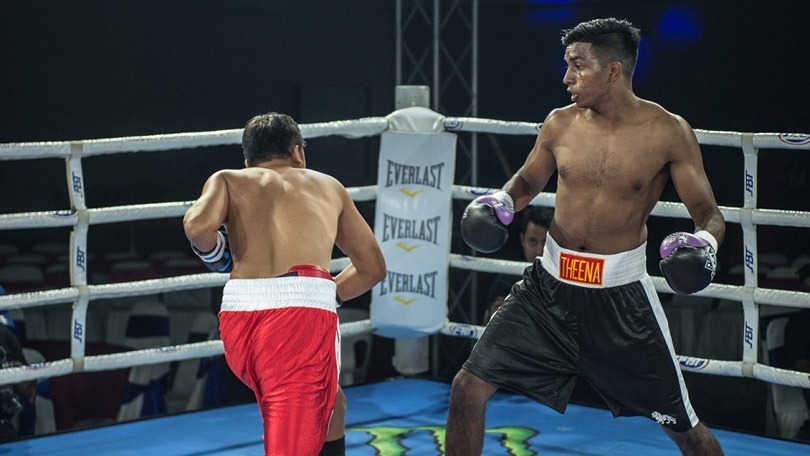 Theena enroute to his swift victory ( pic credit to David Ash of Singapore Maven )
The UBO Asia Pacific Welterweight Champion,  Hui Keng Fai, whom is also amateur MMA (Malaysian Invasion) Lightweight Champion 2016; In this 3rd pro boxing outing met fellow MMA stylist Sam Chan, who's making his pro boxing debut.
Chan has been away from competitive combat sports and was a huge underdog for this fight as Keng Fai's first two pro outing was with impressive KO victories. But Chan managed to beat the odds by putting up a fight, he kept coming back after each massive blows that knocks him down.
Despite the resilience of Chan, he failed to answer to the referee's count after he was dropped with Keng Fai's signature liver shot at 2 seconds shy of the end of Round 3.