This is my personal favourite. For the JFL Bantamweight title, Md Hasbullah Sanmin ( Keningau MMA ) vs Dean Hamsah ( Borneo Tribal Squad )
This match-up guarantee to be a barn burner and the action will be super fast pace and explosive.
The ever improving Hasbullah is very pump up for this fight. Nick name the "Garagas Man',
He created an upset win in the JFL semis over the highly rated Ahmadjon Karimov of GymBox Kuching.
Staying active he fought in FightFest2 in 5 Sept in a MMA Super4 bouts. He won over Muliadan Danny in record time with a viscious armbar. In the final Super4 he dominated the taller Teo Seng Ming with ground and pound to emerge champion.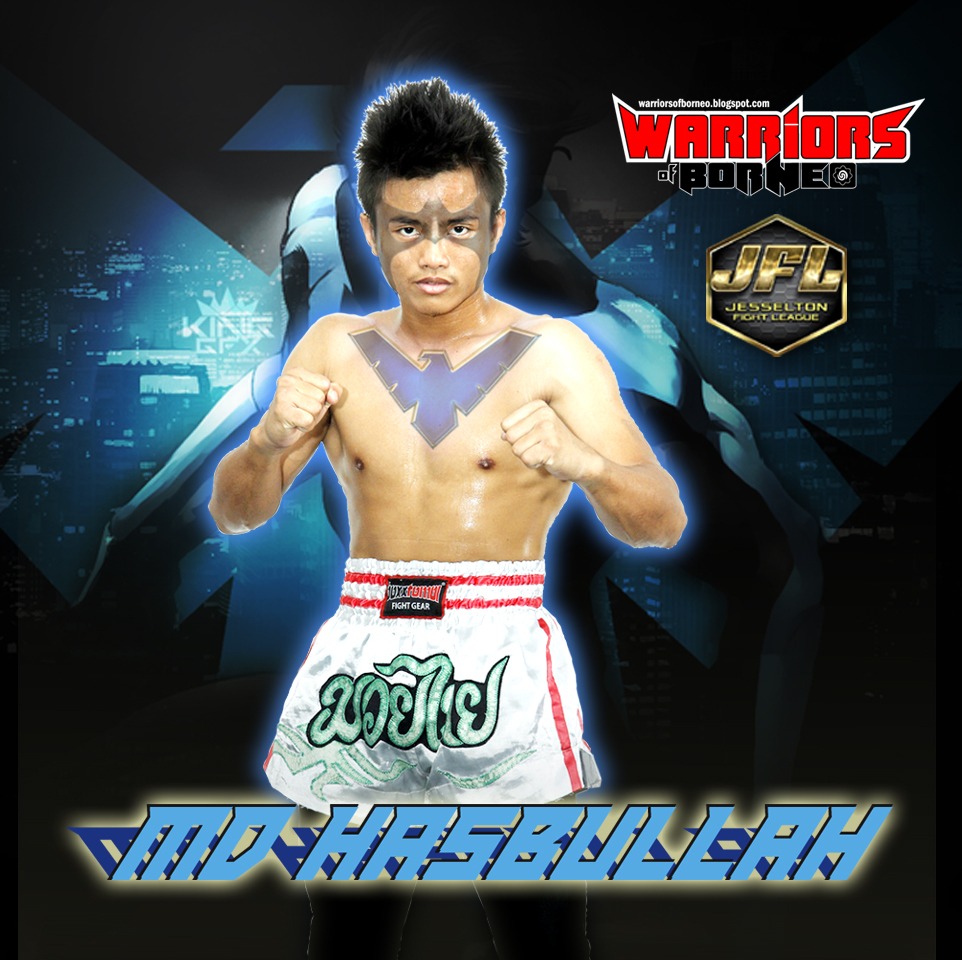 (original heroes character reference by DC. Original fighter's
photo by Matt Buvvart. Artwork editing by warriors-of-borneo blog)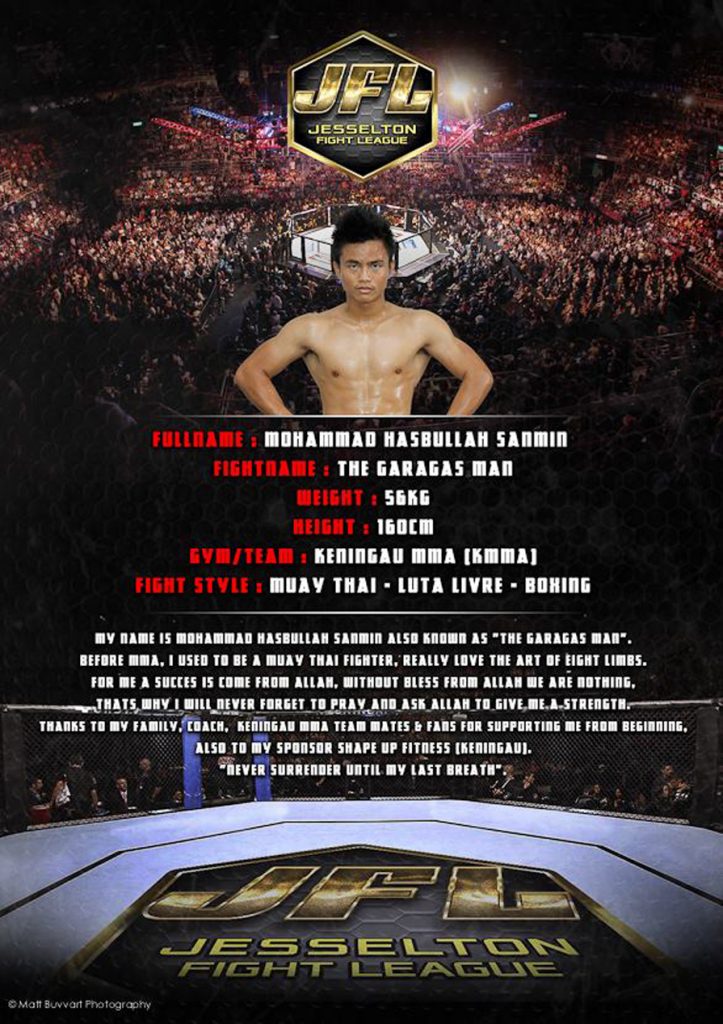 artwork by Matt Buvvart
How do you feel reaching the grand finals?
I'm thrilled to be in! Coz this is my first time fighting for a title belt
What's your strategy in facing Dean?
I need to be more cautious when fighting Dean,…also need to apply more sudden moves to catch him off guard.
Looks like you have improved a lot on your ground game, saw you won by submission and ground and pound in FightFest2. Who is guiding you on this?
My coach Matt Buvvart and sensei Rayner.
What is your training schedule like?
I train 2 times a day, morning till noon, and at night. 6 times a week. Rest on Sunday.
What's your motivation to fight?
My father. Whom also practice martial arts – silat, since young. He is my inspiration and my biggest motivation to fight to make him proud of me.
Which fight that's most memorable to you?
My fight vs Ahmadjon Karimov of Gymbox. It was my 1st time fighting a foreigner and it was good to win that fight.
How does your family react to you on your success in FightFest2 and reaching the finals of JFL?
They are all delighted and excited. They give me encouragement and support me fully. " Do not give up in your quest to fulfill your dream" that's what my mother's told me and I value that advice
Any message for Dean?
"Dean, let's do this, let's give the audience a great fight! 
I want that belt! Watch out!"
————————————————————————
Dean Hamsah name is no stranger in the local fight scene. Building his reputation in MuayThai he has moved on to MMA. Dean is calm under pressure & calculate his move carefully.
Dean fought in FightFest1 MMA Super 4 in April in a total barn burner vs Azrin Kadri of Team NOMAD, he won the fight but was injured making him withdraw from the finals. In JFL Semis , he fought Clement John, in a close fight that saw him win by decision.
AJ Pyro head coach of Borneo Tribal Squad has put in some really hardcore stuff in his preparation for JFL finals that will see Dean being more offensive.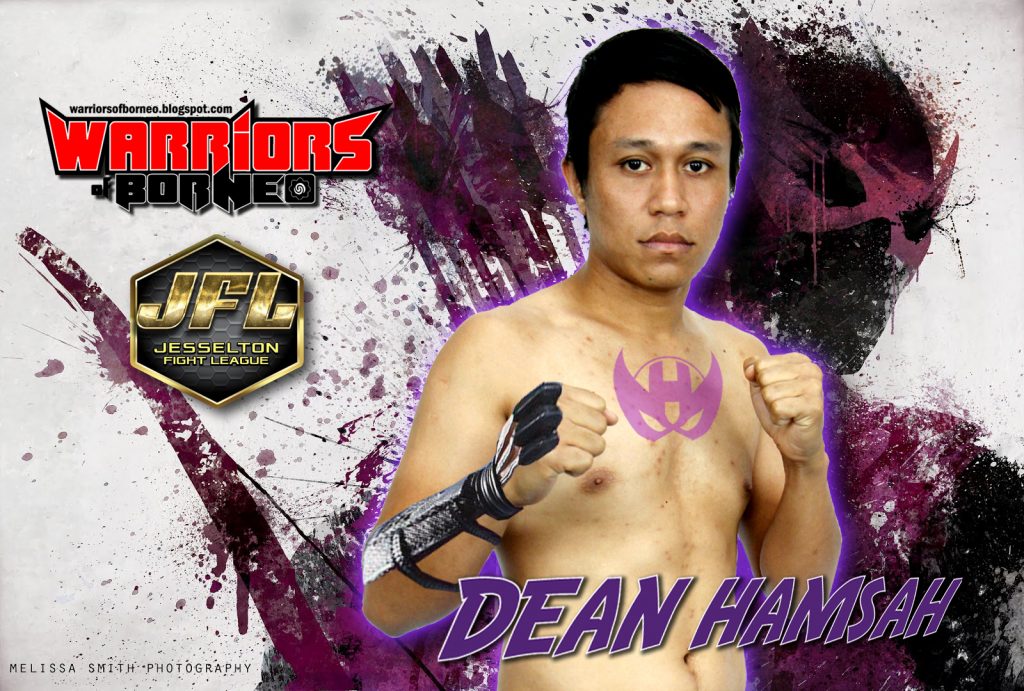 (original heroes character reference by DC. original background artwork by Melissa Smith . Original fighter's
photo by Matt Buvvart. Artwork editing by warriors-of-borneo blog)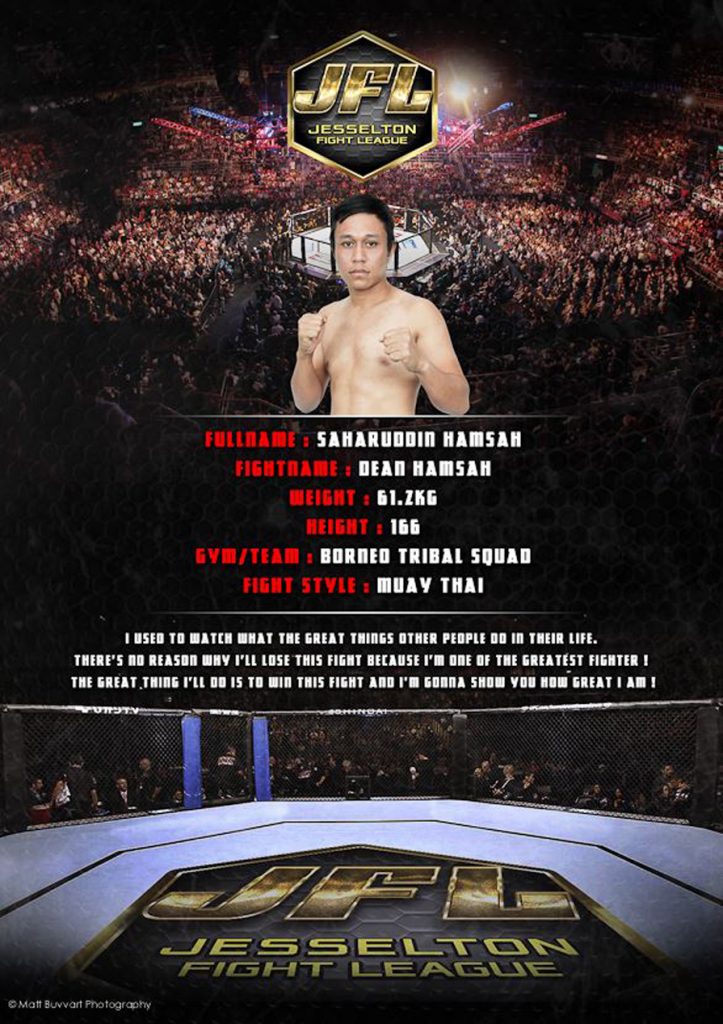 (Artwork by Matt Buvvart)
How old are you this year bro? Where's your birthplace? 
I'm 27 and born in Kota Kinabalu, but I grew up at the foothills of Mt Kinabalu in Kundasang Ranau.
My dad is Malaysian and my mom is Indonesian. I stay with my mom so nationality wise I'm Indonesian.
Describe your character
Haha, I talk a lot. I like to joke and likes to make friends . I'm an independent type , I put in hard work to be able to stand on my own, when it comes to work or training, I'm focus and commited.
Since when did you took up martial arts? What is your current fight record?
I think it was around 2010 or 2011. I took up MuayThai in a civic center in Tg. Aru. As for MMA I'm still a newbie. My MMA fight record currently is 4win 3lose .
What does it feels like qualifying for the JFL Grand Finals?
I felt really blessed and happy. It is not easy to reach here and the opportunity to fight for the title is really amazing.
Ever since you started martial arts, what is it that motivates you to compete and fight?
First of all, it's my mom. She is my source of motivation. I've seen how she work hard to raise me and she never give up.
There are times when I'm exhausted and at times when I lose a fight and felt down, she gave me the spirit to keep going and to never surrender.
I'm also grateful for the support from my friends. And my BTS teammate and coaches that keep pushing and motivates me to be better in every training.
As an experience fighter, do you feel the pressure to win?
In the beginning yes, there is pressure. But eventually it ease off as in the first place I never treat my opponents as a newcomer or inexperience. I treat my opponent as an experience guy, cause the fact is, he won't be there in the finals if he didn't perform well.
I'm very focus on my training and will give my best in the finals!
Do you do any special preparation for your Grand Finals encounter with Hasbullah?
I'm doing my normal training, but my coach AJ has a great game plan for me.
So what do you think of JFL?
It's awesome man. Biggest MMA event in Sabah. An event that develop Sabahan fighters to be better without the need to travel far.
Where do you work?
I teach MuayThai at FITNESS RITES CENTRE. After teaching my class, I will directly go to BTS to do my training.
What is your most memorable fight?
There's a lot. But the one I can't forget is when I lost the fight for Sabah MuayThai title vs Randall Kadayum.
Are you a technical person that follows strictly your game-plan or the type that go with the flow?
I used to be the go with the flow type, but now I try to be more technical and follow gameplan-
So what's your way to unwind?
Definitely my sleep! It's the best way to rest, to recover and recuperate. I sleep more than 10 hours a day. In a week I'll take a day off to rest and sleep till my heart content!
You satisfied with the training and preparation at BTS ( Borneo Tribal Squad )?
Yes very very much. We train very hard because some of my team mates are also preparing for their fights. Ann Osman for her pro fight in ONE Championship. Samuel Lai for his main event fight in JFL and Terence for his MMA superfight. So AJ really gave us hard training.
——————————————————–
Good luck to both fighters, May the best man win!