For female strawweight, get ready for Valerian Rosario (Sabah Top Team) vs Nurul Khairunissa (Karabaw Tamparuli).
Valerian is the epitome of Wonder Woman of Sabah. Being a wife, mother, teacher, instructor and an active fighter surely will exhaust almost anyone. My utmost respect to her for being able to divide her time well.
Valerian was among the pioneer group that started BJJ at BJJ Borneo nearly 6 years ago. With BJJ as her base she is most comfortable on the ground. But don't be fooled as she hit hard too on her feet.
At JFL ladder match Valerian did not sweat for a win as her opponent was injured. But in semis, her fight vs Sakinah in the co-main event goes down in JFL history as an all out war. Both showed true hearts and tenacity as they slug out for a 4 rounds, Valerian emerge victorius with a decision win.
Coming to this final against Nurul is sort of a rematch with Sakinah, as Nurul and Sakinah are good friends they are younger and have the same fighting style.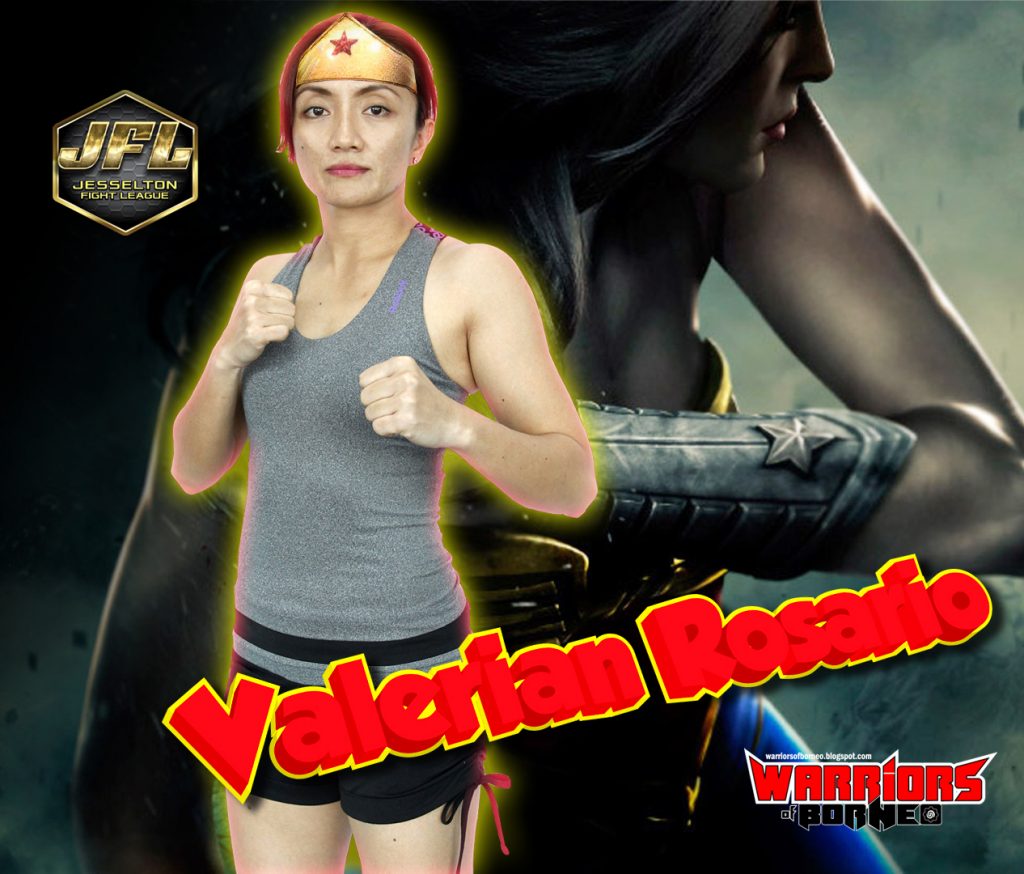 (original heroes character reference by DC. Original fighter's
photo by Matt Buvvart. Artwork editing by warriors-of-borneo blog)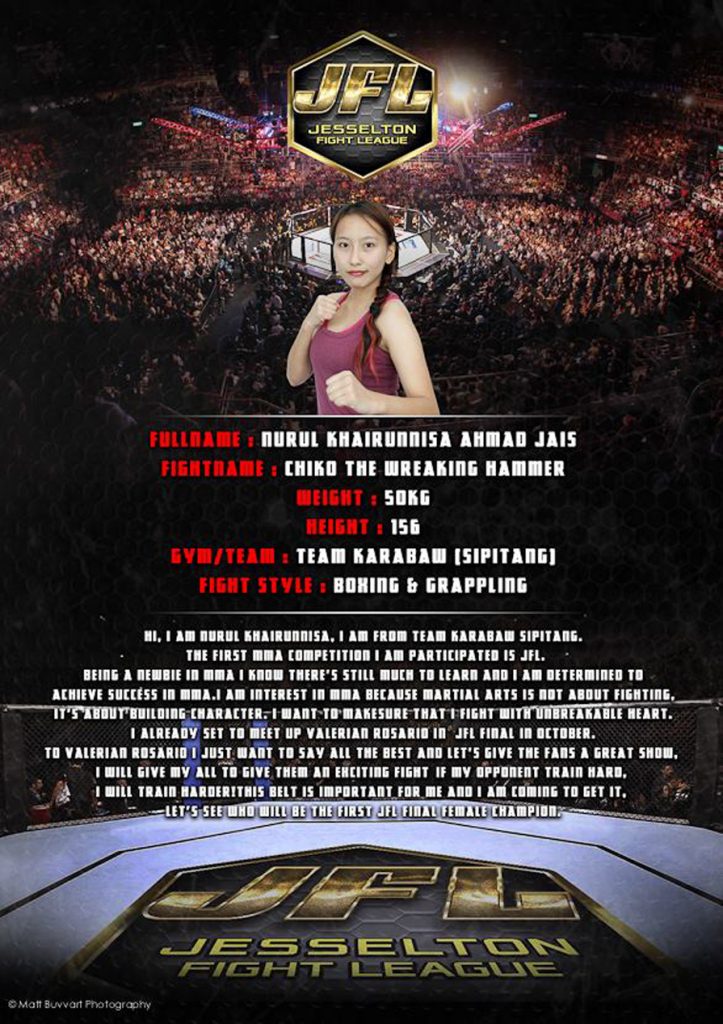 (artwork b y Matt Buvvart)
Where are you from? Are you pure KDM? What's your heritage?
I'm from Keningau. I'm 'peranakan'. My mother is Murut from Keningau and my father is Filipino.
Tell me how you feel reaching the final of JFL? Do you expect this?
I am so pumped for it. Expect? I make sure that I'll be in the final.
Since when did you get involve in martial arts? Can you tell me a bit on your martial arts journey?
My first martial art is Brazilian Jiujitsu (BJJ). I started learning it in 2009 with BJJ Borneo in KK by coach Allen Chong. I participated in local & international BJJ tournament since 2010. I used to drive almost 3 hours 3 times a week to train because I live in Keningau.
I had to stop training when I was 4 months pregnant in 2012.
I came back to the mats 8 weeks later after I gave birth. I did postnatal workout for a month though to make sure my body is strong enough to start training again.
I earned my blue belt in Dec 2013 by Professor Leandro Luizdasiva (BJJ blackbelt from Checkmat, Brazil) at Alpha MMA.
I wanted to do something else. So I started training MMA towards end of 2013. I took private lesson with an Italian MMA coach, Antonio Battistessa after joining his first MMA class at Alpha MMA.
I learn different martial arts by doing MMA such as Muay Thai, boxing, wrestling and even Luta Livre!
MMA is such a impactful sports, you get hit in the face & body, as a woman, what makes you want to compete? What motivates you to fight?
Martial arts aren't just about fighting where you hit each other. You must have the techniques & game plan to fight. There's art in it.
I'm fascinated by the movement & game plan in fighting. Brilliant! It's like playing chess. I love playing chess by the way. I guess that's why I want to be part of it.
MMA is tough. The fight is real. The pain is real. It's scary. It's not suitable for women…Says who?? I compete because I can.
Your work as a teacher, as a mom, as a wife and also your work as an instructor at Jacky's fitness, how do you fit in time for training?
I'm aware with what I do and the consequences of every action I do. That's why I must plan my time properly.
I usually don't bring school works back to the house, so I can focus being a wife & mom at home.
My daughter will be with my parents when I do my fitness class. I either train on my own before class or after.
I'd go to KK to train with my coach & the team in the weekends. Sometimes I join my husband & his team at BTS to train.
My day is quite busy but at the end of the day, I'll always be there for my daughter.
I understand that you do yoga…does this help you in preparation for fight?
Yoga makes the body supple. The breathing exercise helps me to be focus & relax. Yes, it does help me.
You plan to bring the fight to ground or stand & strike?
I'm more comfortable to work on the ground but I've been training in striking as well.
Have you studied your opponents fighting style & noted any weakness?
It's necessary. There must be a game plan. You'll find out on Sunday. Hehehe.
You and Sam are actively competing…does having a husband that also compete gives you confidence and support?
Definitely! He's more experience than I am. We talk BJJ & MMA. We watch UFC together. We roll & train together. How cool is that?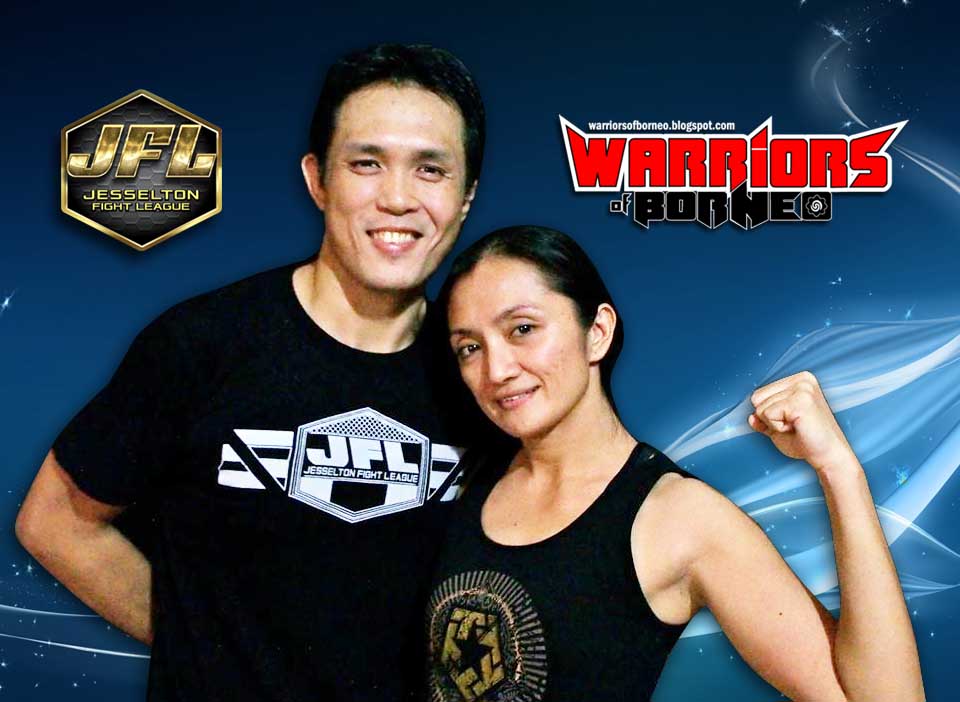 Would we see the 1st couple in Malaysia being crowned as champions? Come and watch their fights on 4 OCT 2015
Which fight for you it's the toughest? and which is the most satisfying win?
The toughest fight would be MIMMA3 quarter final against Gladys Moling. She's better in striking.
The most satisfying win so far would be JFL semi final against Sakinah. We had to fight 4 rounds to get a winner.
But the best is to win a fight by TKO or submission. That's what I plan to do in this final (and in the future).
Do you talk about your fight with your colleagues? What about your family?
Not really because they seem not to be interested in it. I only talk about it when being ask.
My parents know that I'm fighting but we don't really talk about it. We only talk when I have bruises.
Especially my mom. She actually said to me once to stop all this after the final because "I'm a mom".
It's not good for my body she said. I will stop but not yet.
What's your message to Chiko?
Let's have a great fight!
—————————————————————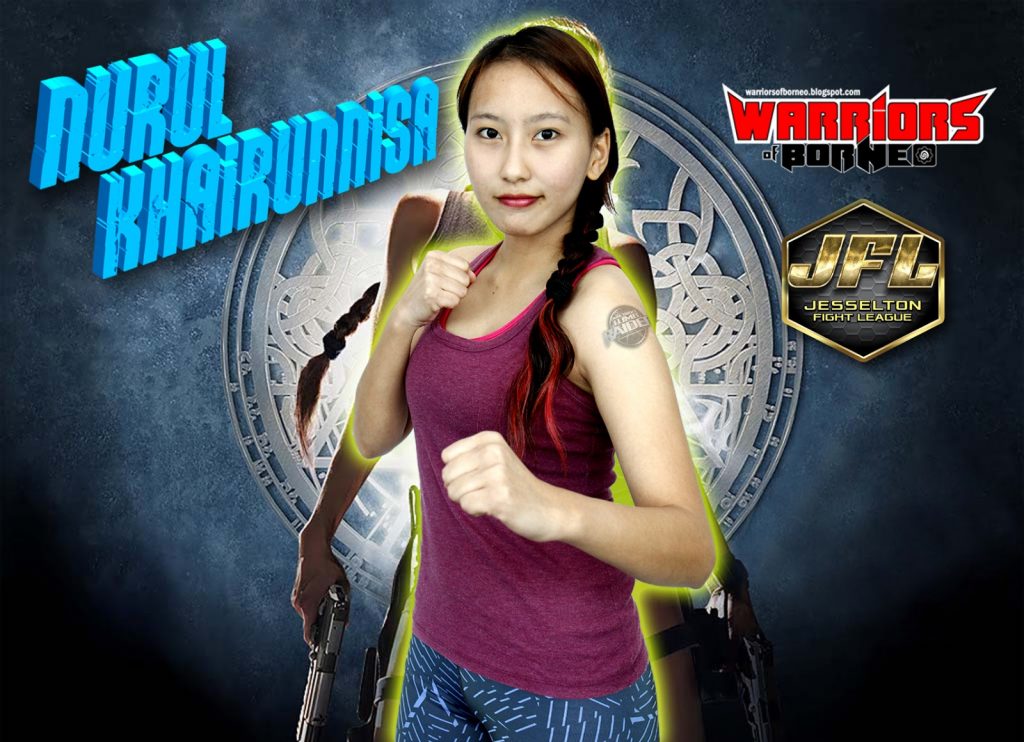 (original heroes character reference from Eidos. Original
fighter's photo by Matt Buvvart. Artwork editing by warriors-of-borneo blog)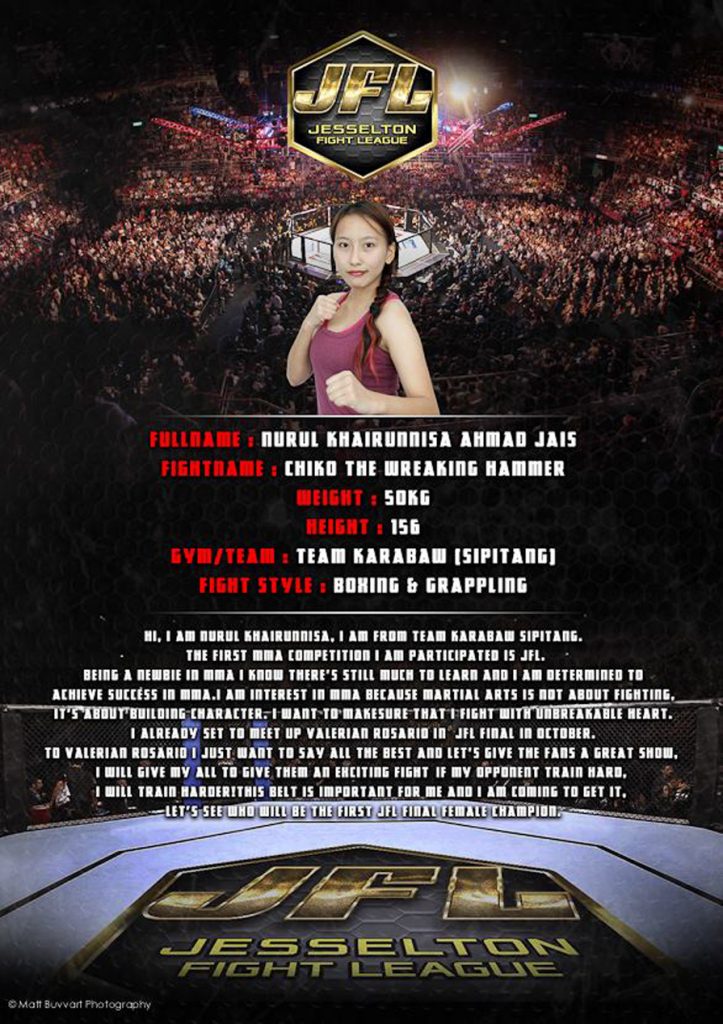 Nurul Khairunissa or better known as Chiko.
She has been training for a year and the 1st MMA competition she participated is JFL.
This year she participated in MIMMA3 and fought Samantha Tan in the quarter but lost by armbar.
Chiko's involvement in martial arts started in high school. Active in TaeKwonDo, she participated in under-18 TKD competition representing her home town of Sipitang.
Around this time a high school friend told her about his experience in MMA. As a person whom like challenges and have a liking for extreme sports, these stories spark Chiko's  interest in MMA. But at that time there's no place to train MMA in Sipitang. Fortunately a year back Team Karabaw lead by Sensei Rayner Kinsiong had an introductory course in MMA in Sipitang which led to the setting up of Karabaw Gym Sipitang pioneered by Ricky Cheong and Hafizul Hakeem. Chiko joined the team and has never look back since.
Being the eldest of four children, Chiko started work after she left high school. Earning a living by working as a clerk in SAMUR Project in Sipitang, she also took up part time job as a cashier during the weekend & holidays in KFC to supplement her monthly income. All this is to ease her working parents' burden of raising her other three siblings whom is still schooling.
Chiko has an easy going character and make friends easily. But she is also a confident person and does not give up easily and taking inspiration from Ann Osman, she is determined to achieve success in MMA.
For Chiko, being a newbie in MMA, she knows that there's still much to learn. Improving on her ground game is foremost on her list of skills to upgrade on after her lost in MIMMA, and she has been drilling her BJJ moves ever since.