Standing at the backstage, Naimul 'the Convict' Amal Othman can hear the intro video playing in the hall, as he waited for his name to be called for the walk-out. It's the second last bout of the night. Between Naimul and Jay Muran for the vacant flyweight title. Stadium Juara has been rocked with 6 other exciting fight that night on 30 March 2018.
Naimul's brother Dhiaaul earlier on had emerge victorious winning the Bantamweight belt. Now it's for him to fulfil his end of the bargain, to go home together as champion.
Tupac Shakur's Soldier came on. He listened to Tupac's music since he was a teenager. The song Soldier meant a lot to him. It reminds him of his struggles to reach here in MIMMA 5 grand finals. Naimul calmly uttered a prayer, then breathe in deeply and began his walk-out accompanied by his coach Joe Lorenzo Kitingan and Dhiaaul.
As he walks, he felt a mixture of excitement and nervousness. But the further he walk, he felt he is leaving all the tension and stress behind. He is leaving everything to ALLAH now.
———-#WRB———–
The flyweight championship fight was 3 rounds of thriller. Jay Muran is known for his ground game, but Naimul was the one that was well rounded. He dominated the stand-up and the grappling exchanges. His gas tank was also not depleted compare to Jay.
Both engaged with some wild exchanges in early round 1, but Jay was quick to attempt take down. He scored one ala Khabib Nurmagomedov by carrying Naimul across the cage & dumped him near his corner.
But Naimul was very hard to be kept down. He managed to reverse and continue to trade blows. But it was Naimul gaining the better of the exchanges, ending round 1 with 40 seconds unleashing ground and pound on Jay Jay.
Naimul open round 2 with a feint punches that set up for his left high kick that caught Jay Jay's chin. At one point Jay Jay got Naimul's back but Naimul control his hands well and managed to turn into Jay Jay's guard and gain top position. After few seconds he stood and let Jay Jay back on his feet.
As they were pacing each other, Jay Jay pointed to something on his opponent's face, but Naimul did not acknowledge and wants the fight to continue, until ref Dana intervene and cleared what seems to be a detached contact lens from below Naimul's left eye.
Round 2 ended with Jay Jay caught in Naimul's body triangle.
Round 3 Jay Jay got a take down but look exhausted to keep Naimul down, a few scramble later and a weak attempt by Jay Jay on a single leg led Naimul to get on top, with knee on belly he unleashed numerous strikes from top that the ref had to stop the fight at round 3, minute 1:39
———–#WRB————
A win that was truly emotional for Naimul as he rushes to climb on to the cage , raised his hand to acknowledge God.
In a post fight interview, Naimul remark about the fight:
" I'm not surprised of Jay's gameplan, I knew he's going to take me down and fight me on the ground. But I was prepared for any situation. Stand up or ground just bring it on. I was prepared for war."



a visibly ecstatic Joe Lorenzo celebrating Naimul's win
Ask what was on his mind each round,
"Each round what I was thinking is that I will break his heart. I will make him doubt his own ability. All of his attempt will not work until he's tired."


Who he wants to acknowledge for his victory.
"Firstly I thank Allah, I pray to Allah to give me the victory and give me the ability to go through all the obstacles in my life and everything. I thank my parents, my in-laws for blessing me in this career. My wife, the backbone, she prepared for me almost everything, motivates me, hear me, and believe me. My coach Joe Lorenzo and my brother Dhiaaul in training. All my family members and All the true friends. I thank Allah for giving me all this companion in my life."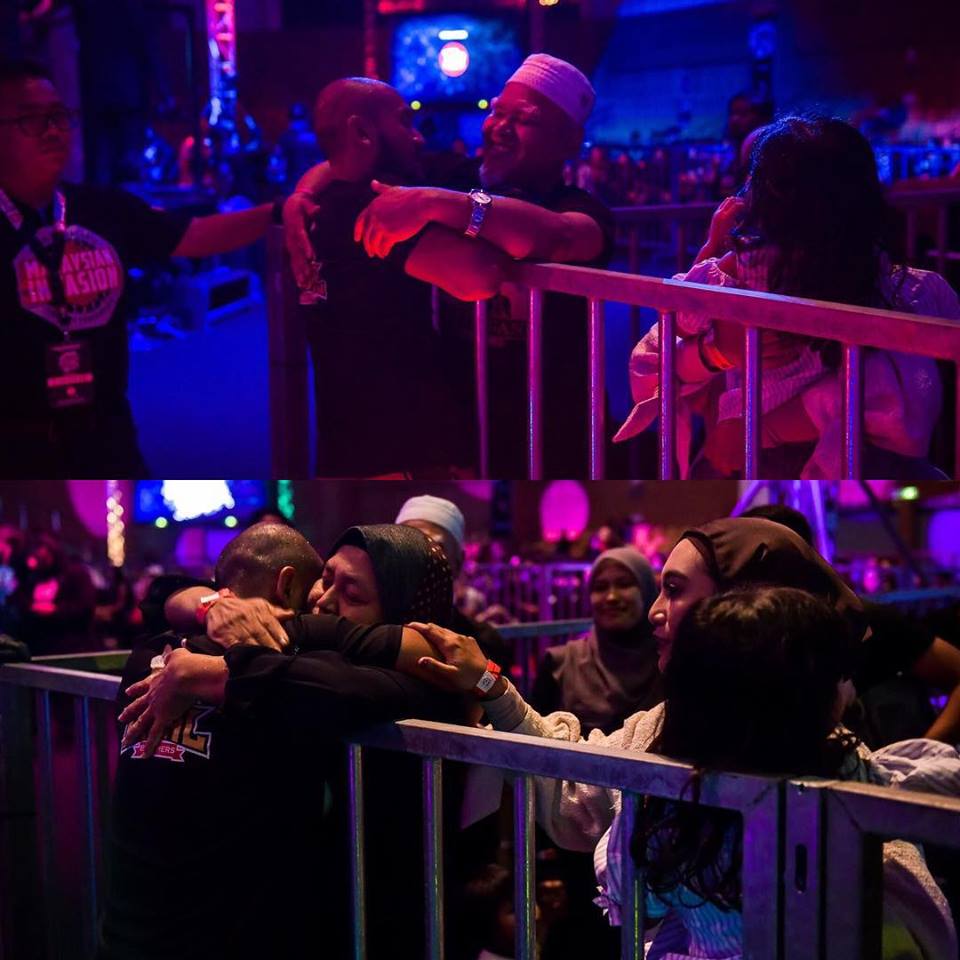 Emotional embrace with his parents after the victory


"And a great shout out to my sponsors Hutan Ration and HEAL Studio. Thanks to Tune Talk and MIMMA; there's always something sentimental with MIMMA as this is where my MMA path kick started, it means a lot for winning the MIMMA belt. Alhamdulillah."