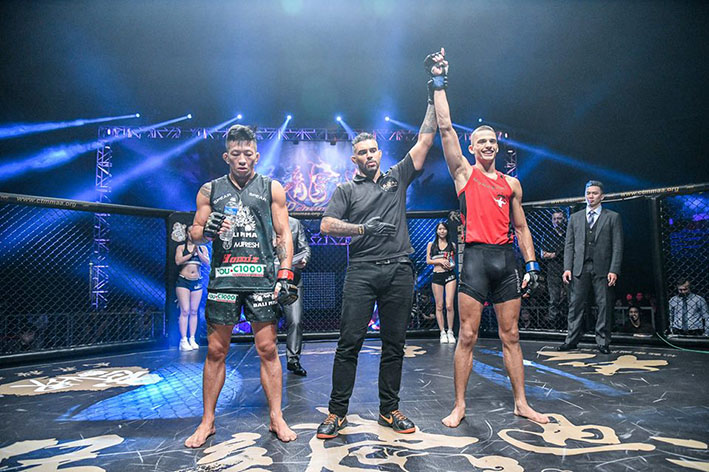 Celebrating the coming of 2019 was not a big thing on Shaqueme Rocks plans. While others are partying, he is training his butts off in Monarchy MMA in Kuala Lumpur as he prepare for the biggest fight of his life so far.
The hard works certainly pays off as on 12 Jan 2019, this hot featherweight prospect from UK submitted Taiwan's MMA pioneer Rocky Lee in the first round of Way of the Dragon (WOTD). This brings Shaqueme's record to a perfect 4-0-0 , all the wins by way of submission and all done in round 1.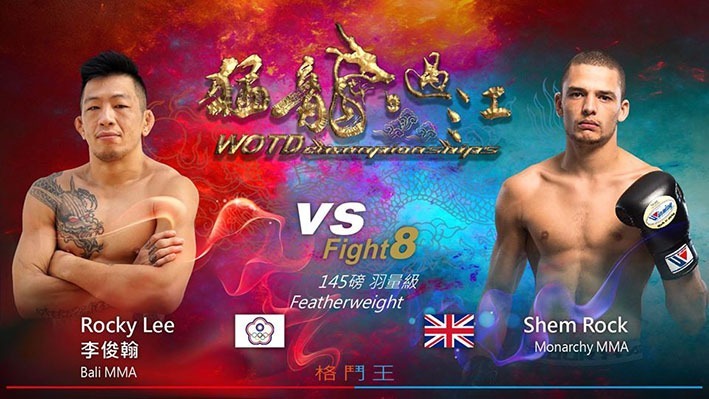 Shaqueme was adamant to start 2019 with a bang as 2018 was a very frustrating year for Shaqueme or fondly called Shem. He fought only once, late in 2018 securing the much talked about first ever muffler submission in Asia when he fought in Malaysia Fighting Championship 9 (MFC9) last Nov. ( read my story on this, click here )
Shem has been in Malaysia since 2015 when he left the rough life he had in Liverpool. His brother took him under his care and Shem picked by Brazilian Jiu- Jitsu under the tutelage of Prof Bruninho Barbosa in Monarchy MMA.
In 2016 he took part in the biggest amateur MMA competition in Asia – MIMMA season 4. He fought through 3 opponents and faced Singaporean Nazri Sutari in the grand finals and defeated Nazri with triangle choke in round 2 to emerge as the 2nd MIMMA Foreign Pride champion.
Shem took the route of pro in 2017, securing two wins in Malaysia's Golden Warriors Fighting Championship. In between MMA he participated in numerous grappling tournament and has been undefeated so far.
Shem realised that he needs to get more fights and face credible fighters to move up the scale. Eagerly looking for a bigger fight to move to the bigger stage but unfortunately most of 2018 gone pass without a fight confirmed for him.
He had close to 9 fights being call off either due to opponent's injury or pull out. But all is not lost for 2018. The victory in MFC9 by way of the rare muffler submission certainly made a big statement for himself.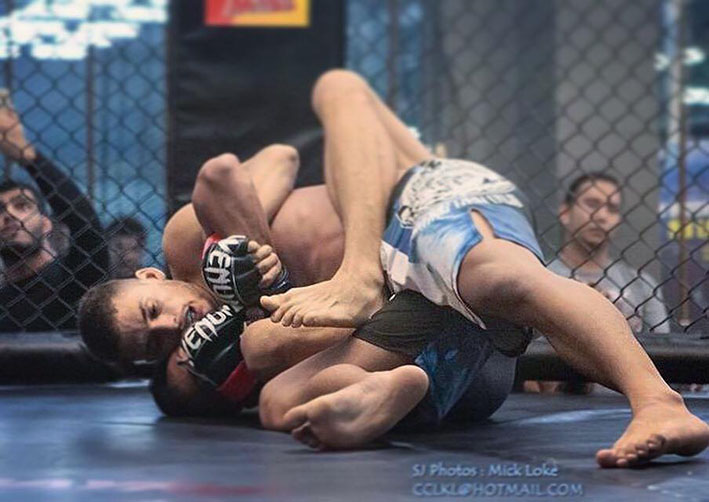 When offered a fight in WOTD 3, a considerably big and well organised MMA promotions in Taiwan. Shem was thrilled. Fighting the dragon tatooed Rocky Lee in the co-main event was icing on the cake as it was a big step up for Shem. Rocky has the reputation as the first Taiwanese to fight in UFC's reality show, The Ultimate Fighter (TUF). He was in the TUF: China back in 2013 but lost in the semi-finals, and he goes in to WOTD holding a 4-4-0 record.
Shem was familiar with Rocky's style as he has followed him in social media and the lads Rocky trains with such as The Subba brothers of Bali MMA occasionally also cross trains at Monarchy MMA with Shem.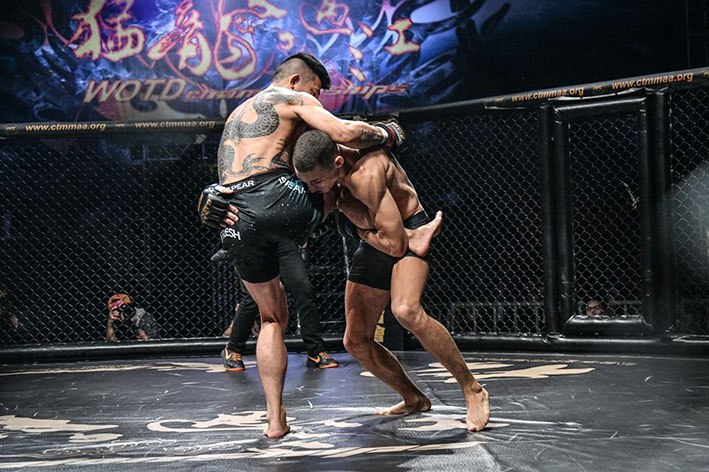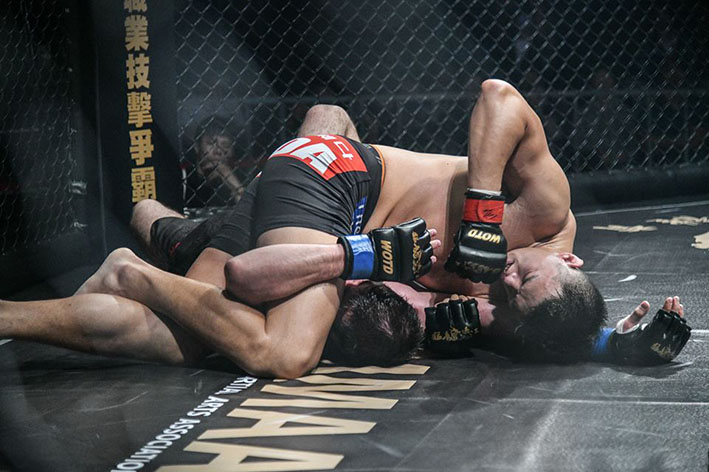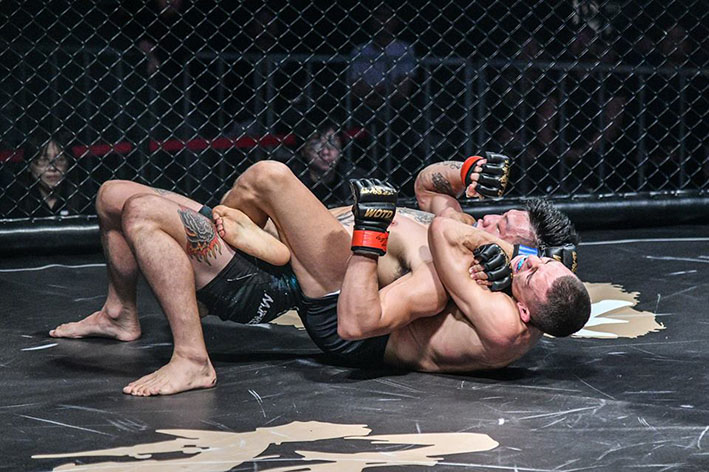 Shem vs Rocky was the 2nd last fight of the night that features 9 pro fights. Rocky survive a tight arm lock in the early minutes. After plenty of back & forth on the cage engaging in a chess game of clinch, Shem level change, got a double leg, convert it to a suplex throw, with Rocky's back exposed ,in split seconds Shem ride the back, hooks in and cross his arm for a amazingly tight rear naked choke that put Rocky to sleep and ended the fight with 15 seconds to spare.
What a great start in 2019 for Shem. He has slayed the dragon in the home turf . Shem is hoping the world took noticed of his victory over a big name in MMA and he look forward to bigger fights.
WOTD 3 ended with the main event in light heavyweight Korean Jung Da Un vs Russian Abutaliv Khalilov. The fight ended in round 2 with minute 1:50 to go as referee stopped the fight due to unanswered strikes to the face by Jung as he lock Abutaliv in a crucifix.
WOTD 3 was a well run show with a good mixed of Taiwanese fighters and international fighters. In the earlier hours, TaeKwon-Do bouts was held. TaeKwon-Do is very popular in Taiwan and it is great to see a promotions establishing a niche for itself by introducing TaeKwon-Do bouts inside a cage, which I believe is the first time happening. It was entertaining to watch the fast kicking action with power vs the current sports Olympic TaeKwon-Do uses body shield sensors, turning it into a game of tag…which totally kills the game! Creatively WOTD 3 even had a Taekwon-Do 4 vs 4, team relay fight.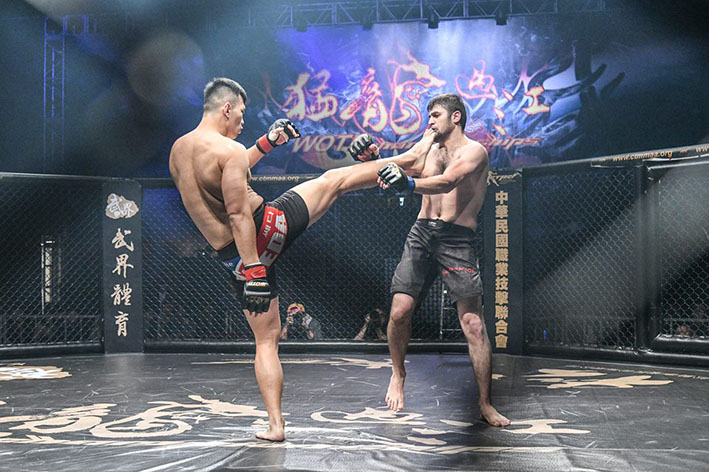 ————-#WRA————–
Story by:
T. Wallace
'