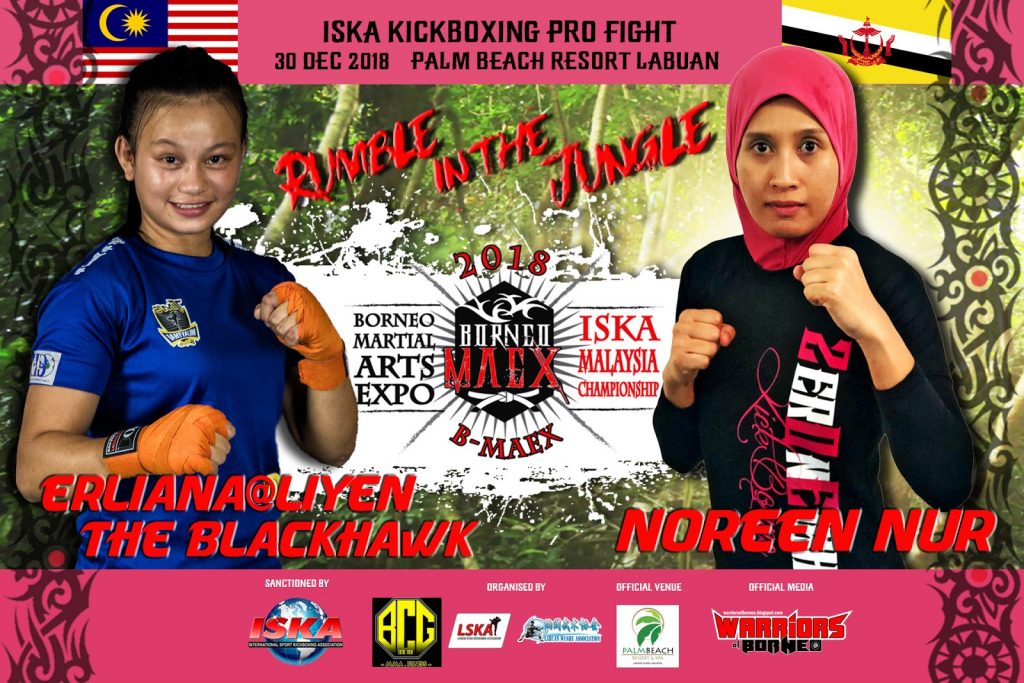 NOREEN NUR VS ERLIANA @ LIYEN : ISKA BMAEX 51KGS FEMALE TITLE FIGHT
It's Malaysia vs Brunei for the only female pro Kickboxing title fight on 30 Dec at BMAEX.
——–#WRB——–
Erliana Said @ Liyen is from Tawau. She is 26 this year and trains out of Tim's Muaythai Tawau. She is an entrepreneur but loves to train Muaythai.
Her motto in life is  
"Work hard, be patient, be consistent and never give up" 
She applies this motto in her martial arts life and holds a fight record of 1-0-0 ( Muaythai ), 3-1-0 ( Kickboxing ), Boxing 0-1-0. Her favourite technique is spinning back fist.
——-#WRB——-
Bruneian Noreen got into martial arts to lose weight. She joined a workout program call 'Projek Kurus' run by ADN Gym. It was a workout program conducted outdooor at the beach and focus on Kickboxing and boxing techniques. The workout got her hooked & her interest in martial arts began to increase.
Januar 2016, ADN gym offered Projek Kurus for the second season, and she without hesitation joined the program. The weight she lost motivates her and she continue training & joining other classes such as HIIT conditioning.
Under the tutelage of Coach Adey & Coach Dean at 018 MMA Gym her skills improve and competition became a tool to test her acquired skills  
Her first fight was in 2016 at BAC 3, Labuan. The following year she improved and got silver in the BAC 4. Further improvement follows when she won Gold in the Pahlawan Boxing competition in December 2017 and bagged aother Gold in BMAEX 1.0 women's category.
She works as a teacher and also obtained certification as an ISKA Instructor in mid October 2018. 
She has two short term target…to close 2018 with the ISKA BMAEX female title on her waist and targetting Gold for BAC 6, in March 2018.
——-