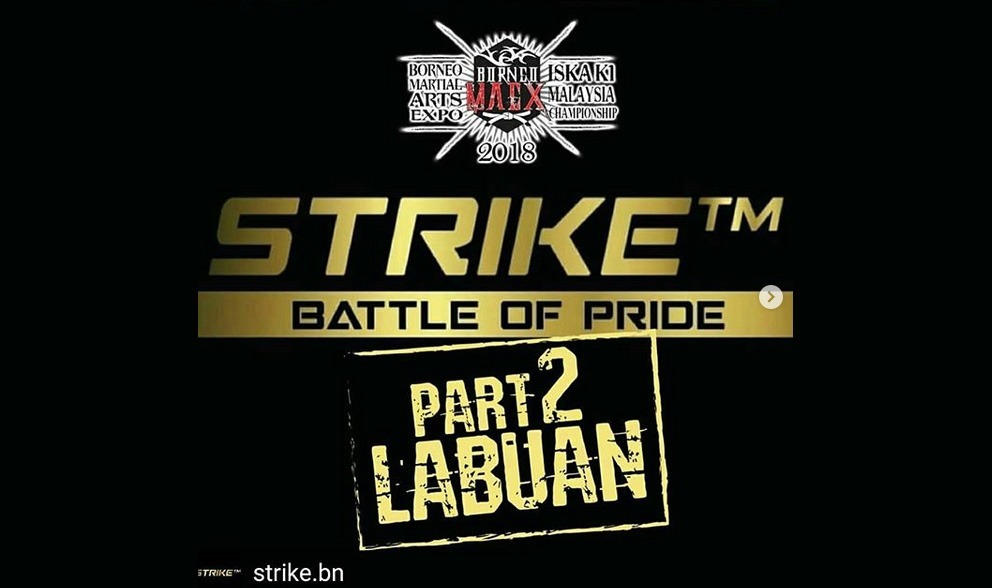 The first martial arts promotions of Brunei, STRIKE is back. ( read about what STRIKE is all about, click here )
The ISKA sanctioned STRIKE: Battle of Pride was held on Nov in Airport Mall Brunei. It started smoothly on the first day, until later towards the evening a thug started to verbally abused athletes and coaches which ended up in a brawl.
It was quickly contained & controlled by many sane minded martial artist ( so who said fighters are eager to brawl? They only do it inside the ring ).
The noble effort of it's organiser to promote martial arts & healthy lifestyle in Brunei came to an abrupt end when authorities decided to cancel the day 2 of the event to facilitate investigations. This resulted in many of the amateur category Boxing/Kickboxing semi-finals & finals bouts, 3 Kickboxing Super fight for semi-pro title didn't see the light of day.
Not only is the cancellation a big let down to the organiser and business owners who has sponsored and some have taken up exhibition booth there but also a huge disappointment to fighters that had work very hard and prepared to give their best representing their country and gym.
Many is of the opinion that STRIKE is a big boost for combat sports in Brunei. According to Eazy Anuar, Brunei's pro MMA fighter & owner of Khalifa MMA, 
" STRIKE was well ran with good planning, logistics & great prizes."
He also adds that he was saddened that due to fault of one rascal resulted in cancellation of day 2, and he said the authorities should not let bad hats marred an event that is beneficial for the general public.
According to one of STRIKE's founder, Nate Younis the culprit has been caught and as organisers they wanted to make a police report but kudos to the police they beat them to it and has charged the offender. The case is now pending court hearing. The organisers has met Brunei's sports authorities to clear the air and has their support for their next event STRIKE : Redemption planned for March 2019.
When the commotion happened, ISKA representative Alvin Chong was there on the ground and as organiser received news that authorities are cancelling their day 2 event, in the spirit of martial arts brotherhood he quickly offered a solution by offering to let BMAEX be the platform for STRIKE : Battle of Pride. 
Now we are 1 day away from BMAEX 2.0 in Labuan and STRIKE : Battle of Pride will be on day 2 ( 29 Dec 2018 ). Firdaus from STRIKE explained,
" Understandably some of the fighters that qualify for the finals are not able to make the BMAEX dates, hence the idea of Wild Cards, where either a new participant can replace a fighter who is unable to make it or a participant which did not advance to the semi-finals/finals are given another shot at redemption to earn a top spot. We are fortunate to have five wild cards for STRIKE : Battle of Pride part 2. "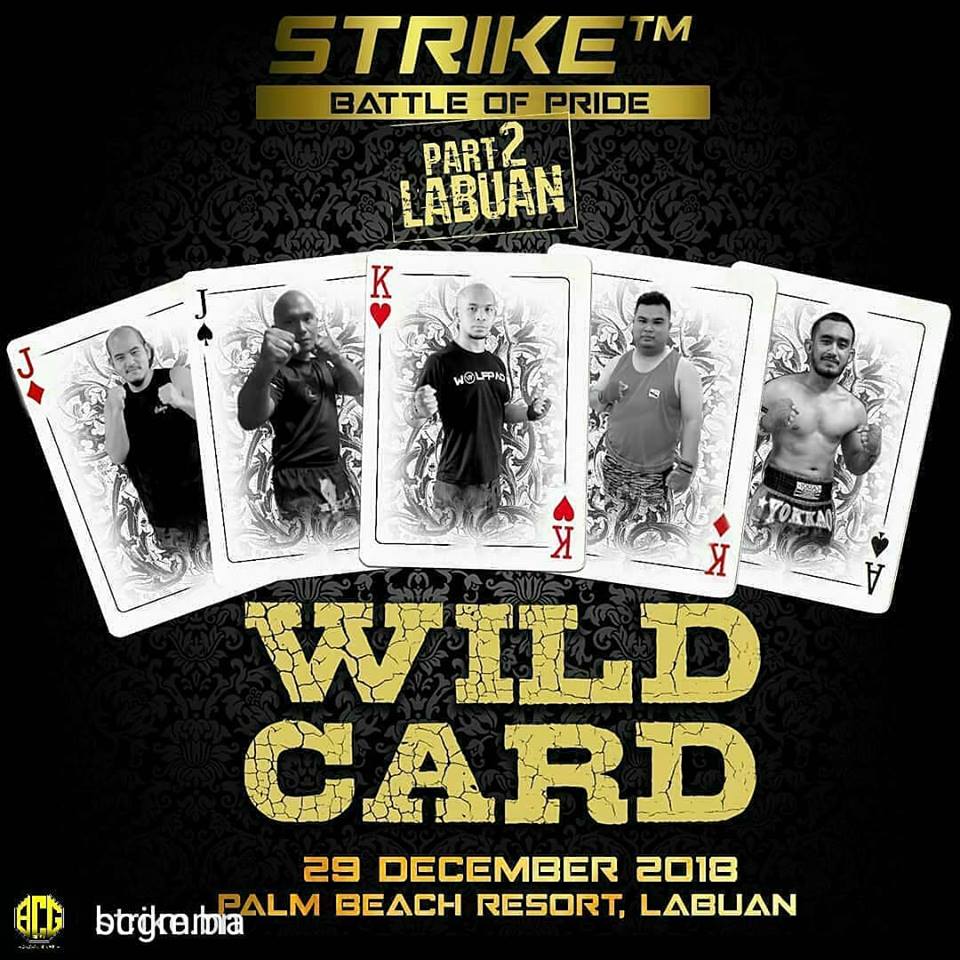 A total of 7 amatuer bouts ( boxing/kickboxing ) will be held at BMAEX and 1 title fight between Bruneian Saufy Jaman and Sabahan Dean Hamsah for the semi-pro Light Welterweight title. The
other two title fight featuring Bruneian Adib Sulaiman & Aaron Lim , prefers to fight at home turf which is planned for the March event. Dean Hamsah will attempt to win two belt as on 30 Dec he will fight under pro Kickboxing rules for the 67kgs ISKA BMAEX Title belt.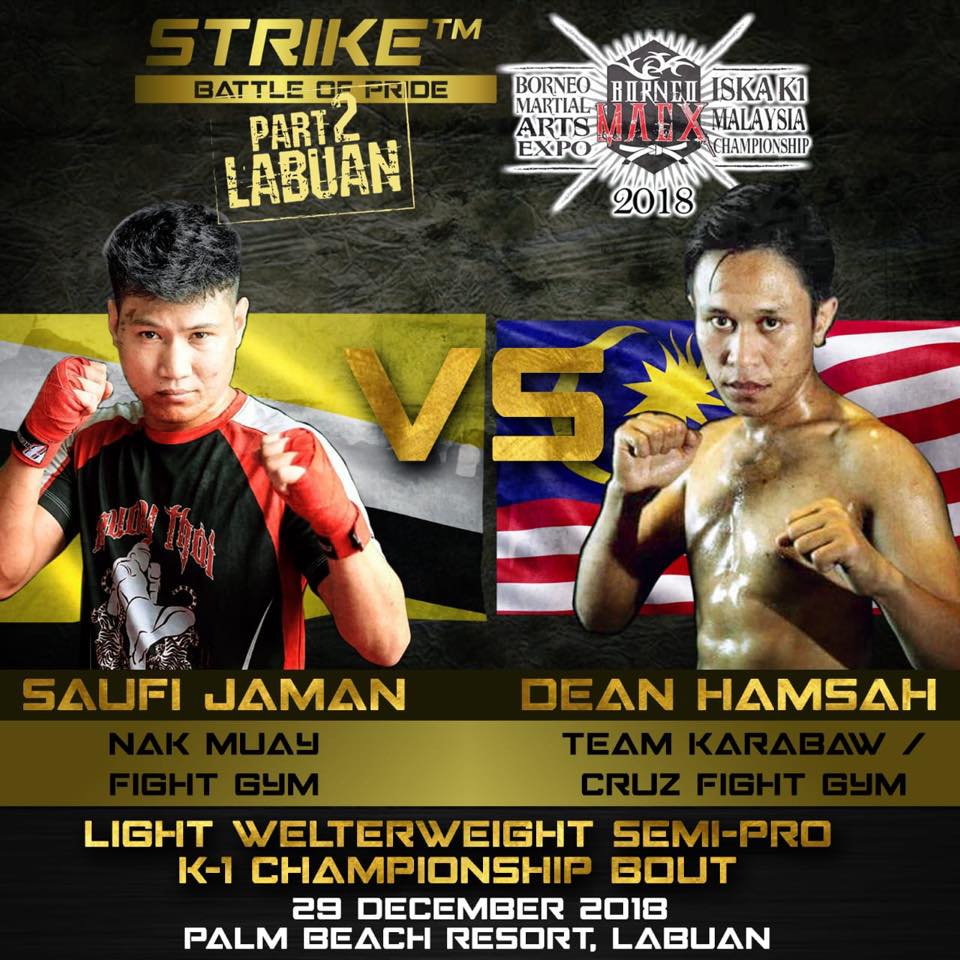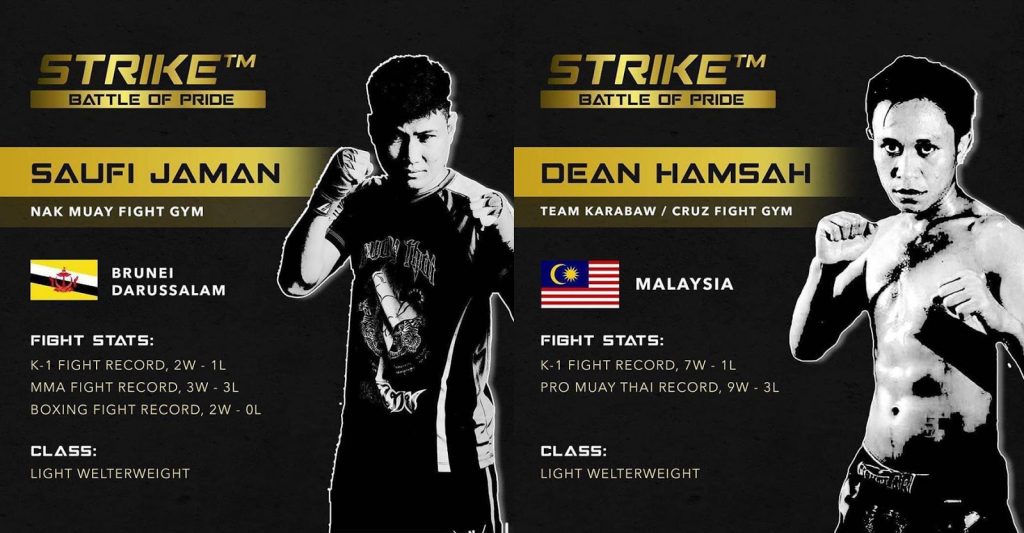 STRIKE : Battle of Pride needs a closure and to have it a month after the original event and not dragging it too far is a good move. It's good to see the organiser collaborate with ISKA & BMAEX to make sure it has a platform. Labuan is only an hour by ferry from Brunei and Labuan has close affinity with Brunei.
Alvin Chong further reiterate that BMAEX is not just another martial arts promotions, it's objectives is to unite martial artist in the region to promote talent development, sportsmanship, recognition to contributors of the martial arts industry and improve overall standard of events. He said by having STRIKE in BMAEX is a good example of this and he said other organisers & promoters should not look at BMAEX as a competitor but to use BMAEX as a platform to promote their own event & grow the industry together.
————–#WRB—————-