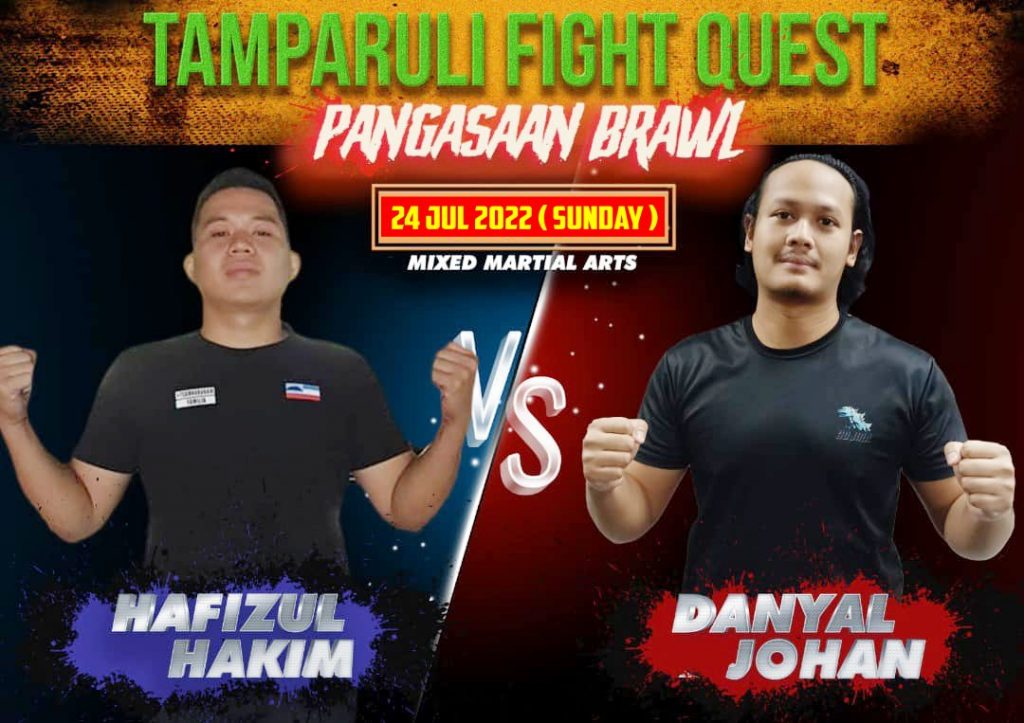 TAMPARULI FIGHT QUEST Feature MMA fight – 77kg
Hafizul 'Popo' 🆚 Danyal Johan.
…………………👊🏼…………………..
Hafizul Hakim b Abd. Majid (27)
Team Karabaw Sipitang
Height : 168cm
Fighting weight : 77kg
Normal weight : 80kg
Nickname 'Popo', he is born in Kuala Penyu Sabah, raised in Sipitang and now staying there too.
Hafizul is one of the most experience fighters featured in Tamparuli Fight Quest (TFQ).
He holds a 5-4 record in MMA. He was Full Metal Dojo (FMD) Super-4 MMA finalist (Bangkok,Thailand), 2013-2014 rank as top 4 amateur MMA in South East Asia.
In 2015 Hafizul entered Malaysian Invasion MMA (MIMMA) season 3, and went all the way to the grand finals. That year beating Damon Soo ( the eventual Bantamweight champion 2017-2018 ) in the quarter-finals.
He was also one of the feature fighter vs Indonesian Riko Chen in MIMMA season 4 Grand Finals in 2016.
"I started to train boxing, but during that time all I want is to fight in MMA, I train only related to MMA such as wrestling and grappling for MMA. I do kickboxing, muay thai and boxing but its kind of a little mix of everything."
After 2016, Hafizul took a hiatus from MMA as he joins Fire & Rescue Dept. Currently working  as a Fire Officer and  base in Balai Bomba dan Penyelamat Sipitang, work focusing on rescuing and firefighting operation.
What makes u wanna fight in TFQ? what is the motivation?
"Because I've been missing in the arena for a while, especially during the pandemic, all things hit rock bottom. My main goal is to fight INTERNATIONAL MMA FEDERATION (IMMAF)  representing Malaysia and we'll see how it goes after that 😁"
…………………👊🏼…………………..
Danyal Johan (26)
Team : Gojira MMA
Height : 169cm
Fighting weight :77kg
Normal weight :81kg
With the borders now open as we enter the endemic phase of Covid-19, Bruneian can now enter Sabah. Danyal is from Brunei Darussalam and jump on this opportunity to take on his first fight.
A graduate from University of Brunei Darussalam (UBD ) he is now working in the startup tech scene as a research analyst providing R & D features and solutions for his clients
Danyal  started with Kickboxing and then transition to Muay Thai. He learned to Box at the same time and then dabbled in a few grappling sports like Judo, BJJ, No-Gi wrestling.
He has no official amatuer fight yet but have fought a few times in exhibition matchups.
What makes u wanna fight in TFQ? what is the motivation? :
"To transition into the sport of MMA as this will be my first official amateur debut. Then continue to seek out more MMA fights around the country or region depending on my performance and training."
…………………👊🏼…………………..