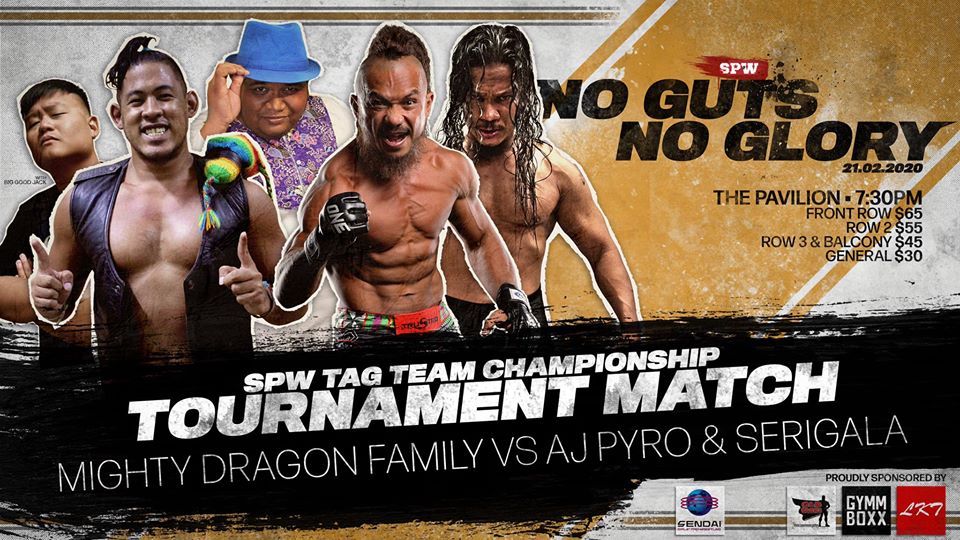 If you think only in the USA that pro MMA fighter venture into the pro wrestling scene, you are wrong. In Malaysia our pioneer pro MMA fighter AJ Pyro has also transition successfully to wrestling. Yes we do have a pro wrestling promotions here it's Malaysia Pro Wrestling (MyPW) and they are actively slamming! Find out more about MyPW from my previous article here and on AJ's involvement in MyPW here. MyPW upcoming event is in March & April.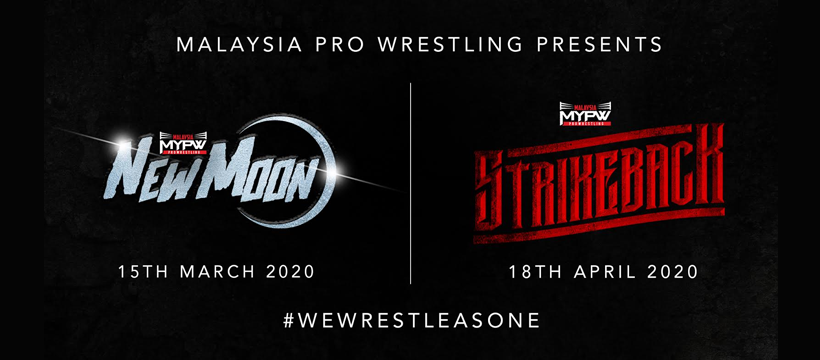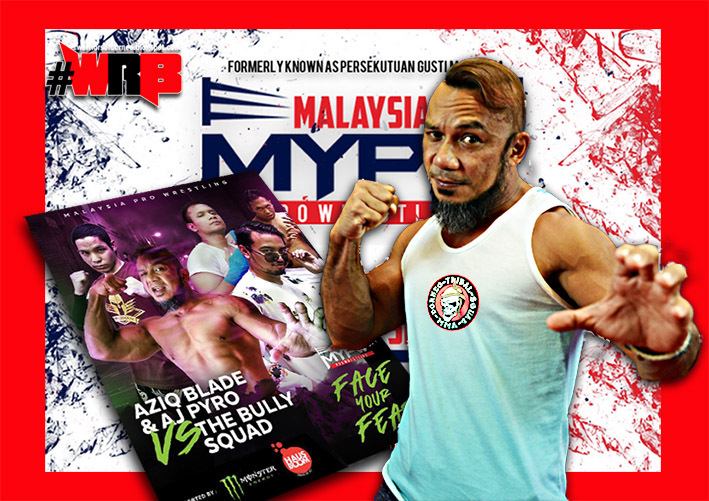 But before that, tonight in Singapore, SPW- Singapore Pro Wrestlingwill kick off 2020 with their show No Guts No Glory and AJ Pyro will be one of the stars wrestler aiming for glory in this star-studded wrestling spectacle happening at 7.30pm in The Pavillion.
Welcome to the first-ever SPW Tag Team Championship Tournament! This inaugural Tag Team Tournament is for the currently vacant SPW Tag Team Championships. Two quarterfinal rounds of this tournament will be feature. The vacant championships will be contested by teams from around the region in an knockout phase format. The tournament will last 4 events, and the winners will be crowned the new Southeast Asian Tag Team Champions!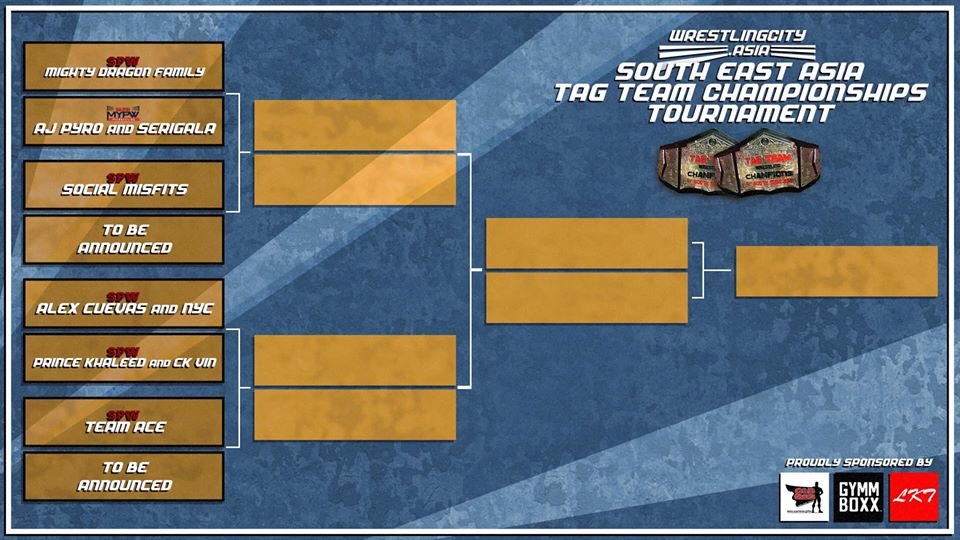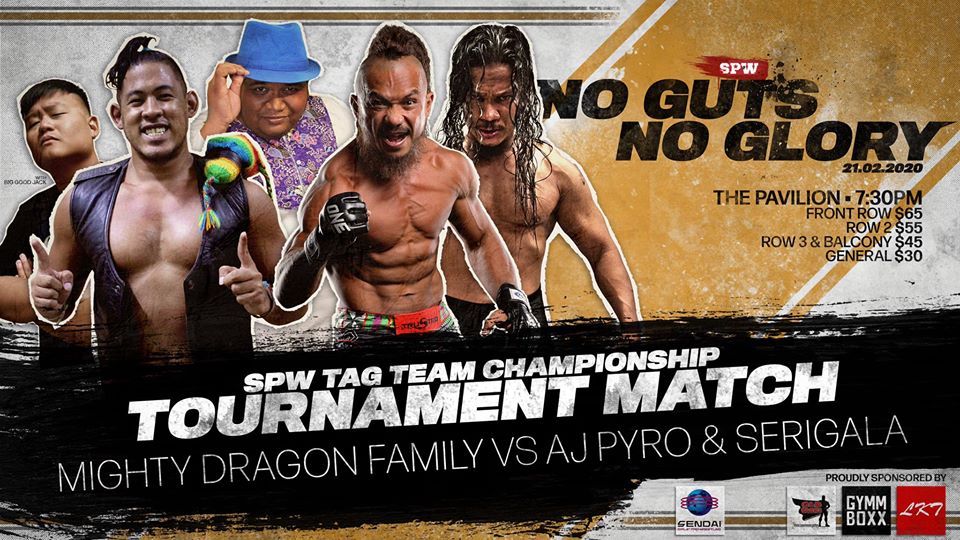 In Malaysia's corner will be AJ Pyro and Serigala facing Singapore's Mighty Dragon Family.
Freebird Rules in effect as two out of three of the Mighty Dragon Family will go against Malaysia's toughest freak athletes.
Big Good Jack, Mighty Mighty and The Eurasian Dragon will be tested by the brute force and precise technique from their opponents from Malaysia Pro Wrestling.
Serigala is enjoying a breakout year- the former bodybuilding champion has turned against the Feral Alliance, cementing himself as a strong fan favourite and sure-fire future titlist. But will that title be one half of our SPW Tag belts?
Speaking of Champions, AJ Pyro is no stranger to accolade through determination. The ONE FC Malaysian Champion and Predator FS Welterweight Champion is one of the rare athletes on the planet juggling multi-combat careers, as he is carving a promising professional wrestling career. Becoming Southeast Asian Tag Champion would be AJ's way of conquering another sport.
These gladiator Malaysians already teamed in SPW once prior, clinically dispatching the veteran duo of Blue Nova Nyc and Arsenal Affi.
Which team will triumph in this mega collision and advance toward Southeast Asia supremacy?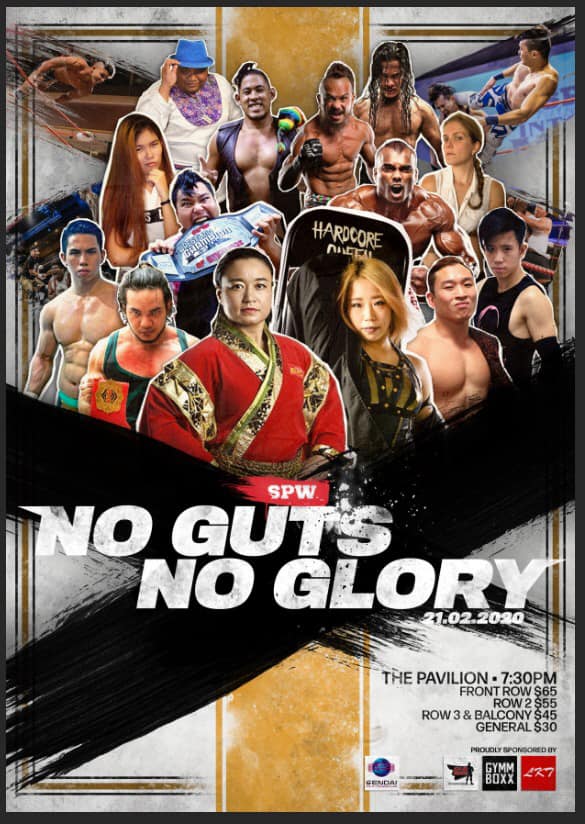 Hi-light of the night for SPW : NO GUTS NO GLORY will be two special guest performer from Japan's Joshi Wrestling.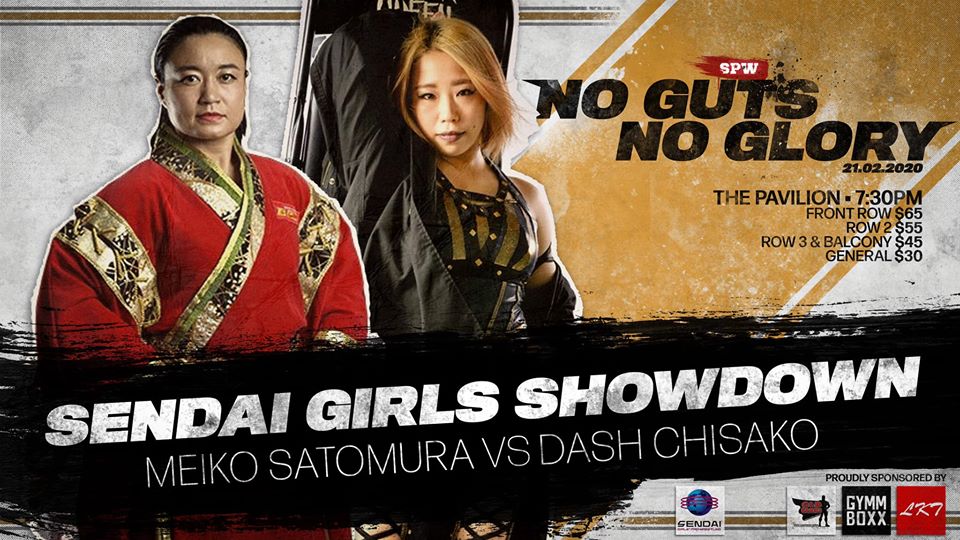 Meiko Satomura  will face her former student Dash Chisako.
These two Joshi Wrestling warriors will collide in this special attraction main event bout. In one corner, stands a bona fide Joshi Wrestling in Meiko Satomura. In the other corner, is one of Satomura's revered students, Dash Chisako.
Dubbed the 'The Final Boss' of Joshi Wrestling, Meiko Satomura is regarded as one of the most respected and sought-after pro wrestlers in the world. Whether it is in the Sendai Girls Pro Wrestling Promotion that she built, or on her overseas tours, Satomura's brand of Japanese "Joshi Strong Style" has impressed every one of her opponents and spectators. Satomura had a standout performance in the WWE Mae Young Classic 2018 and has even wrestled a familiar face in the SPW ring, former WWE NXT UK Champion, "The Bruiser Weight" Pete Dunne!
Dash Chisako has been a very integral part of the Sendai Girls' Pro Wrestling Promotion tag team division, dominating the tag team scene, and claiming many championships with her younger sister, Sachiko. Unfortunately, Sachiko retired from pro wrestling in 2016, forcing Dash Chisako to pick up the pieces and start a career as a singles wrestler. With an opportunity to go face to face with her mentor at SPW's No Guts, No Glory event, a victory could propel Dash Chisako as an undeniable force in Joshi Wrestling.
Will the Dash Chisako stand triumphant over her teacher? Or will Meiko Satomura show to the SPW faithful that she is the undefeatable boss for Dash Chisako? Get your tickets now to watch this special attraction match at SPW's No Guts, No Glory!
Follow SPW on their FB to find out more.