Fight calendar in Sabah used to be packed but 2020-2021 has really put a spanner into the gear and jammed the whole momentum. Come this end March, to kick-start the combat sports calendar in Sabah is  RAMPAGE Fighting Championship.
It is back with a bang as more than 60 bouts has been confirmed by founder & event director Antonio Batistessa  This event will be held in Sabah Top Team gym on Sunday 27 March. This will be the 8th edition.
—————
Representing the interior of Sabah is Keningau MMA (KMMA). They are sending 5 athletes, most of them are debutant and leading the team is Zachenzie Zifyon Douni or more well known as Zach.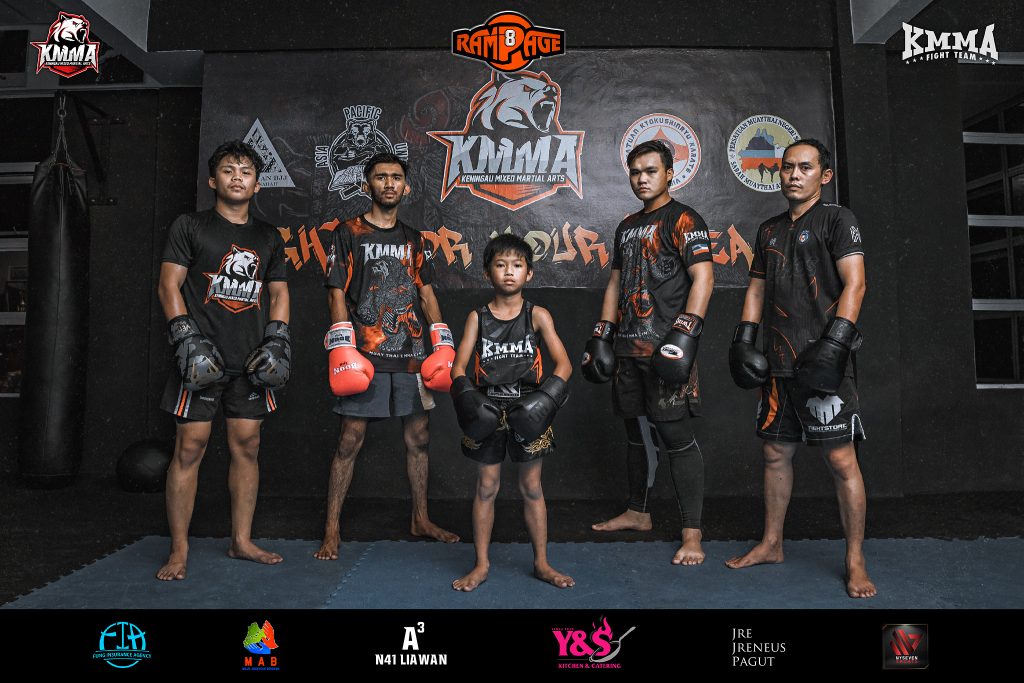 Zach will be headlining the fight card vs Hisyam Samsuddin, a former ONE Championship fighter & pro boxer. Not just any pro boxer but is the first Malaysian to win the World Boxing Federation Asia Pacific Light Heavyweight title in 2016.
Zach is only 22 this year and a Keningau home boy who grew up overweight. In his early teens he took up Tae Kwon-do but was demotivated and he stop as his own coach was always teasing him about his weight, which at one point reach 100kg.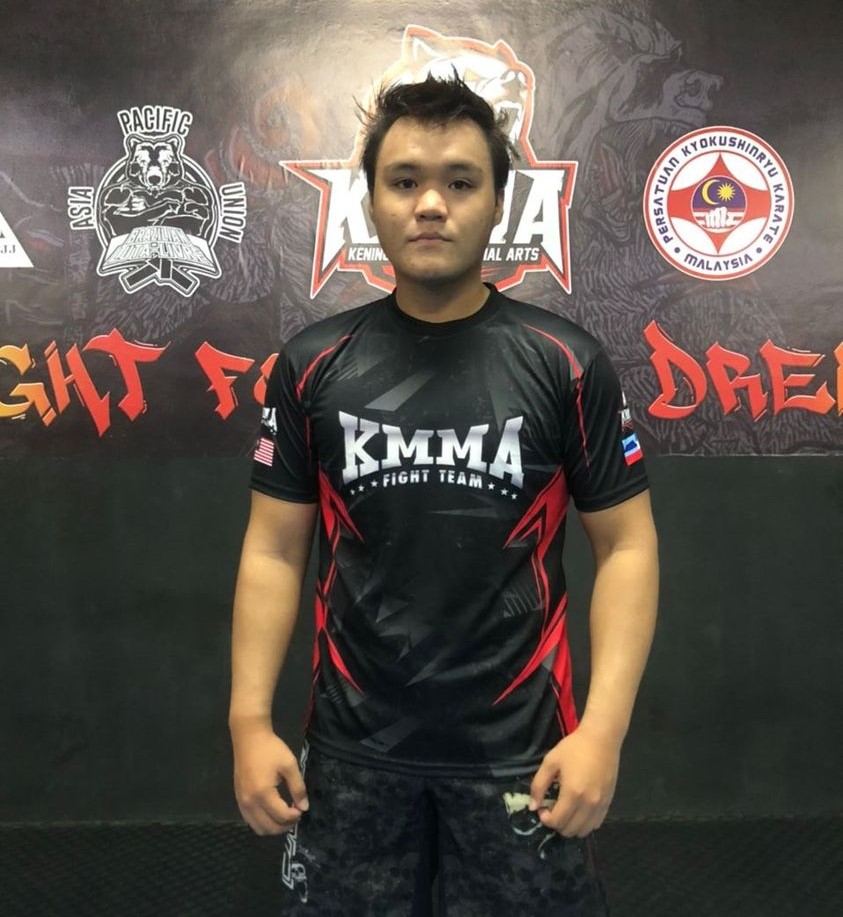 At 15 he joined KMMA. He found a place that does not judge him on his body type. Through the dedicated coaching of Mohd Bakri (Matt) he learns different discipline of martial arts from Kick-boxing, Muaythai to grappling. He eventually turns the fat to fit and began to compete.
During the pandemic period as training slowed down Zach found a job as a general worker. When SOP was loosened, he got back into training and did not hesitate when coach Matt ask him if he was interested in fighting at Rampage FC.
Zach is using the fight name Godoot, which mean Heavy Eater in Kadazan. It's a nick name he uses to remind himself of where he started from and always keep him grounded.
Zach has competed in kickboxing & MMA before, but this is a big step for Zach, as this is his first boxing match going against an experience opponent. Ask on why he took his huge challenge…
" Well, I would like to showcase my striking skill with one of our best boxer in Malaysia, Hisyam. I believe I can and I'm capable of it."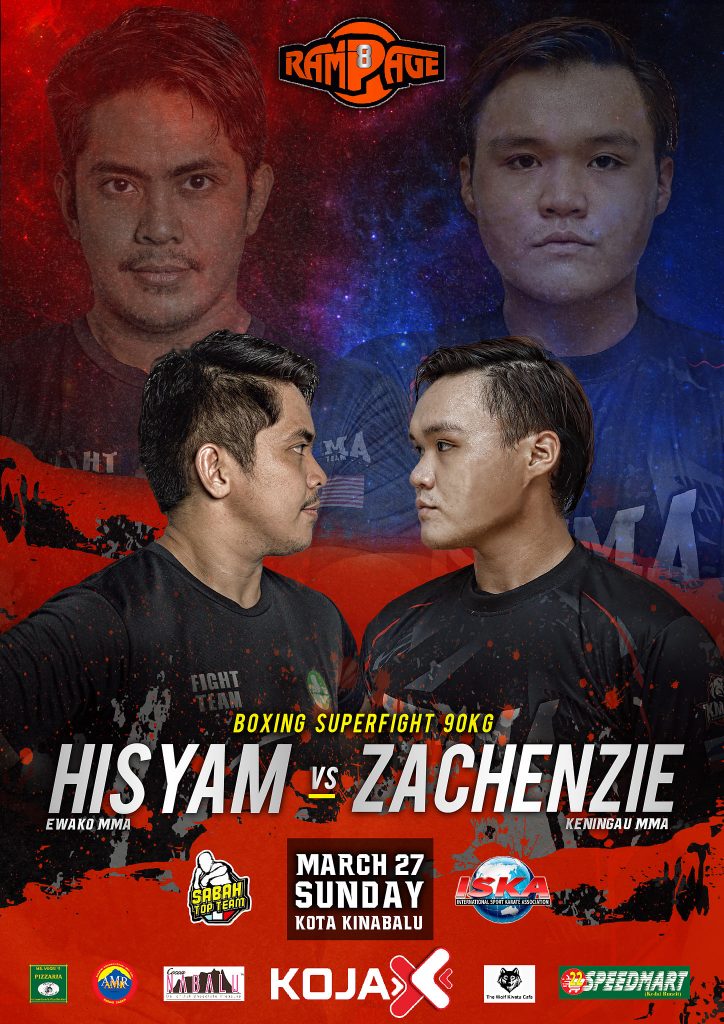 This time Zach will also bring his younger brother Zeffenzie Hezron Douni. Zeff is two years younger and will fight against Olwen Jaffi of Team Karabaw
Others in the KMMA team, is Akhdan Sheikh Shah. Whom at age 42 is taking up his first Kickboxing bout.
Mohammad Hafiz Tadir at 18, debut in boxing.
Youngest in the team is Daniel, age 10. Debut in Kids Boxing. He is the son of Leo Kataposan, one of KMMA pioneer fighter.




Coach Matt does not set huge target for his team but wants them to give their best as this is a great way to get his team back into the groove after the two year lay-off due to pandemic.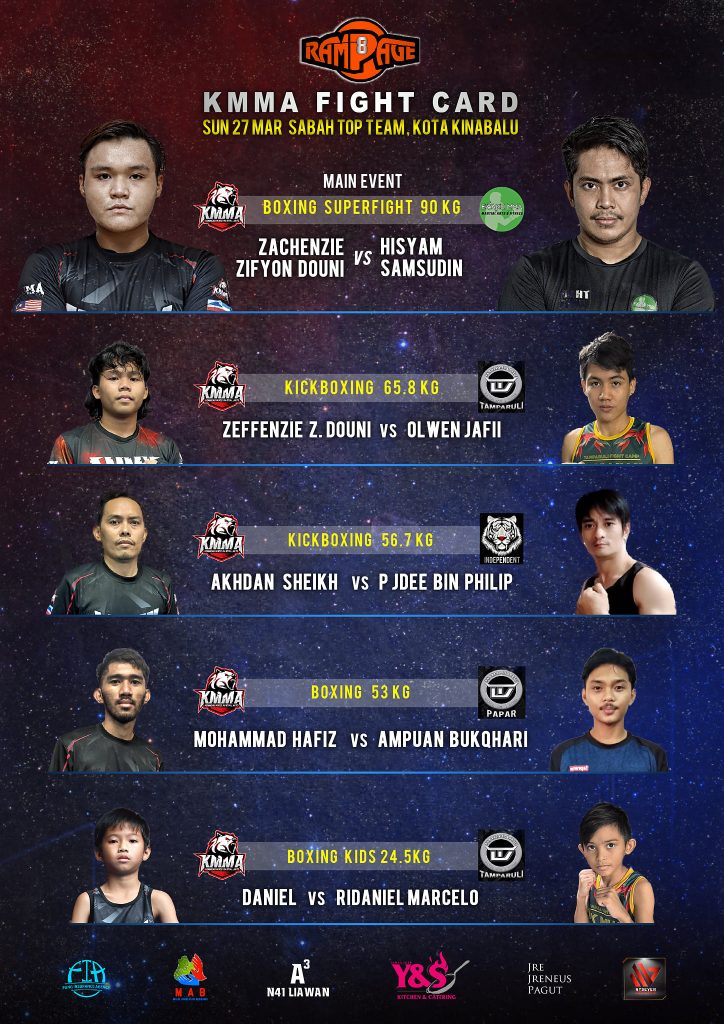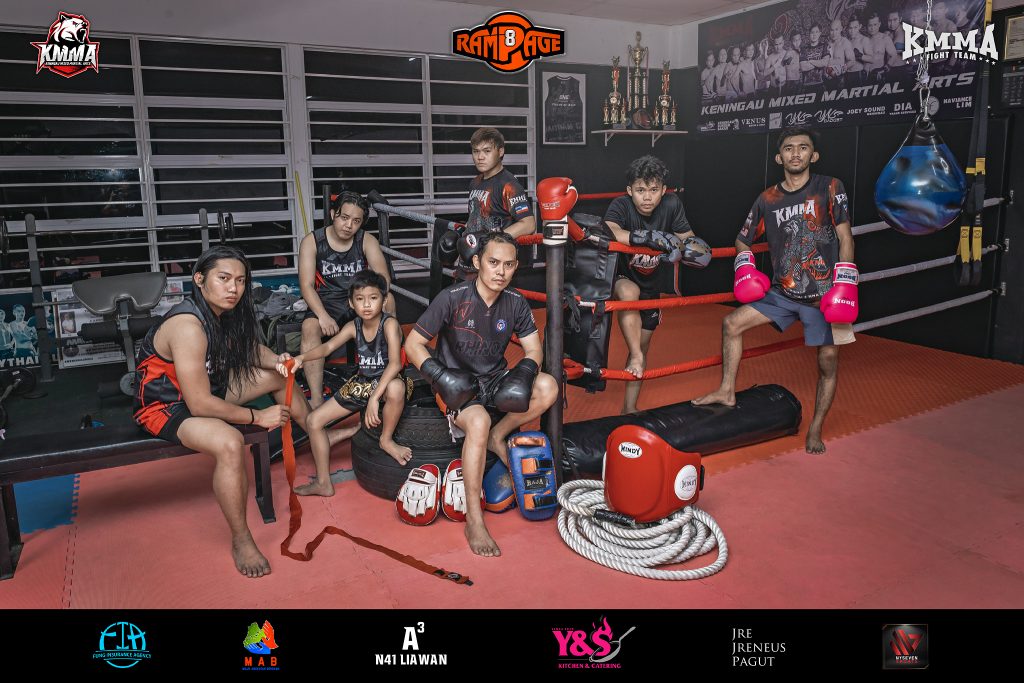 Coach Matt also said he is very appreciative of the support given to Keningau MMA by the sponsors.
Y&S Kitchen Catering ( NASI KUKUS & AYAM PENYET MANTUL )
Annuar Ayub Aman ( YB N41 LIAWAN )
Jre Jreneus Pagut ( SETIAUSAHA POLITIK MENTERI KBSS )
NY7 Sports ( KEDAI BARANGAN SUKAN )
Majlis Anak Borneo ( M.A.B )
Allianz Malaysia – Fung Insurance Agency ( AGEN INSURAN )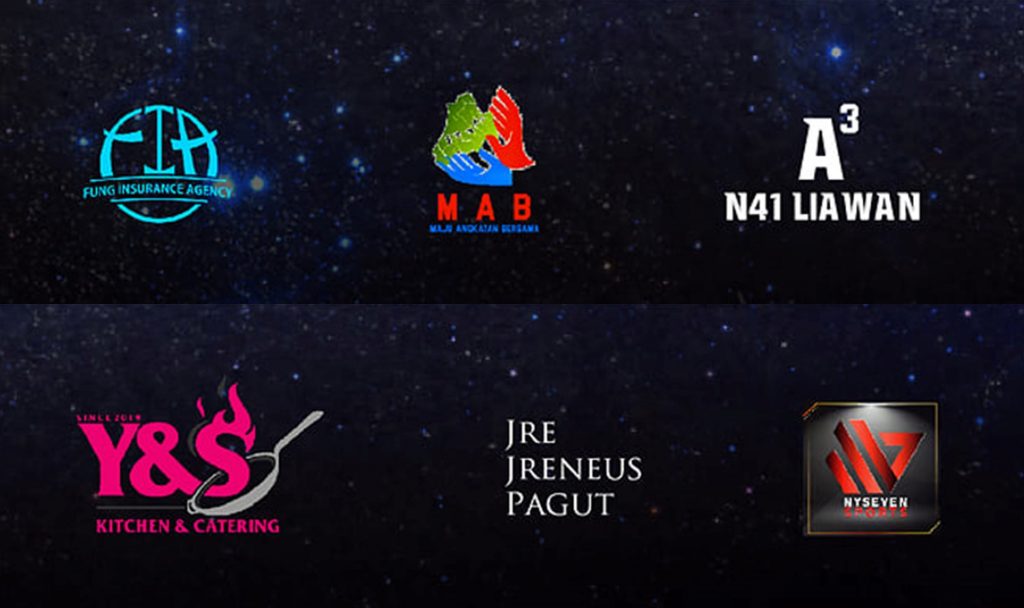 Do watch out for the return – Mohammad Hasbullah. Hasbullah or nick name The Garagas, he is the 2015 Jesselton Fight League Bantamweight MMA champion. He also holds the belt for 2019 BMAEX Kickboxing Champion. This will be his first boxing bout as he takes on Joshua Suico at 61kg
Two representative from DMT ( Deaf Martial Arts & Fitness ) , the MIMMA veteran & multiple Muaythai Champion Sunny Sabornido & his compatriot Aremiah Edmund whom are both hearing disable from Labuan will see Kickboxing action as they take on Lesley Dulamit (Karabaw Tamparuli) & Ali Hobbit (Karabaw Putatan)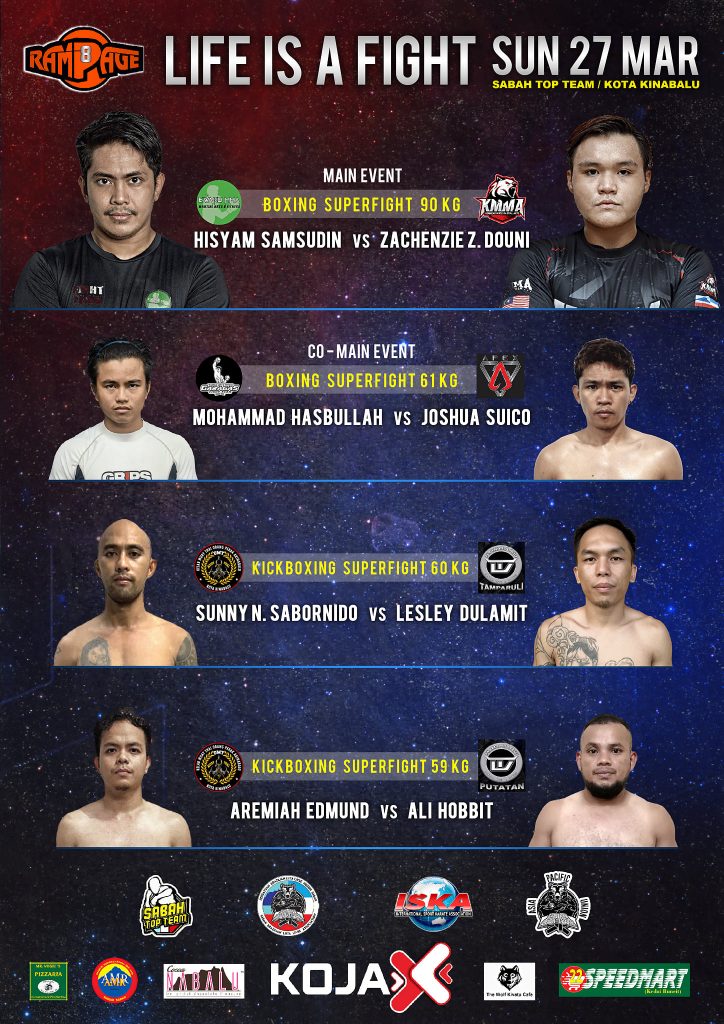 There will be a Cage Kickboxing Super 4 challenge.  This is at 48kg category, aims to develop the youngsters as the new generation martial arts talents.

Other notable bouts to watch out for: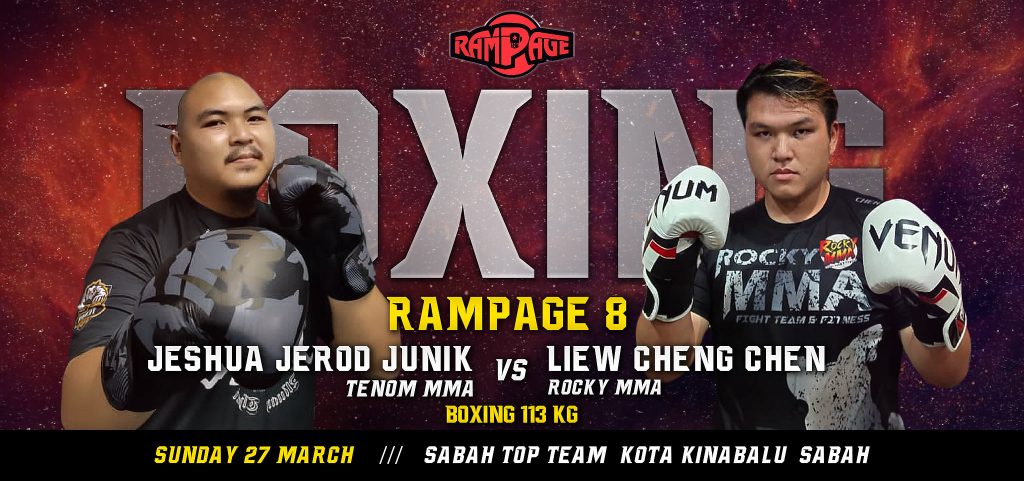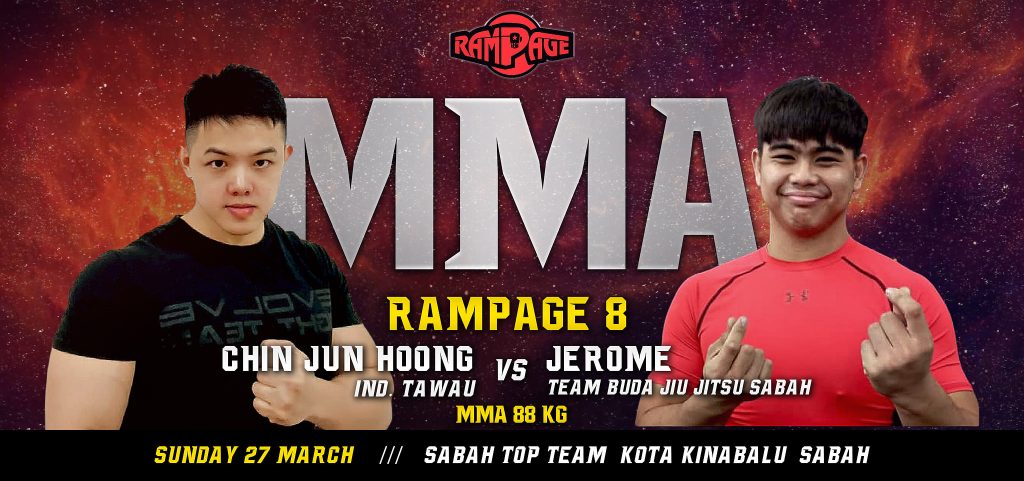 All pictures & poster design are by Matt Buvvart Photography