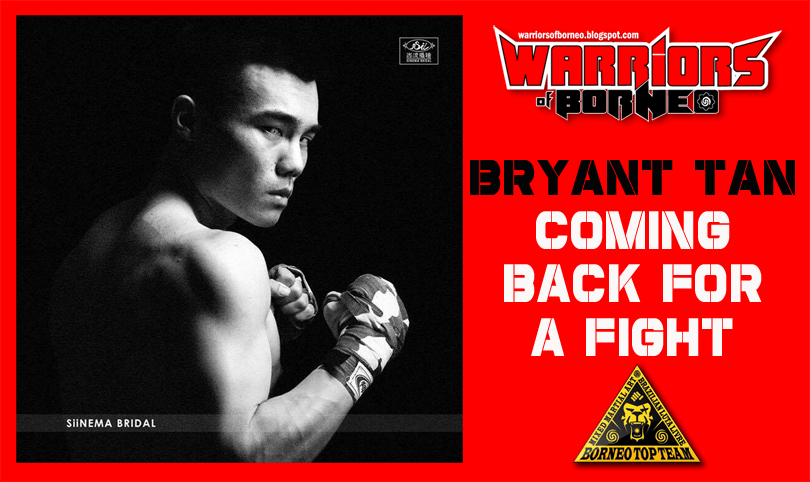 October last year was a bitter sweet time for Bryant Tan. Sweet because in his first foray into MMA. he managed to go all the way in MIMMA season 4 to the grand finals for the Middleweight category.
Bitter because, in the Grand Finals, going against the towering Muhd Meeraj ( defending Middleweight Champion ), Bryant lost by TKO in round 1. Meeraj clearly have the upperhand in the striking game from his years in Wushu and also a pro boxer.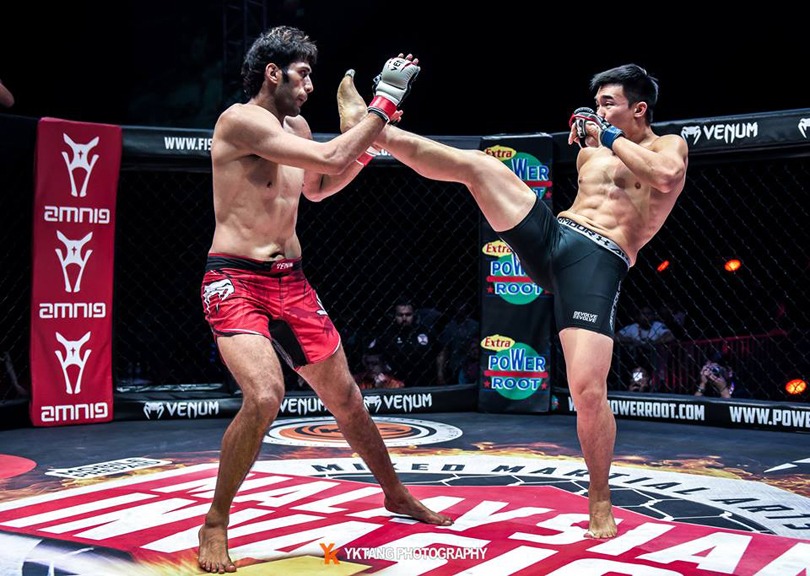 Challenging Mirage Khan for MIMMA4 Middleweight title last year
(Click here to read about how Bryant started his martial arts journey) 


After all the hard training and preparation, no doubt Bryant felt dissapointed with the lost. Nevertheless he thank his grappling coach Albert Lim, his boss at that time Olivia Ling and his Muaythai coach Lucas Lau for being there supporting him through his MMA journey.
"As the Chinese saying goes…, for the 3 minutes show people see on the stage, there are 3 years of  hard work behind it. People usually only see the end result but not the process" 
uttered Bryant.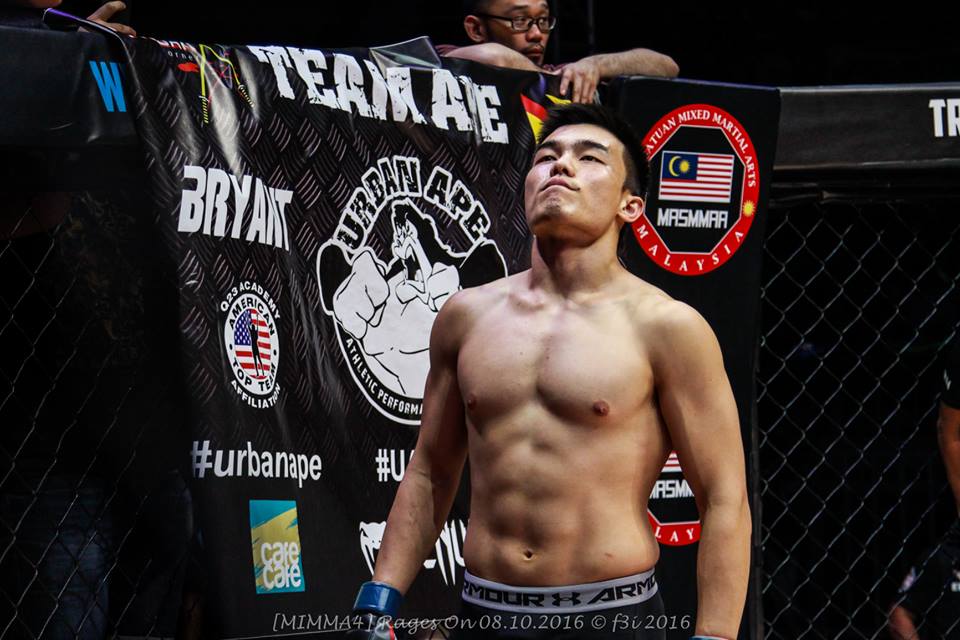 After MIMMA, returning back to Kuching, Bryant went back to training and coaching but he felt that something was not right. he was not in the right frame of mind,…somehow he felt he lacks motivation to go forward. Deep down inside he felt the the need for change too. A change not to something new but a change back to familiar ground. Bryant felt that he needs to go back to his home town Sibu and back to his home gym Borneo Top Team
The gym he was coaching at – URBAN APE went through partner changes, which gave birth to Rebel Fitness Studio in May this year. Bryant continue to work at Rebel Studio till July. After the break up with his girlfriend, he made the final decision to move back to Sibu.
"I want to thank Rebel Fitness Studio, for giving me chance to learn and work with them. They all are good! Special thanks to my boss Olivia Ling, my teammates; Andrew, Aaron Yung, Gerald Tan, Stephen Onn, Chloe Tay, Malcom Wu & Rafael."


"I'm coming home to Sibu, as a fighter I felt Borneo Top Team (BTT) is best for me. It's a real fight gym. Since July I became the head instructor of BTT, teaching all the fitness class such as, Core Extreme, Boot Camp Circuit, Spartan 100, Abs Class and Combat Sport, Boxing and Muaythai. As for Brazilian Luta Livre (BLL) its handle by Brandon Song, a BLL Blue Belt, I myself am learning lots of great ground techniques from him."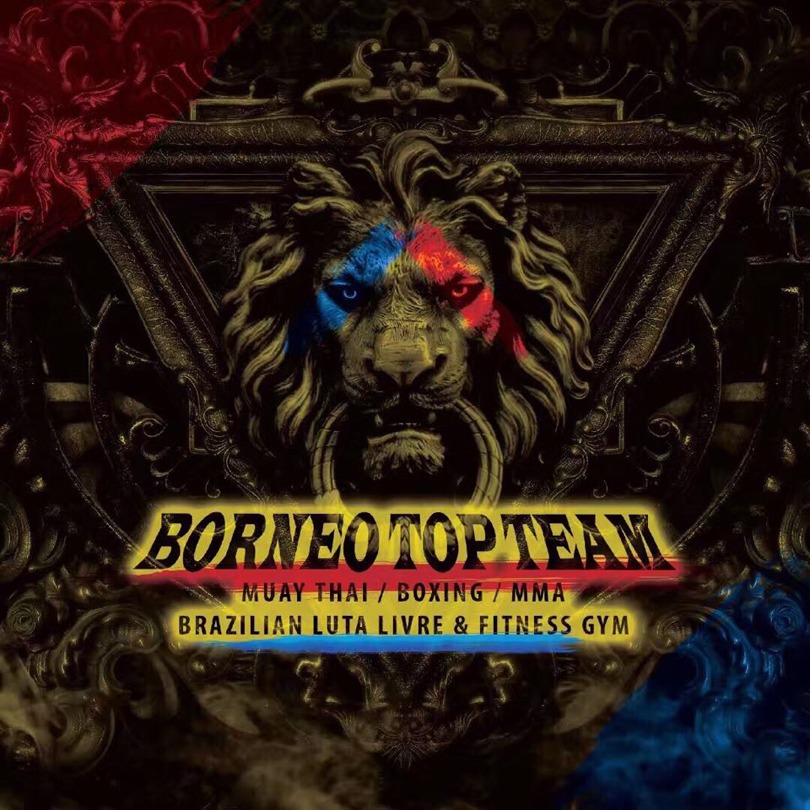 Back home in Sibu, Bryant felt rejuvenated and the motivation to train now comes back to him.
In  August, Borneo Top Team invited top ONE Championship lightweight contender Ev Ting to their gym. Ev was on a holiday after his dominant victory from ONE Championship: Quest for Greatness in Kuala Lumpur.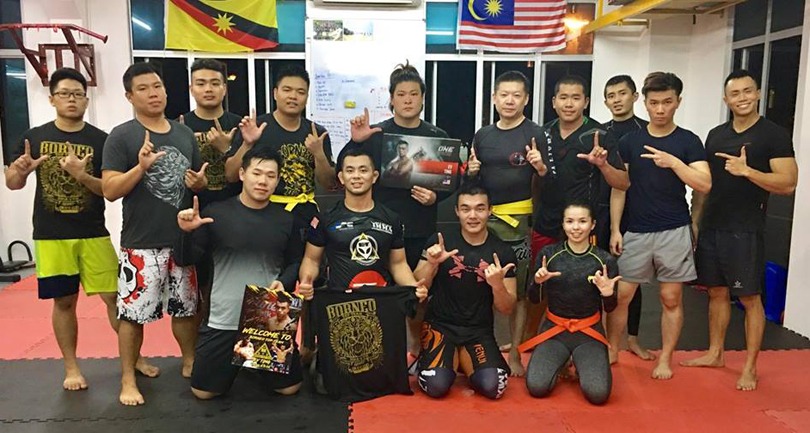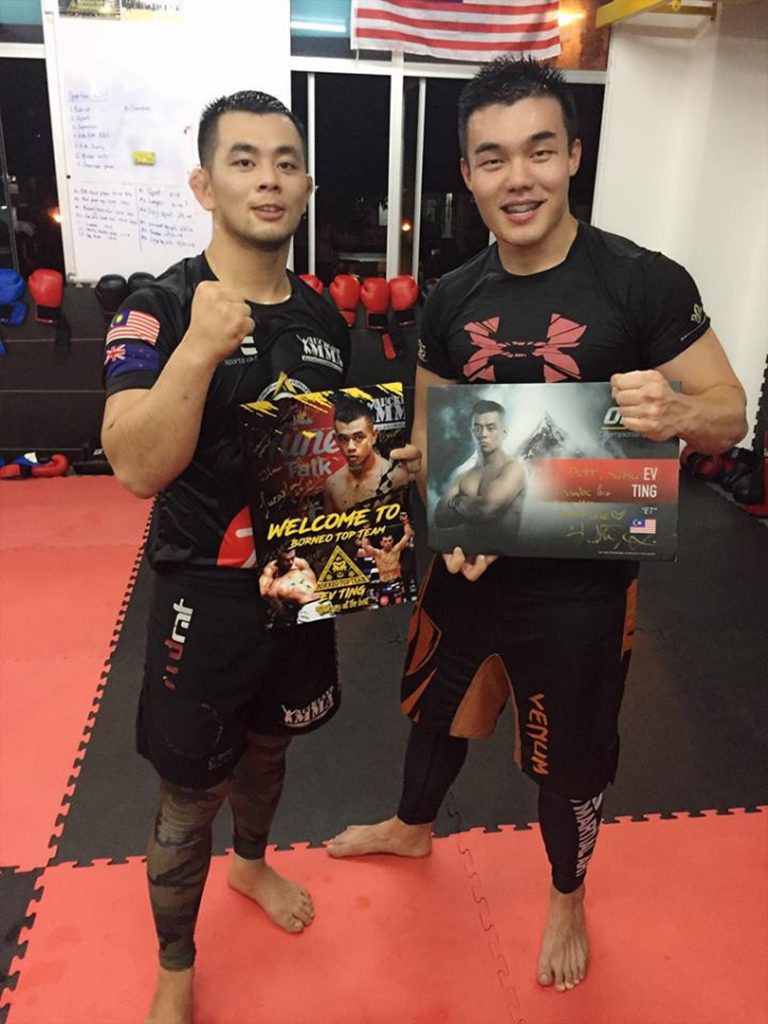 with Ev Ting
Sibu is the hometown of Ev's parents and he was on a break visiting his grandmother and other relatives. After some great time savoring great food in Sibu, Ev wanted to put in some training too.  He was glad to see a growing martial arts gym such as BTT in Sibu and shared his knowledge and techniques with the members.
"We were all very grateful for Ev to drop by. There was a lot of sharing, joy and happiness during the class. Ev is a very humble guy! Learning lot of great thing from him! "
comment Bryant.

Bryant is always hungry for knowledge and he is the type of person that would not hesitate to go the extra mile to learn from the best. Back in his early days when he started Muaythai, he spend a month in Chiang Mai Thailand for a Muaythai Camp.
In Sept while scrolling through Instagram, he saw that
Ido Portal
was organising a Movement Internship in Phuket Thailand cost at USD6250! Bryant immediately sign up and at the end of the course from Oct 9 – 16, Bryant felt it's all worth the money he spent.
For those who don't know who Ido Portal is, I believe you would have seen the funny looking movement or exercise Conor McGregor was doing while preparing for his fights. Lots of viral video and memes was spread around mocking him. But infact those funny looking movement was thought by Ido Portal and was one of the key factors that contribute to Conor's success in the fight game.
"Ido is a best best best teacher met! His teaching skill, languages etc, all are good ! What I can said is, USD 6250 USD is worth every dollar! During the movement internship, I learn lot of different body movement, on his theory and how to control body well. Human are born to move. His movement teaching are very helpful for fighter!"
Bryant has been applying what he learn from Ido Portal's internship to his martial arts training. He is still in the process of improving and learning, but he definitely feels that it gave him better judgement of distance and fluidity of techniques.   


"I keep practice with the movement and footwork drill. Try to improve and move my body more efficiently and utilizing brain control and reaction."
Since returning back to Sibu, Bryant also has been training with former two times SUKMA Gold medalist,  Zurkanain Majidi Wong in boxing. Boxing is not new to Bryant as he has started it few years back under Fred Mandagi – former Sarawak state coach.
Bryant felt he made the right decision to go back Sibu. He has a new sense of motivation. He enjoys teaching in BTT and at the same time supplement his income with part time modelling and photo shooting.
Food is something Bryant is passionate about. He has great knowledge of meal prep using healthy ingredients and helps his clients and gym member on diet and meal advice. But Sibu being a haven for food, Bryant does occasionally break his diet plans to enjoy the numerous Sibu's delicacies such as Sarawak laksa, Kompia and Mi Sua.
He buys his own ingredients and prepares his own meal for the weekday. He would start off with two hard boil eggs before workout. Post workout is 2 scoop of whey protein shake. Come lunch he prefers to balance his meal at 40% carbs, 40% protein and 20% fats/fibers. End with dinner with protein (egg, fish, and meat) and fats (walnuts, bean, coconut oil, avocados).
He supplement his meal with fish oil, calsium and glucosamine, preferring the brand of supplements from AMWAY.
As for his work out regime:
"Week day normally I wake up at 6.30am and after a light breakfast start training at 7am. Mostly cardio at morning: skipping and jogging. 

After that I will do my another session of training at 2pm, start with mobility workout, then get into movement and slowly to technique, shadow boxing, padding, sparring. End my afternoon workout at 4pm.

My last workout will be at 5pm, sometimes 7pm. Normally I will go to stadium jogging if I go at 5pm, and if I go at 7pm, I will go for a swim. That's weekday.

Saturday I will just work on one session that's 4pm, jogging 30min at stadium and doing some light bodyweight workout: burpee, push up, sit up and others.

Cheat day is on Sunday, if no fight, I will just eat whatever I want. If fight coming up, I will just skip my cheat day, still prefer eating clean.
I believe proper nutrition is the key to get strong and live long!"
As a fighter, all those months of training will need an avenue to test the outcome and results. In end of November, Bryant has set to make a comeback to competitive combat sports and Golden Gloves will be his target.
Golden Gloves is a National amateur boxing tournament organised by Persatuan Tinju Malaysia. For the last two years it was held in Kuching. This year will be held in Dataran Sibu – phase 2 from 27 Nov – 3 Dec. This year will see the participation of more than 80 boxers from all over Malaysia.
Bryant will be competing in the 81kg-91kg category. This will be his journey back to the top and he wants to end 2017 with more competition under his belt. He will continue to compete in other combat sports. In plans are MMA and Kickboxing fights in December and also targeting MIMMA season 6 next year.
We wish to see more actions in the ring/cage by Bryant and wish him all the best in his journey back to combat sports glory.