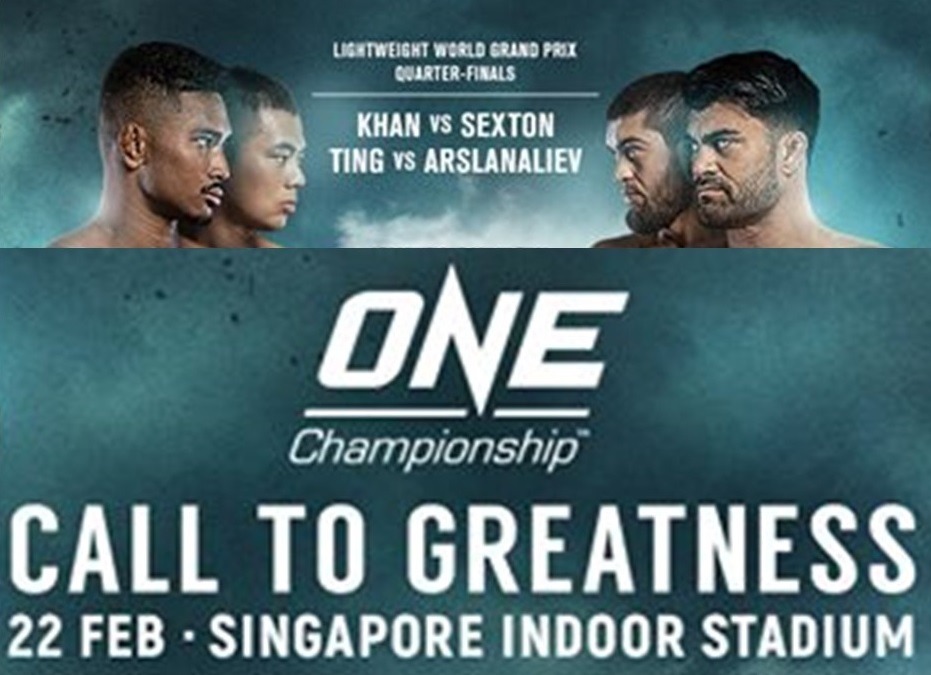 22 Feb 2019. One Championship held it's fifth event for 2019 in Singapore, dubbed 'Call to Greatness' It's the 2nd event that feature fights in the Lightweight World Grand Prix. Tonight saw two quarter-finals bouts go down in the Singapore Indoor Stadium.
Malaysian put their hopes on Ev Ting to carry their flags in this tournament. But their hopes came crushing when his opponent Dagestani BJJ Champion Saygid Guseyn Arslanaliev connect with a left hook, then continue with several strikes on the downed Ev, ref stops the fight 25 seconds into round 1.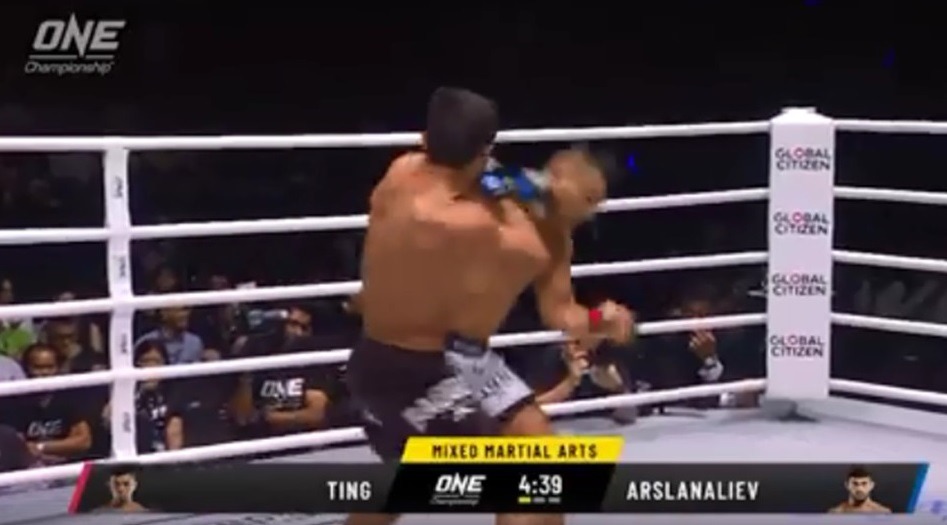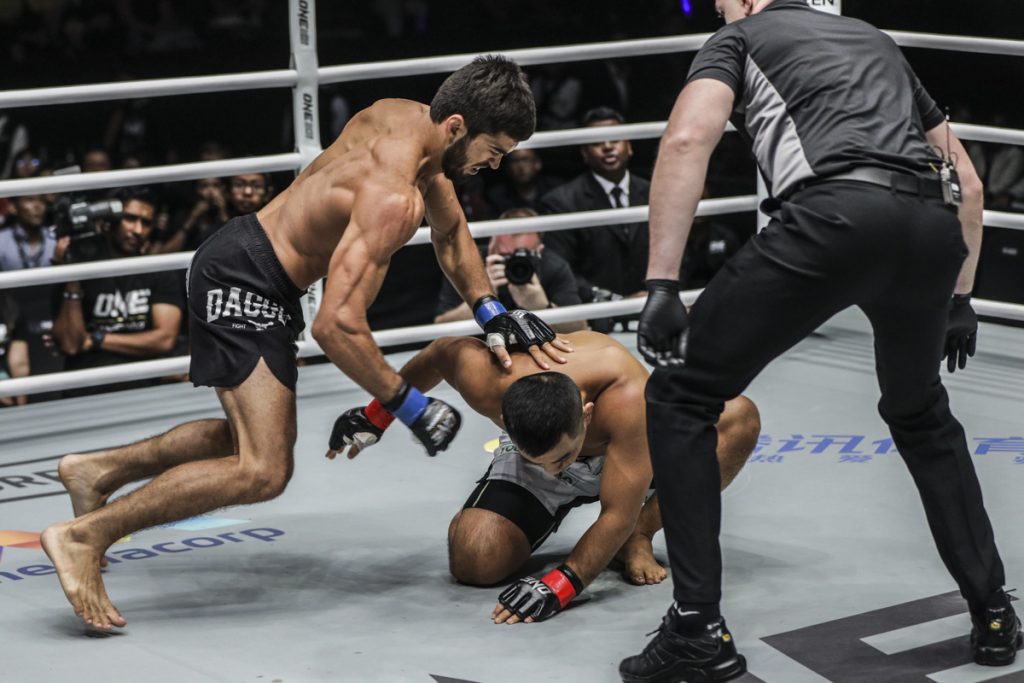 This is Ev's second consecutive lost in the first round. In last Oct, it was against veteran grappler Shinya Aoki whom took him out with a arm triangle choke in 56 seconds. Coincidently that fight was also in a ring. It's going to be back in the drawing board for the Malaysian-Kiwi.
( click here to watch the video )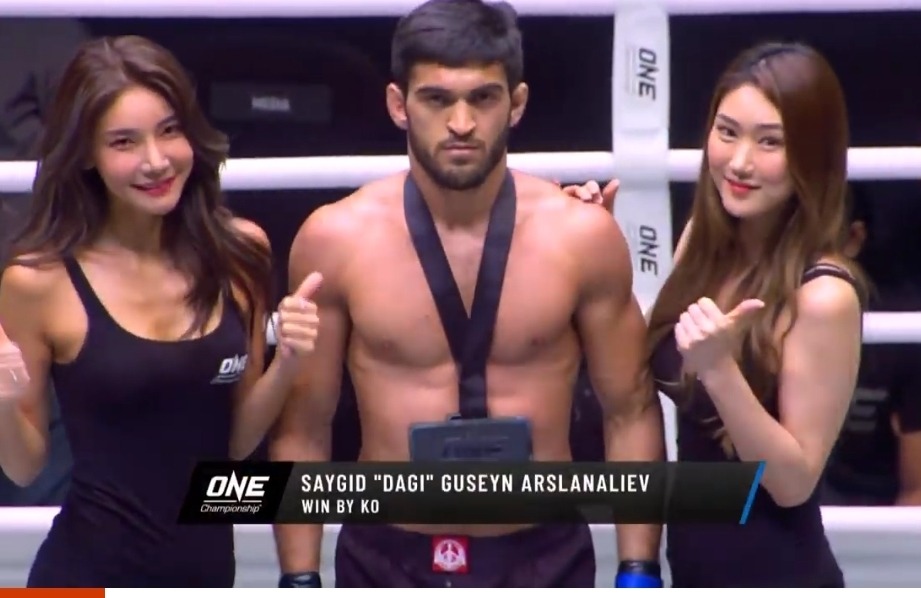 Saygid, coached by former One Championship Lightweight champion Marat Gafurov improved to 7-1-0 and advance to the semi-finals as he sat with the crowds to watch the next quarter-finals match between home town favourite Amir Khan vs Costa Rican Ariel Sexton, to see who is he going to face next.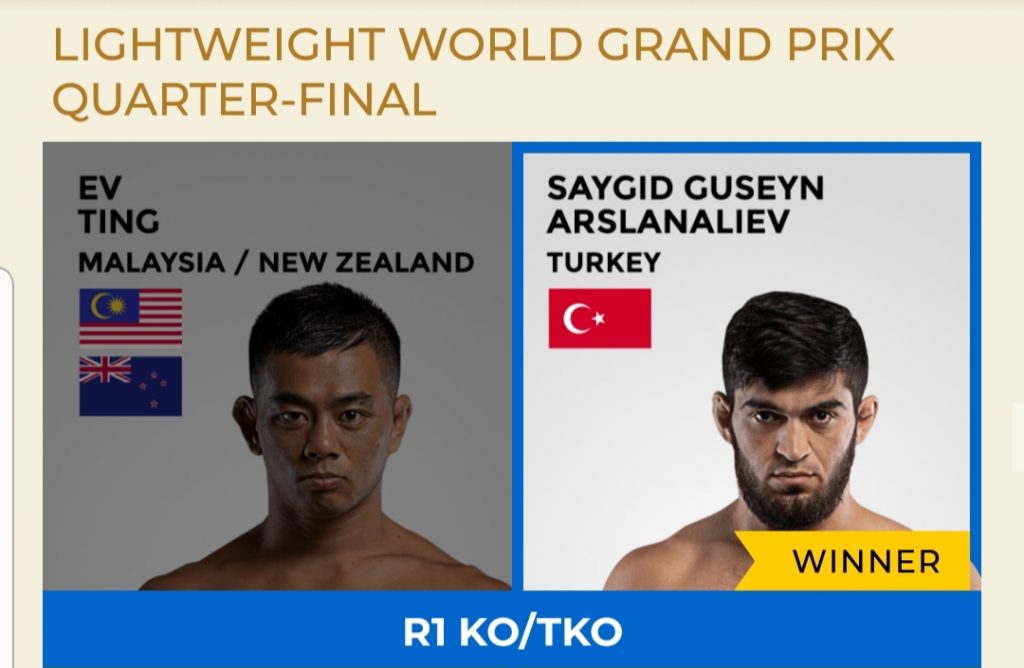 ——–#Warriors.Asia———-
Singaporean hopes was high in the 2nd Lightweight tournament quarter-finals. Amir Khan came into the fight to redeem his last fight lost to Eduard Folayang in Nov last year for the vacant Lightweight title, and he is now given another shot at the title. 
The fight with Ariel Sexton was fireworks and didn't disappoint.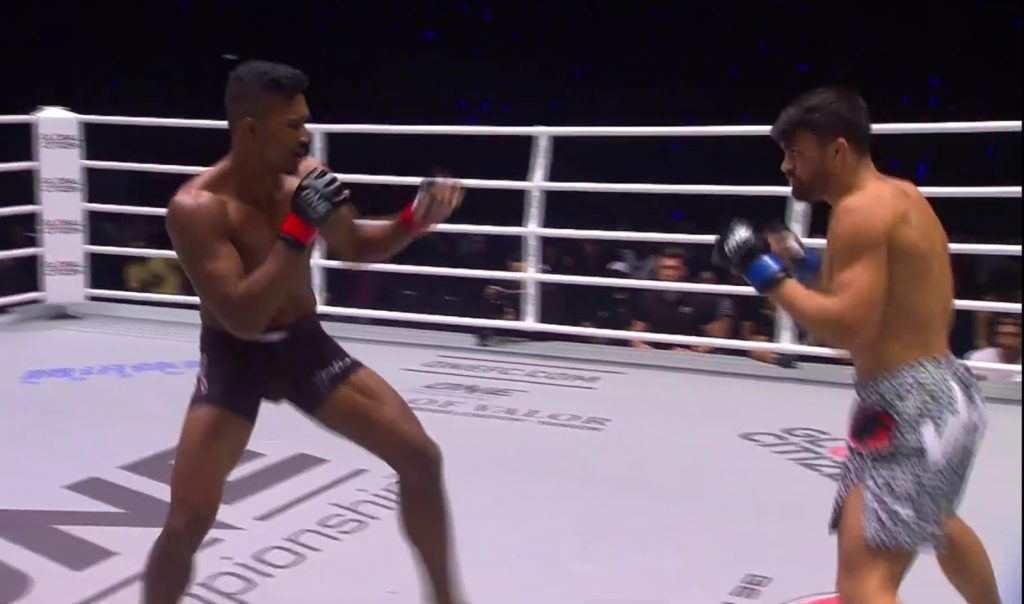 Amir was successful with his hands and connect clean shots, but Ariel being the wily experience fighter with a 12-4-0 going into this fight stayed composed; going for take down to nuliy Amir's striking.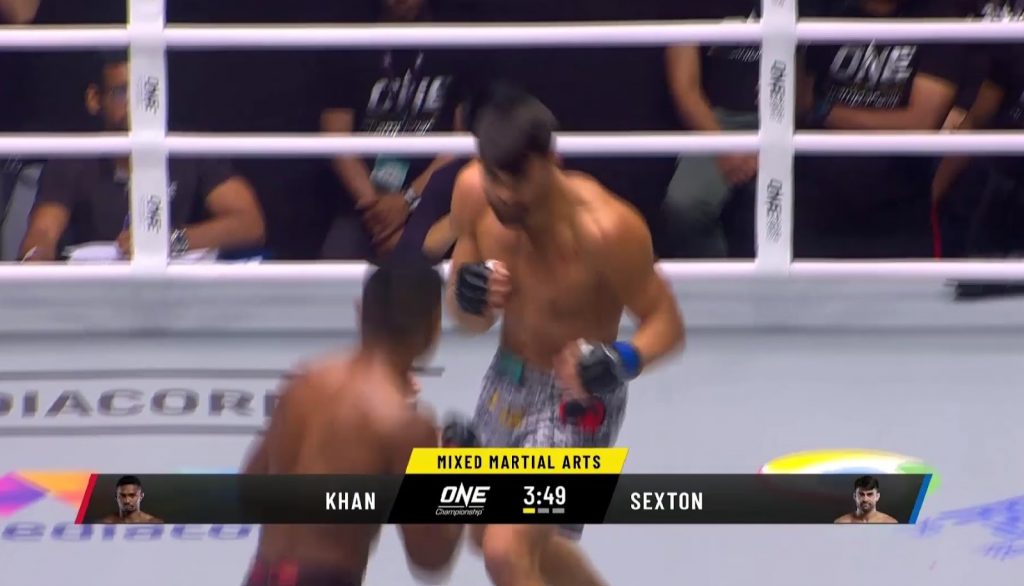 It was back & fourth. In 2nd round, Amir connect with a good right hand , dropped Ariel and went in for the kill but Ariel survived, and put on his own attack. Ariel end the round with a beautiful take down that lauched Amir's both feet in the air and was ready to pound all the way home until the bell end the round. 
The tired Amir could not keep Ariel at bay in the 3rd round. Ariel put on his best grappling and took Amir's back for a rear naked choke finish, which silence the cheers from the local Singaporean crowds.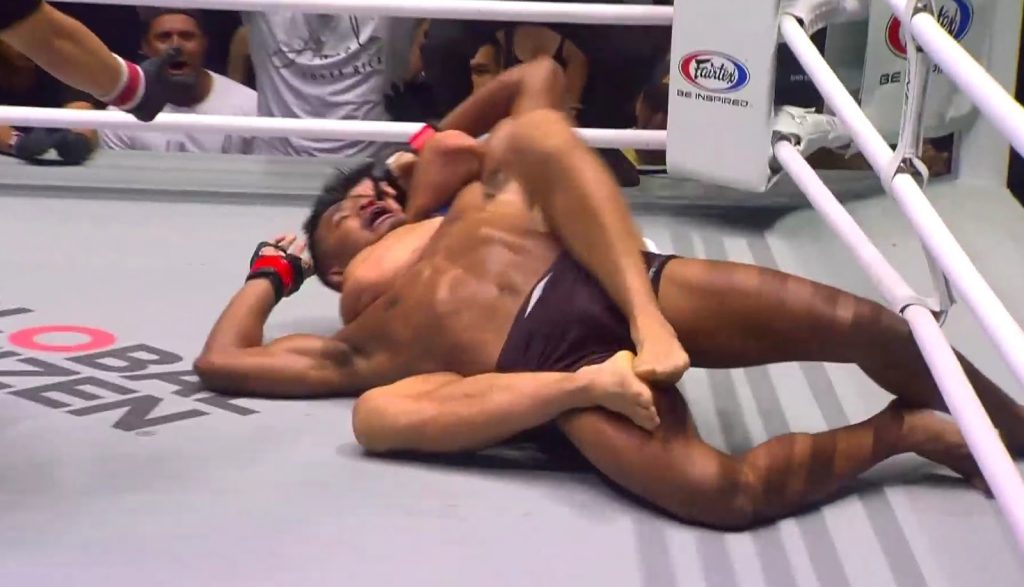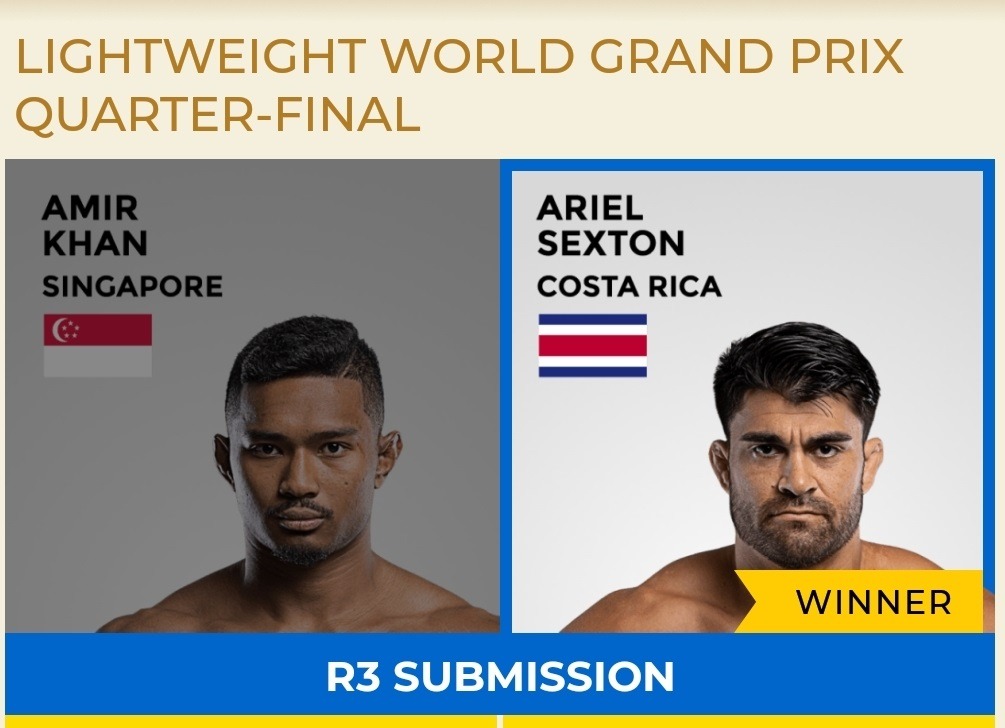 ( click her to watch the video )
In the victory speech, Ariel gave props to the young warrior Amir whom he said was a tough opponent. Commentator Mitch Chilson brought in Saygid to face off Ariel.
" I'm gonna grow a beard better than him" 
said Ariel and promise to bring the best to face Saygid in the semi-finals as he mentioned that they ( the fighters ) do their best to in the rings all for the entertainment of the crowds.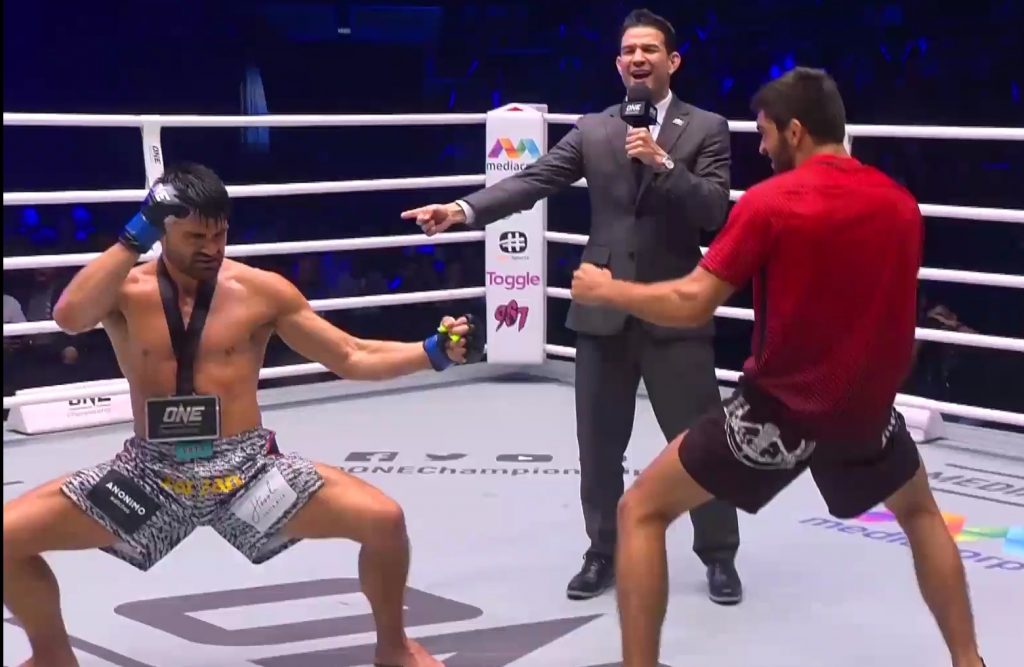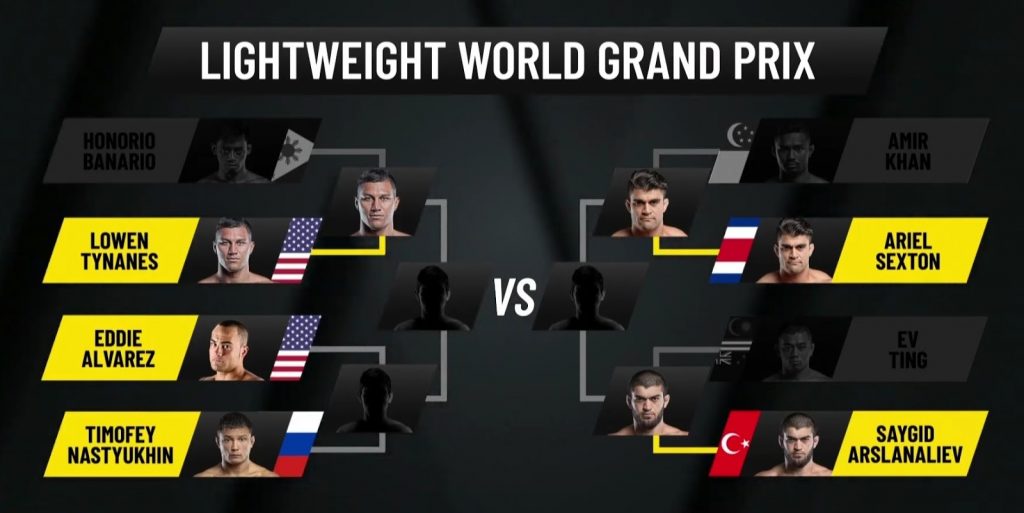 The next quarter-finals ( for the Lightweight tournament ) will be the highly anticipated debut of former Bellator & UFC Lightweight Champion, Eddie Alvarez , whom will face Timofey Nastyukhin in ONE Championship : A New Era in Tokyo on 31 March
One Championship : Call to Greatness ended with Stamp Fairtex winning the Atomweight Muaythai World Championship beating American Janet Todd.
The 11 bouts on the night ended with 8 finishes , with the 4 four pre-lim bouts all end with finishes, giving One Championship head honcho Chatri Sidyodtong a happy smile as he wasn't very happy with their last event which didn't have enough finishes.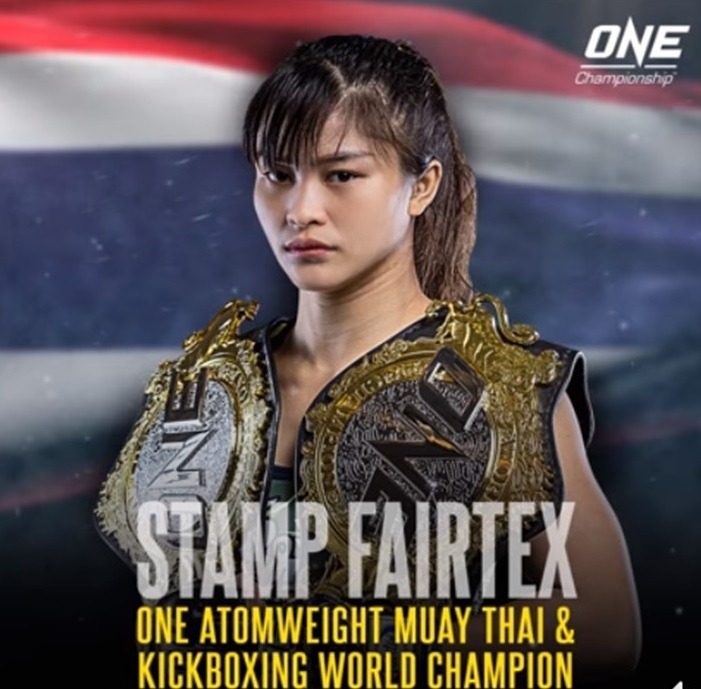 ———#Warriors.Asia———-
Story brought to you by SISU Mouthguard. Check out their page to get special offer