The bling bling of MMA event will be in Penang tonight at K-One MMA Academy.
Golden Warriors Fighting Championship (GWFC) will hold it's 2nd event on Saturday 9 Sept 2017. Dubbed as The Golden Fight, the event will see 8 bouts being competed, half amateur MMA & half Pro. Click here to read about my previous post on GWFC. On Friday afternoon, Weigh-ins and stare down was held at Penang Time Square.
Check out the full fight cards.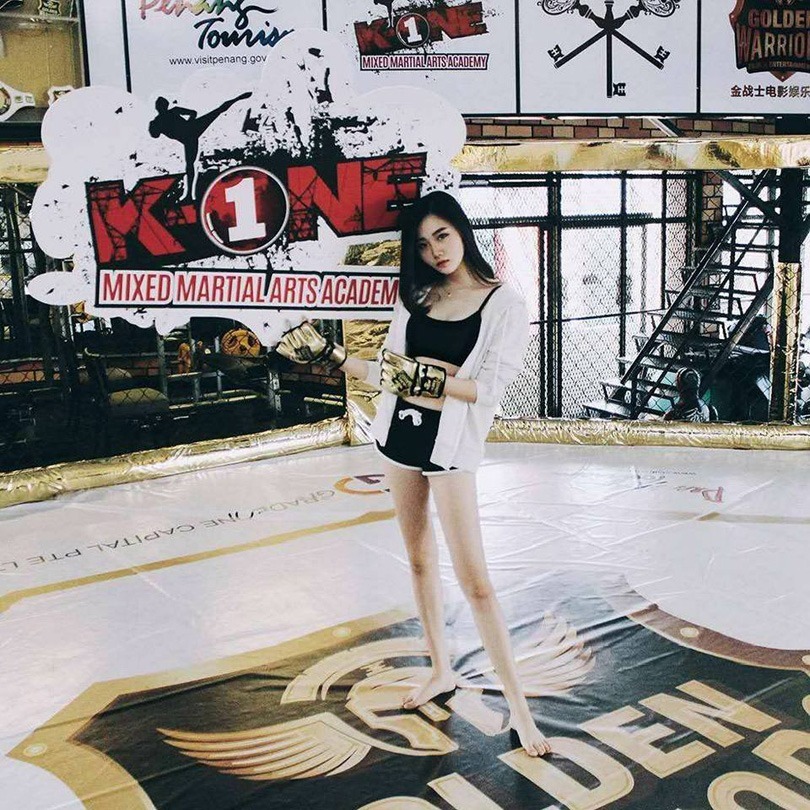 come on be honest guys, you are not just here for the fights, I know you look forward to see the ring girls too right
Interesting fights happening in the amateur card, fight fans will get to see the return of MIMMA hero, Flyweight Champion Seah Zhang Yu returning to the MMA cage. Zhang Yu will enjoy tremendous home ground support as this will be his first time fighting in Penang.
It has been almost a year since he last fought. Zhang Yu cemented his name in Malaysia MMA history as the first person to consecutively win the Flyweight title 3 times. Click here to read about my previous post on Zhang Yu.
After his historic victory in the MIMMA cage last October against a very game opponent in Eddey Kalai, Zhang Yu follow up a month later with another victory in Kunming China. He was invited to fight in Reign in Power and did Malaysia proud by a dominating win over his Thai opponent.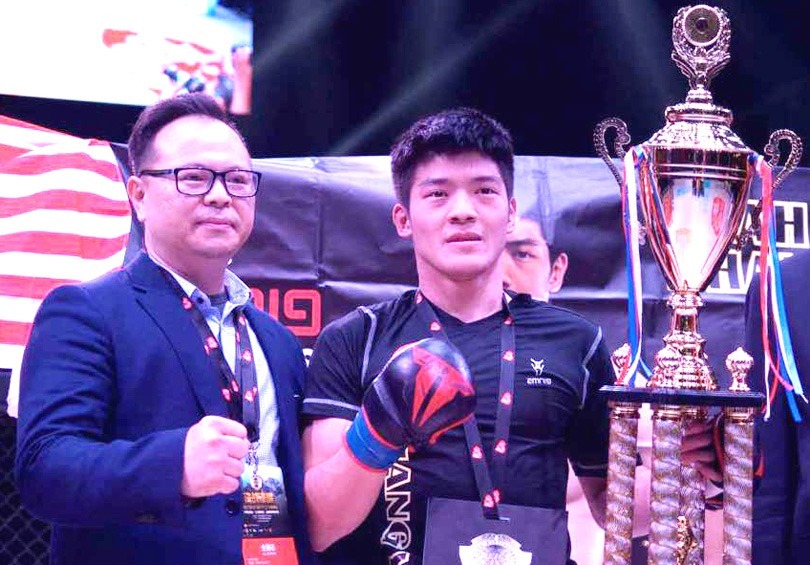 winning the Reign in Power trophy
After that fight he switched his  focus on studies to complete his Diploma and has since graduated. Physically he was never far away from combat sports scene, by appearing in MIMMA 5 tryout in Penang this year and participating in runs and keeping himself in tip top shape in 3S MMA Gym.
At the same time Zhang Yu is venturing into the business of entertainment. Following his dream of becoming an artist and actor, he joined GWFC Managing Director Hendrik Huang as an assistant director for Golden Warrior Film & Entertainment (GWFE).
In GWFE, Zhang Yu is heavily involve in the organizing of talent show and contest, the film industry and organizing K-Pop stars meet & greet and concerts.
His opponent for Saturday night is Navdeep Aggarwal. A member of Team Relentless, India's top MMA team trained under India's MMA pioneer Jitendre Khare. Navdeep is a newcomer but already show great potential. In a 4 man tournament early this year, he won India's Yoddha Fighting Championship Flyweight belt against a heavy hitter in the grand finale.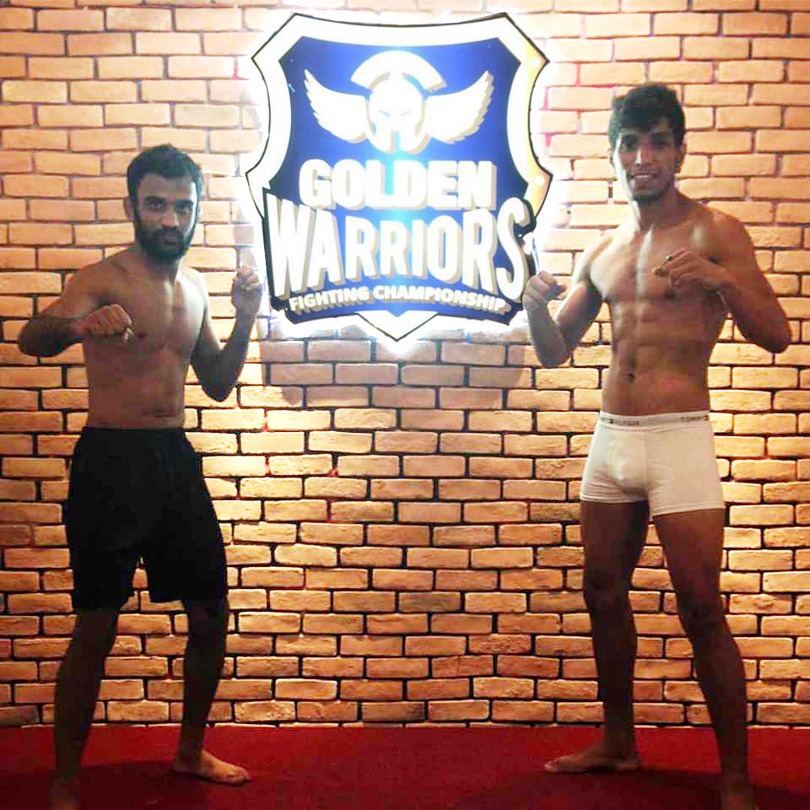 Navdeep (left) with his team mate Rudransh of Team Relentless, both of them will fight tonight in the amateur cards
In another interesting match up in the ammy cards will see a Battle of Borneo bouts between Aaron Lo (Gymbox Kuching) vs Danial Hakeem ( Karabaw – ClownBoxx Kota Kinabalu ).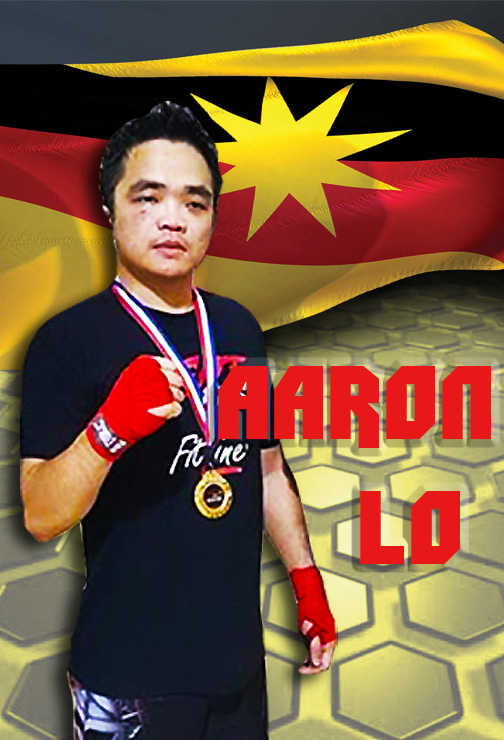 Aaron is trained in finance and works as an external auditor. Come night time, off goes the office attire and on goes the MMA board shorts and the 4 oz gloves. Biting hard on his mouth guard, he will go hard on training with his bunch of hardcore team mates. Among them Jace Law (MIMMA 3 Lightweight Champion), Stephen Onn Jenggieng (Pro Boxer and MIMMA 2 heavyweight finalist), Aaron Tan ( MIMMA 4 Welterweight Finalist). All of them were formerly trained by Matt Pellino (whom is currently handling GWFC's).
Matt has since left Kuching GymBox to pursue his coaching career in Hong Kong. As GWFC match maker, Matt recognizes Aaron's talent and his anything goes attitude, Matt knew that fight that involve Aaron has a potential to be fight of the night.
Since Matt left, GymBox does not run a MMA program anymore; Aaron and his team mates basically trained on their own. But they push each other hard in every training. Recognize as the place where the real deal is in Kuching, most others would drop in for sparring and training session with them.
Even though left without a head coach, Aaron keep himself motivated by watching tons of UFC's fights. The team mates also motivates each other. In Fight Fest last year October, the his fight vs Naziman was a barn burner. Aaron displayed great boxing and won by TKO. He followed up that win with two victories in the Ultimate Beatdown cage in Johor, winning against a Singaporean and a Bruneian.
Ask on what his family and colleagues think about his cage fighting activities…
" They think I'm a thug. It doesn't really matter much to me, but at times , I do ask myself why am I doing this…hehe." 
On what he thinks of his opponent Danial's fast hands,
" I can't wait for him to punch me,…I wanna see how hard he can hit….hehehe. As I've said, my team mates like Jace and Stephen don't go easy, we literally knock each other out during training, that's how hard we train; and we do it with 4 oz gloves, so 8 oz gloves on Saturday night will feel like cushion to me."
————-




Standing across the cage to Aaron will be Danial Hakeem, representing Team Karabaw – Clownboxx. He is only 18 and currently is pursuing his diploma studies on security management.
A product of  SM La Salle Kota Kinabalu,  he started Tae Kwon Do in primary 5. Participated in Inter-Club competition but he stopped TKD in form 2, achieving a Blue Belt rank. His interest switched to Muay Thai as he wanted something more challenging.
Ever since he was a kid, Danial has been interested with combat sports. One of the biggest influence on him was pro wrestling of WWE. He would emulate all the wrestling moves at home as he played roughing it out with his cousins, usually causing a ruckus that shocked his mother. He also watch a lot of UFC video and named Chuck Liddel as his main idol.
In high school Muay Thai gave Danial a good base in striking. He developed very fast hands and excel at the game of striking. Although Team ClownBoxx is basically known as a Muay Thai team, Danial has not competed in Muay Thai tournaments yet.
That fight was at Flyweight, this time he will be fighting in Bantamweight. On Friday he weigh in at 59 kg, 2 kg underweight, but he is glad that he doesn't have to go through the agony of cutting weight.
This young lad is self motivated. When not training, he likes to hang out with his friends and usually a game of DOTA is a must. He knows that to achieve success in the fight game he needs to trust in his own ability. He does not believe in negative thoughts and always believe that the fight game is more about mental strength.
As things settled down, and at still a young age of 24, he again sets his mind on fighting. He wants to achieve the best he can as a fighter while he is still young. His wife who works as dental nurse fully supports his ambitions.
————
Born in Kota Kinabalu to a Malaysian father and an Indonesian mother. He moved to the town at the foothills of Mount Kinabalu, Kundasang when he was still a toddler. Dropping out of school at an age of around 9, he had to help out with work around the vegetable farms that dotted the area of Kundasang.
Dean has an on and off relationship with his father. He practically grew up without his presence. This build up his independent character from an early age. He moved to Ranau and stayed with the family of Sahadi Dongoi, helping out in the farms and doing odd jobs here and there. He is forever indebted to them and consider them his family. Without his father's verification, Dean still does not own a Malaysian ID, and had to followed his mother citizenship as an Indonesian.
Moving to Kota Kinabalu to stay with his mother as he grew older, Dean has took on various jobs. He has worked as a helper in sundry shops, restaurant and as a bus conductor. At times spending a night in the bus to save up on transport cost to go home. A friend introduced him to work in Le Meridien hotel. He took it without hesitation. It was a great exposure for him and also a place where he pick up on English language.
This was also the time when he started to train in Muay Thai. After work at Le Meridien, he would jog 7km to the gym to train. He joined the Borneo Phoenix team in Tanjung Aru and trained under coach Muslee Tuah.
Dean initially has been putting away the idea of fighting. But deep down the itch is still there, it's just that the right opportunity has not come. When offered to rematch Hasbullah, Dean jumped on this and wants to use this fight to create a good impression for ONE Pride promoters to take notice.
Dean realised that this time he cannot be reckless as before. He plans to fight smart and not let Hasbullah control the pace. He has work on his strength and conditioning and is confident his fitness will be a deciding factor.
Let's expect sparks to fly all over the place after a early feeling out in the early minutes.
Winning the foreign pride category of MIMMA's season 4 was the hi-light of his amateur career. He dreams of becoming a world champion one day, which prompt him to become a pro fighter this year.