This Saturday 15.8.15 will see another invasion from Borneo, this time….. it's the Karabaw-Dihnar Invasion to Ultimate Beatdown -17, in Johor Bahru.
UB is considered the pioneer of MMA competition in Malaysia & is certainly the longest running MMA event in Malaysia
It started in 2009 by Melvin Yeoh, himself an accomplished MuayThai & MMA fighter. Melvin was one of the pioneering Malaysian MMA fighter in ONE FC.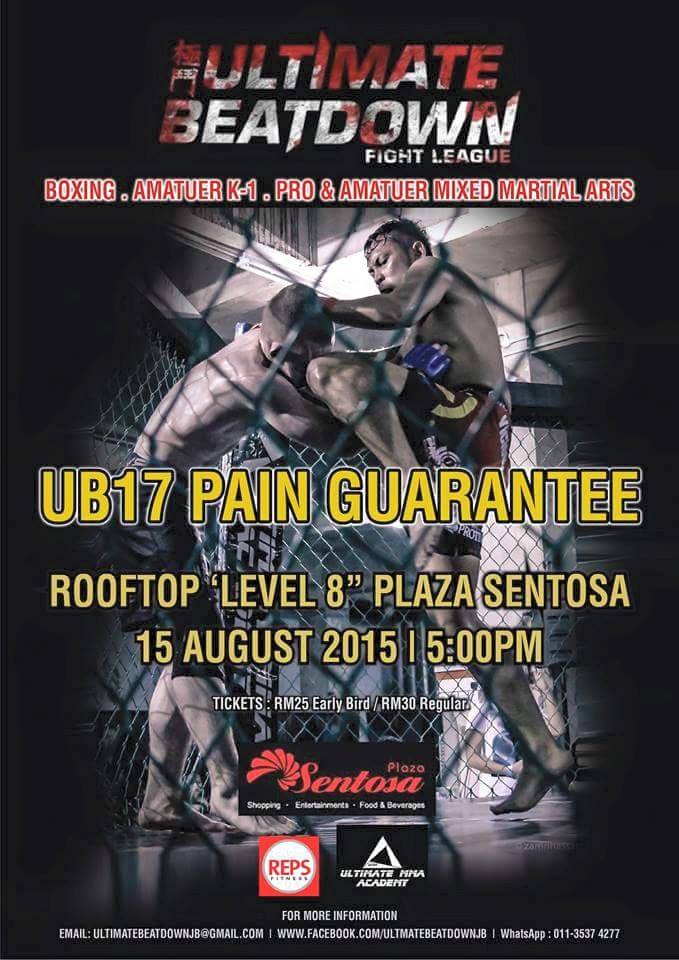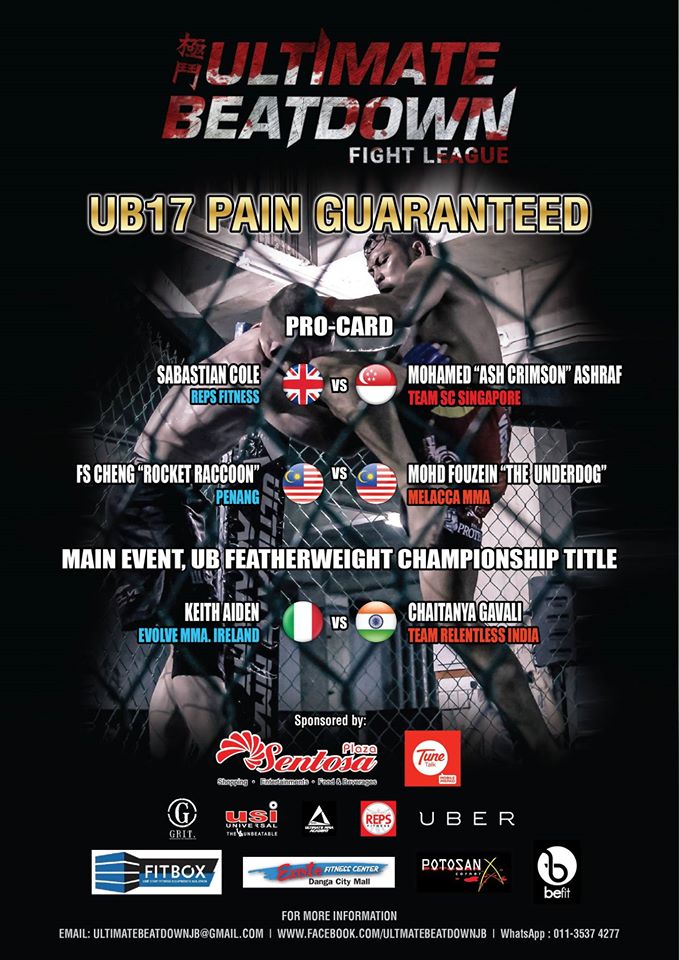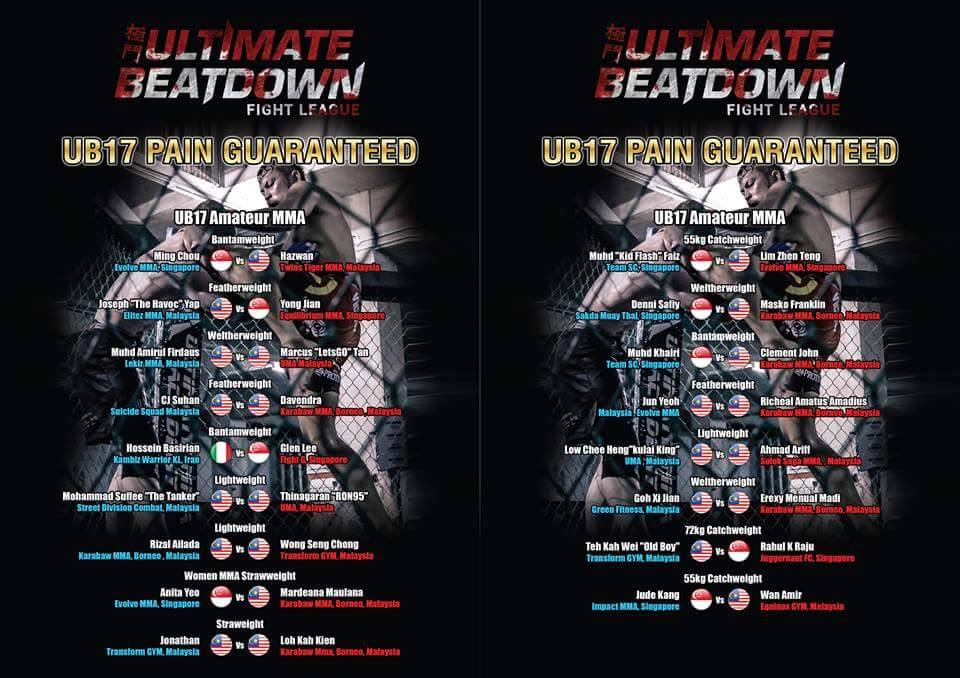 For UB-17, Karabaw-Dihnar team from Sabah Borneo, is  sending in the biggest team. Consist of  8 amatuers MMA fighters , 2 amatuer K1 Fighters & 1 pro MMA.
This team has a mixture of experience & new fighters
Welterweight: Erexy Menuel Madi ( Karabaw MMA Borneo ) vs Goh Xi Jian ( Green Fitness )
Erexy is entrusted by Sensei Rayner Kinsiong as the team leader. Even though the responsibility is heavy looking after the team but Erexy felt honoured & excited to carry out this job successfully. Erexy 1st exposure to martial arts was in school when his father enroll him in TaeKwonDo class.
He has been training in MMA for 7 months, switching from a Muaythai gym to Karabaw, Erexy has a fight record of  (5-1-0) amateur Muaythai, (1-1-0) Pro Muaythai & (1-1-0) in amateur MMA.
Erexy felt comfortable at Karabaw. As he felt that Sensei Rayner is a very experience fighter & impart knowledge to his students generously, which enable him to grow in this sports. Erexy also value the team spirit in Karabaw which Sensei Rayner instill among all of them.
Being a leader is not new to Erexy. He works as a teaching staff in Montfort  Youth Training Center in Kinarut, Sabah. He teaches the technical subject of air-conditioning.
He loves a simple life & is easy to get along with anybody. He also value constructive feedback but despise back stabber.
His favourite techniques…TaekwonDo  back kick & MuayThai low kick.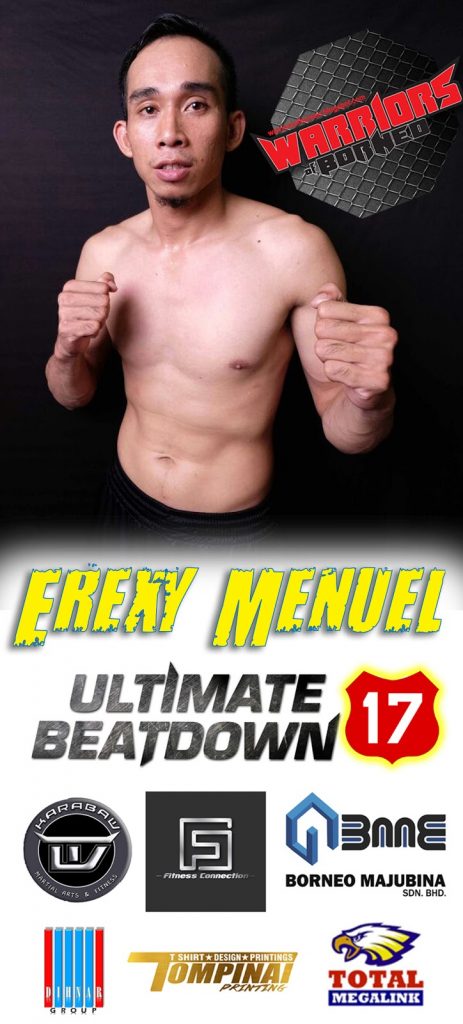 Erexy Menuel – Team Captain
Women MMA Strawweight :Mardena Maulana ( Karabaw MMA Borneo ) vs Anita Yeo ( Evolve MMA Singapore )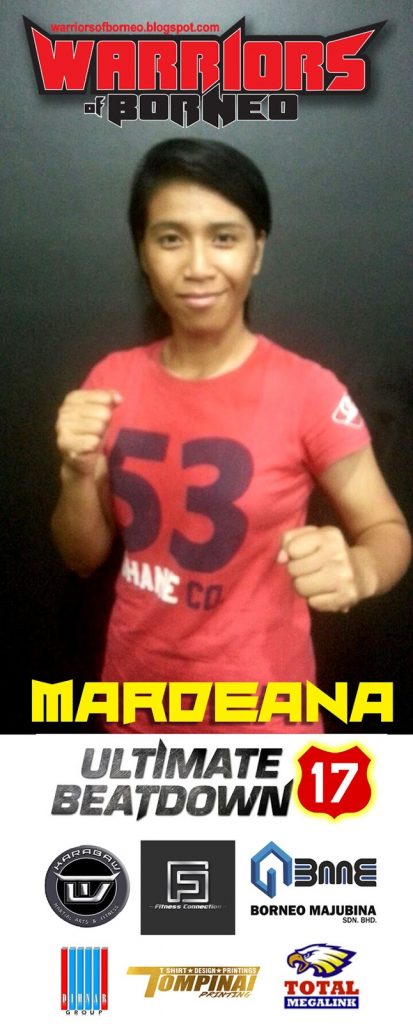 Mardeana Maulana – Assistant Team Captain
Featherweight: Davendra Kumar ( Karabaw MMA Borneo ) vs CJ Suhan ( Suicide Squad Malaysia)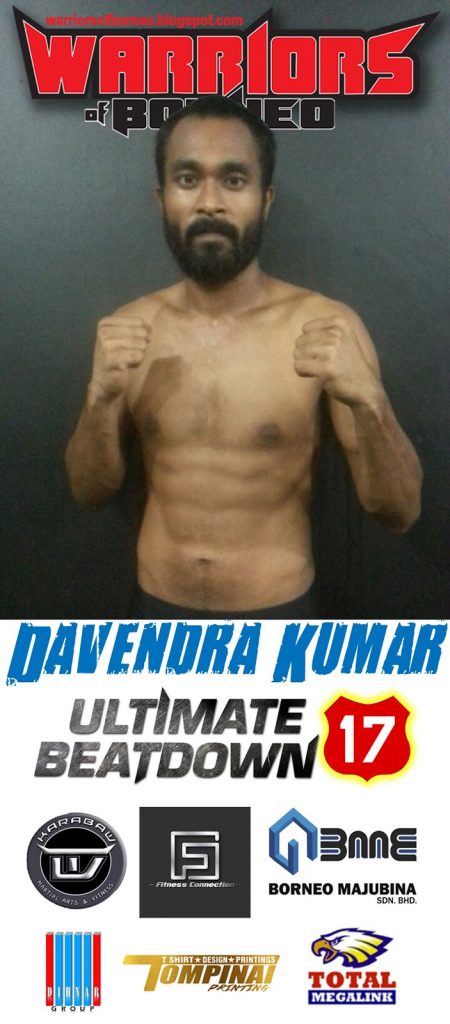 Straweight: Loh Kah Kien ( Karabaw MMA Borneo ) vs Jonathan ( Transform Gym Malaysia )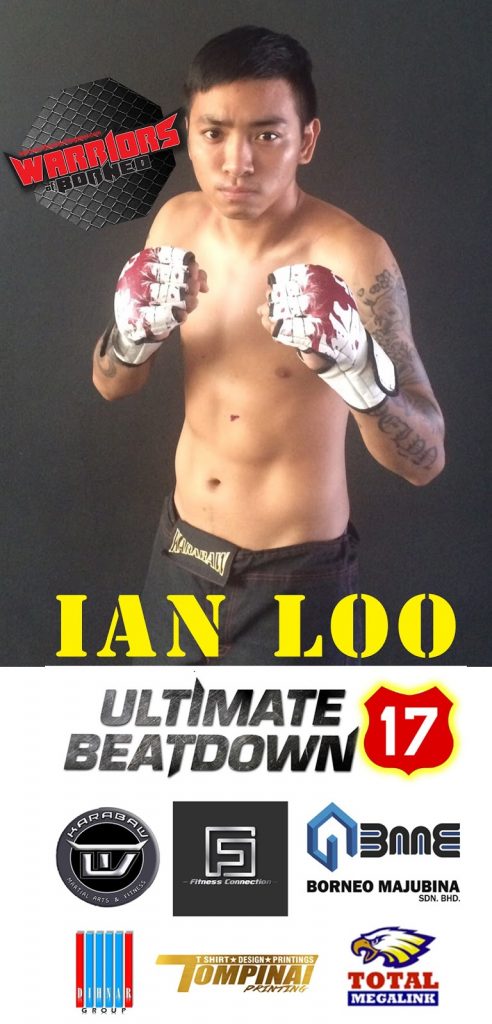 Welterweight: Masko Franklin ( Karabaw MMA Borneo ) vs Denny Sally ( Sukda Muay Thai, S'pore )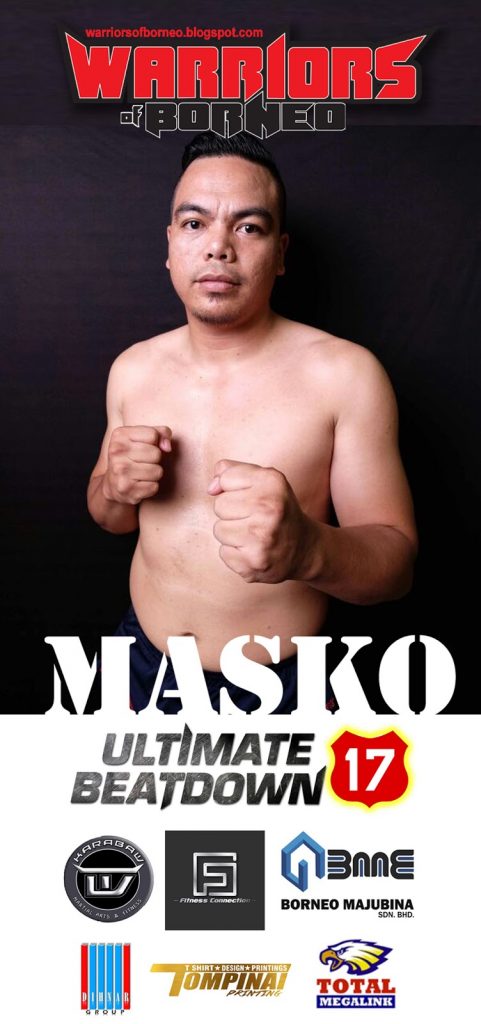 Bantamweight: Clement John ( Karabaw MMA Borneo ) vs Muhd Khairi (team SC S'pore)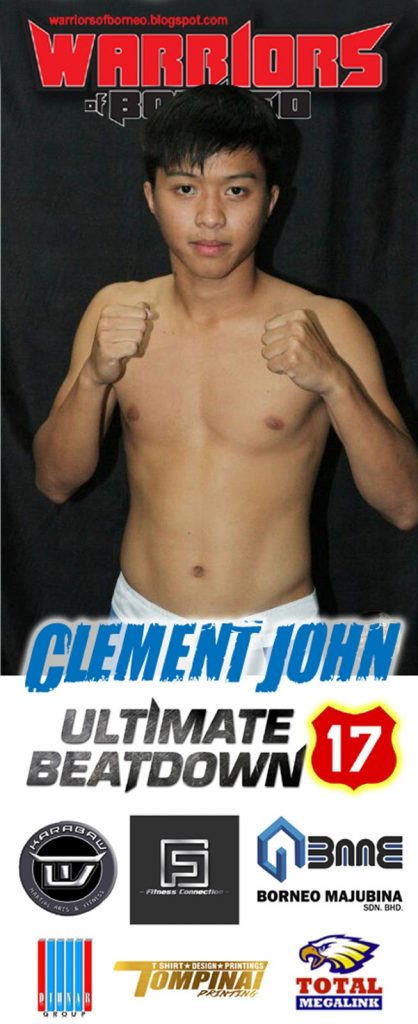 Featherweight: Richael Amadius ( Karabaw MMA Borneo ) vs Jun Yeoh 
( Malaysia Evelve MMA )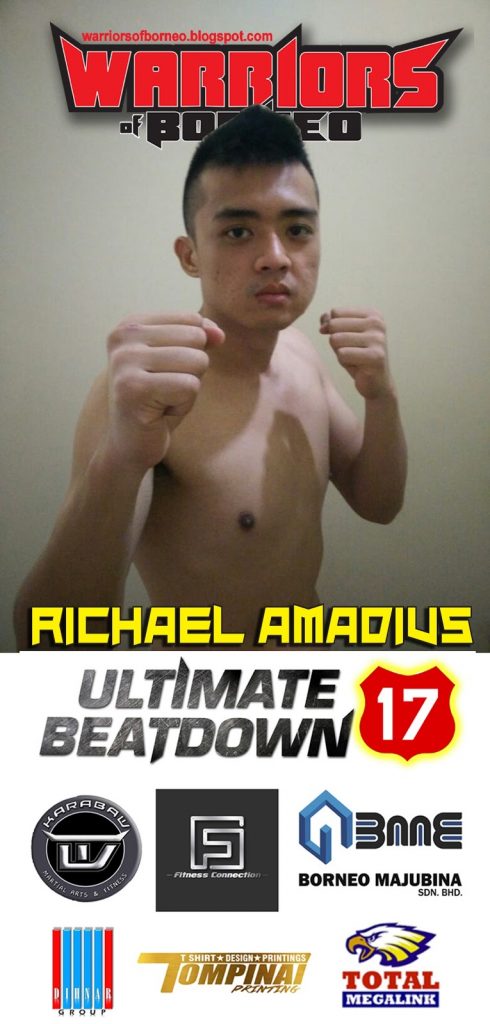 Rizal Allada ( Karabaw MMA Borneo ) vs Wong Seng Chong ( Transform Gym Malaysia )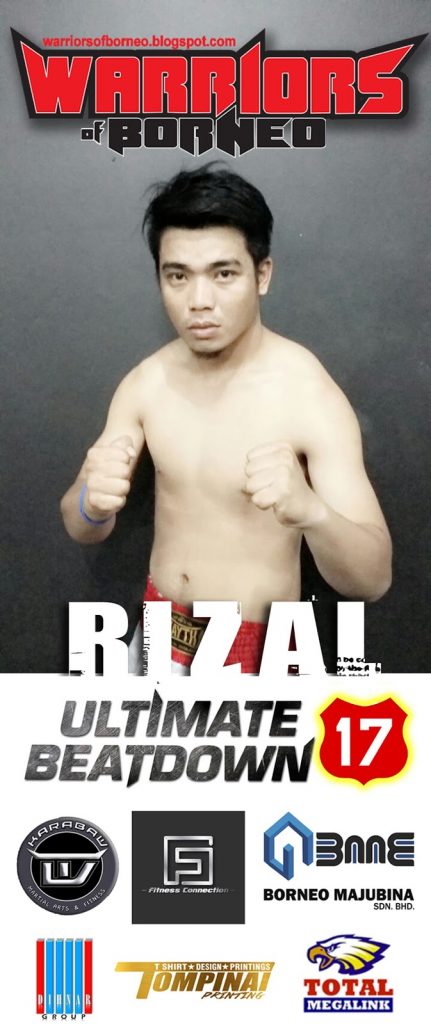 Pro card: Jason George ( Karabaw MMA Borneo ) vs Brad Robinson
( but this card was cancel as Brad pull out due to injuries )

Mohd Asmawi  ( Karabaw – KUDA HITAM ) – K1 Fight 67kg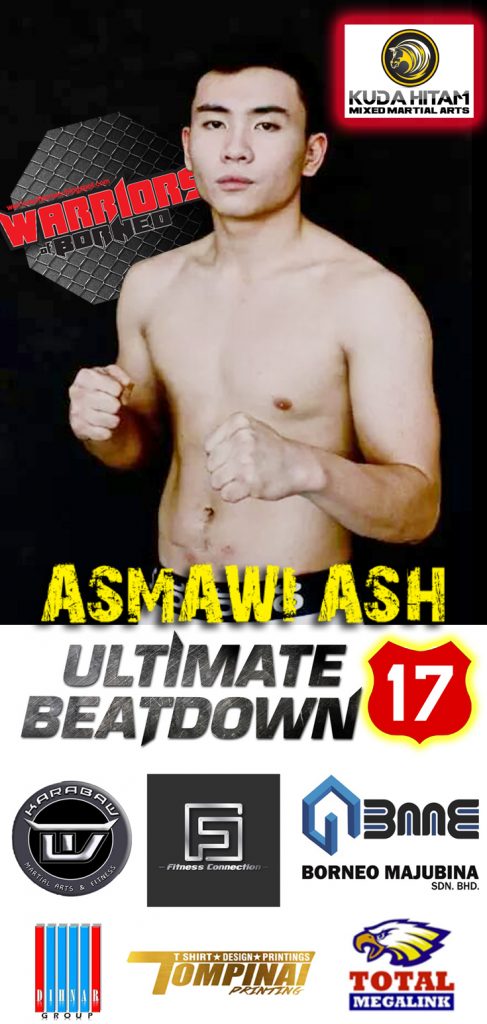 Mohd Rashidin  ( Karabaw – KUDA HITAM ) – K1 Fight 58kg
As one of the leading martial gym in Borneo, Karabaw is lead by head coach Rayner Kinsiong.
Rayner is a Pro MuayThai & MMA Fighter.
His last fight in D1FC Rhino Invasion was a lost to Mikael Sjogren. From there on Rayner devoted himself to coaching & guiding his big pool of talented fighters. He sees many potential talent that can be very successful…and they are very much in need of exposure and this bunch are hungry for a good coach & guidance.
Karabaw is teaming up with Dihnar & Kuda Hitam for UB17. Rayner sees great potential in this group of atheletes he is bringing to UB-17.
" These are hardworking & dedicated boys & girl and I am very proud of them. I want to thank Ir Hj Nazri ( Dihnar Group & Brother Nazim ( Kuda Hitam ) for believing in me & Team Karabaw to lead this team"
Bringing in this big a team incur a lot of cost, food, accomodation and especially flight tickets to Johor Bahru. Any support to help them will really ease the burden of these fighters and enable them to focus on training and putting their hearts in the fight. The more fights these atheletes have, the more experience they will gain, and from there success will follow. Rayner is very thankful to have sponsors that support his vision & dream of making Borneo a powerhouse in MMA & martial arts.
He would like to thank his main sponsors FITNESS CONNECTION & BORNEO MAJUBINA
and also co-Sponsors , DIHNAR GROUP, TOMPINAI PRINTING & TOTAL MEGALINK


Ultimate Beatdown 17, this time will see the first time UB will crown it's first champion. Keith Aiden of Ireland from the fame EVOLVE MMA ( S'pore ) will fight Chaitanya of India for the inaugural Featherweight belt.
UB's founder – Melvin Yeoh said UB has come a long way since 2009 where it was only a small show in the cage in his gym in Johor Bahru. That time there were only 4-5 fights per show. But it was consistent, as they will organise 1 show every 7 weeks. It was more like a gym vs gym at the beginning but as MMA popularity grow, they started to invite gym from Singapore & Kuala Lumpur, and slowly from places further like Borneo & Penang in the north.
According to Melvin, UB17 offers better fight cards, the fighters are of high technical skills & dedication which he is confident will give a good show to the fans that turn up to watch. After 6 years of running, it's only now UB is offering a title shot.
" We don't want the title & belt become like McD Happy meal, so we only offer the fighters in our roaster who has climb up the ladder slowly. There are lots of fighters who jump in and ask us to offer them title shot. …our answer is ,sorry…you have to climb the ladder."


Melvin is glad that over the years he has many genuine friends, students & his family who has pour out their heart & sweat to help him start, develop & maintain UB till today. Some of them work till 4-5am nearing event day
"I  am trully lucky and touched to have good people around me. UB does not belong to me alone but to all of us."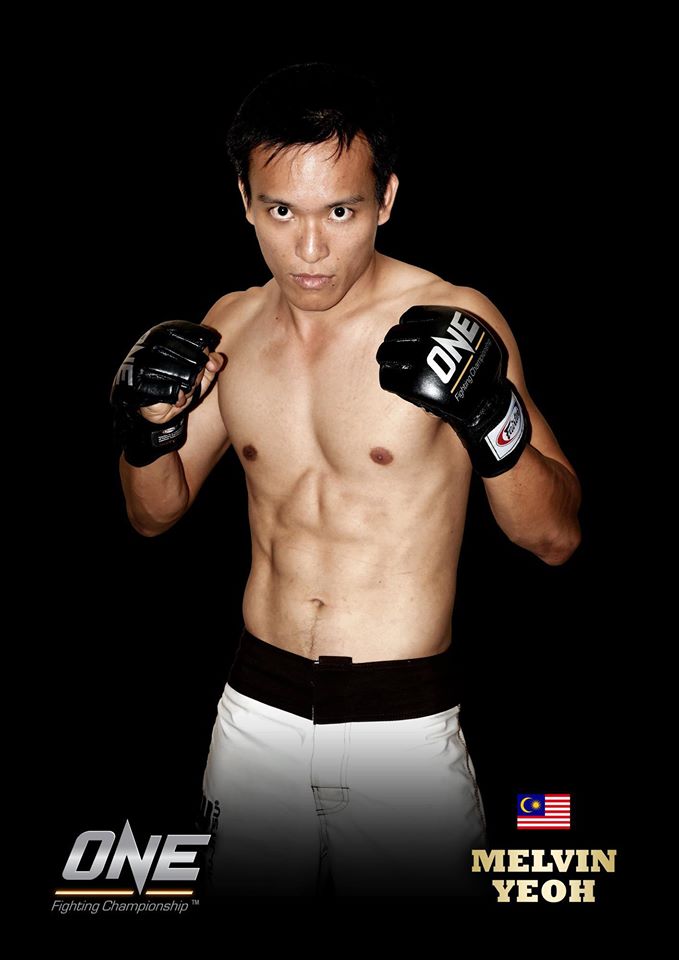 Melvin Yeoh – Ultimate Beatdown founder
With more MMA / martial arts event coming up around the region, UB remain a prestigious show due to it's history & reputation. And also to it's strategic location in Johor Bahru, which is in the center of South East Asia, making it easy for fighters and fans to travel.
UB is also working with other regional events to plan their fight schedule so that events won't clash. This will enable fighters to also plan their fight & get more exposure.
Mutual respect produce mutual benefit.
Through it's history, UB has produce lots of notable & credible fighters in the region. Names like Hanif Zainal, Fouzein 'Underdog', Jing Yi Chong, Jun Minion, Brad Robinson, Nik Harris, Benedict Ang, Keith Aiden, Nick Lee, Agilan Thani, Major Overall, Edward Kelly are just a few well known names that has fought in UB before.
Warriors of Borneo hopes that Team Karabaw-Dihnar will be successful in their outing and become part of the growing list of great fighters that has come out from UB.
Wishing Team Karabaw-Dihnar all the best. Win or lose is not the ultimate goal, but fight with all your heart, never quit, …unleash the Karabaw strenght in you & fight hard with your Borneo spirit. Bring glory to Borneo!