The 2nd coming of Fight Fest. This time in Citymall Kota Kinabalu on the 6 Sept 2015. The 1st Fight Fest – King of Kings was only held 5 months ago in April 2015. In this short time Fight Fest has grown. From 11 bouts in April they have grown two fold. This time 24 bouts is planned.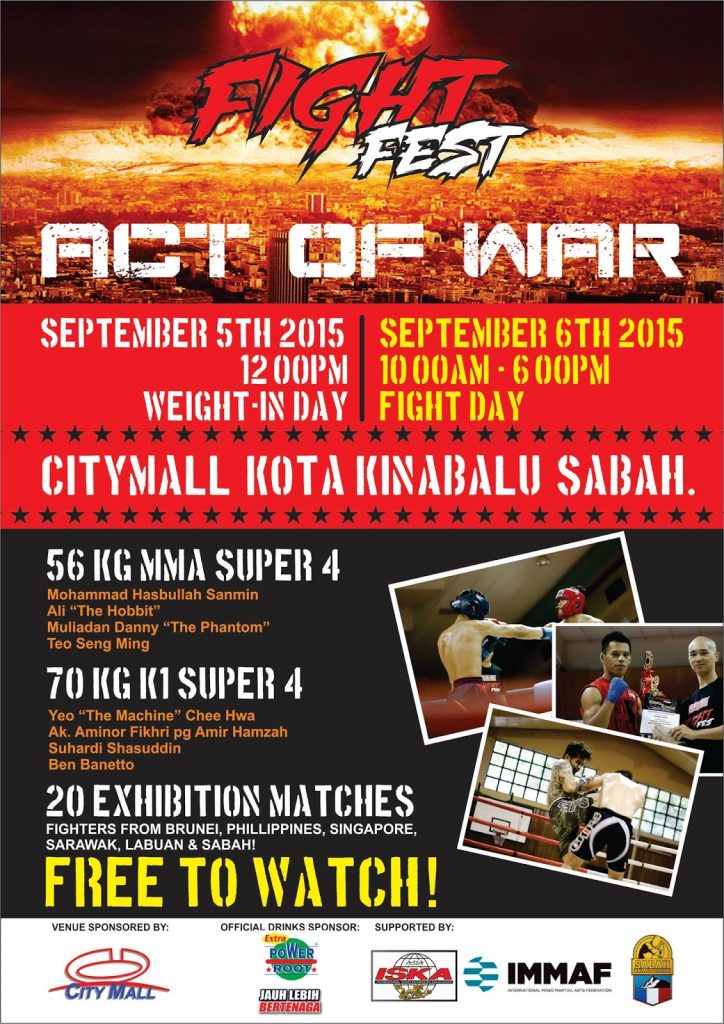 The growth of combat sports event certainly augurs well for Borneo & Sabah specifically. Local events like this gives opportunity for new comers to participate to gain exposure and experience. Organisers usually also mixed in some experience fighters to give the events a good mix of old & new. For the newcomers they can learn from the seniors. For the seniors they get to showcase their skills and build on their fight records.
Mixing it up is also the forte of Fight Fest, being a hybrid combat sports event that combine K1 Kickboxing and MMA fights in one competition, offers fight fans more variety of fights. This also brings together martial artist from different gym & different background to exchange techniques & experience.
Being only the 2nd event, Fight Fest is still growing. It hopes to bring K1 rules fights to the forefront of martial arts scene in Borneo. Fight Fest 2 will have Amateur K1 Kickboxing: 70kg Super 4, Amateur MMA: 56kg Super 4 and 20 exhibitions matches of kickboxing and MMA. Participants from Singapore, Philippines, Brunei, Sarawak, Labuan & Malaysia will be settling their score in a boxing ring this Sunday.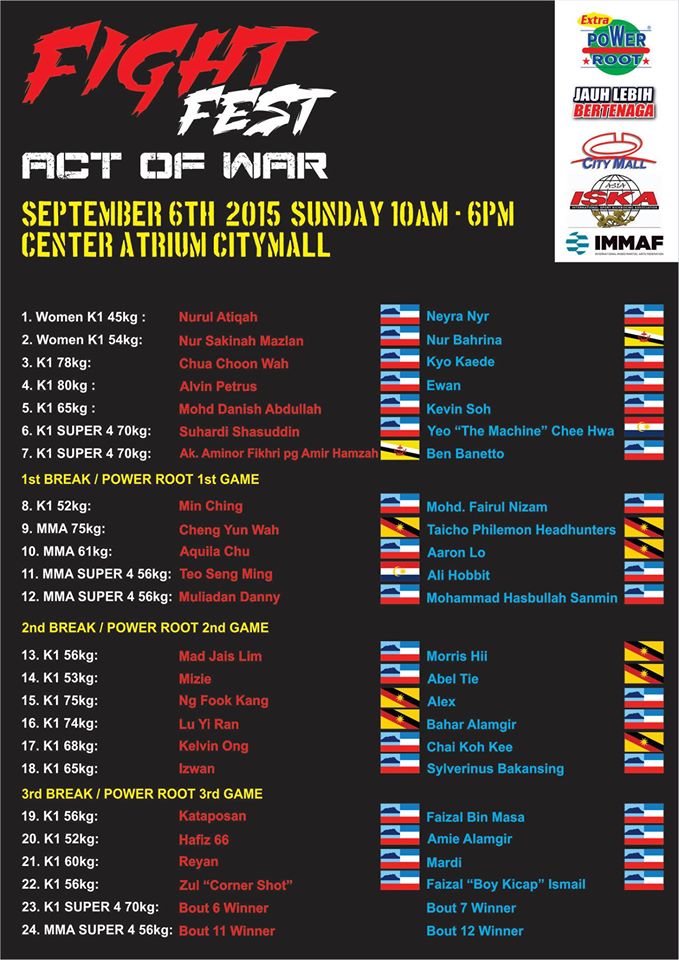 Fight Fest is sanctioned by the International Sports Kickboxing Association (ISKA) Asia, International Mixed Martial Art Federation (IMMAF) & Sabah Mixed Martial Art Association. Venue sponsor by Citymall, official drinks by Power Root Sdn Bhd.
September 5th will be the weight in day starting from 10am onwards, while September 6th will be the fight day. Entry is free and there will be games hosted by Power Root & Sabah Top Team to the open public. For more info, call Johan Julian Lee at 0168311440 or follow the event updates at facebook: www.facebook.com/borneofightfest
Tournament format is the backbone of martial art competiton, we see this in traditional martial arts competition such as TaeKwonDo, Karate, Silat etc. But as competition heats up and fans wants to see more action, tournament format can be a risk as fighters may be injured in earlier fights which hinders their progress for the next fight. This was what happens in Fight Fest 1 when Dean Hamsah vs Azrin Kadri in Amatuer MMA Super4, bothe fighters went all out, back & forth, the fight was epic! But the winner Dean was burned out and was not able to progress to final to challenge Effendy Kalai, so was Azrin.
On the other hand, tournament format will make fighters fight smarter, to avoid injury in the early round. In other words, tournament format will favour technical fighters. Yes those with effective and better techniques will be able to do well, as they can connect & gain points yet don't get burn out by going all out. Saving their energy for the finals!
Watch out for fighters such as Kyo Kaede, Mohd Hasbullah, Banetto Bain and Nur Sakinah for explosive fights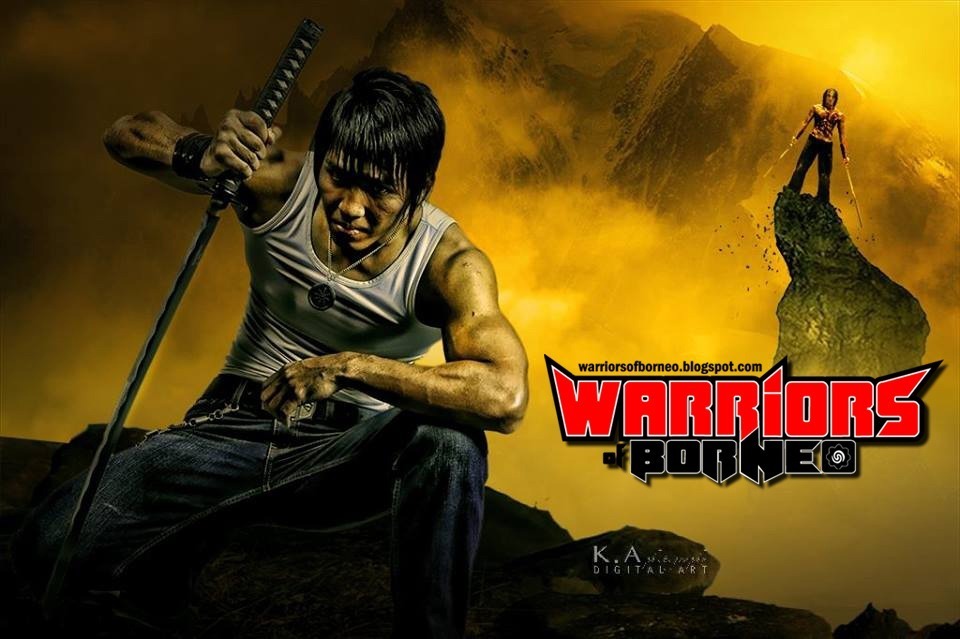 Kyo Kaede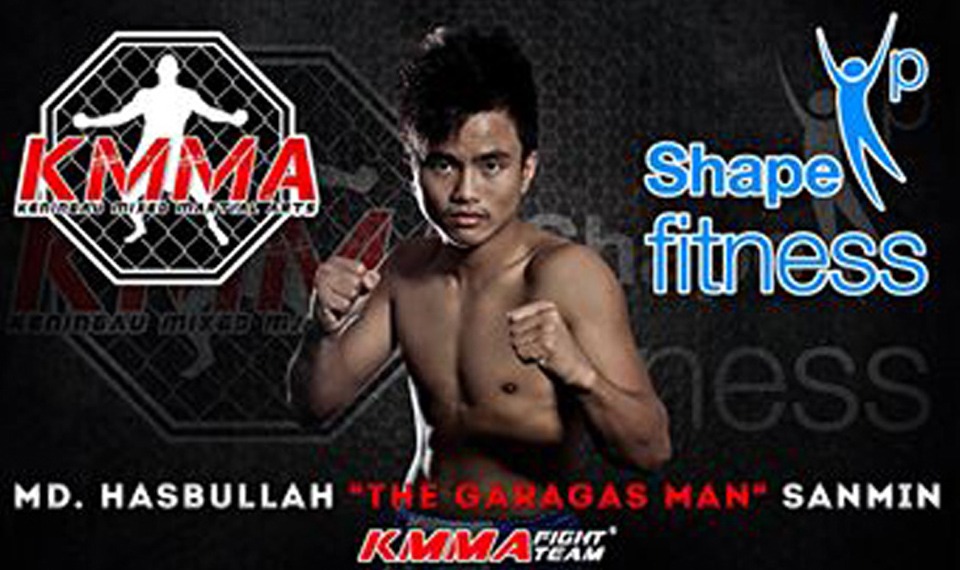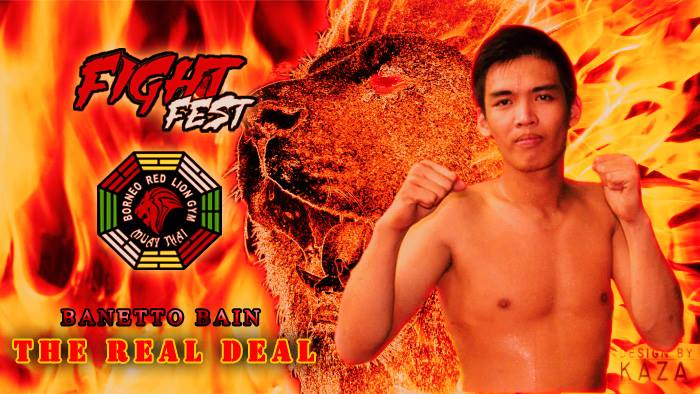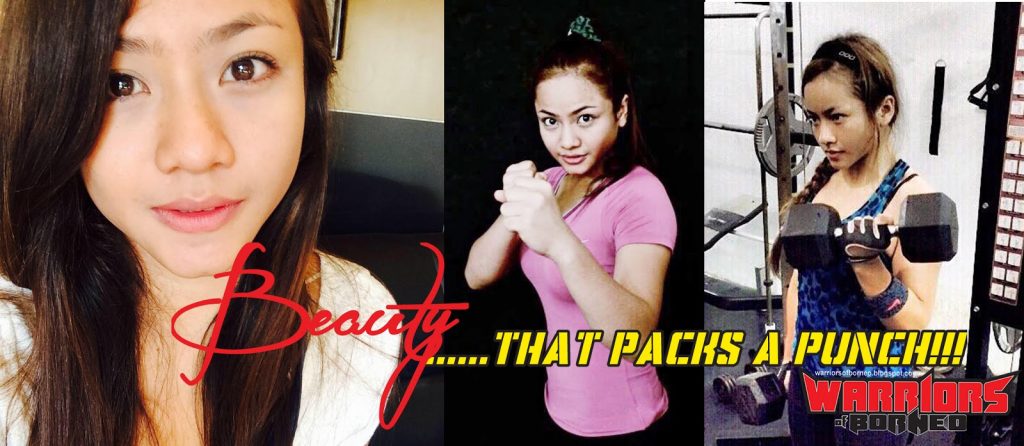 Nur Sakinah
————————————————————————————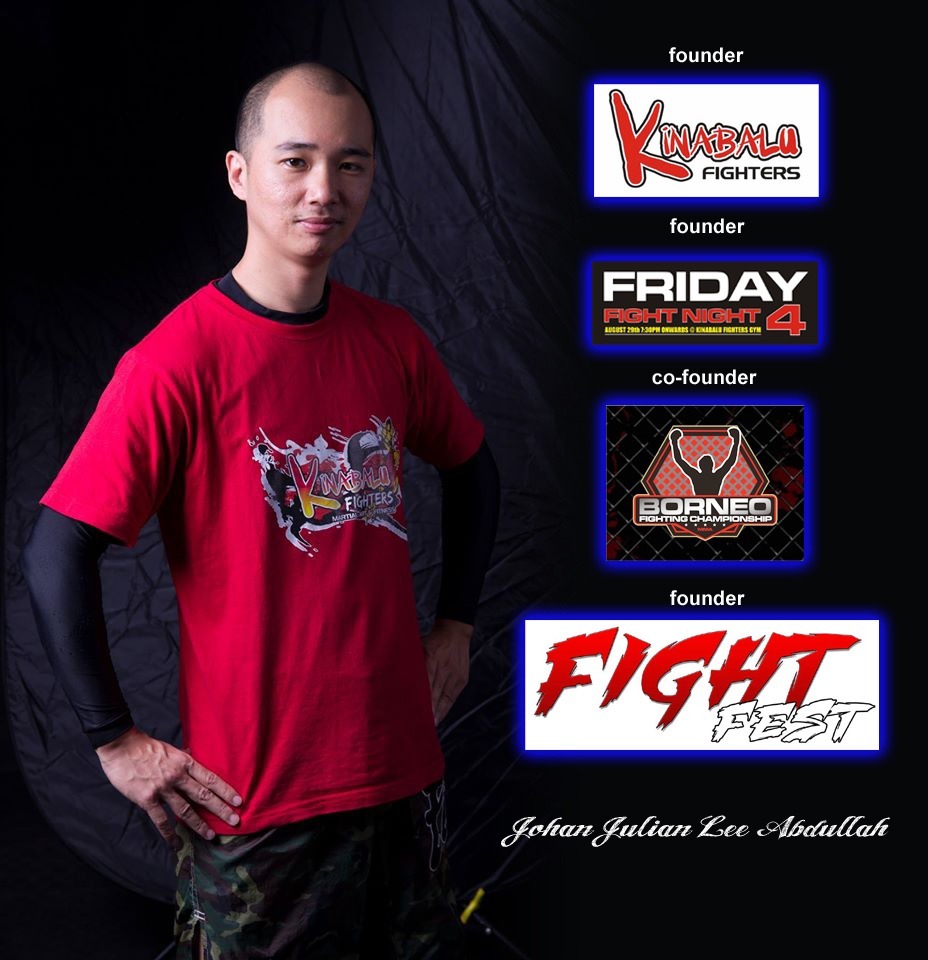 Now let's get some infor on Fight fest 2 – Act of War from the founder himself , Johan Julian Lee
You titled it Act of War…what is the concept behind this theme?
The term "act of war" is usually a forecast of brutal action. Thus we hope FF2 mirrors this when the bell rings!
At FF1 you have 11 bouts , now at FF2 you will have 24 bouts! wow that's a huge jump! how were you able to achieve this?
The good support of the fighters and their coaches made this possible.
Why the exhibitions match? Why not put up actual fights? How different will an
exhibitions match be compare to actual match?
It is a real fight, "exhibition" only coz it is of amateur level & not a tourney format. 
These fights do carry records.
I believe FF is the 1st event having K1 rule fight in Sabah, how do you feel the
response from fighter and fight fans on this?
Yes it is. I think the responds have been great. Fans & coaches want to see their favorite fighters put in a different arena: can a boxer fight well in an environment where kicks and knees are allowed? Can a Muaythai champion do well if he isn't allowed his clinch & elbows? Can a Karate expert handle the conditioning of his opponent? These are just some examples that I'm sure makes kickboxing an interesting format for everyone.
Why do you choose the Super4 MMA at 56kg category this time?
Because I believe 56kg is a faster pace weight class, less likely to tire too soon & much more action packed.
Which bout do u personally think will be a blast?
I'm excited to see Fight Fest 1 super 4 champ Mardi take on Reyan Naga Kinabalu. Mardi has proven to be a great boxer & fits K1 well, while Reyan is actually a strong Muaythai champ that has beaten guys like Dean Hamsah twice in Muaythai. It would be interesting to watch this match.
Another bout would be Faizal "Boy Kicap" a famous Muaythai fighter with highflying kicks vs the Tawau boxer & also Muaythai fighter Zul "Corner Shot" (Alamgir Gym Tawau )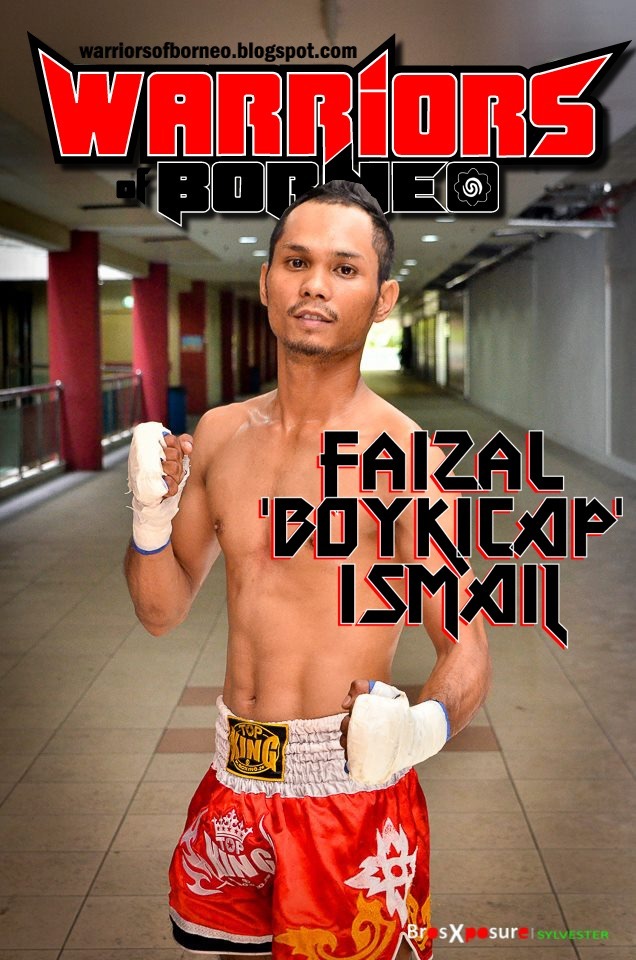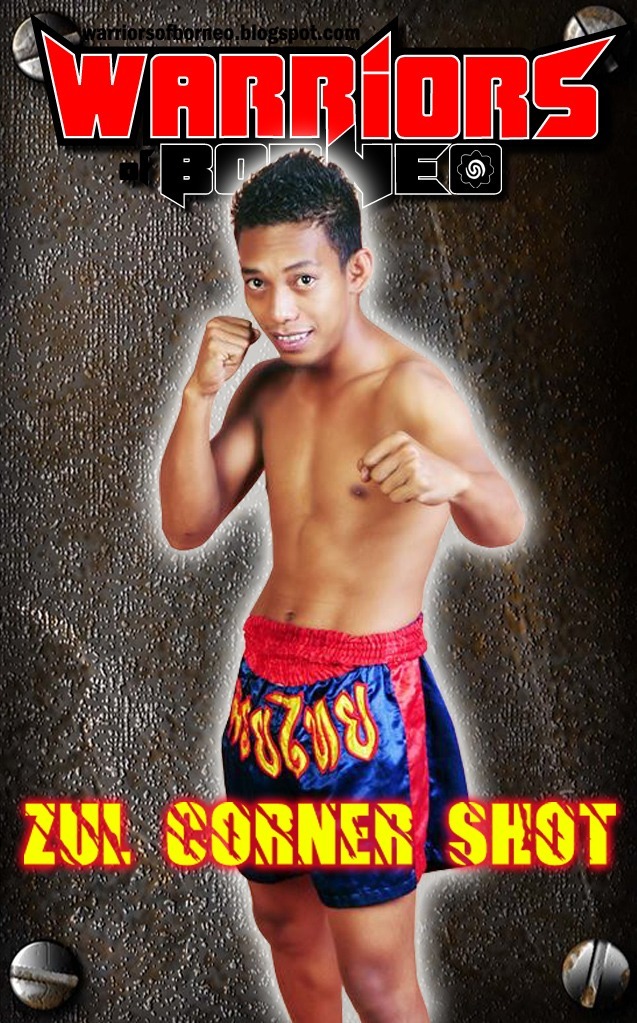 Fight Fest 2 opening bout by the ladies is also an interesting one with Nurul Atiqah vs Neera Nyr. For them this is a rubber match as each has beaten each other once in Muaythai, Neera won the last exchange. Neera also recently beat June in Fight Fest 1 who was undefeated in Muaythai. Does this mean kickboxing is a better format for Neera? We will find out.
Are you offering cash prizes this time?
Super 4 winners will win trophy, medal, certificate & cash prize.
Who are your sponsors? anything special for the fight fans?
Sponsors are Power Root & Citymall. Fight fans should keep an eye out at Power Root FB page for contest. Also there will be games hosted by Power Root & Sabah Top Team for the public.
The event I believe will combine with Muay Fight, tell me more?
As of now, Muayfight announced they have postponed their event in Sabah till the 18-20 Sept.

Does Citymall present a good venue for this events?
Citymall is great as it features all the shops near the fight. The crowd here is constant and thus I think makes best for the awareness of the sport.
This event will be free which is excellent for fight fans,…were you able to achieve this through support from your sponsors? or it's still very much your own effort to promote the event better?
The sponsor helped us a lot, hopefully more sponsors will come and support this event in the near future. That is why we decided to go public for free as it will get the awareness out.
I wish you all the best Julian for a successful Fight Fest 2
Thanks bro for your time.