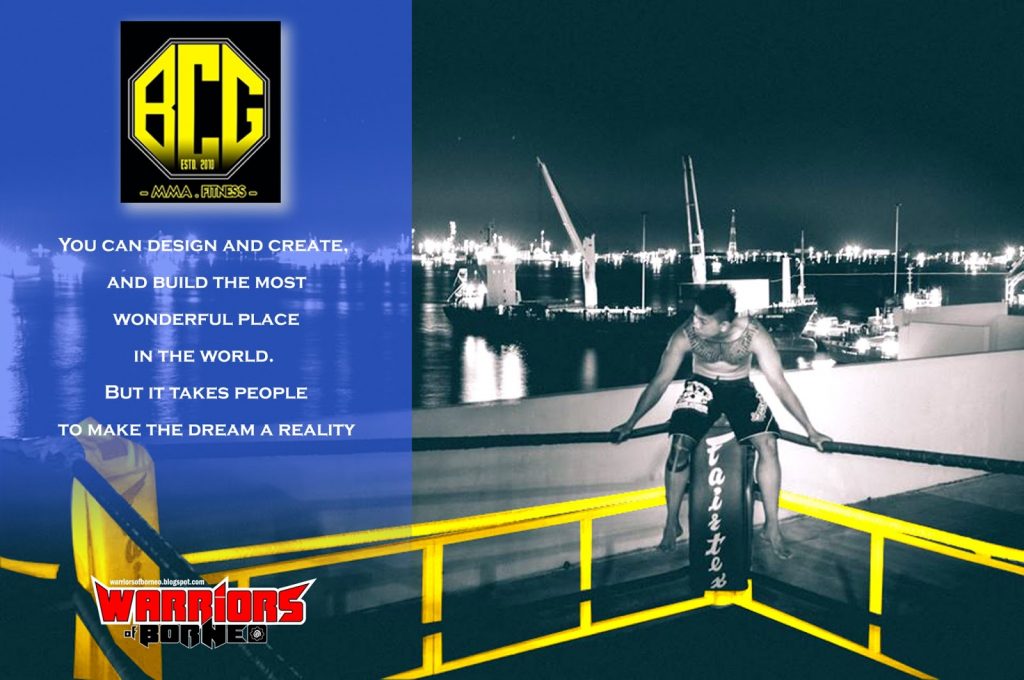 What a view!
The yellow ray from the setting sun hits your face, as your sweat rolls down your forehead. You feel energize from it and you strike the bag harder. Each strike you throw and each rep you do you feel pumped and ready to go on some more as the cool breeze from South China Sea refreshes you. After a brutal round of total body workout…you take your break as you lookout into the horizon, lights from ships afar sooth your eyes as you sip your well earn protein shake and ready to go another few rounds.
Sounds like a dream? Nope this is reality. Brought to you by Borneo Combat Gym (BCG). The first martial and fitness gym that has a killer harbour view! Located at the roof top of Times Square Labuan, this gym is the beacon of hope for those who wants to build a healthy body and mind amidst the plethora of outlets that offer the seduction of glitzy nightlife in this tiny tax haven of Labuan.
Founded by Alvin Chong aka AC Poseidon, Alvin knew first hand how damaging the partying lifestyle can affect ones health and life, because he himself was trap in it for years. Alvin was born in Miri and had his early schooling days there and in Labuan. Started his martial arts journey with Taekwondo at the age of 9, and by 16 he was already achieved success being a men Open champion and Junior Champion. After finishing his high school in SMK Labuan, he got involve with the wrong type of people and so begins 10 years of carefree, drinking smoking and partying.
The way his life was heading at that time broke his mom's heart. He was disappointed with himself and vow to change. A friend took Alvin to his farm in a remote town of Menumbok. Alvin toiled in the farm and began to change. Farming life taught him the value of hardwork and the power of determination.
His passion for martial arts is still burning as he took up boxing and began to self train on muay thai and kick boxing. Martial arts structured his life further positively and he was eager to share his knowledge and wants to use martial arts to improve other people's life too. In 2010 Alvin rented a unit on the upper floor of a shop lot and so started BCG.
Alvin knew that Labuan being a tax haven with alcohol & cigarettes easily available and the lure of nightlife it's very easy for youths to go wayward. Getting the youths to make a choice of healthy lifestyle is a challenge, with perseverance and determination, members begin to slowly grow.
Alvin is a firm believer of good nutrition…
"When we talk about fitness, there are two concepts that always go together; exercise and nutrition. Now a lot of us are
aware of the exercise part but most of us are still in the dark on the
nutrition part. Nutrition is not only about popping a pill or two; it's about
changing your lifestyle. You should also consider the quality of the supplement
that you took. I've tried other brands before; you name it and most probably I
have tried it. Then 1 of my best friend introduced me to USANA. After trying
it, I can really feel the difference in the way my body is reacting to the
routine that I went through. USANA doesn't only provide a pharmaceutical grade
supplements but they also offer a passive income generating opportunity."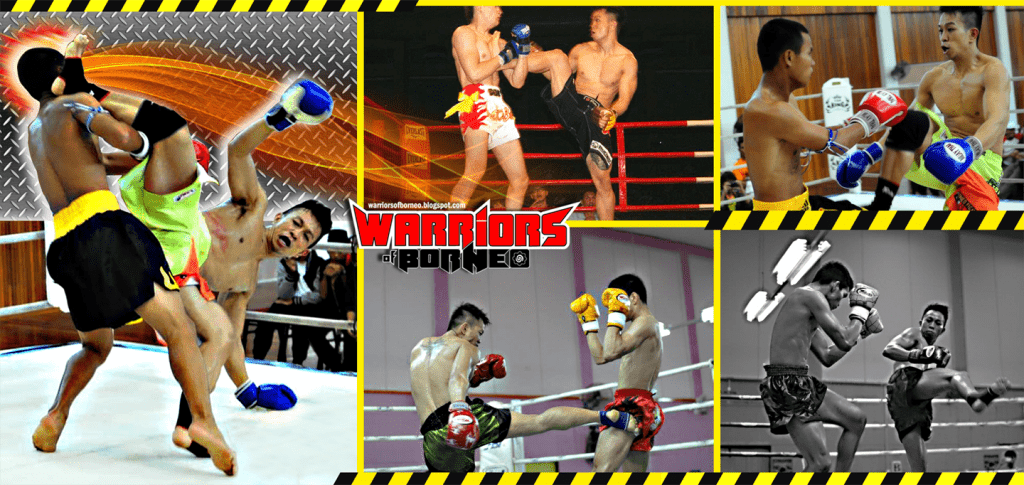 During his competitive fighting days
Alvin also believes in helping youths. He took in Sunny Sabornido six years ago, a deaf boy at the age of 21. Putting in the effort to learn sign language to ensure that he is able to teach Sunny effectively. He molded Sunny into a formidable fighter he is today, winning many championship belt in pro Muaythai. Being the 1st deaf and mute Muaythai and MMA fighter in Malaysia Sunny now is a trainer in BCG itself.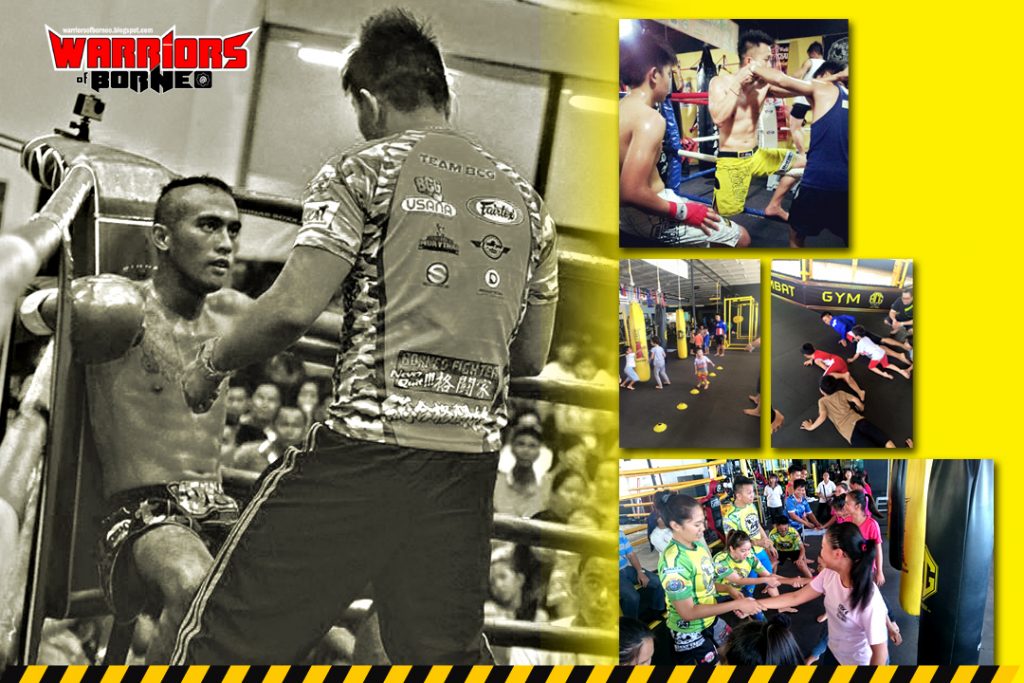 Teaching is now Alvin's passion. " the more you teach, the more you learn " 
To help some of the kids that struggle with their studies, Alvin work together with other members of his gym to tutor these kids. Those who are good in either english, maths or science will each take up the task to teach those subjects to these kids and helping them in their overall studies. One of the kids is Ronald Tee. At only 20 is one of BCG's youngest trainer and already hold two Muaythai Title belt.

Through his pass experience he understands that youngsters pick up bad habits easily from the influence of seniors. Adamant to not let this happen in BCG, he made sure senior members become a positive role models for the young ones. he wants to create a positive environment in BCG where members know that they always have the gym as a safe haven whenever they want to "disconnect" with the real world. By creating this , he aim to reduce the possibility of bad influence sipping into the members' life.
In 2015, Alvin's landlord gave him a 4 months notice to move out. Alvin knows that its about time he look for a bigger space for members to train comfortably in. Alvin began to scout for a new premises. Meeting the right people that shared his vision to build up Labuan's health and fitness industry he manage to secure the current place at Labuan Times Square. And so began BCG's new journey at a new location. Officially opened in October 2015, BCG has got to be one of the most sophisticated and well equipped martial arts and fitness gym in East Malaysia…and don't you forget…with an amazing harbour view!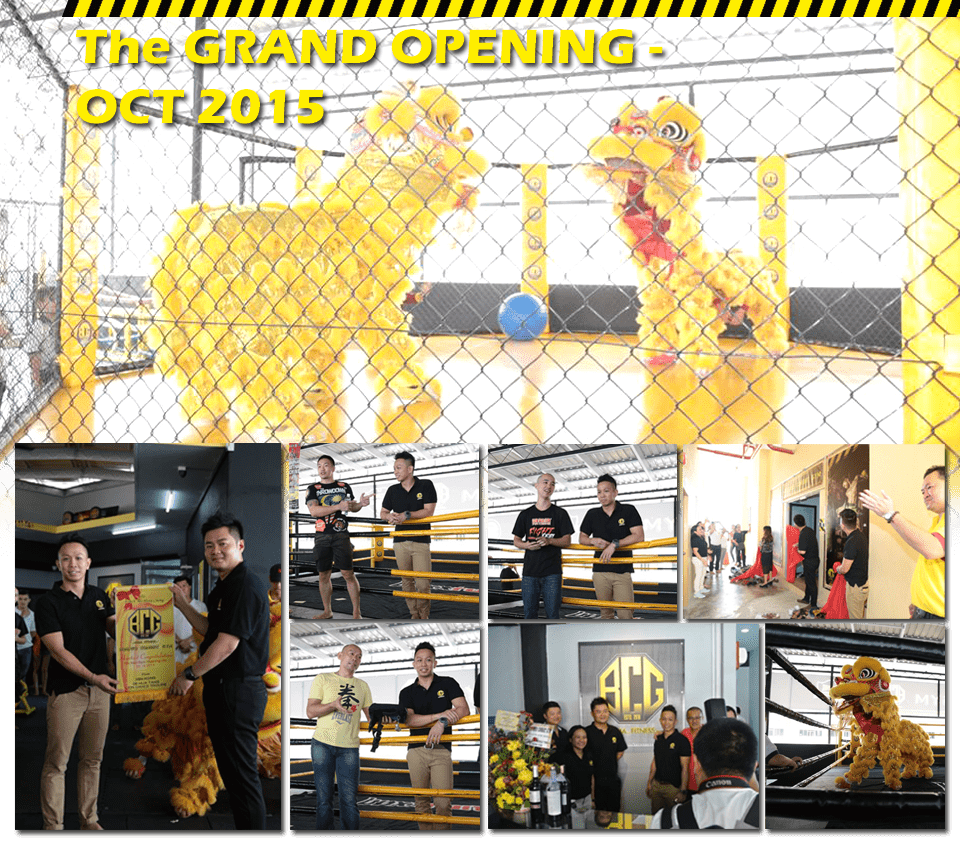 Martial arts personality of Malaysia such as Allen Chong pro MMA fighter, Master Khoo – ISKA rep Malaysia and Johan Julian – Fight fest founder lending their support during BCG's grand opening
Maintaining the yellow theme from the old location, BCG now carry this yellow theme in a more energetic way. Inspired by Bruce Lee's yellow suit in The Game of Death, the yellow theme gives BCG a very distinct look that motivates you to workout more. Thanking his friend Clint Seah that has help in the interior design.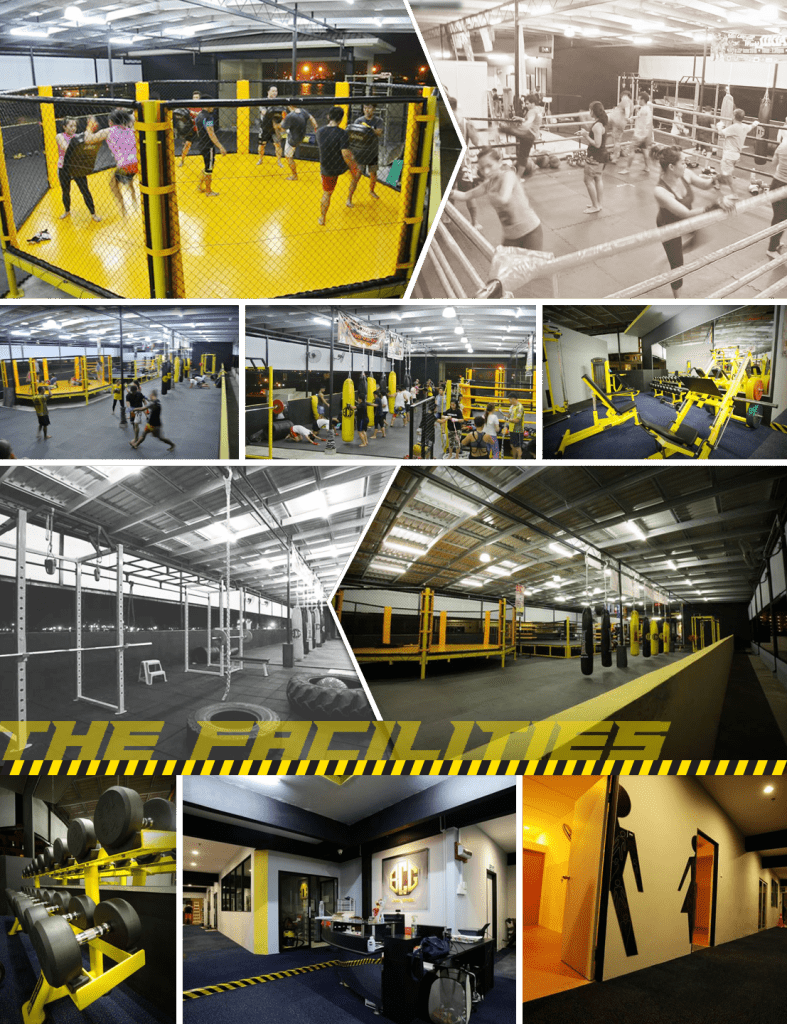 The focal point of martial arts and fitness in Labuan
Looking at BCG's current location and facilities, it must be costly. But Alvin believes that
everything goes back to the most basic, your attitude. " When I was in the position of looking for a new training place, I didn't give up and I always look for opportunities to spread the positive influence for Labuan's people. I guess when you sincerely wanted to help other people; the universe shall reward you with things that you never even think of. My business partner agrees with my philosophy and he wanted to see the changes that I dreamt of as well. Do good and good things shall head towards you. I am also blessed to have such a loving and supporting family that always believe in what I am fighting for."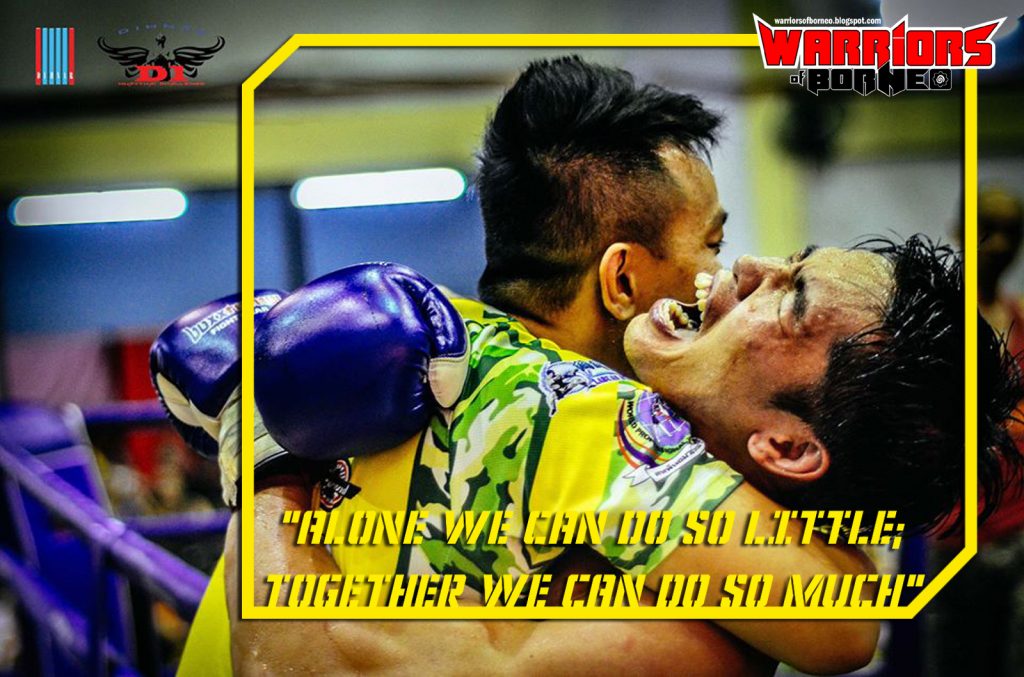 Cornering Randall ' The Slayer ' Kadayum at D1FC and celebrating his win
In Dec 2015, BCG hosted Dave 'Hollywood' Hulett for it's 1st MMA seminar. Dave is a veteran pro MMA fighters with 21 wins. The seminar was attended by 30 participants. And coming this weekend of 23 – 24th Jan 2016, BCG will be packed for Borneo Amateur Challenge (BAC)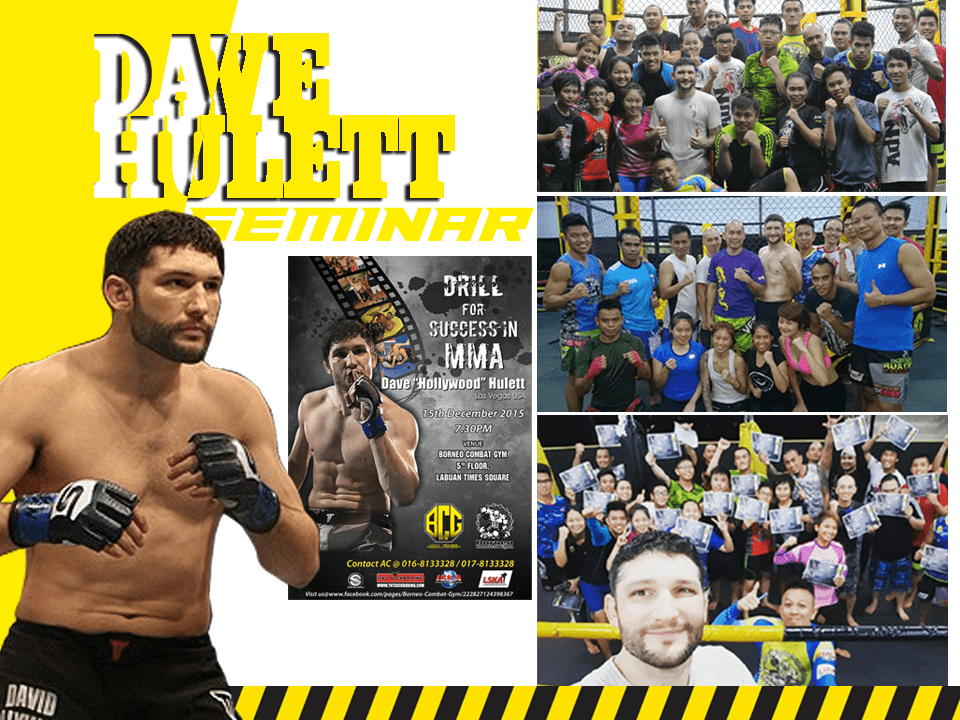 BAC will have amatuer K1 and MMA matches. 47 fighters has confirmed their participation. ISKA ( International Sports Kickboxing Association ) is sanctioning this tournament. Fighters from Labuan, Sabah and Sarawak will be competing in a total of 38 bouts.
Biggest contingent is from BCG itself at 10 and follow by Team Karabaw sending 8 fighters.
Mohd Hasbullah of Keningau MMA– JFL Bantamweight Champion and Fight Fest 2 SuperFight Champion will be looking to add another win to his record. Johan Julian Abdullah from Kinabalu Fighters, founder of Fight Fest will also be competing in MMA at 56kg. Nurul Khairunnisa of Team Karabaw – MIMMA3 female quarter finalist and JFL Grand finalist will be fighting at bout 32.

Come and support BAC…entrance is free. Come and watch great fights or just come and enjoy the great view from BCG's rooftop
Alvin is the sole representative of ISKA in Borneo. He is entrusted by Master Khoo Meng Yang aka The Red Dragon from the renown TNT Kickboxing in Kuala Lumpur. Master Khoo himself a very accomplished martial artist in Asia is Malaysia's ISKA representative. Back in 2010, when Alvin organises Z1 an international Muaythai event in Miri, Master Khoo send his fighters there to compete and was impress with Alvin's capability, hence offerimng him to be ISKA's Borneo rep.
Master Khoo himself will lead a K1 and MMA referee course on 22 Jan 2016 before fight day on this weekend. This is also Alvin's dream…."I've always wanted to build up more local talent and I believe this event can be a platform for the local talent to be noticed on the national level and move forward to the International level under the guidance of ISKA."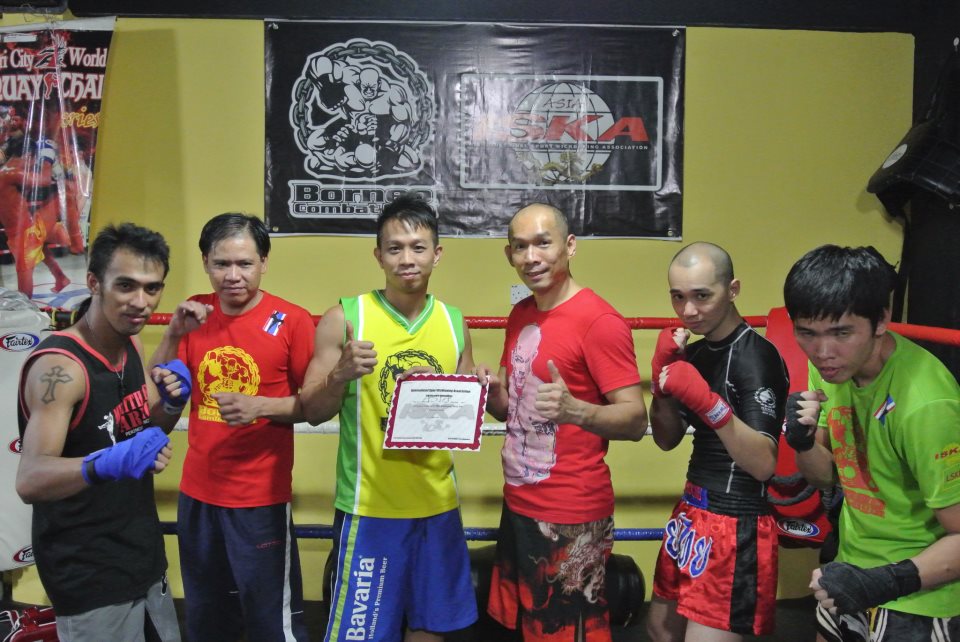 Master Khoo presenting ISKA  Instructor Level 1 cert
Looks like Alvin's dream is becoming a reality.
It's amazing to see a Borneon home talent, using what he has learn to contribute back to society. And also creating events and courses to further unearth new talents from Borneo region.
Warriors of Borneo lend supports to BCG and Alvin and wishes the BAC and the referee course a great success!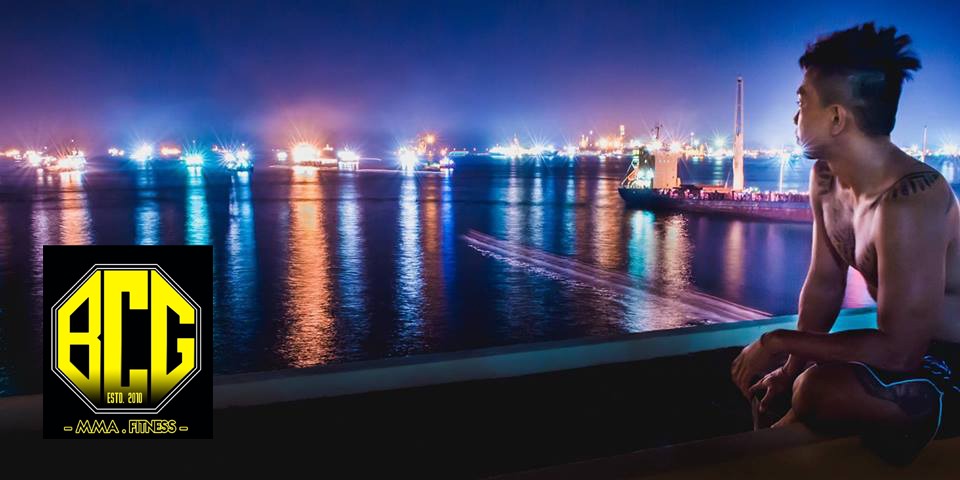 oh, did I mentioned that BCG has a killer harbour view!