"Hoong Loong" is in Labuan. Reknown Malaysian martial artist master Khoo Meng Yang aka The Red Dragon will be conducting the ISKA K1 & MMA Referees certification course in Labuan on 22 Jan 2016. The course is hosted by Borneo Combat Gym led by Alvin Chong aka AC Poseidon.
The course will be follow up by amatuer K1 and MMA challenge on 23 – 24 Jan 2016.
Catch BCG's story here from my previous post
Master Khoo is Malaysia's ISKA Representatives and has known Alvin since 2010. He supports Alvin's objective of developing more qualified referees from this region of Borneo. ISKA stand for International Sports Karate Association is an international body body based in the United States that regulate and sanction sport karate and kickboxing matches.
With an international certification, the aim is to upgrade the standard and quality of refereeing in combat sports for this region. Once we have more qualified referees here in Borneo then matches being organise locally too will be properly monitored and judged.
We have seen many occasions where matches results was unsatisfactory due to poor refereing. The victim almost always is the fighter themselves and his team as all the months of hard training, the blood and sweat will go down the drain if they lost a match due to bad decision from the referee. Another crucial point is referee must always put safety of fighters on the top moist priority, especially in amatuer matches. All this is which Master Khoo will be emphasizing on during the course.
Master Khoo is more than qualifies to conduct the course as he himself is a veteran of 38 fight.
24 wins 13 losses 1 draw 11 K.O.( 9 pro muaythai fights, 3 amateur muaythai fights, the rest are all kickboxing, western boxing, Ultimate Warrior and Sanshou fights)
3 times Malaysia Taekwon-do Champion ( ITF )
4 times Malaysia Sanshou ( chinese kickboxing ) Champion
2007 Malaysia Ultimate Warrior 1st runner-up
2008 Malaysia Freestyle Kickboxing Champion
2008 World Amateur Muaythai 2nd runner-up
infor from : muaythaitigers blogspot
Fans of MIMMA will be familiar with him as he is a one of the most sought after referee in MMA matches.
Warriors of Borneo got in touch with him for a short chat:
Can you give me a personal account of your relationship with him; what do you think of him and his passion for martial arts?

We are friends and we share plenty of martial arts knowledge to each other and helping each other to grow in this industry. He is also my ISKA East Malaysia Borneo representative. He is very keen and passionate in martial arts. What's he is doing is not mainly to earn money but to help the members to grow through martial arts.

As you know he has been helping plenty of bad kids who has been suspended from school. He even went to talked to headmaster so that they can stay in school and study. As I can see he has changed some people's life and his own life to better as well. And insert plenty of positive energy to others and himself.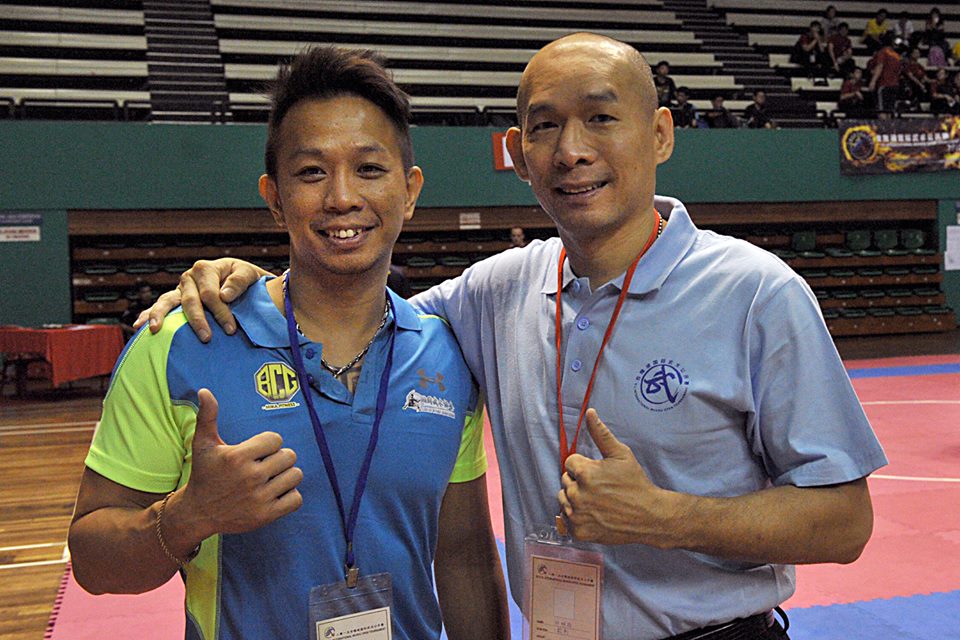 Alvin Chong and Master Khoo
You are the instructor for the ISKA ref course …pleases give some inform on the course
My ISKA K1 stand up and MMA referee course will be on 22 to 24 Jan. The theory part will be on 22 Fri.
23 – 24 Jan will be their practical part during Alvin's BCG ISKA K1 & MMA Borneo Amateur Challenge.
It will be very practical so that participants could fit in and be referee and judge for Stand-up Fight and MMA matches.
Participants will get official ISKA K1 Stand-up Fight & MMA Two referee certificates if they pass the course.
What do you think of Labuan?
Labuan is a small island but have good economy value and good potential as a travel spot for Malaysia; and here all races live in harmony.
What are your thoughts on seeing BCG progress from a shop lot gym to what it is now today?
It is very good and I'm happy to see Alvin's BCG growing so fast to be the biggest in Labuan and have the best sea view gym In Malaysia. He deserve all these due to his passion and hard work. Plenty of people even his friends kept telling him to quit because it's like dumping money and hard work to the sea as he will get nothing back. But I have been telling him,