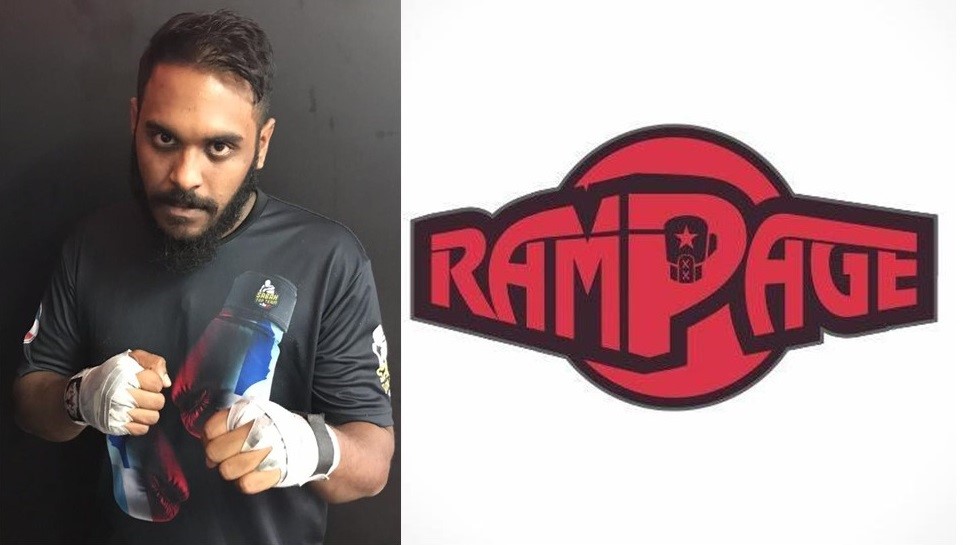 For a dentist working in the government hospital Dr. Navinesh Loganathan  have seen many trauma cases of bad injuries to the teeth, mostly from auto accidents but also a number of cases from street fights. But come this Saturday 27 Apr, he will be the one inflicting damage on his opponent's mouth as he step into Rampage FC MMA cage.
This dentist rekindled the love for the art of fighting in the small town of Keningau MMA. Navi was born in Kuala Lumpur, but when he was 6 his family moved to Keningau. His father was one of the only two dentist in Keningau & his mother teach in a local school.
Growing up in Keningau, he was an active kid. He played football, golf & took up Karate till he attained Brown Belt. After high school, Navinesh followed his father's footsteps and continued his tertiary education in India in dentistry. After graduate from Uni he returned to Keningau. He was hanging around in his house not doing much as he waited for his call of duty. His old best buddy from school Jay James came along and brought him to Keningau MMA (KMMA). Navinesh attended a Brazilian Luta Livre seminar by Antonio Battistessa, Sabah Top Team's visiting coach to KMMA. It was at first just a thought to lose the extra pounds but he felt a surge of excitement & satisfaction. Grappling was new to him, but he like it. He continued his training under coach Mohd Bakri.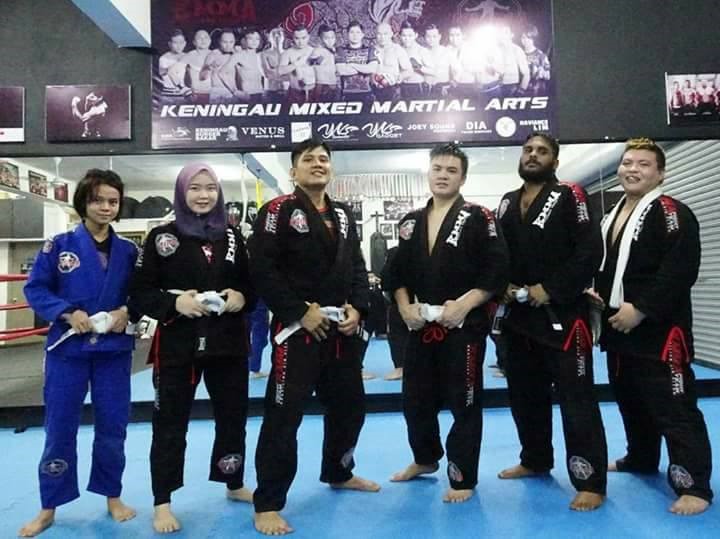 He was posted to Tuaran hospital to carry out his duty as a doctor. He drives 45 minutes to Tuaran hospital daily and back in Kota Kinabalu in the evening to put in some valuable training in Sabah Top Team. There he regularly grapple & spar with many talented combat sports athletes such as Joel Nickolson, Gloria Hong & Jeff Andrews. They help him on techniques and push him hard in each class. Coach Antonio is always there to guide him in improving his techniques & strategy.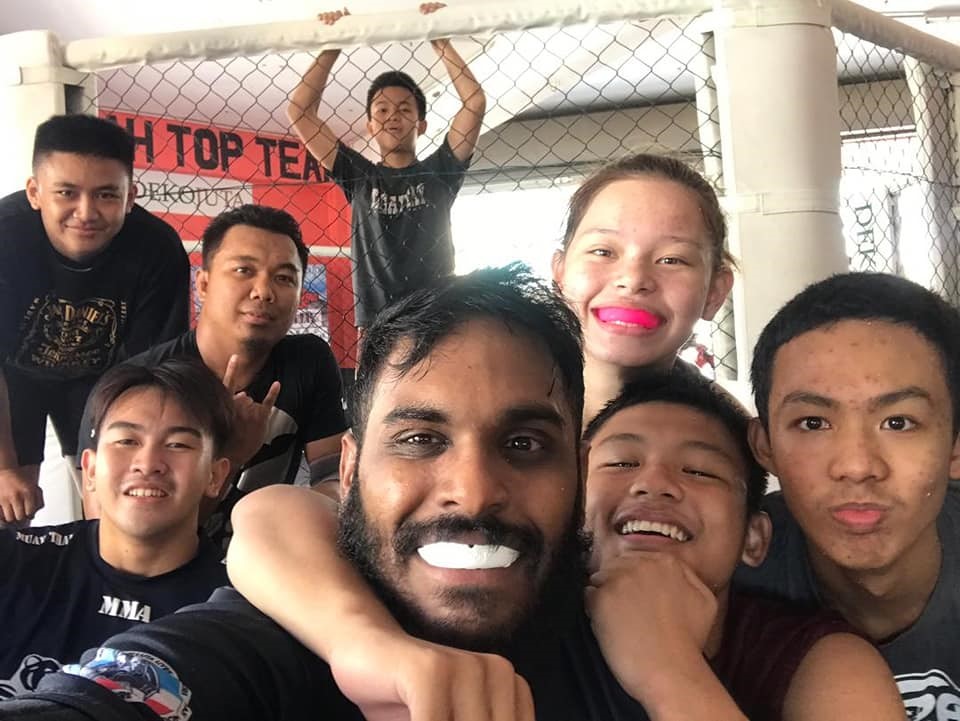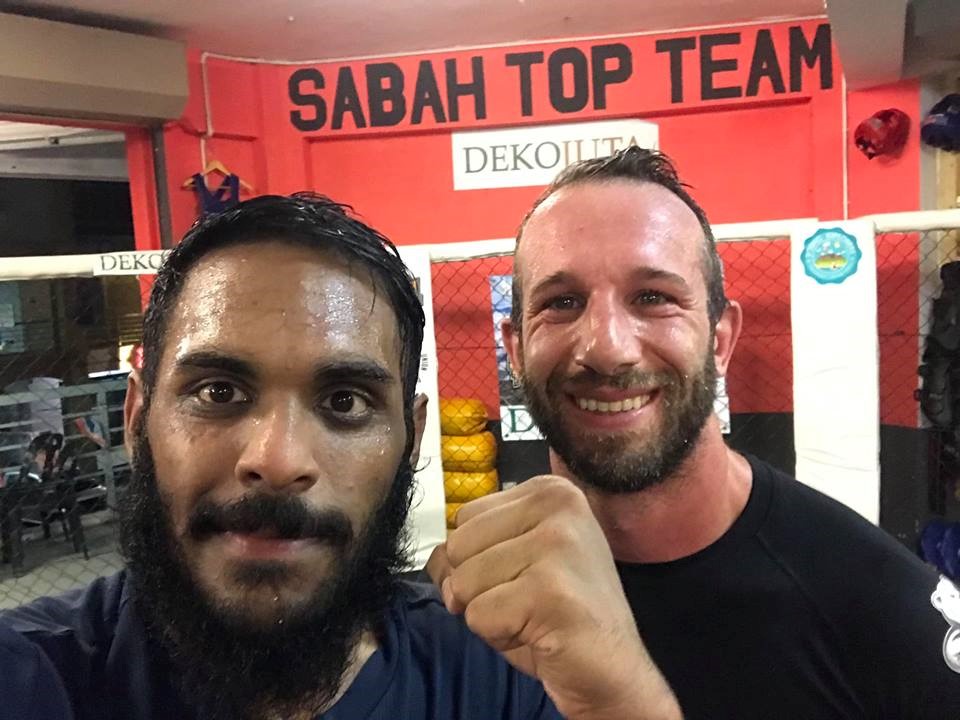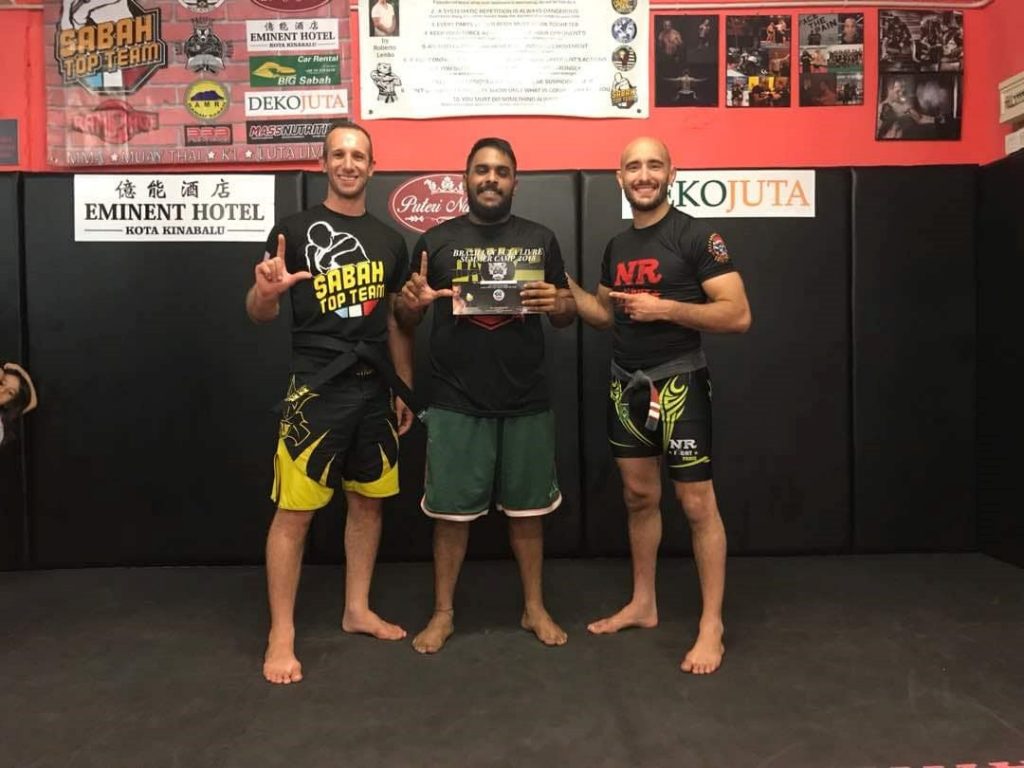 Navinesh will be stepping into the cage to face experienced fighter from Team Karabaw- Fahmi Sato in welterweight category. Fahmi is a capoeira instructor and has experience fighting in middleweight & heavyweight. Moving to welterweight, he will definitely be faster. Navinesh will count on his grappling game to neutralize Fahmi's movement.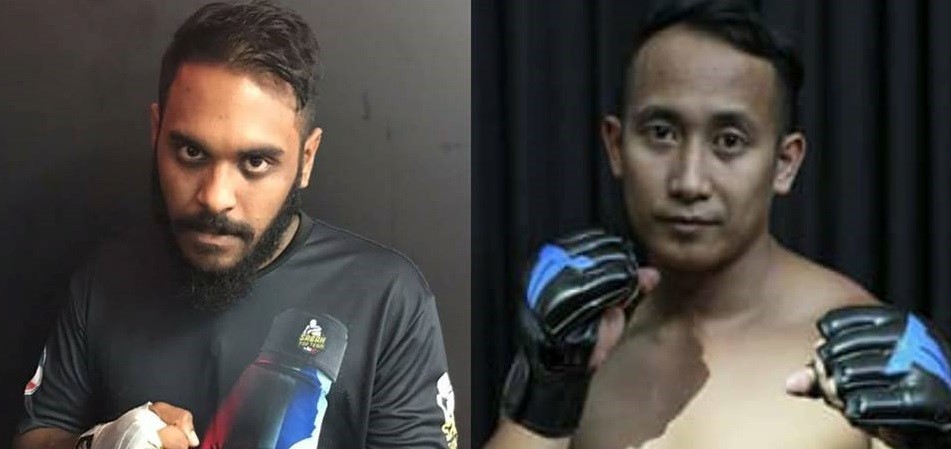 No doubt Navinesh feels nervous as this will be his MMA debut. But through his training as a doctor and working in the government hospital, it conditioned his mind to work in stressful situation. Navinesh also look at fighting as a way to release stress from work. He wants to channel his energy in the right direction.
His best pal Jay James will be supporting him in his corner and he has these words of advice for Navinesh. " I congratulate you for being courageous enough to take up this challenge. It's normal to be nervous. Go in there, do your best, go all out. What's the point of all the hard training if you don't go all out. "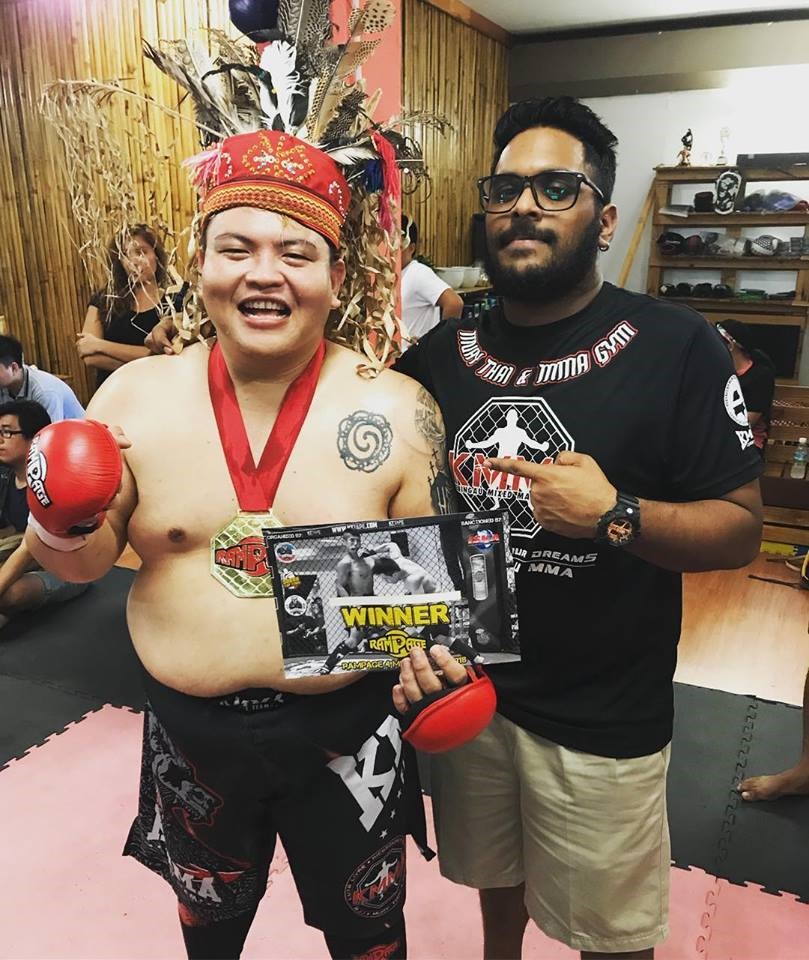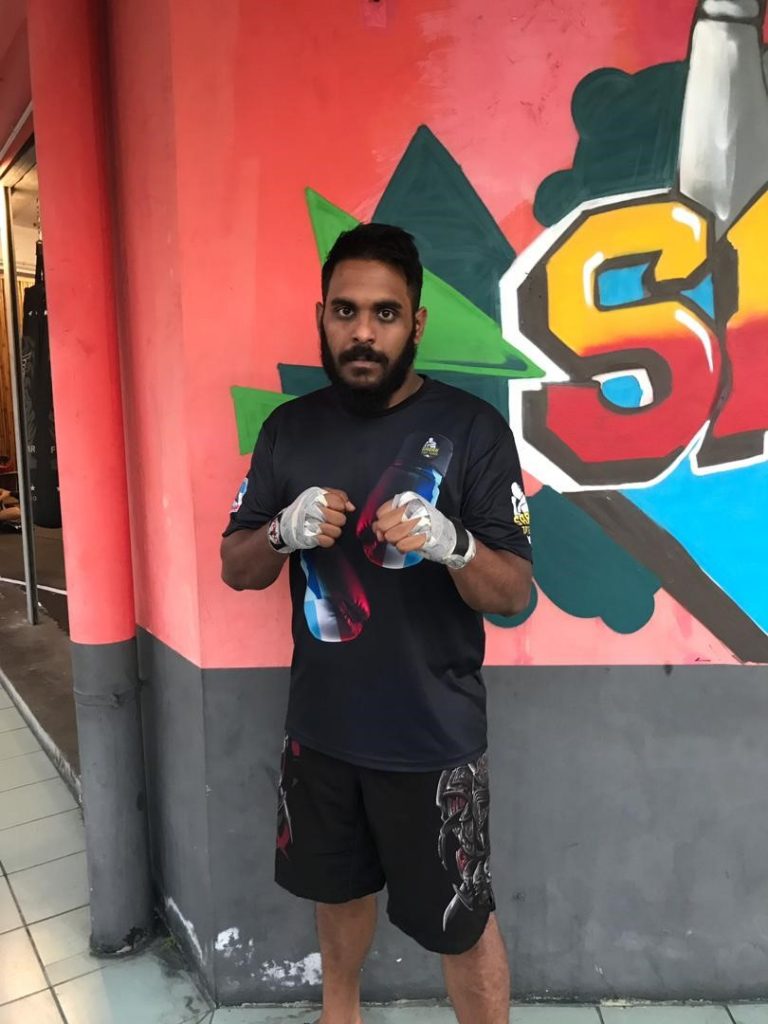 Navinesh former team KMMA will be sending 4 fighters to compete.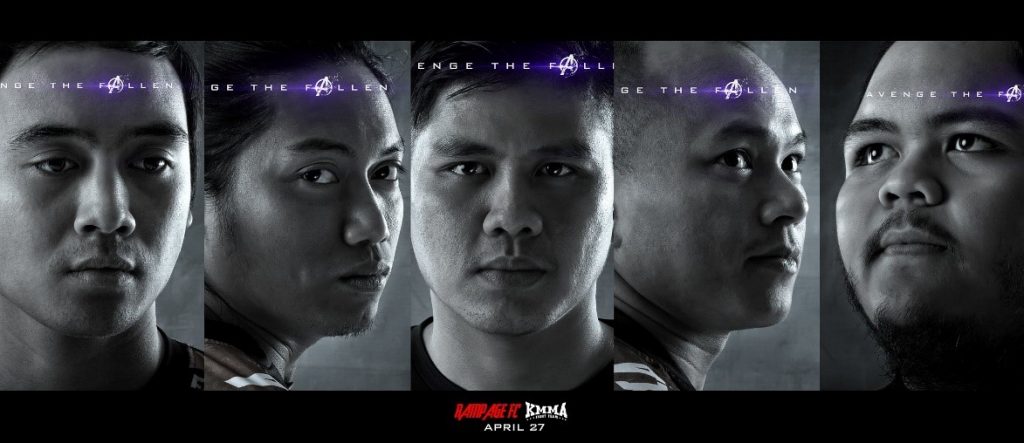 Rampage FC will enter it's 6th edition this Saturday. Aside from local Sabahan fighters & from other Malaysian state, foreign fighters from Singapore, Cambodia & Thailand will be here. Full event fight cards is out:
CATCHWEIGHT (43 kg) JUNIOR MMA rules (no ground and pound)
Noah Peter (Sabah Top Team – Kota Kinabalu) vs Sami Wong (Izza MMA – Kuala Lumpur)
STRAWWEIGHT (52.2 kg) JUNIOR MMA rules (no ground and pound)
Shelden Wong (Sabah Top Team – Kota Kinabalu) vs Genesis (Fit Lab – Kota Kinabalu)
BANTAMWEIGHT (61.2 kg) JUNIOR MMA rules (no ground and pound)
Christian (Sabah Top Team – Kota Kinabalu) VS Kenny Chong (Independent – Kota Kinabalu)
Joel Nicholson (Sabah Top Team – Kota Kinabalu, Malaysia) VS Reachsey Chan Reach (from Bangkok Thailand, YORKY Mixed Martial Arts)
FEATHERWEIGHT 65.8 KG – MALE
Naziman Nasipin (KMMA – Keningau, Malaysia) VS Joannes Siong (independent – Sarawak, Malaysia)
Writh Kataposan (KMMA – Keningau, Malaysia) VS Seok Cheon Oh (YORKY Mixed Martial Arts – Bangkok,Thailand)
MIDDLEWEIGHT (77.1 kg)
Ericcory Lovejoy Akisin (KMMA, Keningau, Sabah, Malaysia) VS Arona Chan Reach (Cambodian Top Team, Phnom Penh Cambodia)
WELTERWEIGHT 77.1 KG – MALE
Navinesh Logan (Sabah Top Team – Kota Kinabalu, Malaysia) VS Meek Frontman (Karabaw – Kota Kinabalu, Malaysia)
John Anning (Borneo Tribal Squad – Kota Kinabalu, Malaysia) VS Ching Hua Jun (Highlight Reel – Singapore)
CATCHWEIGHT (110 kg)
Mohd Izzuddin Rakmadin (KMMA, Keningau, Sabah, Malaysia) VS Syah Azlan (Kelab PS Muay Thai Bintulu, Sarawak, Malaysia)