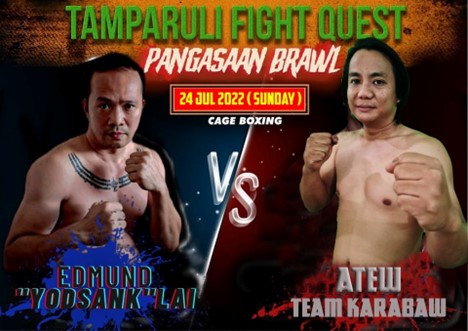 TAMPARULI FIGHT QUEST
Feature Cage Boxing fight
EDMUND 🆚 ATEW
……………👊🏼……………
Edmund Lai
Age : 42
Team : Karabaw
Height : 170cm
Fighting weight : 68kg
Normal weight : 72kg
Edmund Lai works in sales for Kansai Paint. He had some Karate training when he was a kid & then took up Muaythai but was not seriously into it.
He decides to take this fight even though he has been inactive for 5 years, as a way to force himself to get fit. To him the fight is only a destination, his journey towards getting fit is more crucial.
He prepares himself with fitness & endurance training guided by coach Vi Ee Kaoand regular boxing sparring with his friend Nor Gulan
…………………👊🏼…………………..
35 years old
Gym: Team Karabaw
Height : 165cm
Fighting weight : 70 kg
Normal weight : 75 kg
Atew as he is fondly call works as a mechanic in Nicol Car Accessories
Born and bred  in Tamparuli. He has no fight record but has been training in Pangassan Dojo with Team Karabaw Tamparuli.
This is a very late replacement as the opponent for Edmund has pull out.
Why you decide to take this fight.
" Personally I join TFQ because I really want to test myself. My biggest motivation will always be the challenges and experiences that I can gain plus new friends along the way."