23.5.2015 – Dewan Foo Chow. Kota Kinabalu, Sabah
I certainly got my RM25 worth…the Semis was actioned pack! A night full of upset and great fights.
Ok lets move on to the fight.
The night open with heavyweight fight .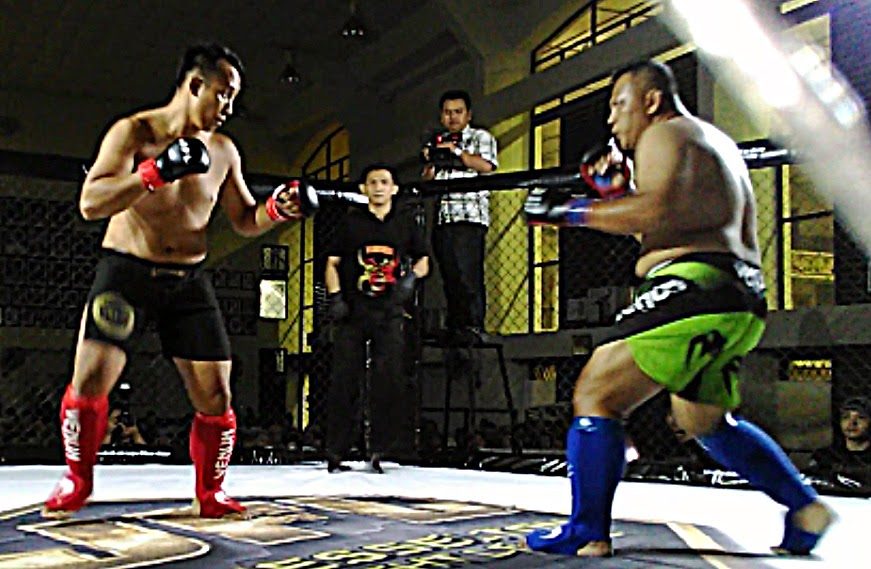 'Randy Couture Sabah'-Jackson vs the Capoeira maestro Fahmi
Being a practitioner of Capoeira,…Round 1, Fahmi uses his speed to pressure Jackson. Opening with high kicks and a jumping back kick, but Jackson stood his ground, even managed to connect a left hook in some exchange. After a brief exchange the fight went to ground with Jackson sprawling & had a front guillotine but was not deep, inaction saw them stood up.
Round 2, Fahmi again uses high kick and speed, got Jackson on the ground but Jackson landed on top. Fahmi reverse and move to full mount…delivering ground & pound, Jackson tries to maneuver out but gave his back & Fahmi managed to sink in a deep rear naked choke that won the fight.
I have tons of respect for Jackson. Working as an prison officer, he's already 42 & being active in this sports is really a great achievement in itself. Looking forward to see Jackson continue to fight and give the youngster in this sports a good fight and perhaps inspire others at his age to keep fighting.
Fahmi still fresh from the fight was still able to lead his Capoiera group for a entertaining performance half way through JFL Semis.
———————————————————————————————————————–
Lightweight. 'Bon' Mardanov (Gymbox)vs Malfil Yusof (Karabaw KK).
Bon's solid built looks like he belongs in the middleweight.
Opening with a thunderous right low kick, top pressure with punches and enter a double leg take down. Ended on side control but head in Malfil's choke. Escape it, staying heavy, managed to hook Malfil's right hand in a crucifix…landed heavy bombs of hooks & hammer fists on Malfil's face. Americana on Malfil's left arm saw Malfil grimaces in pain and Bon stop attacking with ref Michael Chong ending the fight around minute 1:40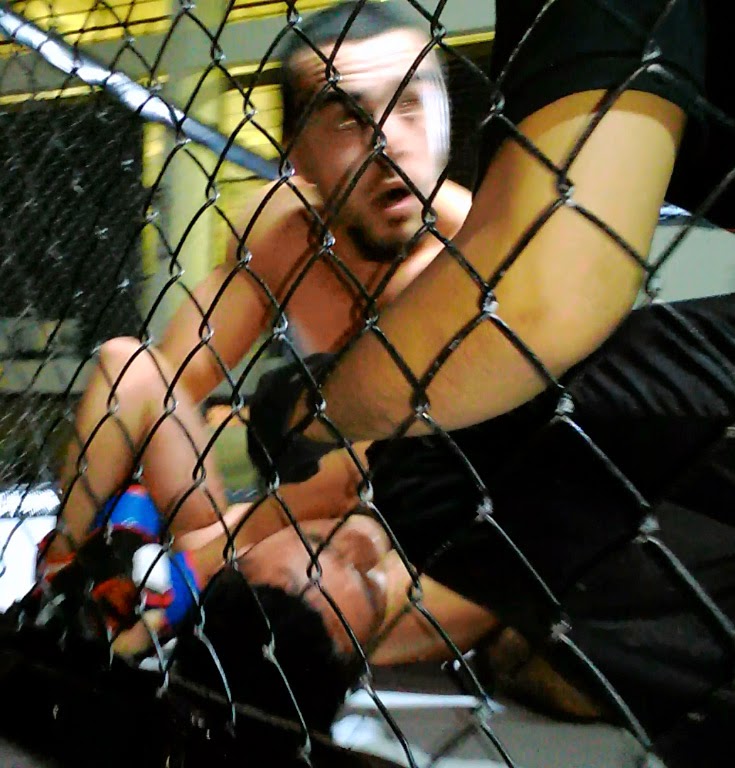 Bon holding on the Americana, showing good sportsmanship when he stop attacking as Malfil seems to be hurt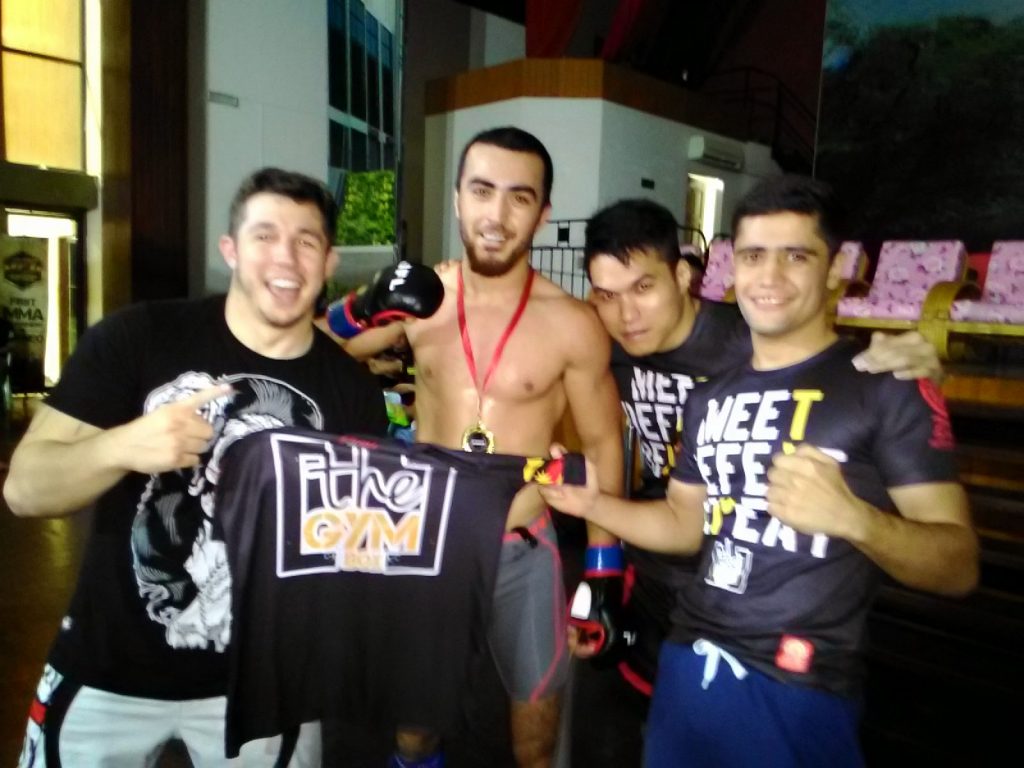 Bon with his GymBox coach Matt Pellino (L), team mates, Jace and Ahmadjon
——————————————————————————————————————–
Bantamweight. Dean Hamsah (BTS) vs Clement John (Karabaw Tamparuli).
Dean Hamsah is a accomplished Muay Thai competitor, started the 1st round with some kicks and punch keeping Clement at a distance. Clement returned fire with a flurry of kicks and they both ended on the cage with Dean controlling Clement with underhook. Knees by Dean, return knee by Clement…Dean backed off looks like a low blow. A short halt and ref Andy gave Clement a warning.
Restart, Dean was backed off with two punch as Clement press forward. End on cage. Dean had a over & under, attempted to throw but Clement resisted. Scuffle and Clement threw two knees…again Dean grimaces as he hold on his crotch. Low blow again. Andy gave time for Dean to recover & warn Clement.
Restart. Clement connect with inside left kick. Both threw right kick, Dean went low but Clement's high round house connected. As he saw Dean step back, Clement rushes in with kicks & punches but eventually a knee by him drop Dean again…another low blow?
Restart 3rd time. Dean seems to be hesitant. Clement seems to be snappier. After a right that move back Dean, again Clement rushes in with flurry of punches. As they both hit the cage again, Dean have the upper hand here. He seems to be stronger, controlling the wrestle. Moving to Clement's left attempted a standing choke, took Clement's back , hooks in, drop on ground and bell rang.
2nd round. Dean connect with a right outside low kick but as he didnt follow-up Clement sense the opportunity and press forward with punches & kicks. Dean ducked under & took Clement with underhook. Controlling on the cage. Dean clinch on Clement's body & drop back, Clement attempt to escape but Dean mounted. Clement uses the cage to sit up,  reverse position, stood up but Dean pressured him back to cage. Few seconds of wrestle..move to the other side of the cage. Dean attempt a double leg, Clement counter by sitting low, he flips but Dean quickly maneuver out and got the back. Dean's hooks in, sinking in a RNC. Working to tighten the grip. Clement rolled & escape, Dean went to full mount & drop few punches as the round stopped.
3rd round. After a stand up exchange where both sides landed some kick & punch, fight went to the cage again, where the slight upperhand is with Dean. At one point as Dean drop low for a double leg, got a single, Clement control Dean's head and manage shortly to lock Dean's head and shoulder with his leg and started to hammer away…But Dean escaped and took top position.
Dean won a very close fight by split decision. Kudos to Clement for showing much heart and big potential. Dean in his winning speech acknowledge Clement's determination and spirit & reminded himself when he first started fighting.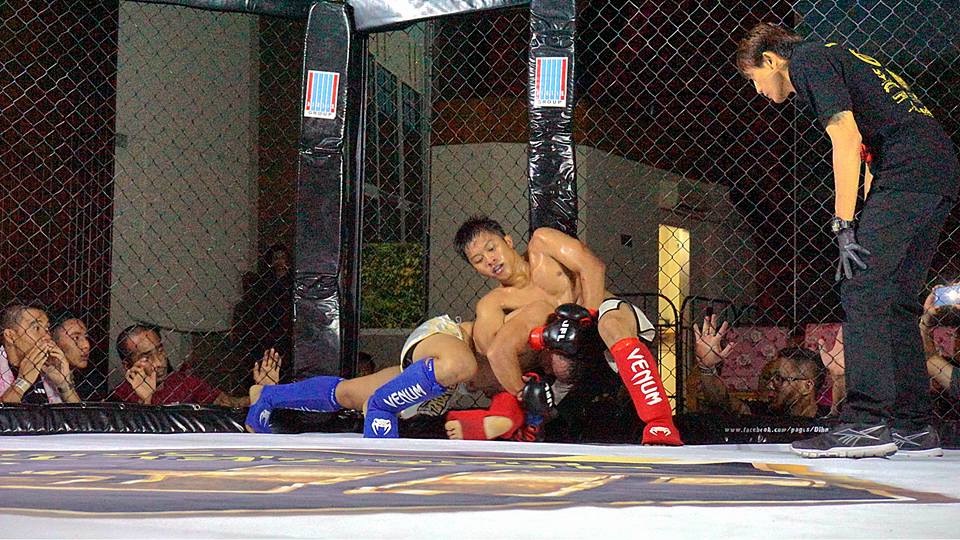 Clement John – an upcoming potential fighter – photo courtesy of DEB GAUGES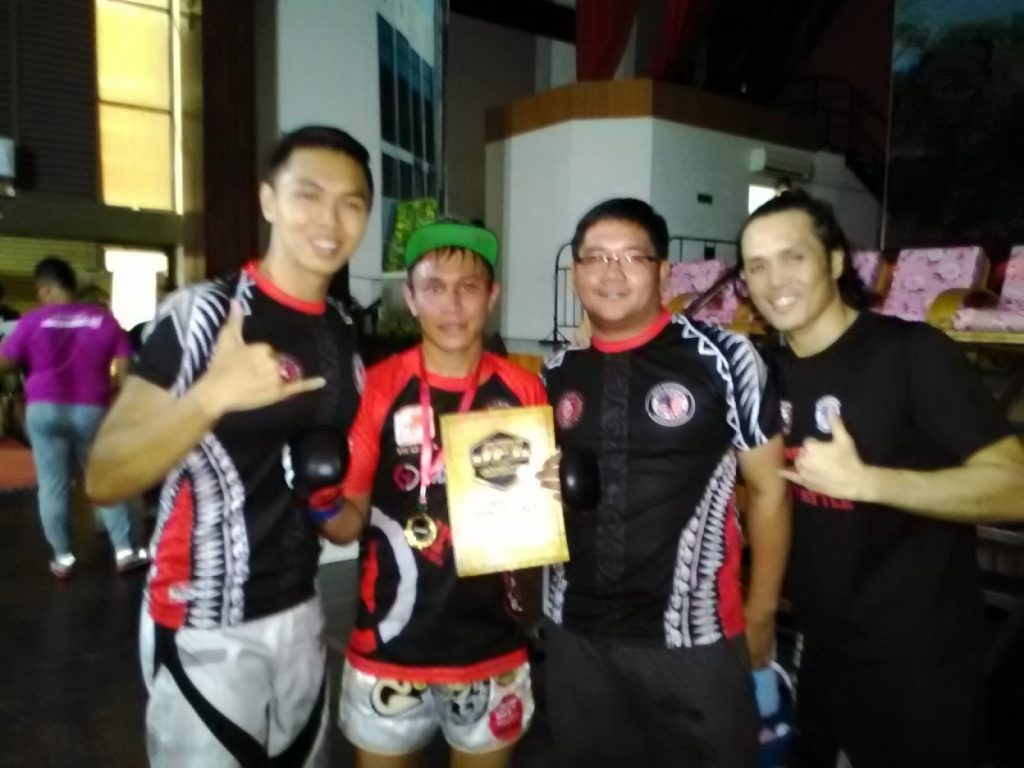 Dean & his BTS team mates
Dean last fight was in ladder match MIMMA3 where he lost, but in April he was in a tough fight in Fight Fest 1 where he won a gruelling MMA fight vs Azrin Kadri of team NOMAD. He was supposed to fight Effendy Kalai in the finals but pull out due to exhaustion. But this fight will materialise in June 6, D1 Fighting Championship . Looks like short rest for Dean. Give us another good fight Dean!
————————————————————————————————————————-
Heavyweight : Kent Tham (Karabaw KK) vs Md Khairul (Karabaw Tamparuli)
A very short fight indeed this one, ended in tap out by Md Kairul. Md Khairul rushes in attempting take down but Kent backed off and secured a standing guillotine that end the fight at 13 seconds.
Kent will also continue his MIMMA3 journey as he has qualified for the quarter-finals. All the best big guy, give him the support to retain MIMMA heavyweight belt for Sabah.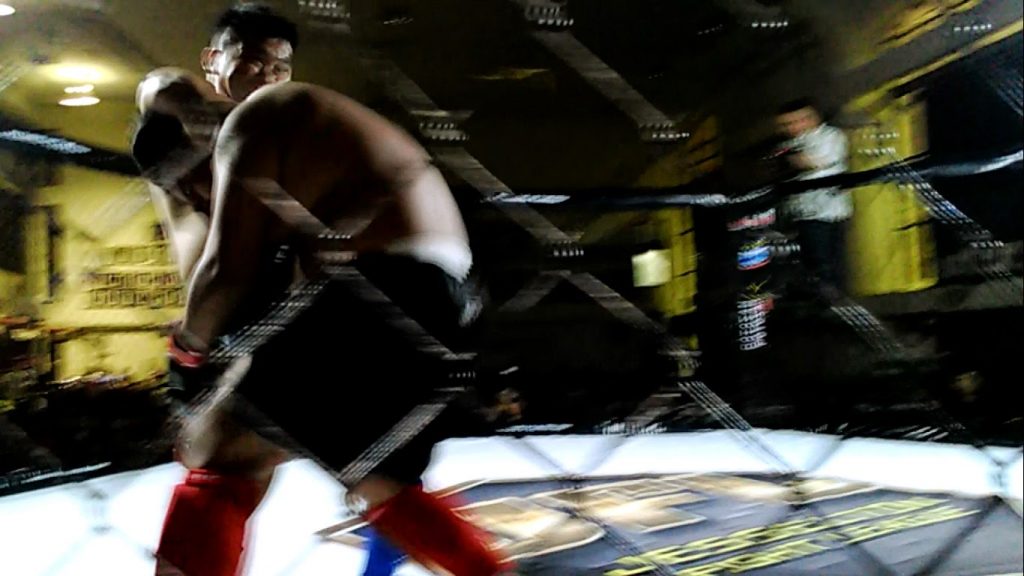 Kent sinking in a perfect standing guillotine
————————————————————————————————————————–
 Lightheavyweigh : Nicholas Sarigus (Karabaw KK) vs Lee Kah Sing (Karabaw Sipitang).
Heavy hitter Nicholas seems to have slim down and look fitter since the JFL ladder match.
He won the semis at the 2nd minute of 1st round as Lee seems to be in pain and could not go on
———————————————————————————————————————-


Lightheavyweight : Wun Yit Wun (NOMAD) vs Hamid Ismail.

Wun won by walkover as Hamid was injured.
————————————————————————————————————————-
LightWeight : Samuel Lai (BTS) vs Md Noor Gani (Karabaw Sipitang)
Again Sam goes in a fight facing a striker. This time his ex BTS team mate, Noor Gani. As in my previous post about this fight, Sam is looking to end it fast…to be able to support and corner his wife Val in the co main event.
Both enter the center with orthodox stand…Sam misses with a right low kick.
Noor Gani threw a left front roundhouse, connect but got caught, Sam instantly went for a take down, holding on a double leg, move to side control. Noor Gani attempt to wriggle out but Sam stayed heavy, passes Noor Gani's guard to full mount, here comes the punches. Noor Gani was still able to block a few punch initially but as Sam continue to rain on the punches , he covers up and ref Michael Chong stop the fight. Giving Sam the TKO win in round one 1:45
In his winning speech…
" Well…he gave me a leg,
   what do you expect me to do?"
As expected Faizal as a capoiera student was moving fast. Eddy very cautious. Faizal misses with two low kick but was still fast moving side to side. Eddy patiently wait for the opening, bam!.. connect with a front hook with his left hand as Faizal attempt a low right kick. Faizal bopping around suddenly shot for a single leg take down and got it, but it wasn't long. Eddy controled Faizal's body with a good sprawl, work his way up & threw a knee. Eddy looks the stronger one as he swung around Faizal to disengage.
Faizal misses with a low kick & front kick. Eddy miss with left hook, Faizal went low for a single, spun around, Eddy sensing this move sprawl to defend. He let Faizal up, prefering to do this stand up style. In the middle of the round. Eddy got Faizal on the floor, with side control, almost got the mount, but posture up and drop a few heavy right but Faizal defended well.
2nd round. Faizal with a few good attempt with kicks & punch but only connect with the first low kick. Eddy returned fire…Faizal went for a take down, Eddy sprawl and defended very well. He let Faizal stand back up. Eddy connect clean with a reverse right, followed by a few hooks, Faizal counter punch and push forward, Eddy clinch with underhook, move to Faizal's right, trip his leg and executed a beautiful throw. From there on Faizal looked a bit dazed. Eddy control the pace, pushed him on to the ground, and started to rain hammer fists, Andy steps in at 1:37 to give the win to Eddy.
Eddy continued his good run in JFL, showing good timing with his punch and take down defense and providing fight fans with highlight reel of good throws. ( in JFL quarter finals , he executed two perfect suplex vs Writh Kapotosan)
————————————————————————————————————————-
Co-Main Event: Bantamweight- Md. Hasbullah (Keningau MMA) vs Karimov Ahmadjon (Gymbox)
I was in for a surprise for this fight. Honestly I do not know much about this kid from Keningau ( a town in interior of Sabah, 3 hours drive from Kota Kinabalu). I've seen Ahmadjon ( Jon as he is known ) fought in the trial and ladder match which he had a TKO win vs Effendy Kalai. he looks sharp and dangerous. And most recently qualified for the quarter finals in MIMMA3 fighting in the Foreign Pride category
Hasbullah had a walk over win in JFL ladder match and lost at the MIMMA3 ladder match.
1st round, both sizing up each other. Hasbullah cracks with a low kick. Jon measure with his left and threw a right cross which Hasbullah ducked under, cocked his right hand and unleashed an overhand right that shooked Jon and made him stepped back. Hasbullah misses with a one two combo. Snapped a low kick that slapped Jon's thigh.
As they were circling each other, Hasbullah exploded into a jumping back kick, hit hard on Jon's body, Hasbullah jump in with a right hand. Jon clinch and drop Hasbullah to the ground. Passes Hasbullah's guard to half guard, slipped Hasbullah's right arm into his leg to a crucifix and started to drop bombs on Hasbullah's face. Hasbullah pushes with the hip and escaped, got up and droved forward for a take down but Jon controlled with underhook, sprawl & swung him to the other side. But Hasbullah was relentless, continue to drive through, circled around and got the take down and into side control. Briefly got the full mount before Jon did a reversal into Hasbullah's guard. Then he passes one leg, then the 2nd leg, postured up and swung some hard punch on Hasbullah.
Hasbullah tries to escape, almost gave his back to Jon, and position change as Hasbullah went on top. In Jon's half guard, Hasbullah began to knee Jon's left side. End 1st round
Review of 2nd Round and 1st part of round 3 pending as video yet from organisers. My battery ran out..  : (  
3rd round ended with Hasbullah caught in Jon's triangle, but he stayed active and drop some punches
Hasbullah got the split decision win. This young lad from Keningau showed true fighting spirit. Going into the fight vs Ahmadjon, with Jon's record of defeating Effendy Kalai didnt worry him at all. ( will post a story on Hasbullah soon ). Hope to see him putting up a great show again in the final. As for Ahmadjon, I guess this was not his night but wishing him all the best for his journey in MIMMA3 Foreign Pride category where he will fight Dzafarof Kushdil from Russia in the quarter finals.
————————————————————————————————————————
Main Event: Featherweight- Jace Law (Gymbox) vs Khairul Anwar (NOMAD)