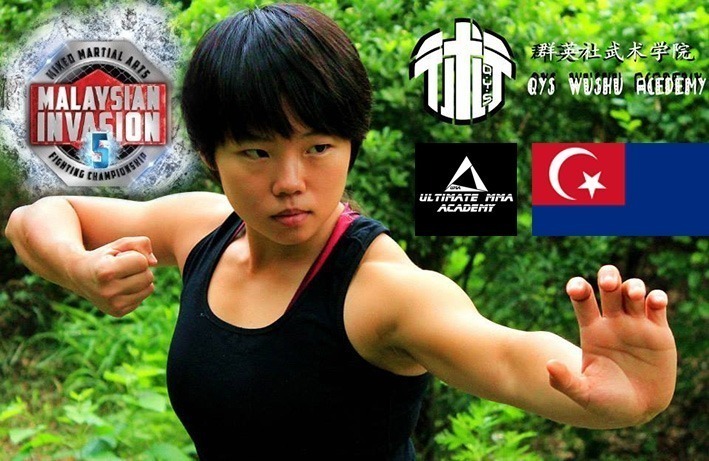 MMA is predominantly a male sports, more so in Malaysia. But Sabahan Ann 'Athena' Osman came & broke that stereotype 5 years ago, being the first Malaysian female Muslim MMA athlete.
Ann became the face of Malaysian female MMA. She was a true ambassador of the sports with her fighting prowess, personality and her media savyness. She inspired many women not just to take up MMA but to be more affirmative & confident.
 In 2015 
MIMMA 
decided to introduce the female category as there were already a good healthy number of female MMA prospects and journalist
Joanna Yap
of Sarawak became the inaugural champion.
Ann announced her retirement last year. With her departure from active fighting,
Jihin Radzuan
from Johor filled in the void. Jihin was the 2nd MIMMA female champion in 2016. Undefeated in amateur MMA and multiple champion in Kickboxing & Muaythai. This year Jihin has moved up to become a pro fighter under ONE Championship.
Jihin herself, in turn inspired another female to take up MMA. Also from Johor, her name is
Eunice Ong.
———————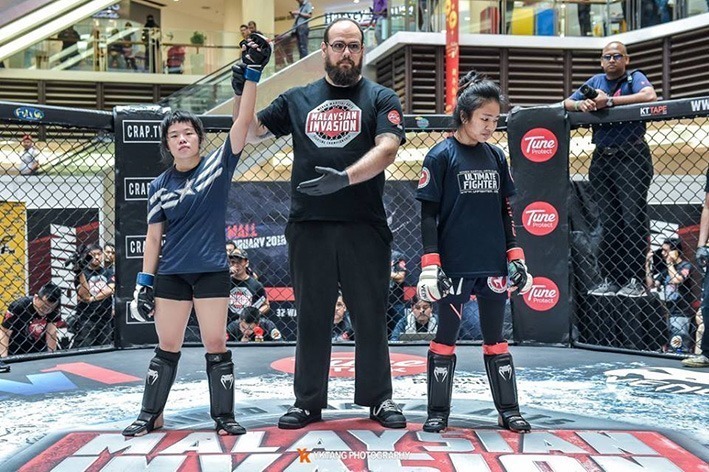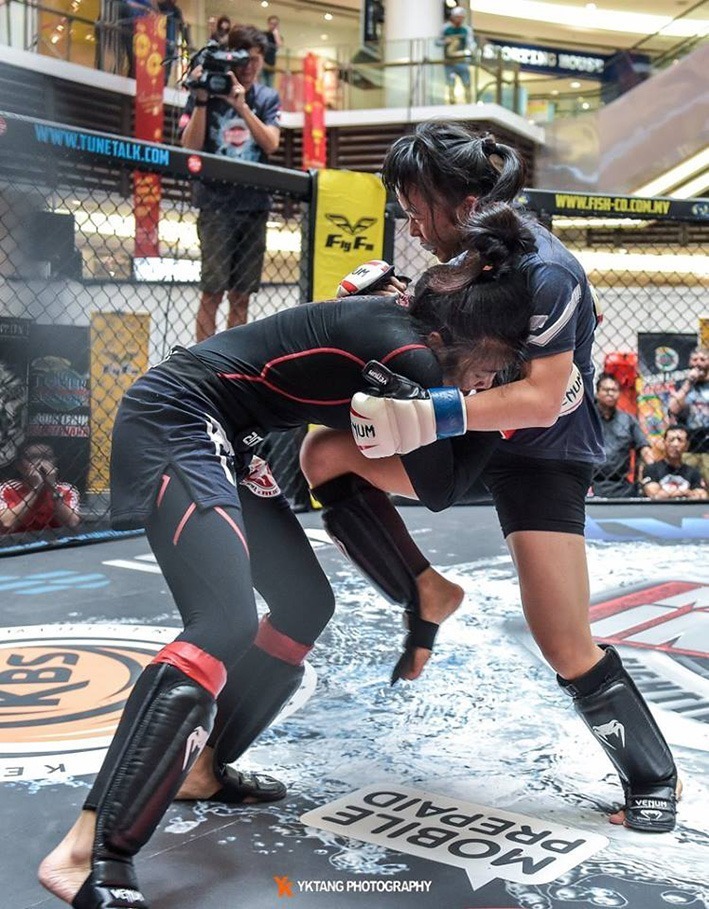 Eunice qualified for MIMMA season 5 grand finals on Friday when she beat Amirah Najwa of KL with a split decision in the semi-finals. Going into the semis, Eunice was the leader of the pack in MIMMA5 league standings with 24 points.
This petite girl from Batu Pahat has a background in Wushu. She was Johor state champion for NanQuan, NanKun & Nanbao, and a silver medalist in national championship for NanQuan.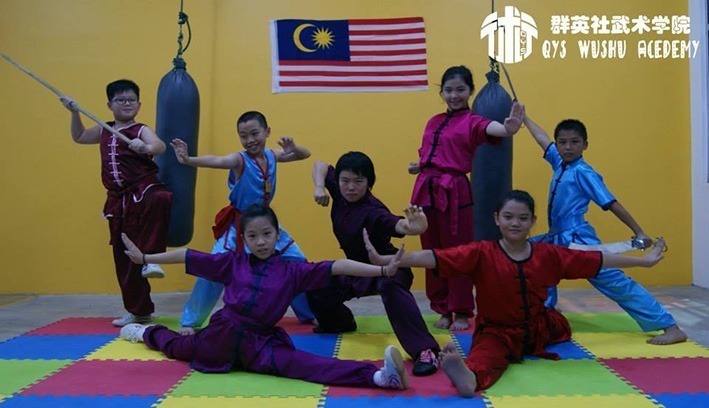 Eunice ( middle )
In primary school, TaeKwon-Do gave her some martial arts foundation. In her secondary school time in Chinese High School, she was active in Ping-Pong and Wushu. After high school Eunice attended Beijing Sports University.She studied sport science with focus on Wushu.
While studying in Uni as she study Wushu, inevitably she learn about MMA. Her interest grew in MMA and when she was back for holiday she began looking for an MMA gym. But no such place exist back in her home town. Mr Google came to her rescue and she managed to locate
Ultimate MMA Academy (UMA)
in Johor Bahru.
UMA is a pioneer MMA gym in Malaysia. Founded by non other than Malaysian pioneer himself a high school teacher name
Melvin Yeoh
. She and her husband took up lessons and Melvin shared his knowledge with her. Training together with Jihin, Eunice began to dream of success in MMA and wanting to win a championship belt too.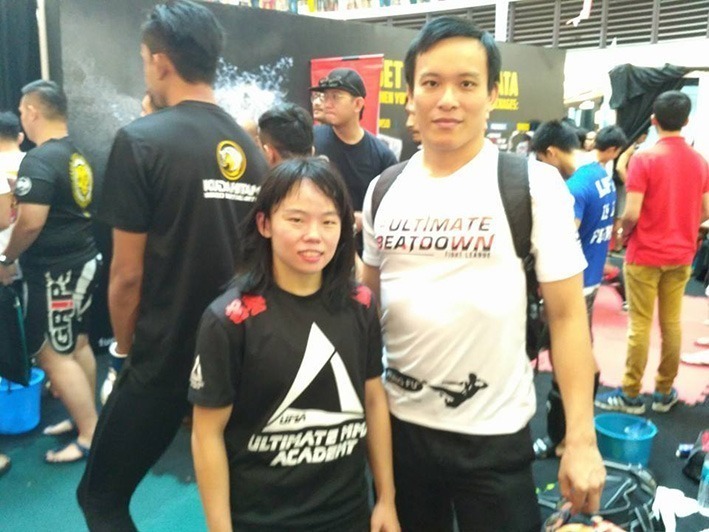 with her coach and mentor in MMA Melvin Yeoh
Back home in Batu Pahat, Eunice and her husband Golden Tan founded
QYS Wushu Academy.
Teaching Wushu and self defense to mostly children.
As she progress her learning in MMA from Melvin in her weekend 100 over KM drive down to Johor Bahru, she started to teach MMA in QYS, making QYS a affiliated gym of UMA in Batu Pahat.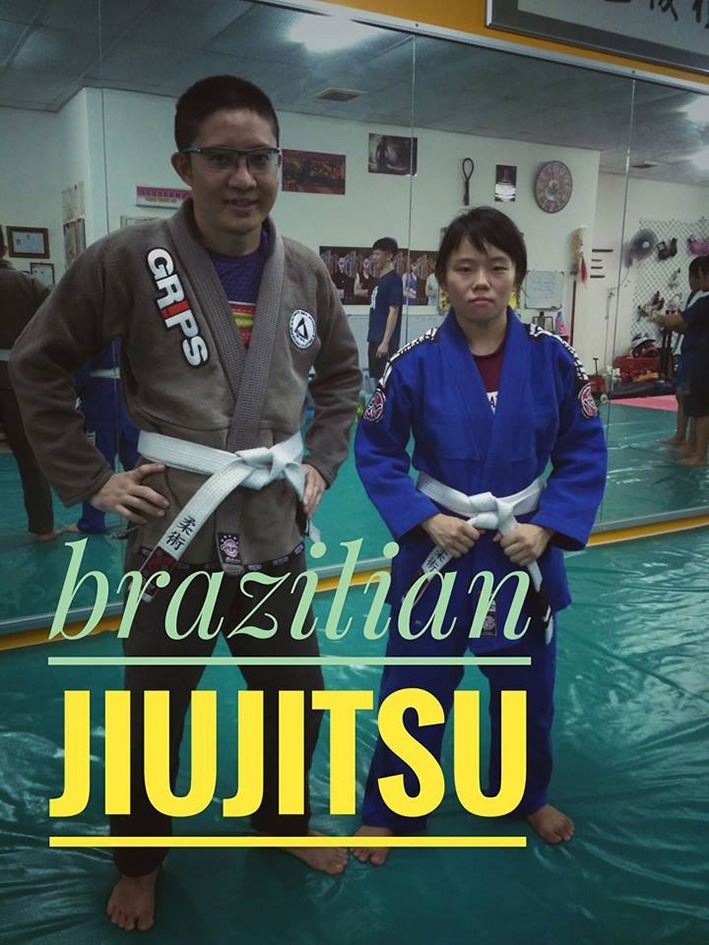 with her husband Golden Tan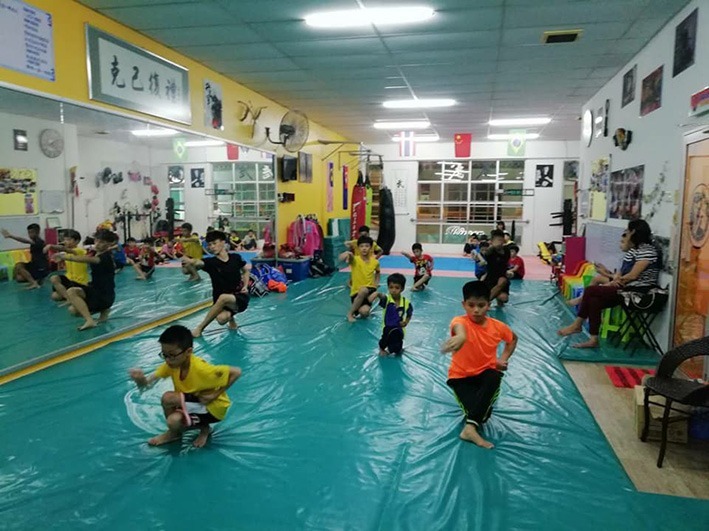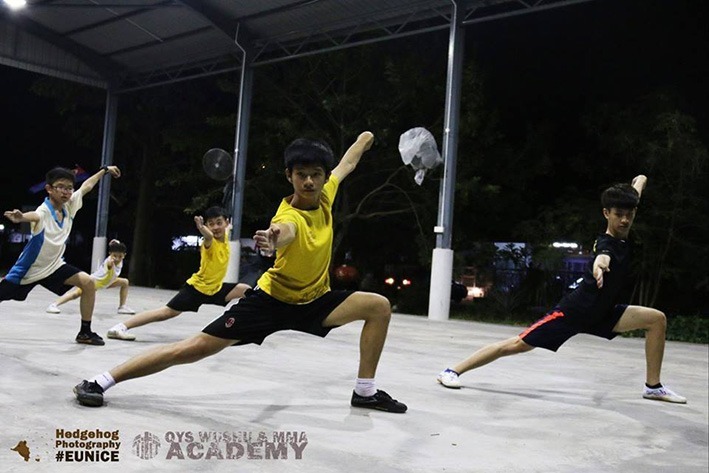 "It's not easy. Batu Pahat is a chinese populated town. Most chinese parents do not mind their children learning Wushu as it's steeped with tradition and the art form is easily appreciated. 
But not MMA… as Chinese parents does not like their children to get hit on the face. Furthermore, MMA in Batu Pahat is still new. Most people's perception of it is that its a brutal sports taken up by rough-lings, and most are very uncomfortable in the grappling style of BJJ"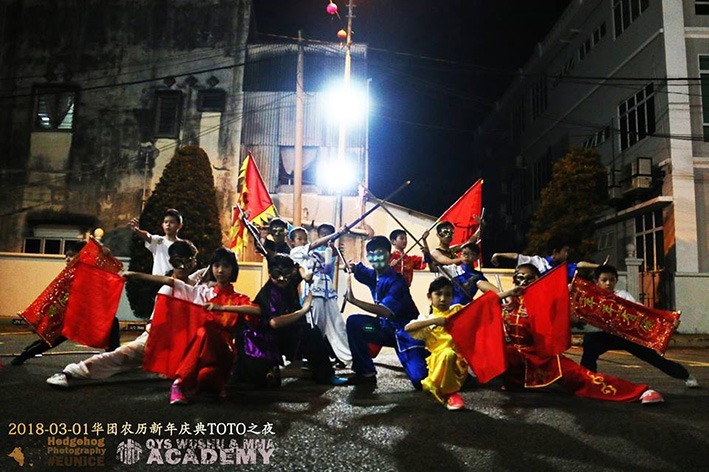 "So some started taking MMA classes only out of curiosity, but the drop off rate is high."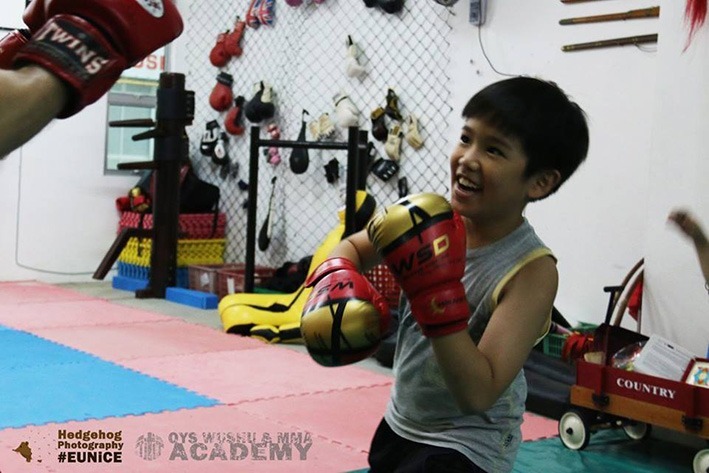 Building the young generation of Batu Pahat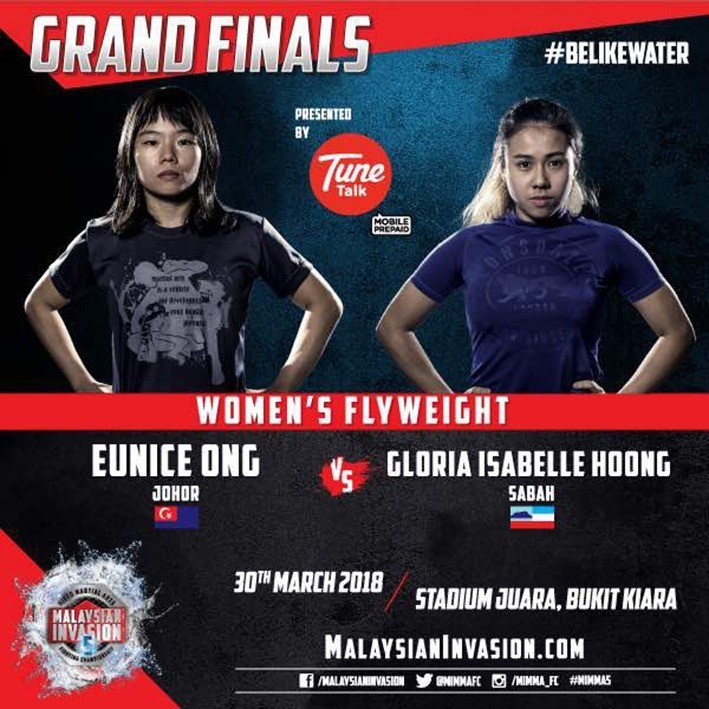 In the grand finals she will face Gloria Isabelle Hoong of Sabah. She knew that Gloria has good grappling and being the lightest among the female in her weigh division, she had to work harder on the ground. Which is why Eunice is happy that she gets lots of valuable pointers from Jihin. Eunice and her husband has made more regular trip to UMA to further enhance her game plan form mentor Melvin.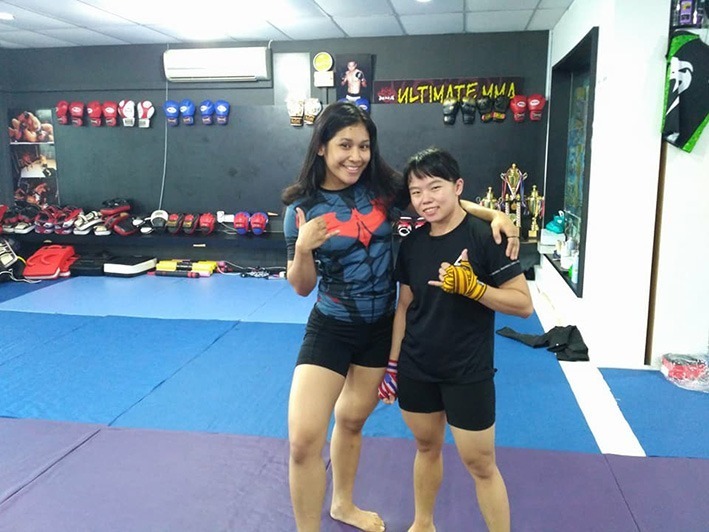 with Jihin Radzuan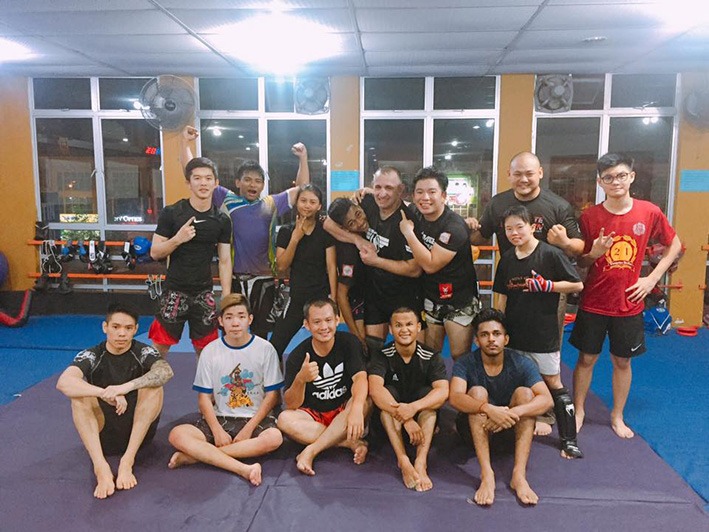 training with other UMA team mates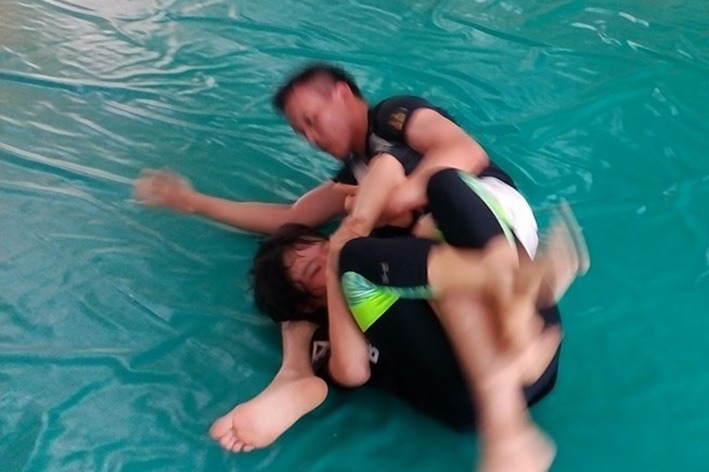 Melvin putting her through the drilss
Aside from running
QYS Wushu Academy
Eunice and her husband Golden Tan's also is the founder of
Motion Art 
, a sportswear clothing brand with design on sports lifestyle and martial arts. Martial arts is their main source of income.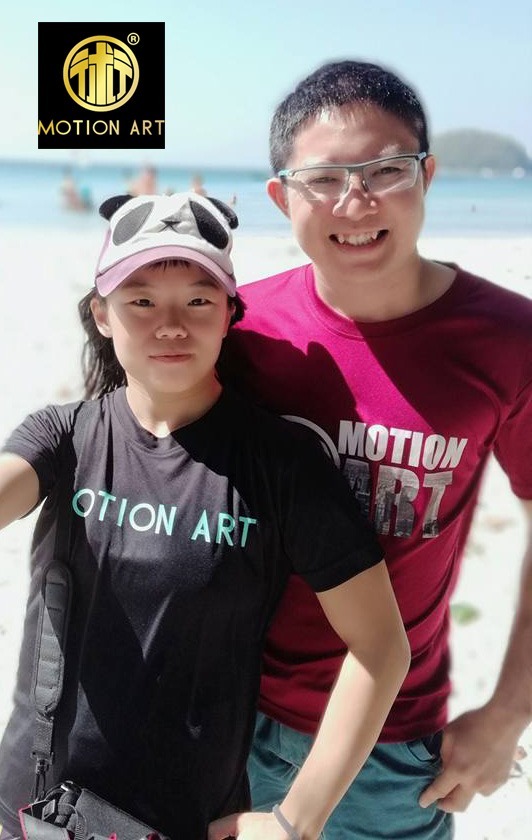 Eunice and Golden in their Motion Art t-shirt
"I join MIMMA 5 not only to win the belt, but at the same time to promote MMA in Batu Pahat. I hope my achievement can bring more awareness and in turn will encourage parents to send their kids to learn martial arts."
All the preparation is now all done. It's fight night, time for action. Eunice is determine to get that Women belt and she wants to make sure the belt remains in the royal land of Johor.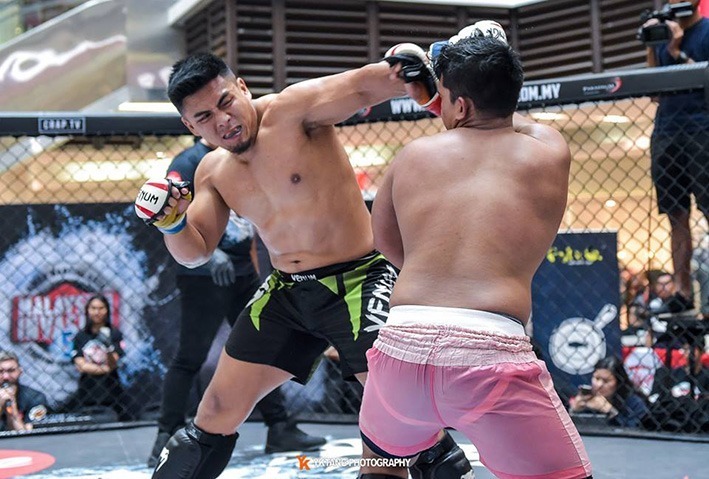 vs Gladys Molling in league 5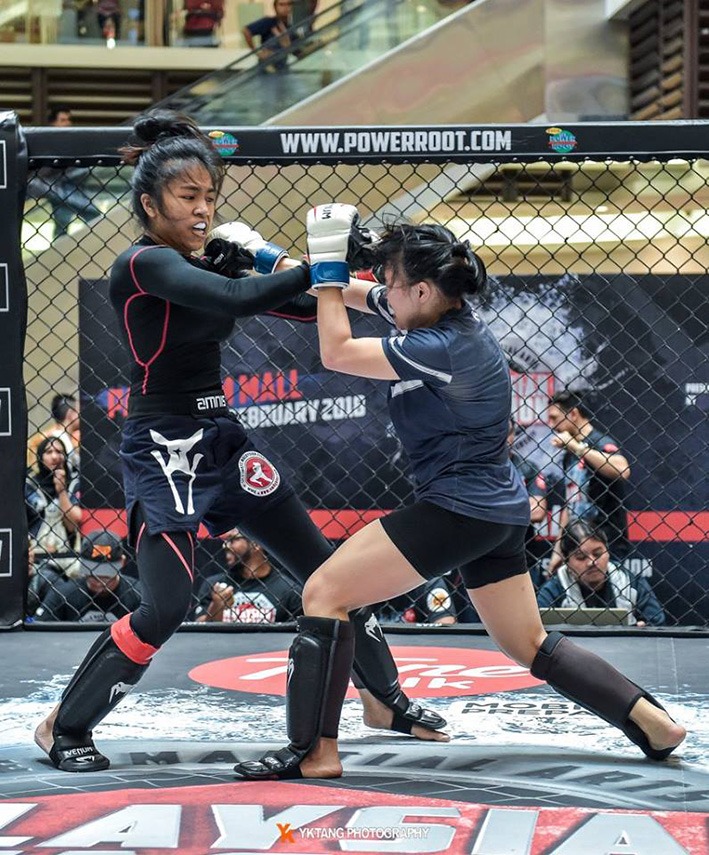 overcoming Amirah in the semis