STAND achieved another significant milestone when it was organised last month, 25-26 March 2017. It successfully organised an island getaway fights, held at the beautiful tropical beach of Pulau Manukan.
This was STAND's 4th series. STAND started in April 2016, a brainchild of Mohd Aidil Zakuan bin Ahmad- CEO of Borneo Majubina ( the main sponsor ) & Team Karabaw + Jesselton Fight League founder, Rayner Kinsiong. The idea was to create a platform for local martial artist to gain fight exposure through K1 rules Kickboxing and amateur boxing. ( read about the first STAND here )
The beach concept began in the 1st series which was held at the beach of Nexus Karambunai resort. It continue in the second series at Tanjung Lipat beach in September 2016. Following that, in November 2016, it moved to the interior town of Sabah in Keningau, held in conjunction with Crocker Range Festival. Then, 4th series STAND return to it's core concept of fights at the beach, taking it up another level by having it at the resort island of Manukan.
Pulau Manukan is one of the beautiful islands that made up the Tunku Abdul Rahman Marine Parks which is just 20-30 minutes away from Kota Kinabalu by boat.
Below is the full results:
The highlight of the event was the battle for the Piala BMB. Semi-Pro Boxing.
Coach Alvin Chong of Borneo Combat Gym Labuan, a Muaythai specialist took on his first boxing bout against Muhd Hidayat of Lekir MMA from Kuala Lumpur. Alvin took home the Piala BMB winning by points
The Co-Main event saw an international fight between Mohd Eswandy of Gymbox Kuching, a Muaythai specialist and MIMMA 4 Semifinalist, taking on Pro Muaythai exponent Silvester Amihanda of Kenya. This match in K1 Kickboxing rules was won by Silvester
The 65kg Super-4 was another action pack match. Featuring experience boxer and MMA's MIMMA 4 finalist Effendy Kalai and manthon Rane of India's Team Relentless, Fadzly from Warmonger Miri and Md Rizal, one of Team Karabaw's most hardworking fighter.
In the first leg, Manthan defeated Effendy. In the 2nd leg, Md Rizal advances to the final by overcoming Fadzly.
Rizal had a 3 round war where he kept going forward but the Indian fighter collected many points by accurate techniques, enabling him to secure the victory. By this win, in future STAND he will stand to fight Jordan Boy of Sampuri Gym Kuala Lumpur to determine the undisputed 65kg STAND Kickboxing Champion, which is currently hold by Jordan Boy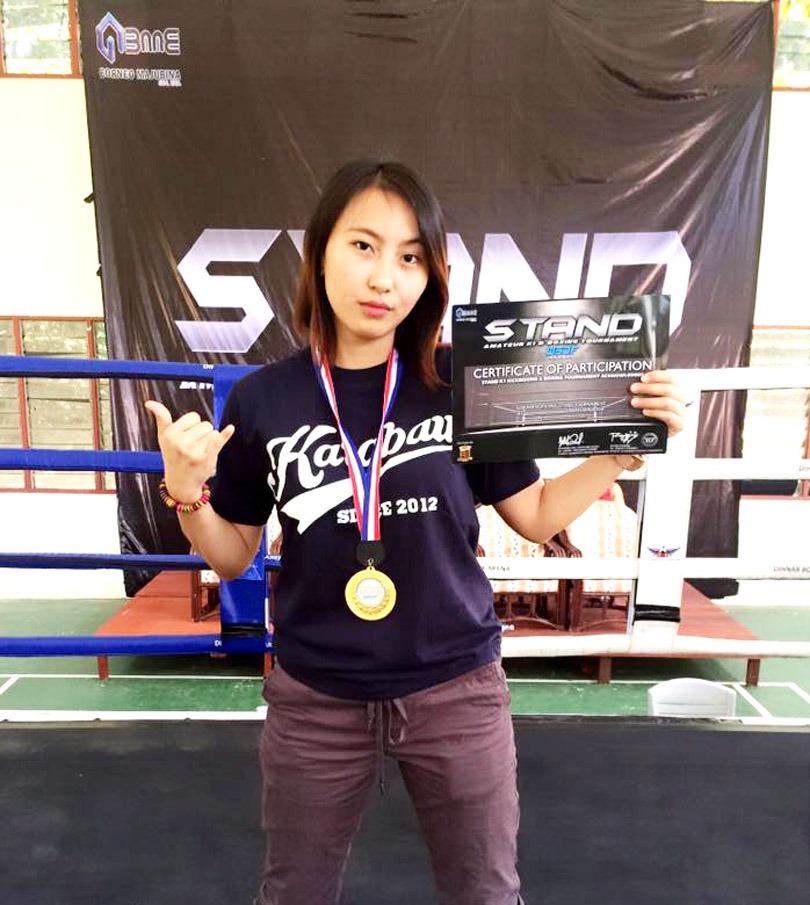 Nurul Khairunissa – Female Straw weight winner
Initially when the idea was mooted, many was surprise and excited, but also a few were skeptical that the idea would work successfully. Partly due to the logistics of having to move the parts of a boxing ring to be set up at the island and also the worry of accommodation.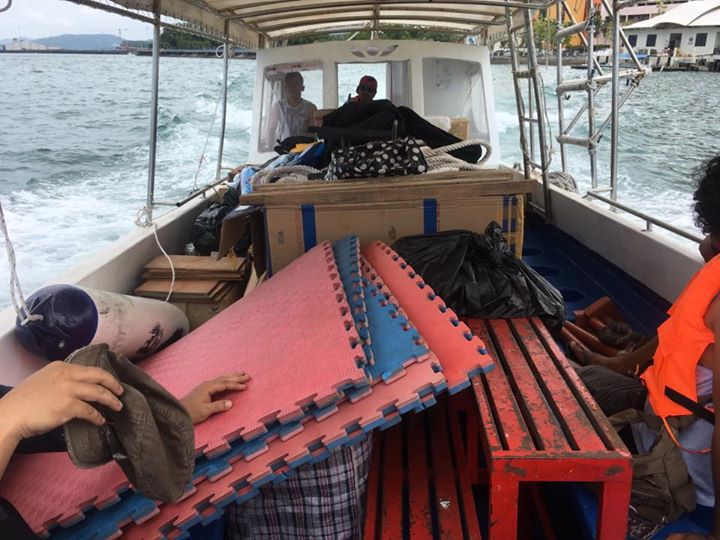 Moving equipment by boat- logistics was one of the biggest challenge face by STAND's crew
But Rayner and his team pushed through and it all worked well, successfully showing that fight tourism is able to draw athletes to Sabah. The ring was set up in the multi-purpose hall. Fighters was able to warm-up and get ready for their fight on the beach overlooking Kota Kinabalu city. Most of them also camped out on the beach for the night.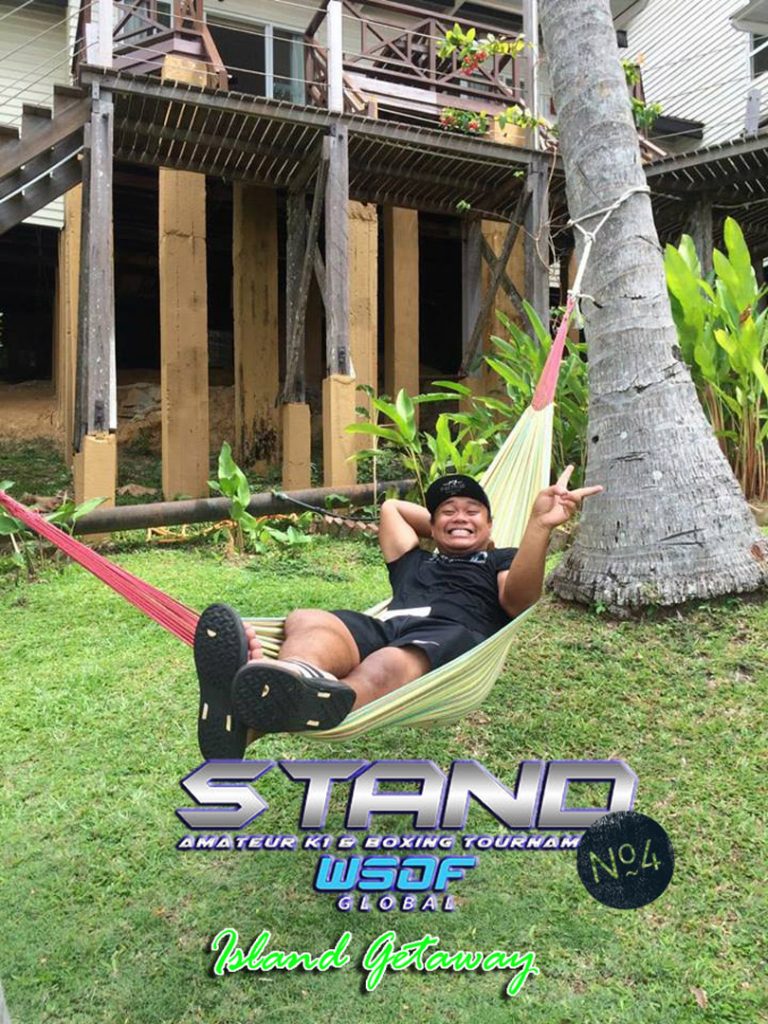 Fighters and crew chillin after fights
Fight tourism event such as STAND enable athletes and their team members to visit Sabah not just to participate in the fights but also at the same time holidaying and enjoying and exploring the many tourist attractions in Sabah, such as the beautiful beach, the fresh seafood, souvenir shopping and visiting the mountains.
We need signature event like STAND as it's able to put Sabah in the map as a unique and great venue for fight sports.
STAND is also already affiliated with WSOF Global (World Series of Fighting) which gives tremendous global exposure not only for fighters, the sponsors but also for the venue and location.
STAND will be back in 20-21 May. This time focusing to develop young martial artist with their youth edition. Participants must be 18 years and below. Located at the Karabaw mini stadium in 88 Marketplace kepayan, Kota Kinabalu, Sabah.
STAND Junior Edition will see the first time a Championship belt being put on the line. STAND will be fully sponsored by Borneo Maju Bina .