This is a fight for the Lightweight belt
Samuel Lai, the ground maestro that has seen all type of strikers.
His journey in JFL 1st started with a win over Jeff Andrew in the ladder match. In Quarter finals defeating Terence Bungkilin, whom now become his team mate at BTS. In the Semis he won vs Md Nor Gani. All are heavy strikers which Sam has successfully uses his BJJ to neutralise the threat.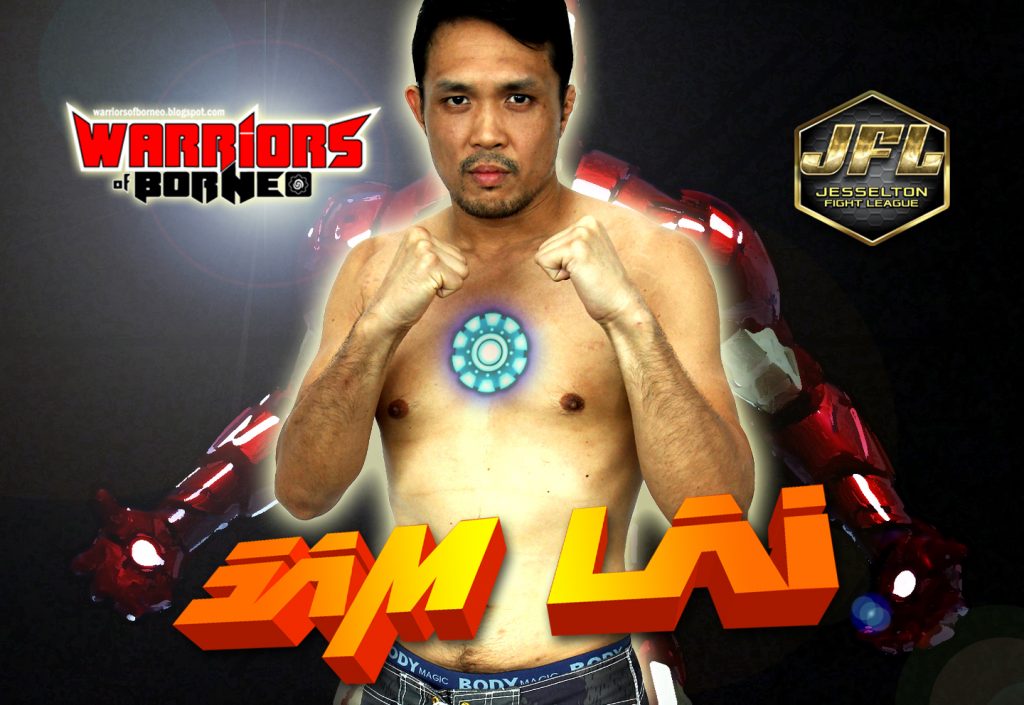 (original heroes character reference from Marvel. Original
fighter's photo by Matt Buvvart. Artwork editing by warriors-of-borneo blog)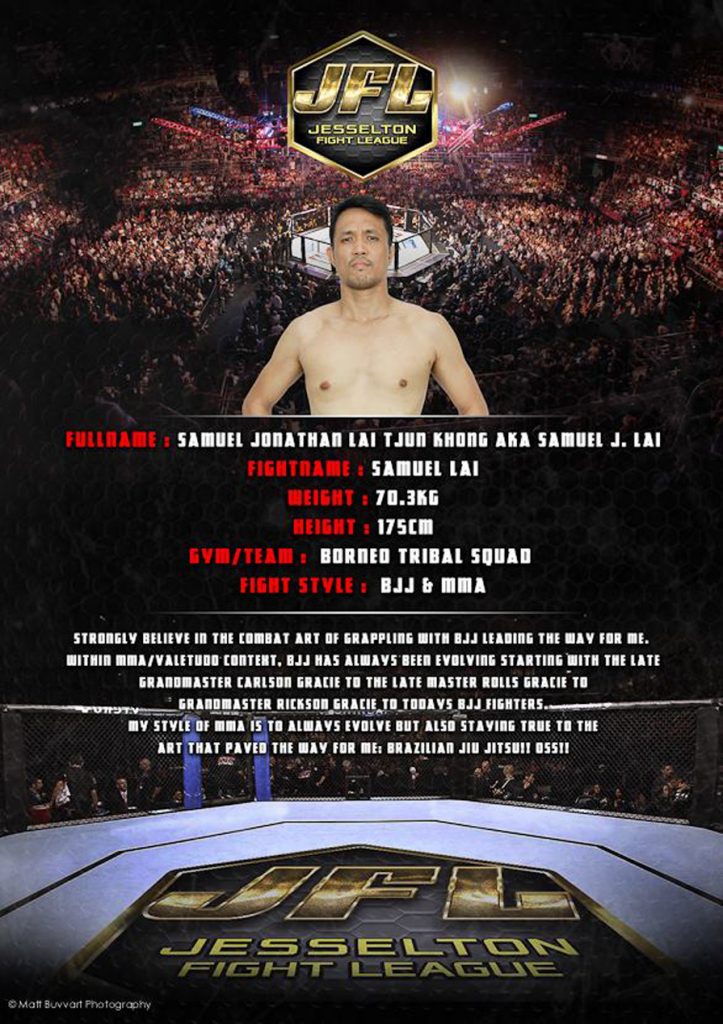 (artwork by Matt Buvvart)
What's your age Sam?
I am 35 yrs old this year.
In your training and fight do you think age affects you in any way?
At this age compared to fighting early 2+ fighters poses its physical challenge. The trick is to know yourself, play your own strength while improving on your weakness. This can be regarding physical conditioning, strategy and/or one's own skills. Be smart n know oneself.
You are well known for your ground game, with the nick name Samjitsu, are you comfortable with this?
Haha, I don't use any fight/nickname. It's just something I was joking around while I was attending Master John Will's BJJ seminar back in 2008. It's a moniker of sort because I really believe that BJJ truly is a great self defense & fighting art.
Have you been focusing on striking lately?
Learning to box & kick as well as its defensive techniques and strategies are very important. It is something I really actually had to 're-learned' again and MMA I only truly took it up slightly 2 years ago. Striking has and always will be a staple part of my MMA training.
Bon is known to have a heavy hand, you have encounter lots of heavy striker too in your fights, how is this fight different?
Well, It's not any different because heavy strikers will always be heavy strikers. It is different only because each opponent is a person and will bring their own style and personality. For Bon, he is a slick and a strong fighter.
In your fight career to date which fight is the toughest for you?
Toughest fight…definitely against Agilan. Instead of gaining weight the next day after our fight (after so much fried chicken, biscuits and ice cream)…I lost some more weight!!! LOL!!
( Sam lost to eventual MIMMA2 lightweight champion Agilan in the Semis of MIMMA season 2)
Which fight is the one you are most satisfied with and why?
None. I can only accept the results but in all honesty, I am not satisfied with any of my fights yet.
You come across to me as a very analytical person, you can break down techniques very well. Are you this type where you go into a fight with a very well prepared game plan & follow accordingly?
Really?? Hmm…perhaps it is the need to remain calm n figure out what to do in so and so or such and such situation. With AJ and the BTS team…we always have a comprehensive game plan. This time around, it is with a game plan I particular like especially with regards to performing the takedown.
How does it feel having your wife Valerian fighting in the same grand final event with you?
Initially I was bit nervous but now with 3 tough fights under her fists and chin, I am excited for her this time around.
What is your fight record to date? . Have you any plans to turn pro?
Currently I am 6-2. Definitely I have plans to venture into pro…when the time is right.
In BTS you have a group of high levels team mates & a very experience head coach in AJ,…share with me how does it feel to be in BTS?
It's great to have a very supportive and dedicated coach in AJ as well as the other teammates. Crazy thing is…we are always striving to get better and support each other and yet…we still have so much more to accomplish!! We are a growing team and constantly learning a thing or two about ourselves and the team. But, if you are going to join the BTS fight team, u better be prepared to be dedicated in training.
What is your opinion on JFL? And how do you see it can further improve?
I think the platform set by JFL is an incredible opportunity for aspiring fighters. I suppose the one thing that can be improved (and I suppose most fighters won't really complain about this one…haha), is to add cash prizes for the fighters. To prepare for a fight and to throw ones own body in the cage/ring can be really really taxing. Haha…I hope Rayner wont ban me from JFL for that!!! LOL!
Which fighter has impressed you so far in JFL?
There are 3 fighters that definitely impressed me…Jason Gaban of Karabaw Tamparuli, Hasbullah of KMMA and his opponent and my teammate…Dean Hamsah. Dean has ready and he is ready in a very strong way!!
Do you do this full time? Do have another day job?
I am currently working as an Insurance Agent under Tokio Marine Life Insurance…they simply really do offer the very best coverage overall!! Besides, it's working time is very very flexible as I set my own time when to work.
What is your opinion on the current popularity of MMA/martial arts so far in Sabah specifically?
I think in the West Coast area particularly it is popular where as other areas it is slowly picking up. But martial arts in Sabah is nothing new and in the past we have already produced state and/or national Champs including JFL founder Rayner in karate, AJ in silat and recently Awie of Alamgir Tawau in boxing (my opponent in the 2013 Mayor's Cup finals). So martial arts in Sabah is actually nothing new. Unfortunately, we could have achieve further but somehow…we aren't and i hope this wont be the case for Sabah MMA as well as the BJJ community. Maybe, we might even see a wrestling community soon as AJ teaches a few wrestling techniques in BTS.
Finally…any message for Bon in the final?