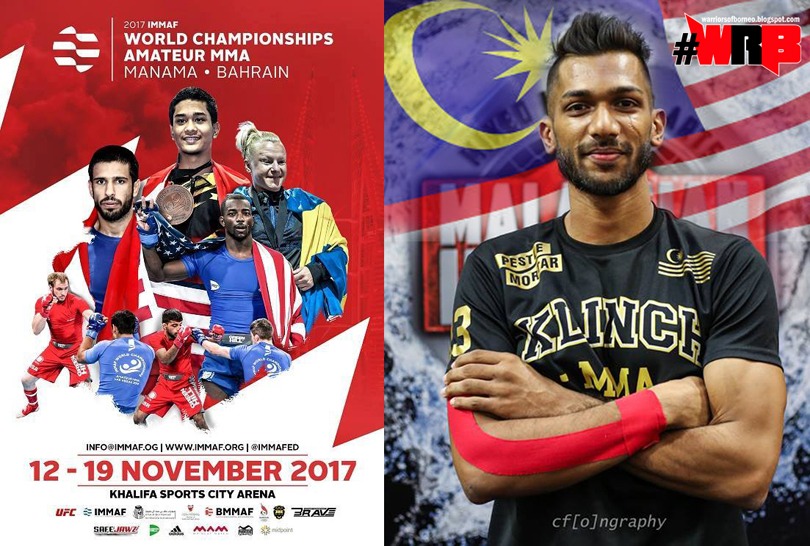 Nov 3, New York. As the whole world is eagerly waiting to watch UFC 217 go down in Madison Square Garden on 4 Nov, a huge news announced by UFC; integrated partnership with AirAsia, Asia's leading low-cost carrier, to serve as the global brand's first-ever "Official Airline" sponsor.
Click here to read the official announcement from UFC.com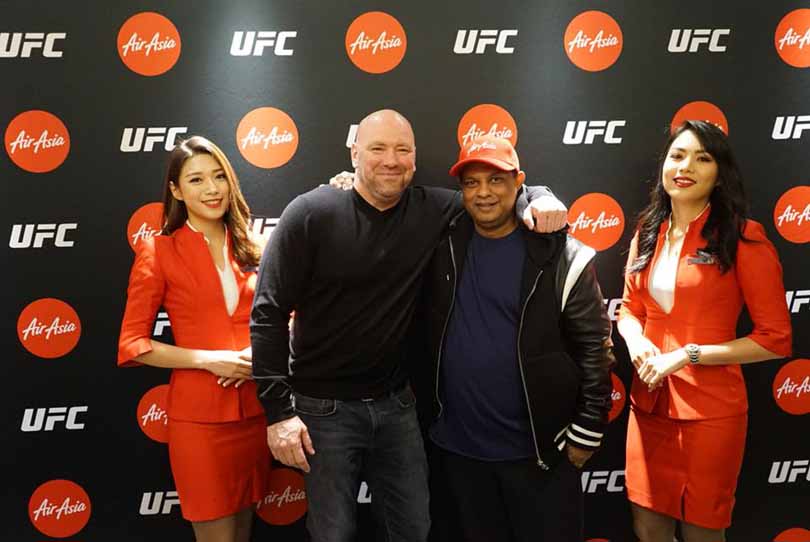 Air Asia Group CEO Tony Fernandes (right) with UFC's President Dana White
"In many ways, UFC's rapid rise as a global phenomenon parallels AirAsia's," said Tony Fernandes, Group Chief Executive Officer of AirAsia. 
UFC began in 1993 as a martial arts competition that pitted different style with each other to determine which martial arts is the most effective. It's where the terms MMA ( Mixed Martial Arts ) is coined as athletes began to cross train to learn the best bit from different styles of martial arts. But the no holds barred nature and minimal rules of the early days received many negative attention.
In 2001, it was sold to the Fetittas brothers and Dana White. From then it slowly reform and introduce weight classes, stricter rules and practice a business friendly corporate culture. From better marketing and promtions, it's Pay per View reach and coverage grow tremendously and  became mainstream as TV deals are signed and their athletes became more well known.
MMA grew leaps and bounds and are considered the fastest growing sports in the world. Today UFC is the most watched MMA promotions in the world with a huge fan base.
As for AirAsia it began as a small airline. In 2001 music executives Tony Fernandes and his business partner bought over the debt ridden semi-government company with a dream of turning it into Asia first low cost carrier.
Battling a market that was totally new in online purchase and budget airline format, it was a very tough beginning, but with a one track mind full of determination and never say die attitude, Fernandes and team revolutionized air travel in Asia and lead many initiatives which is an industry's first.
Working on the tag line of 'Now Everyone Can Fly', the company grew from two planes in 2002 to a fleet of 86 aircraft flying 30 million people around the world. Their continuous drive for improvement in customer service using the latest technology enable them to win as Asia's Leading Low-Cost Airline for the fifth year running at the 2017 World Travel Awards Asia and Australasia.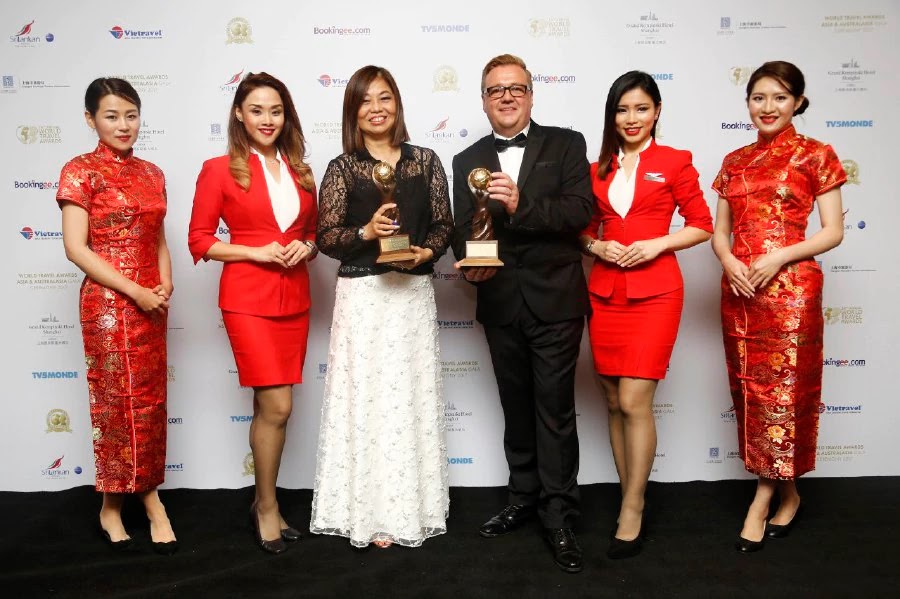 AirAsia's North Asia President Ms. Kathleen Tan (middle left) and World Travel Awards Vice President Mr. Chris Frost at the 2017 World Travel Awards Asia and Australasia.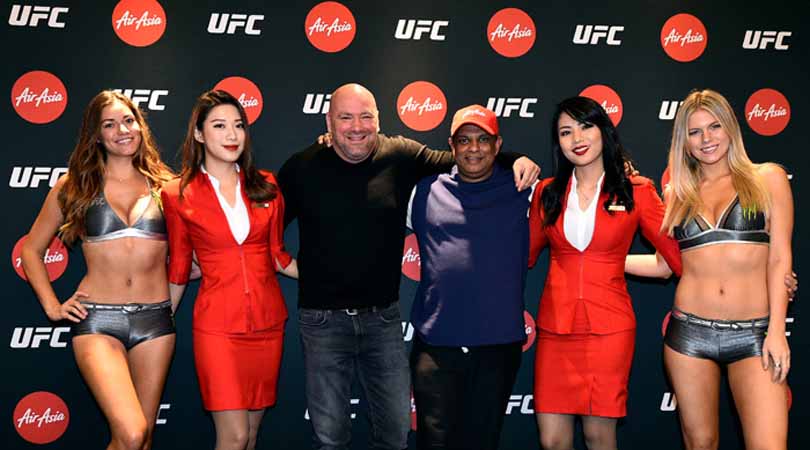 Tony Fernandes (with cap) together with Dana White, flanked by AirAsia girls and UFC ring girls
This partnership with UFC marks another major involvement in sports by the world's best low cost carrier. As advocates of creative marketing strategies, this venture provides another strategic platform for the airline to further elevate its brand and achieve greater reach to consumers globally. This is not the first time AirAsia signed a partnership with a global brand in sports.
In the same year, they partnered with 1Malaysia Racing Team as the official team partner of Caterham F1 racing team.
MIMMA is now in it's 5th season and has become the platform that has unearth many Malaysian MMA talent.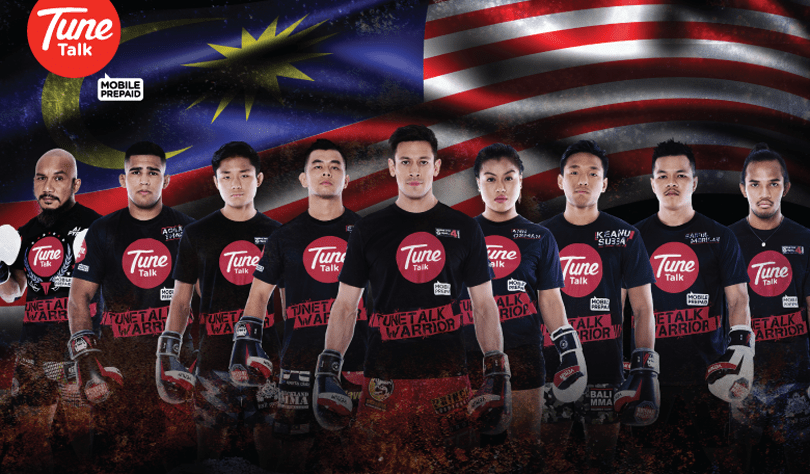 Tune Talk Warriors
Looks like Tune Talk is going regional and perhaps we will get to see more Malaysian fighter participating in Thailand.
So what can fight fans expect from the partnership of AirAsia with UFC?  From the press release, it mentioned that activation activities will be in full swing starting from Nov 25 in Shanghai's UFC Fight Night : Silva vs Gastelum, this is the focus as AirAsia operations are mostly in Asia and China present a huge market for them.
A sweepstakes or lucky draw will be organised to bring two damn lucky winners to watch a UFC event in 2018,…and this winners gets UFC VIP Experience tickets!
Co-branding activities via AirAsia and UFC media platform will also see chance for fight fans to participate in training sessions featuring UFC athletes. As a Malaysian, I am hoping AirAsia will start this initiatives by bringing these elite athletes to conduct seminar or meet the fans session in some of the leading gym in Malaysia.
What is this you ask? Oh well,… it's just a place where UFC housed THE most advance training facilities, backed by high level coaches and an elite training program plus advice on diet and mental preparations for high performance athlete!
Expect also to see some of AirAsia plane spoting UFC aircraft livery in upcoming weeks or months. From this, expect also to see many of your friends makes lots of posting in social media of selfie shots before they board the plane.