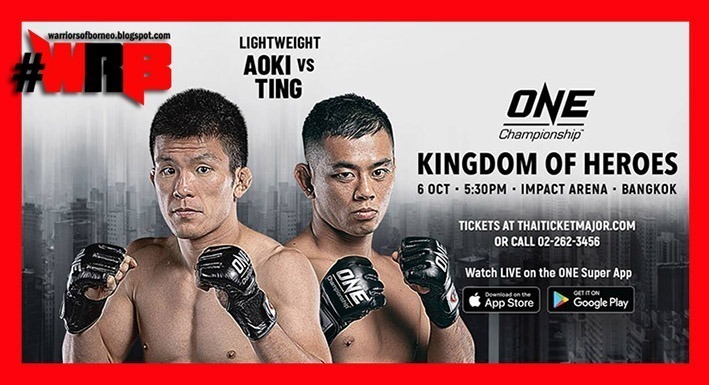 Oct 6 is a huge date for MMA. UFC 229 will go down in Las Vegas, in possibly the biggest MMA fight in this era…Khabib 'The Eagle' Nurmagomedov will defend his Lightweight belt against MMA global star & former champion Conor 'The Notorious' McGregor.
This is a classic match of a striker (Conor) vs grappler (Khabib). Many discussion and analysis has been going on about each of their strengths & weaknesses and who will prevail.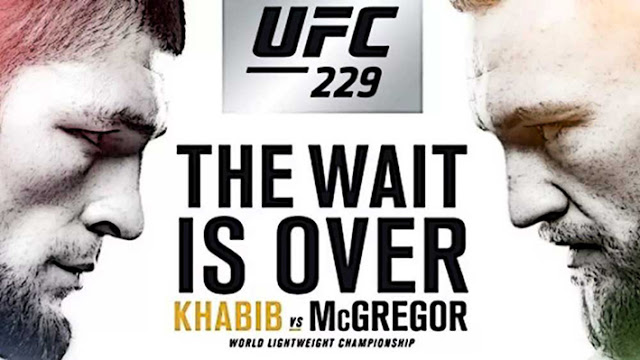 ———-#WRB———-
Over here in Asia, the Lightweight division of ONE Championship is also making headlines. Going into Oct 6 , ONE has planned for Kingdom of Heroes. In which two title fight; WBC Super Flyweight title bout is the main event and Female Kickboxing Atomweight title the co main event.
But the attention will also be on Lightweight bout of Malaysian-Kiwi Ev Ting vs Japanese Shinya Aoki.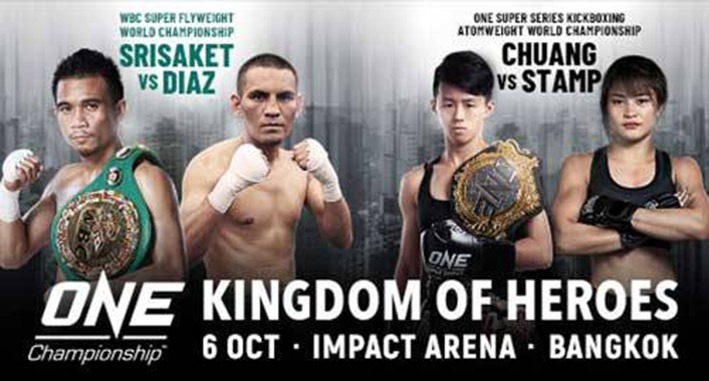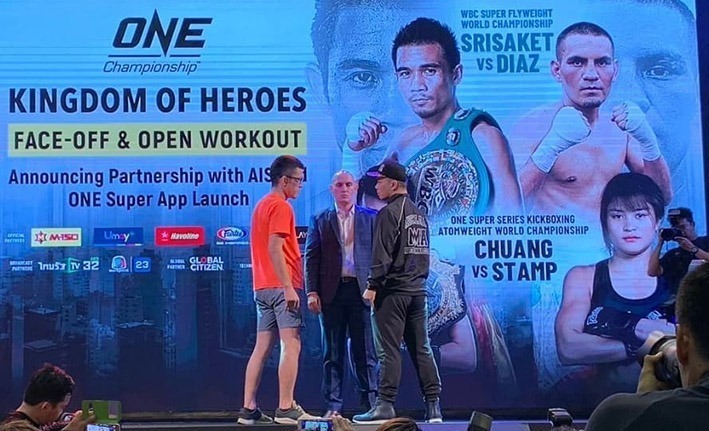 This bout is significant as it was supposed to be a Lightweight elimination bout to determine who will challenge Martin Nguyen for the title. But on 28 Sept, ONE CEO Chatri Sityodtong drop the bombshell that Martin has relinquish the Lightweight title due to injuries to his knee ligaments. Martin has also release a statement confirming the decision to vacate the title as an honourable thing to do so that he won't hold up the stacked division. ( read the story here )
With that piece of surprise announced so closed to Kingdom of Heroes, many in Ev's and Shinya's camp was hoping their fight will be push up to be a title bout as both these two are perfectly deserving fighter to be given that.
Prior to losing his title challenge to Eduard Folayang in April last year, Ev was on a four fight win streak. After that lost, he rebound by collecting another three hard fought victory against 3 veteran fighter. Many questions his stopping power as his pass three victory was all by decision, but go watch those fights and you will see the relentless work rate of  Ev and the last 3 opponents he faced are accomplished fighters.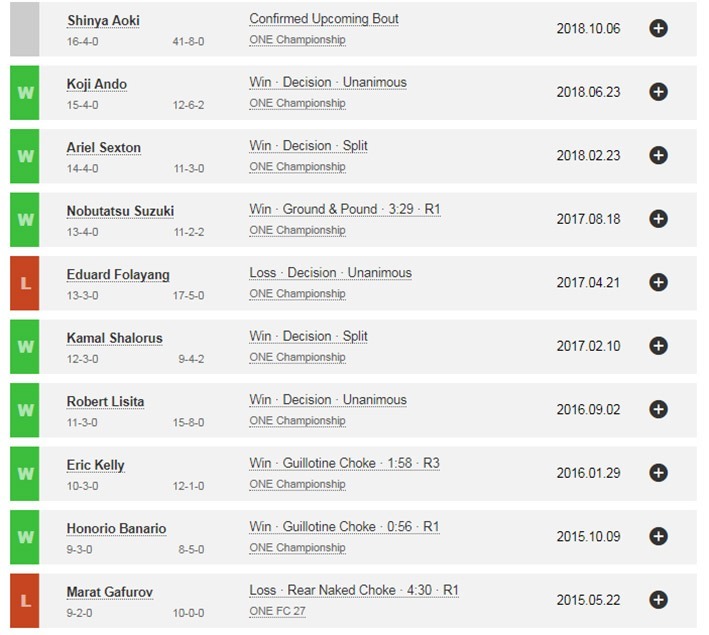 Ev Ting's Tapology fight record
Shinya is a legend in this sports. Holding an impressive 41-8-0. His grappling skills is legendary. Digest this…he has a first round win over MMA icon Kazushi Sakubara in 2015 RIZIN 1.
Shinya won more than 30 of his fights via submission. Himself a former ONE Lightweight champion way back in 2013. Shinya loss his belt to Eduard Folayang in Nov 2016. He came back to fight in ONE in a grappling match vs Gary Tonon, then moved up to challenge Ben Askren for the Welterweight strap. He lost both fight.
He was back on track this year imposing his superior grappling to win twice in May & July both by submission in the first round.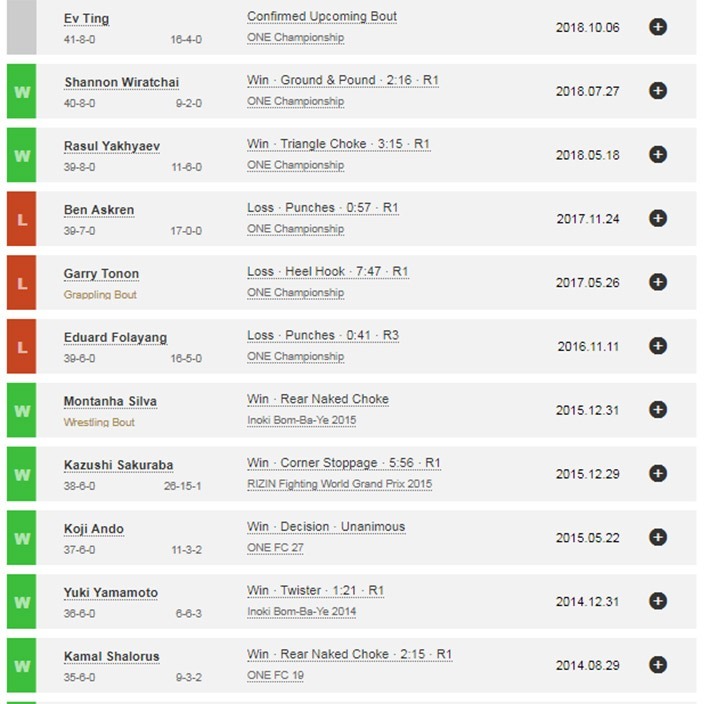 Shinya Aoki's  Tapology fight record
———-#WRB———-
So both Shinya & Ev's credentials and achievements surely make a good case for a title fight, but as predicted ONE will not want to overload the Bangkok card. It's their Boxing title bout, so understandably they will put all effort to promote the main event.
Then came another surprise for the Lightweight division. On 1 Oct Chatri announced in his FB that for Nov 23 in Manila's event – Conquest for Champions, Eduard Folayang will fight Singaporean Amir Khan for the Lightweight title!
I must say I was rather surprise at this turn of events. For Eduard, it can be said to be justifiable as he is the former champion. He has since collected two more decision win after that lost to Martin.
As for Amir Khan, he is also on a two fight win streak, but he also has a blipped in his record with a lost to Timofey Nastyukhin in Feb this year. But no doubt the heavy handed Amir Khan is a serious contender in this division.
I would expect, with Martin vacating the title, Eduard vs Amir bout can be another Lightweight title eliminator and winner gets to slug it out with winner of Ev vs Shinya to determine the undisputed ONE Championship Lightweight Champion.
But looks like ONE need a big fight to headline in Manila, hence making the title bout, at same time rallying the huge fans of Folayang to support his journey back to reclaim the title.

———-#WRB———-
As for now, Ev will not want to be bother with the 'what ifs'. He wants to purely focus on the task at hand. Eliminating Shinya from the Lightweight contention. Ev is splitting his fight camp between his adopted land's Auckland MMA and his birthplace KL's Monarchy Gym.
Monarchy present a great place for his camp as they have top level wrestlers and grapplers to train & spar with in his preparation to face Shinya.
Ev knows that Shinya will go for his bread & butter and will try to close the distance with take downs and want bring the fight to the ground.
As he told Fight Game Asia,
"He's got to get past my striking, hug me and take me down. Without a doubt, Aoki will try and take me down, but there's a few things he must get past if he wants to bring me to the ground.
"He is coming fresh off two first round finishes and people are saying he's getting old, but this guy is no joke, you cannot take him lightly and must train for the best version possible."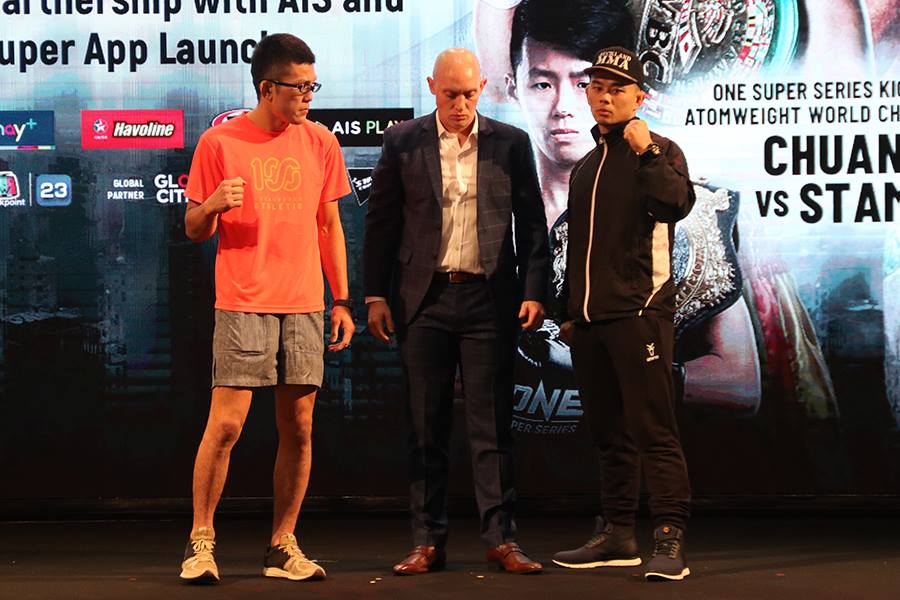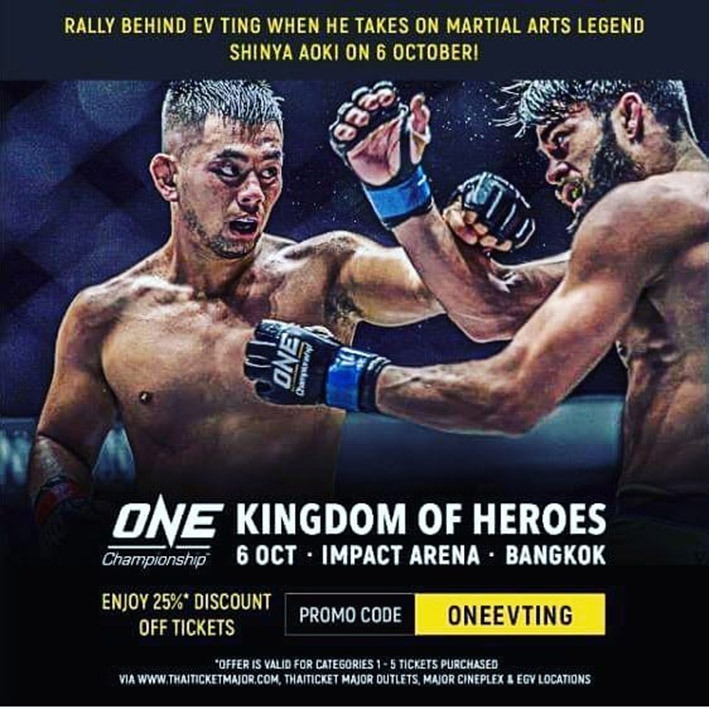 Get yourself tickets to ONE Championship -Kingdom of Heroes.
For those not in Bangkok you may have PPV to UFC 229, but for ONE Championship, you can watch all the bouts live FREE on ONE Super App, download it now.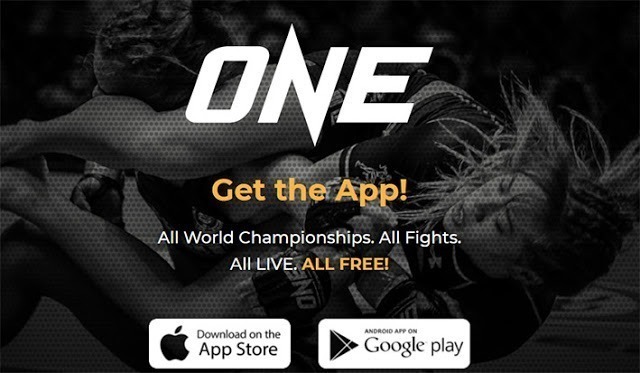 ———–#WRB————-