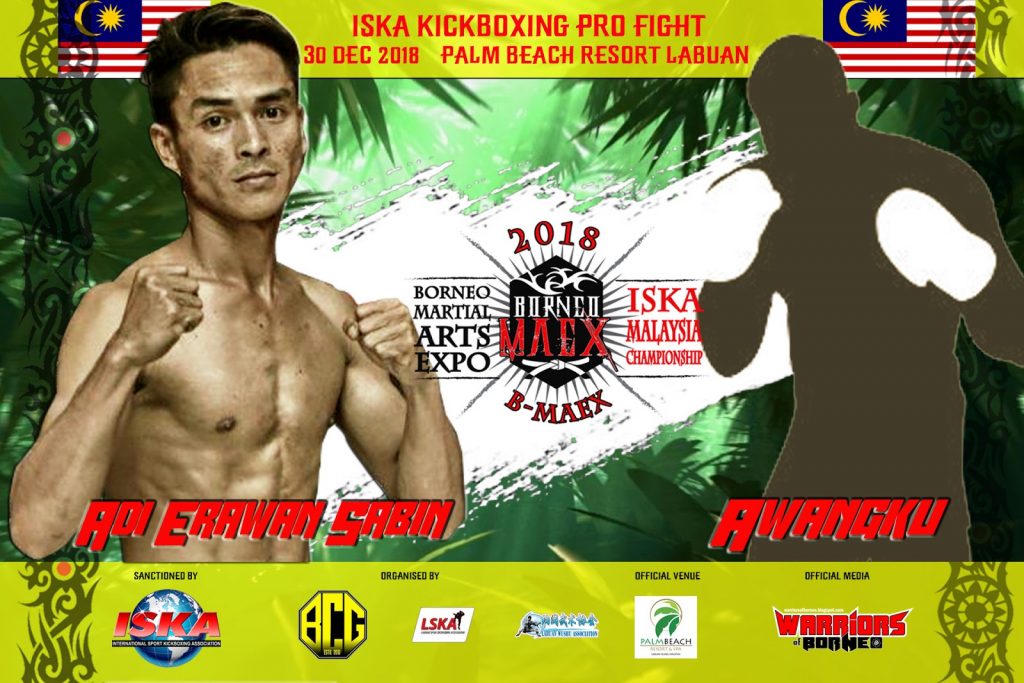 ADI ERAWAN vs AWANGKU : ISKA BMAEX 51kgs Title Fight .
——–#WRB——–
Adi Erawan comes from Tuaran. A town half an hour away from Kota Kinabalu. He is a former Sabah state boxer. He now trains at Team Karabaw Tamparuli which he joined in 2014. 
He has quite a colourful record of achievement, among the notable:
Free Style Full Contact (F3 Championship ) – Silver
JFL Amateur MMA – quarter-finalis
Amatuer Muaythai Inter-District Sabah (2015) – Silver
STAND 1 (2016) – Gold
Borneo Amateur Challenge 2 – Gold
Elopura Fights (pro muaythai) – Silver
Borneo Cup Muaythai 2016 – Silver
STAND 3 (2016) – Gold
Amatuer Muaythai Inter-District Sabah (2016) – Silver
Borneo Amateur Challenge 3 – Gold
D1 Fighting Championship 2017 (pro Muaythai) – Silver 
STAND Amateur Boxing (2017) – Gold
Borneo Battle Arena (cage boxing)- Gold
Although he fights fiercely in the ring, Adi is a down to earth and humble guy. His coach, Vallerio Gumbilai explained ,
" I didnt even know  he was a ex-state boxer, when he first join Karabaw Tamparuli.  He never told anyone. About a year after then only I found out, that too because other people informed me.
I asked him why he didn't tell me. He told me he come here to learn new things. True enough when he first train with us, he didn't know how to throw a proper kick 😅,… but after only a year or so he is really good at kicking."
Adi's family are not well off, he work hard to support his family and his own training. He had work in a tyre service shop for years and would take his bicycle to work tirelessly.
He would also cycle to Karabaw Tamparuli to train and would hid it behind the Dojo.
Everytime he has a competition, Vallerio would help him write a letter to his employer to request for leave. After two years, his employer became annoyed as Adi takes regular leave to go and fight. Eventually Adi quit the job and Vallerio quickly sets him up for another job at a service center own by a friend.
Ever since then, Adi was able to train and compete without much stress with an understanding boss. He also works hard and now able to buy himself a motorbike.
Vallerio adds, " Personally to me he is the most dedicated fighter I have ever seen. He's the real definition of Team Karabaw Tamparuli. Iron will and iron horns."
Most recently Adi was awarded by DSP Madius Tangau, Deputy Chief Minister of Sabah as Boxer of the year 2018 for his consistency in participation of any combat sports competition.
——–#WRB———