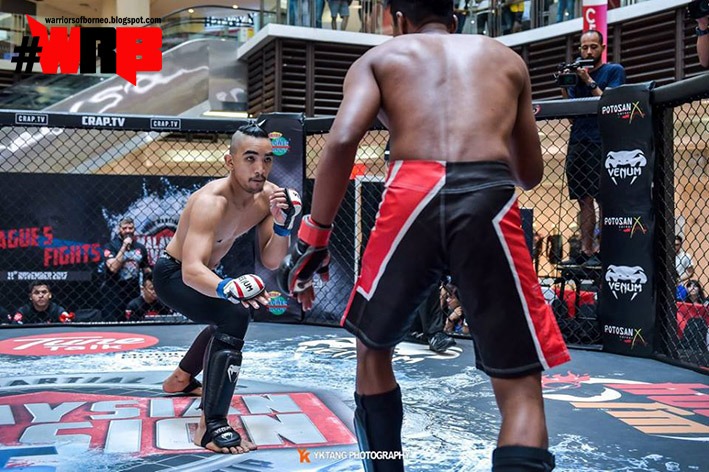 MIMMA5 Semi-Finals is upon us. 24 FEB at Paradigm Mall.
One of the most exciting division is the Lightweight. This category usually have fighters that is fast pace but at same time packs lots of power.
The best example was the MIMMA4 Grand Finals between jace Law of Sarawak and Hui Keng Fai of Kuala Lumpur. A fight that was fully of non-stop action, both fighters going forward all the time. In my book, the best fight in MIMMA's history so far.
It was to my delight that last year Jace decides to had another go for the Lightweight title in MIMMA5. He fought 4 times, gaining 2 decision win and 2 finishes, giving him 21 points.
Keng Fai also participated but he was rather occupied with his flourishing pro boxing career. He only fought twice in MIMMA5 league format. Both that victory is by finishes, which earned him 19 points ( plus the walkover and withdrawals )
Standing on top of MIMMA5 Lightweight is a newcomer from Miri Sarawak. 
Nathaniel Imang Lakai
of
Warmonger Gym
.
At only 24 this year. He is of mix  ethnics heritage, his dad being a Kelabit and mom Kayan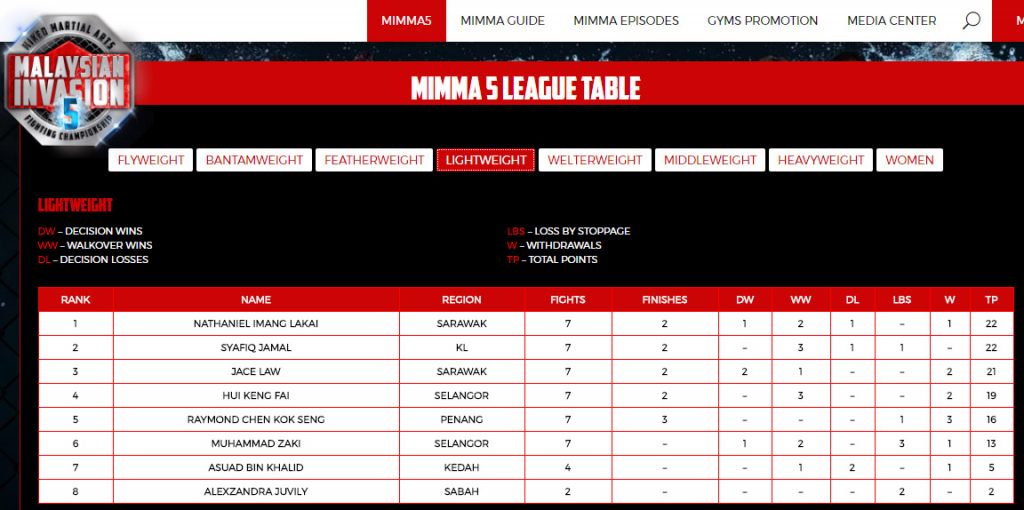 Nathaniel first intro to martial arts was when one of his teacher showed him an Aikido move which spark his interest. He went to Kuching to search and found Studio 23. Albert Lim showed him the beauty of Brazilian JiuJitsu, and that's the beginning of his MMA journey.
Nathaniel has a total MMA fight record of 6-1 as of date. To reach this Semi, he fought 4 times. ( 3 wins and 1 loss ). He lost to Jace by decision in League 3.
It certainly was happy news to me that Nathaniel will fight Jace Law again in the semi. Looking forward to an explosive fight, but again my wish does not come true. Jace has announce his retirement from MIMMA5.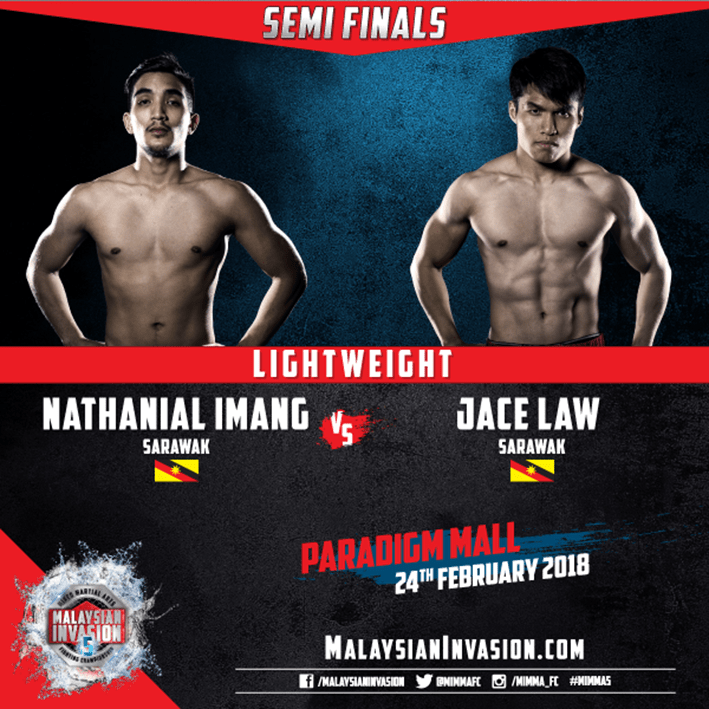 The rematch that was not meant to be
Which left Nathaniel without an confirm opponent until 3 days ago (21 FEB ) that MIMMA has replaced Jace with
Asuad Bin Khalid
. Nathaniel last fight was with Asuad, back in Nov and he won by decision.

Warriors of Borneo manage to have a quick catch up with Nathaniel before he flew to KL to weigh-in.
Where did you further your martial arts learning after exposure to BJJ in Kuching?
After BJJ in Kuching, I picked up Muaythai when I moved back to Miri. I ended up in Warmonger because that's the only gym with credibility at that time. Trevor was a big news in Sarawak Muaythai fight scene.
Tell me about Warmonger? You guys look like a tight knit bunch. What's special about Warmonger, the place, the people…and how do you see the scene of MMA in Miri?
In Warmonger it really has that family vibe. The coaches care about you, they really do. We joke around with each other, play pranks,… its all good. 
Then when we train, they push us like we're their own kids. Like how a father would pressure you to study.
MMA scene in miri is not that big yet but there are a couple of young talented guys that we keep an eye on.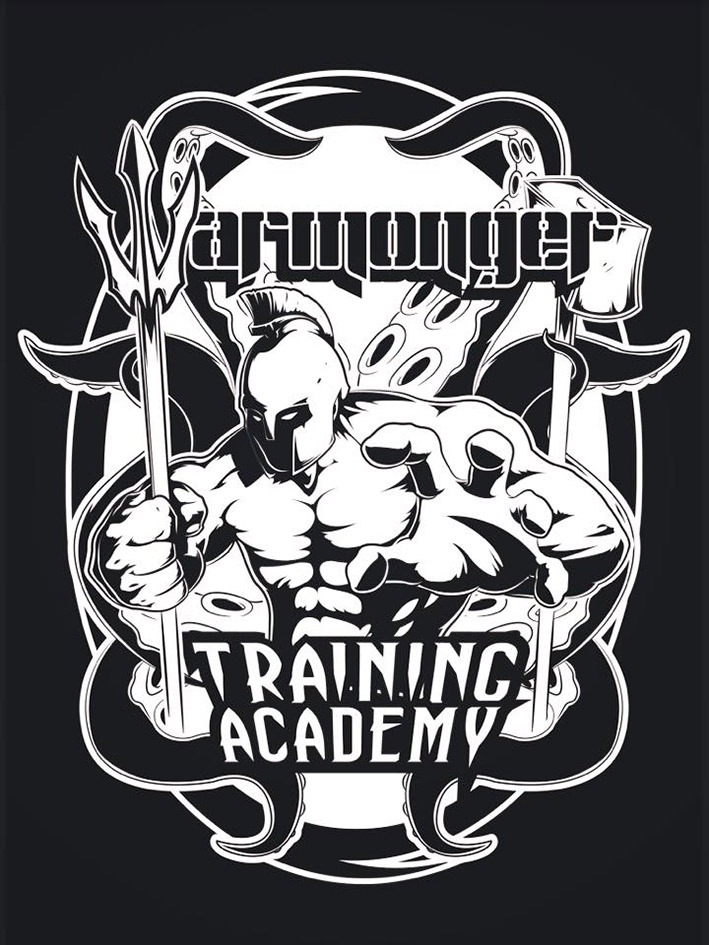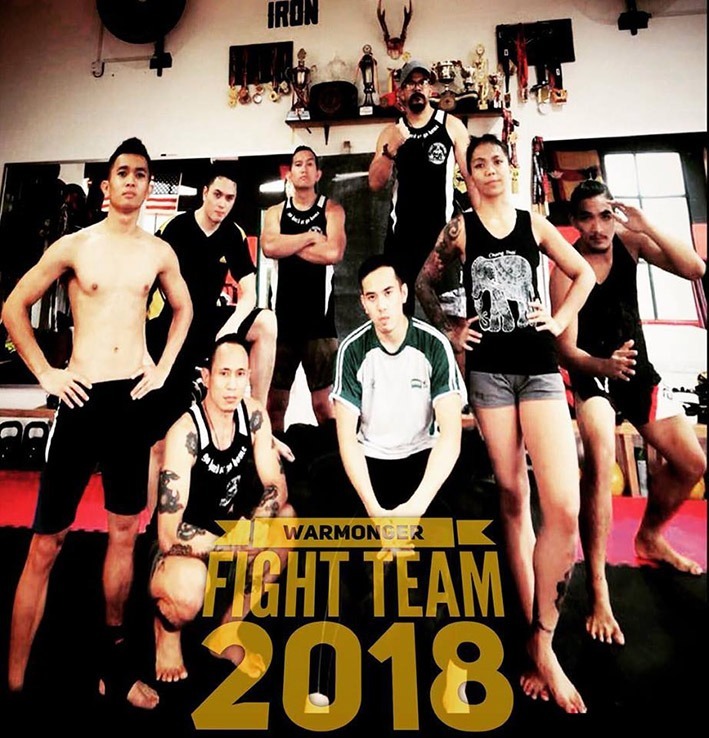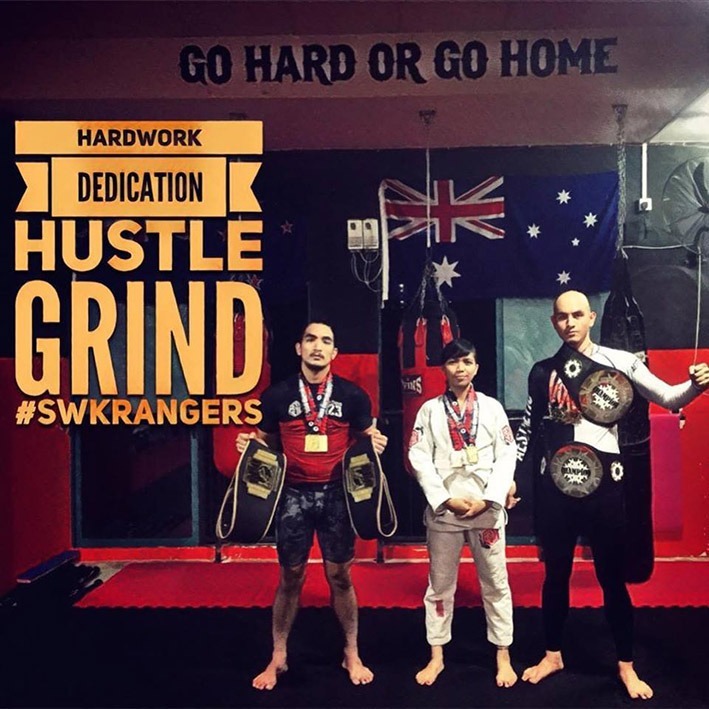 A very successful weekend outing to KK's BJJ event ( Copa de Borneo and Sabah Grappling Quest ) for Warmonger From left to right: Nathaniel, Emilia, Nigel
You only lost to Jace so far, how do you feel not able to redeem the lost in a rematch?
No rematch no problem for me. Its a learning process for me. 
I move on and I aim to improve all the time.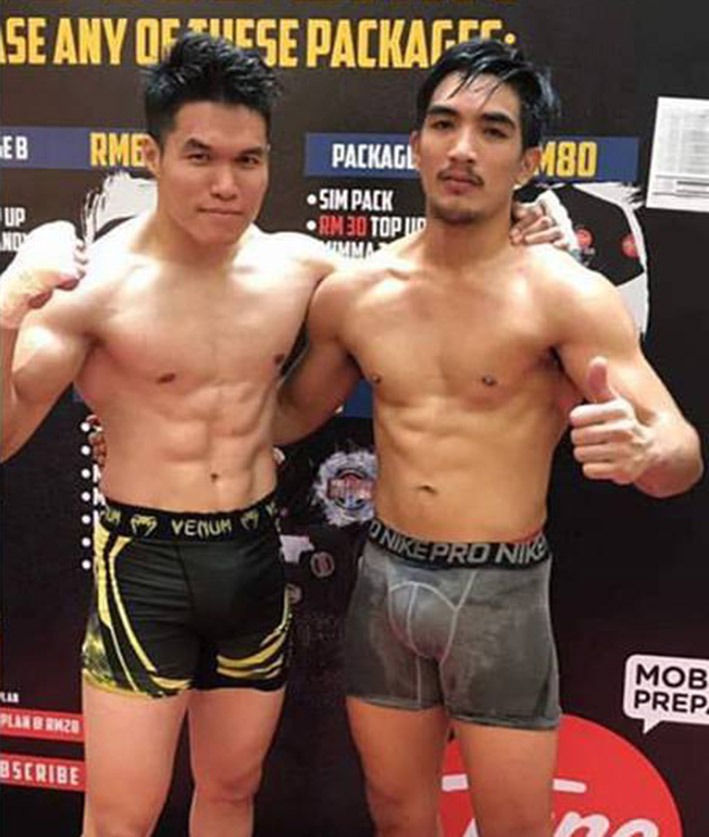 Jace and Nathaniel, two of Sarawak's best MMA exponent

You defeated Asuad in your last fight. How do you feel for this Semi-final meeting him again? Do you see it as an easy match? Do you expect to meet Keng Fai in finals? 
I think it will be an interesting match up. I'm planning to bring something different to this fight and I never consider anyone as an easy match. It would be foolish to underestimate someone in life. 
Keng Fai is going againts Syafiq. I don't really know who is gonna win. Syafiq is a really a dynamic fighter. His kick setups are pretty impressive againts other competitors and he has been in the MIMMA scene for a long time.
Keng Fai is the current champ. A great boxer and a blue belt in BJJ. I'm excited to watch their match as an MMA fan too.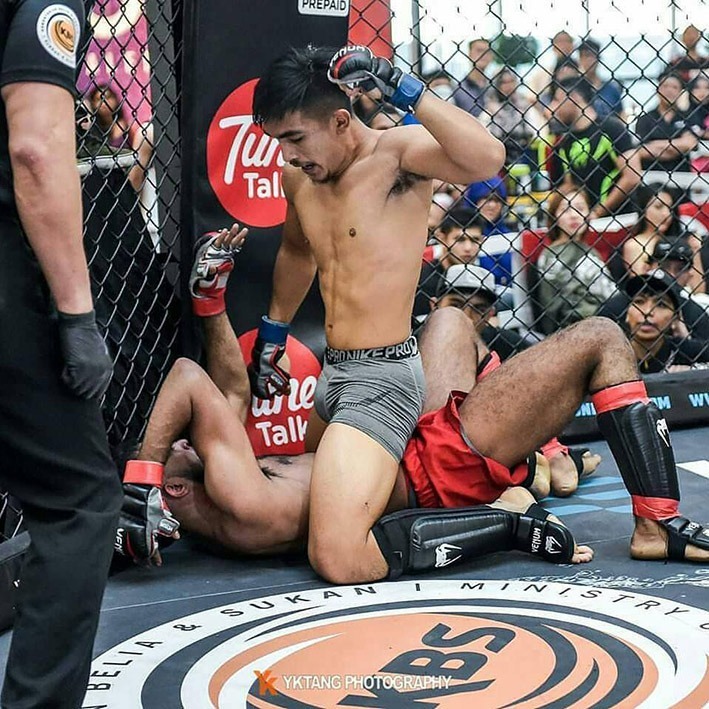 MIMMA5 League 5 – Nathaniel vs Asuad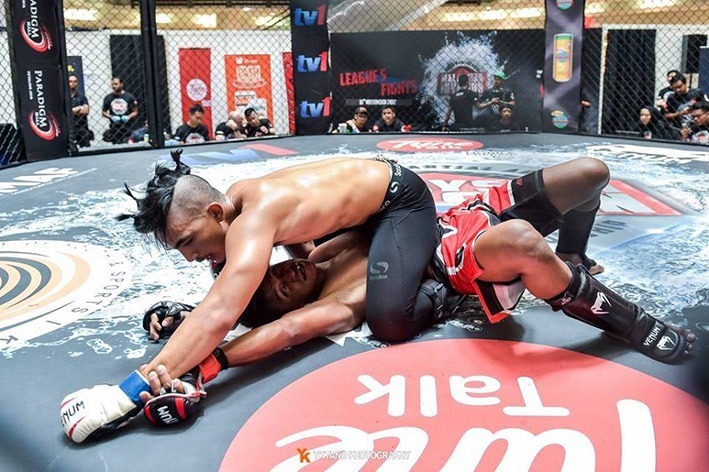 MIMMA5 League 5 – Nathaniel vs Asuad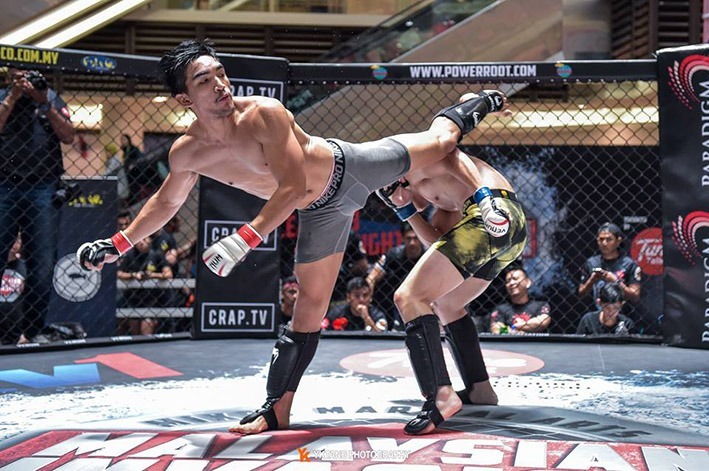 MIMMA5 League 3 – Nathaniel vs Jace
As an East Malaysian, that you need to travel regularly to KL to fight. how do you feel about MIMMA5 league format?
As an East Malaysian it really helps to have my sponsors, without them supporting me from the back I won't be able to do what I do shout out to KOCHOOKS, CHOMPS, DNNCO, WISEL, RUNR and Nasi Ulam 883
What do you do for a living? What's your plan for your future? 
Is fighting gonna be a career for you?
I'm a warehouse manager at my family's company DNNCO. 
I plan to go pro. Make it to the big scene and still help my family with the business. You'll always need a back up in Malaysia.
Tell us a bit about your family. You and your brother Nigel, who started taking martial arts first? Tell us about your relationship. Your mom seems to be a strong supporter. 
Share with readers your motivation and relationship.
I started taking part in martial arts first, then I forced Nigel to join by anilhiating him at home with simple BJJ moves. 
He has been my training partner ever since. We push each other a lot. 
My mum, she doesn't like me fighting. But I always assured her that I'm training really hard so I won't get beaten up too bad. She really is my biggest supporter ever since I started doing sports. I think parents who get behind their kids can really make a difference in performance, who else is there to support you?
So for me every time I enter the cage and about to rip someone's heads off I think of my family, friends, sponsors and how I wouldn't want to let them down.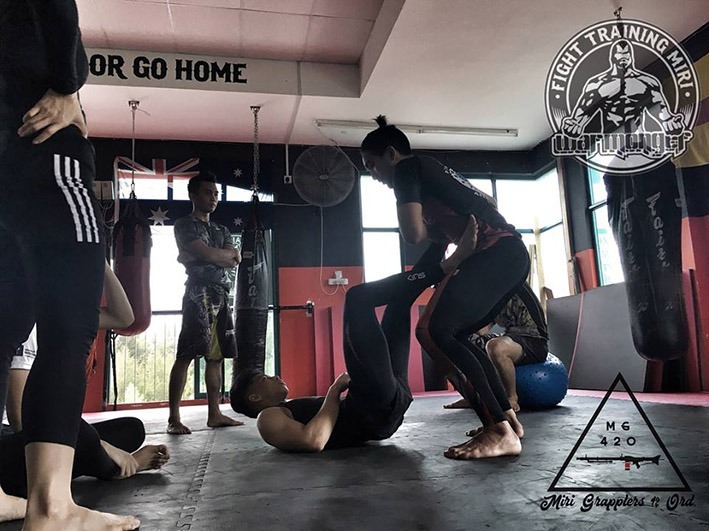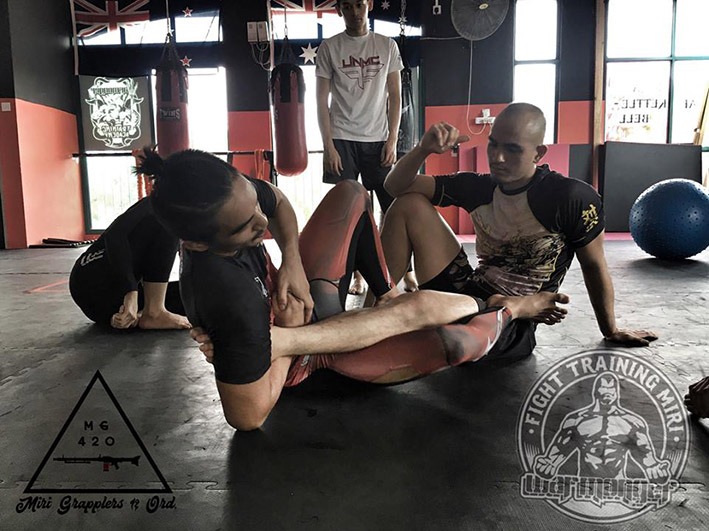 Nathaniel & Nigel working on their ground game
How do you chill in Miri? What do you recommend the activities / food for first time visitors to Miri?
In Miri, for off seasons, I'll usually be at the bar getting drunk. CHOMPS is a nice place to chill. Best steak in Miri. 
I recommend jungle tracking here at the Grand Oil Lady.
So much fun with friends.
Food for first timers in Miri, go get drunk at CHOMPS and I'll meet you at A1 coffee shop at 4am for best/cheapest Kolo mee and Laksa!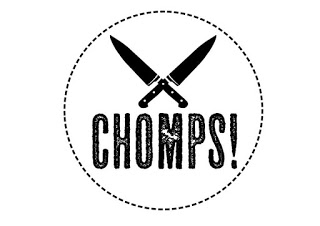 Nathaniel quick fav facts.
Fav beverage – Fanta orange 
Fav food – my mum's babi kicap 
Fav technique – kimura 
Fav vehicle – Toyota Hilux is the best 
Fav fighter – Khabib Nuramogedov 
Fav movie – Ironman, Antman, Spiderman Homecoming