Back in 2015 when I was covering MIMMA3, I met this husband and wife team of Samuel Lai and Rosario Valerian. Samuel reached the Semi-finals stage that year and his wife the quarter-finals. But in the same year, Samuel fought in Jesselton Fight League and was the 1st runner up in lightweight. Rosario fought valiantly to become the Female Champion.
Samuel and Rosario are now taking a break from MMA as both focus on their career and family life. Fast forward to 2017. A new 'fighting' couple emerge from Sabah.
Joel Nickolson and Gloria Isabelle Hoong. Although not married yet, but these two lovebirds are inseperable and has use MMA as a tie to have a closer bond.
Joel first participated in MIMMA in 2016 during season 4. He managed to reached the Semi-finals, losing to eventual Champion Damon Soo. In 2016, he fought in Jesselton Fight League, Borneo Amateur Challenge and Fight Fest.
In MIMMA5, Joel has put his focus on bringing the bantamweight title back to Sabah. He fought 5 times, gaining 21 points. Collecting 3 finishes, 1 decision win and 1 loss.
Ask on his opinion on the MIMMA5 League format, Joel admit it was tiring having to fought almost every month. The fight does not just happen in the cage but also in the strategy and planning as well. That's why knowing that he has enough points to qualify for the semis, he skipped the last two league bouts to conserve energy and to avoid injury.
He is of the opinion that MIMMA can just organise fight events by matching potential fighters rather than having a tournament or league format as the time commitment is rather straining.
Joel will be facing a formidable Dhiaaul Amal today in the MIMMA5 Semi-finals. Dhiaaul is MIMMA4 grand finalist.
This is a rematch. Joel lost to Dhiaaul by decision in his first league match in July last year. He felt that it was the first fight jitters. He managed to have couple of take down, but did not do much damage from top and let Dhiaaul dominate the fight on the feet, gaining points in the third round.
After that lost, his coach, Antonio Battistesa put in a plan for improvement. Both in terms of techniques and mental. Plenty of hours spend at Sabah Top Team drilling techniques and sparring. the results show… by winning 4 match in a rows, with a high light reel finish of Khoo Teck Guan in league 4.
The other semi-finals bouts for Bantamweight is between Sabahan Effendy Kalai and Khoo Teik Guan.
Joel does not feel that his bouts is more challenging. To him, the top 4 in the bantamweight division currently, standard wise are very close.
Coming from a Taekwondo background, he used to like keeping the fight on his feet; but training at with Antonio gave him a lot of exposure in grappling, as Sabah Top Team is the center for Luta Livre in Malaysia. Joel felt he nows favour taking fights to the ground as it's where he can minimise receiving strikes.
Last month, as preparation for the semis he and Gloria was in New Zealand to train with some of the top pro MMA fighters there. It was an experience that gave them tons of learning. They also train with pro fighters from Borneo Tribal Squad and MIMMA4 heavyweight champion Darren Low.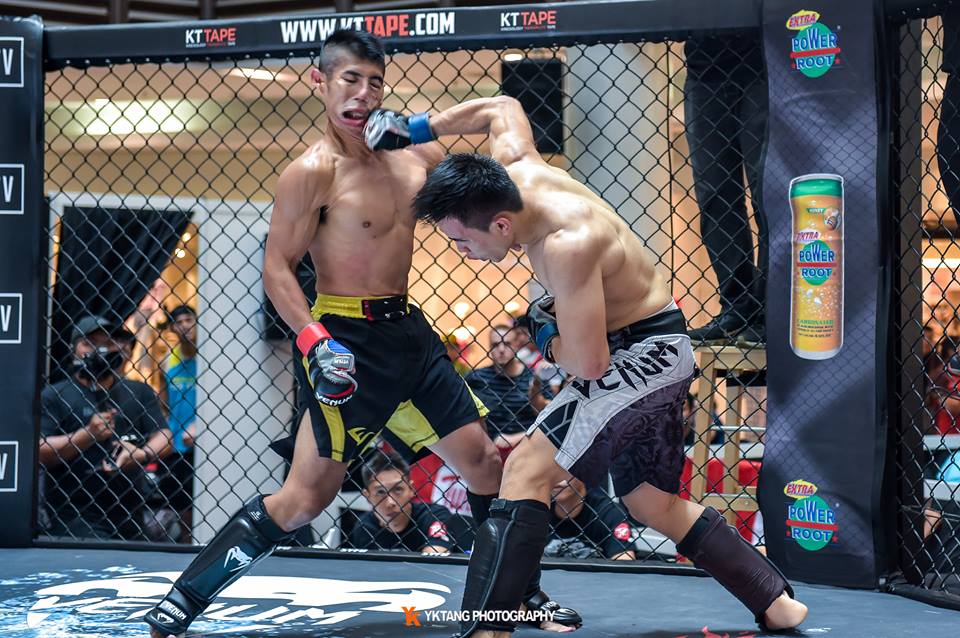 league 4: Joel's brutal KO on Khoo TG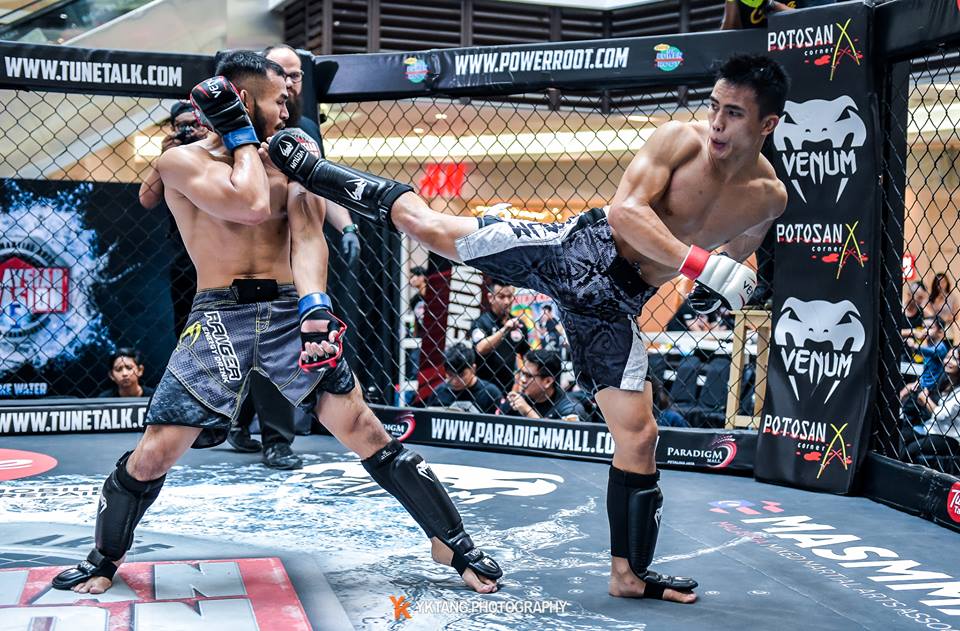 league 1: Joel vs Diaaul
Joel's advise to Gloria;
" Be aggressive. This only takes 9 minutes of your time. So go all out! "
His message to Dhiaaul,
" Good luck, have fun, but this time around…the judge will not be on your side."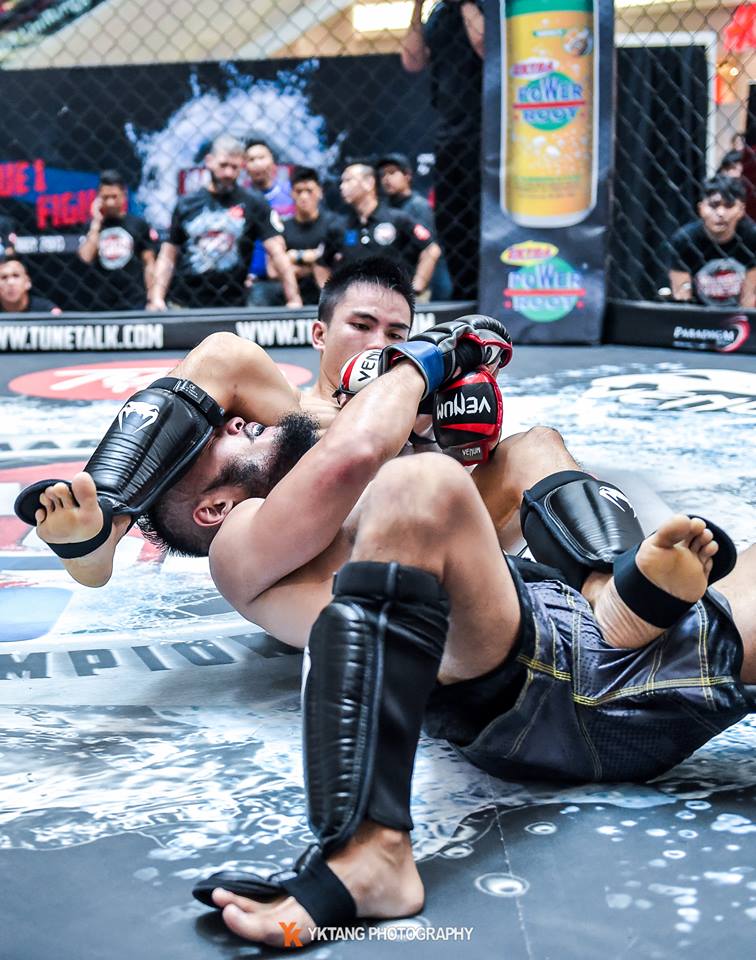 league 1: Joel vs Dhiaaul
As for Gloria. This is her first participation in MIMMA.
A Sino-Kadazan from Penampang. Martial arts was not her first sports. Gloria was into rock / sports climbing. In her Uni days in Monash, she was the president of the climbing club and participated in numerous competition.
It was when she's back in Sabah that she took up martial arts. This young lady in her short time training under Antonio in Sabah Top Team has achieved much. STAND 3 K1 – Gold, Sabah Inter-District Muaythai 2016 – Gold, BAC 3 MMA – Gold, BAC4 K1 – Gold, Muay Fight Night 2017 – Gold and most recently Borneo Cup 2017 – Gold. All this won't happened if not for a Groupon voucher she got online. She dragged her friend together to STT for the first class.
It was initially fitness and basic Muaythai for her, but she picked up very fast and began to show good potential. After a few months Antonio signed her up for a kickboxing match in Fight Fest 3. Gloria was reluctant at first as she thinks that she doesn't train enough and was still juggling between her favorite activity of climbing. She lost her first fight. The fear to go back in the ring was there, but to overcome that fear…she deiced to face it head on and decided to joined more fights.
She prefers to keep the fight on the feet but is well prepared to go to the ground from the Luta Livre training Antonio has drilled her with. Gloria puts in hard training daily after her day job in the accounts and finance department of Dekojuta.
In MIMMA5, she fought 4 times. Earning 20 points to qualify for the semi-finals. On MIMMA5's league format, she also thinks that the league fight is too close to each other. Not giving enough time for recovery and improvement on personal skills for athletes. This also pose a big financial challenge for East Malaysian to fly regularly to KL.
Her fight vs Lee Yin Mun was supposed to happened in league 1, but it did not materialised. But Gloria does notice that her opponent has good explosiveness and always shoot for take down. She said that coach Antonio has really up the level of training for her and Joel in their MIMMA5 journey. She felt in terms of strength and conditioning she also has improve a lot. Things that she couldn't do when she first started MIMMA, now she's able to.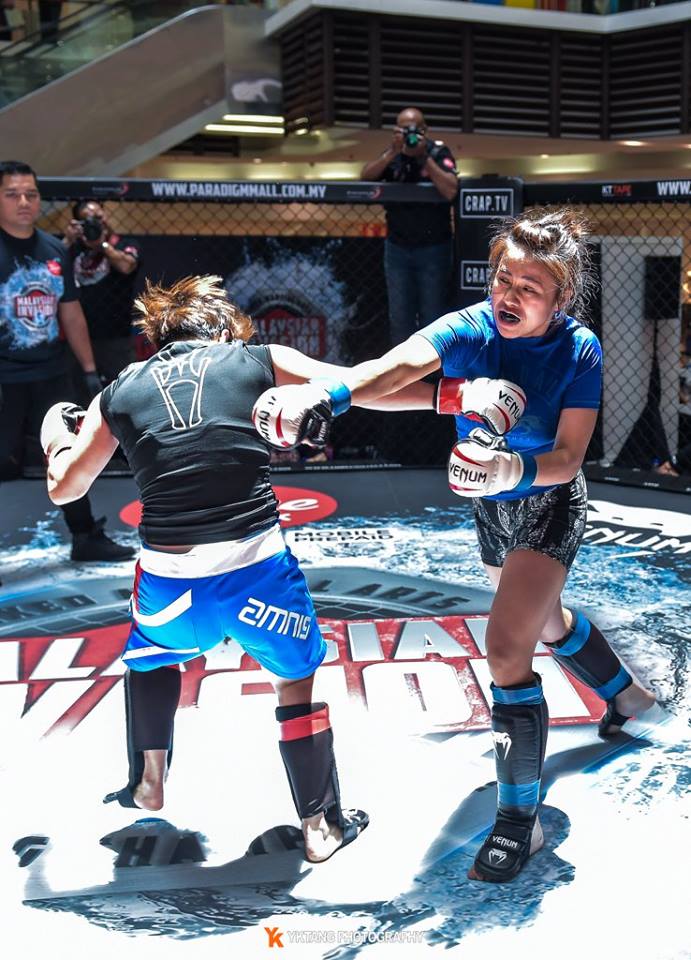 league 4 : Gloria vs Gladys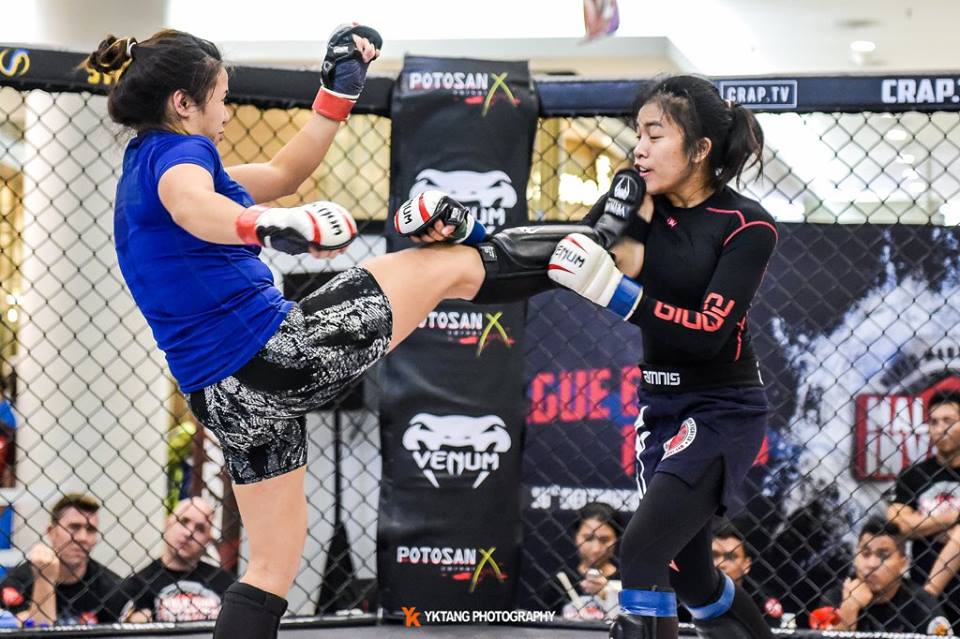 league 6 : Gloria vs Amirah
She also felt the exposure in MTI and Auckland MMA of New Zealand for her and Joel was definitely a valuable experience that will benefit both of them in their semi-finals bout today.
As half chinese, she usually spends her Chinese New year in her dad's hometown in Ipoh. But this year, as her family went on vacation. She focus on training, even at Chinese New year eve where usually chinese family had their reunion dinner, Gloria was in Sabah Top Team, putting in valuable training time.
Ask on how the Chinese New Year celebration affects her diet. She felt it was not that bad as she usually eats a lot too because of her constant hard training. Chinese New year falling on the weekend was also a blessing as, that's the time she rest anyway. So after the celebration with family, it was back to training for her.
As Joel's partner, Gloria has this advise for him.
Catch Joel and Gloria today at Paradigm Mall for MIMMA5 semi-finals