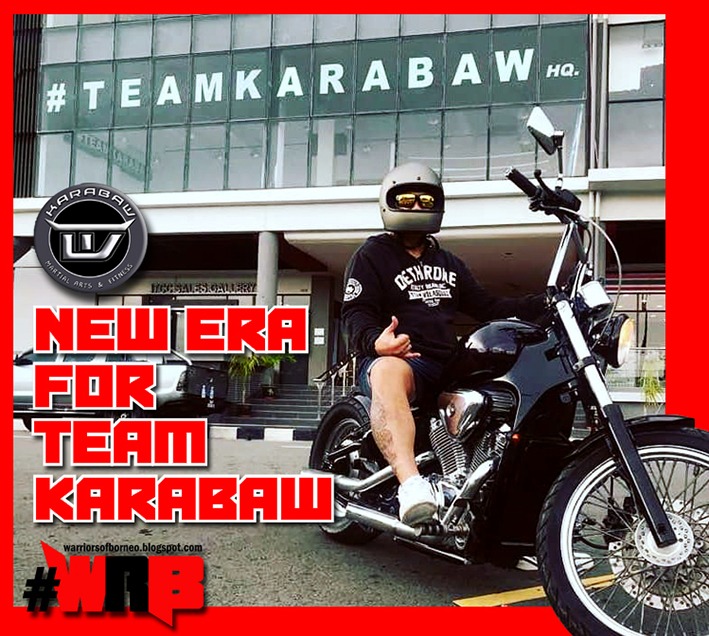 Moving into a new place, there's always mixed feelings. Leaving an old place behind is not easy due to familiarity and nostalgia where memories have been built over the years.

Team Karabaw is possibly the biggest gym network in Borneo.
Founded by
Sensei Rayner Kinsiong
(former national Malaysian Karateka and ONE Championship fighter ) in 2012 , that time was it was based in AllFit gym. It was together with his Karate brothers…
"My main aim was to keep our Karate way of life/discipline and eventually to tap into MMA/muaythai/boxing scene.
The people who started the team and still with me now is Sensei Vallerio Gumbilai, Sensei Thomas Olin and Douglas Gumbilai." 


Eventually Team Karabaw set up it's own home in 2012 at Market 88. It was a two shop lot space on the 1st floor. This was a place where have seen the blood and sweat of many fighters that train here for their fight camp and also a birthplace for many new prospect that eventually became regular in the local combat sports scene.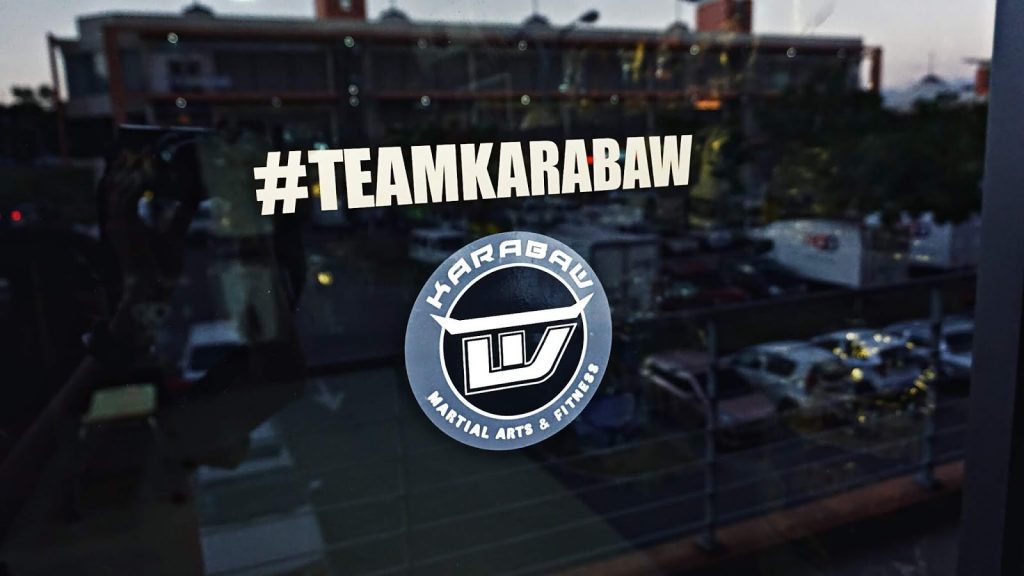 This venue in Market 88 also has seen several events being held here. MIMMA 5 Sabah trial selection, STAND Junior, Muay Fight Night (MFN) and MFN Ladies Cup.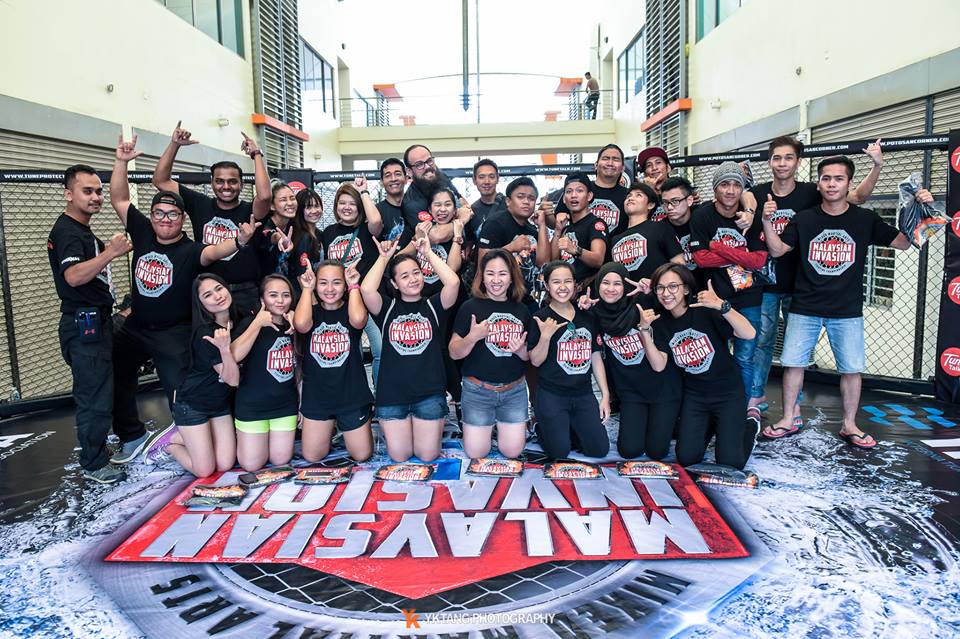 Team Karabaw crew  at MIMMA 5 selection at Karabaw gym Market 88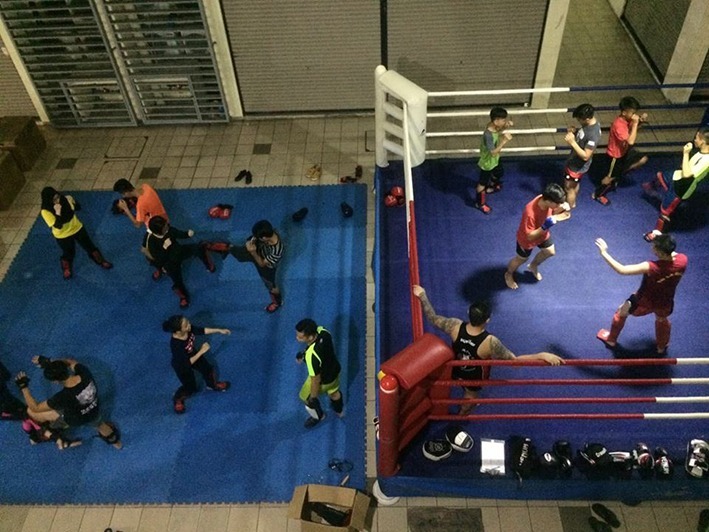 Karabaw HQ at Market 88 : The boxing ring and sparring mat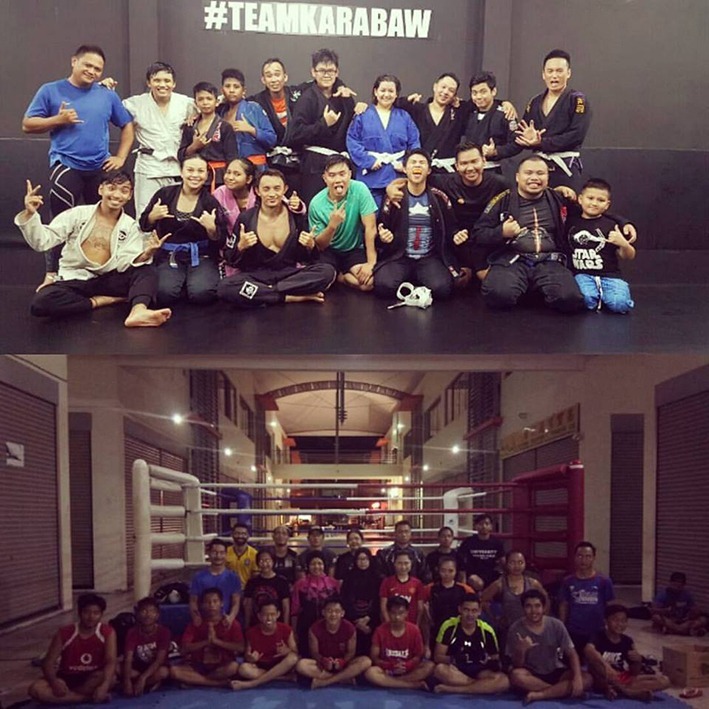 Karabaw HQ at Market 88
"I wanted to represent who we were… wanted to show that KARATE isn't a bad place to start with…  
We built the team and now we have some world ranking Muaythai fighter through teachings with the mixture of karate and other martial arts…
We still believe strongly in the way we were brought up."
With this believe…Team Karabaw further expand.
Tamparuli branch set up in 2013, Papar 2014, Sipitang 2014, Putatan 2016, Keningau 2016 and the latest addition…Labuan 2018.
Last year Rayner was hands-on involved in building Sabah Muaythai Camp. From clearing of land, sourcing of equipment, planning layout, etc to the day it open in November 2017 with a Youth Muaythai Competition. The Sabah Muaythai Camp is a sprawling huge well equipped facilities for fighter training in Papar, believe to be the first of it's kind in Borneo. It is also the new home for Team Karabaw Papar.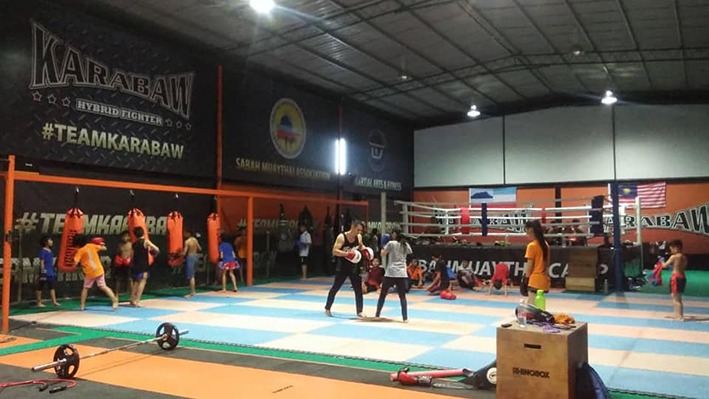 Sabah Muaythai Camp
Tell us what is the significance of the name Karabaw.
Rayner explains…
"KARA (KARATE WAYS) + BAW (KERBAU – the Malay word for bull) because we believe in the spirit of a bull…  hardworking, a beast in a way)"
What is your fondest memories?
"Seeing our young ones achieve what they have achieve to date….THAT always will be my fondest memories, I am sure Val and Thomas will say the same thing."
What's your message to the new generations of Karabaws?
"Keep the Karabaw spirit alive, stay as one… We are stronger TOGETHER."
What's your vision for the team?
"I want TEAM KARABAW to be known as ONE powerhouse in any martial arts in Sabah, Borneo, Malaysia…and someday be known around the world."
——–#WRB———–
The new gym has a clean, minimalist white ambiance. The concept of white is actually a part of martial art. White gives a feeling of serenity. When you are a martial artist doing battle, calmness and serenity is the key to victory. Chaos is brashness that will lead most of the time to defeat.
White also symbolizes pure heart, humbleness and respect. A true martial artist will always carry themselves with honour and respect.
Team Karabaw HQ is located at ITCC Mall, Donggongon Penampang, 20 mins drive from Kota Kinabalu. It is the latest mall in Kota Kinabalu. It has ample parking space, spacious shopping area, many food outlets…and now you can go there and train in Team Karabaw Martial Arts and Fitness Academy.
Opening hours is 10am – 10pm. Currently classes available are for Muaythai, Muaythai Kids (below 13years old), Brazillian Jiujitsu, Capoiera, Personal training (Muaythai and Fitness)
There are lockers for rent, hot & cold shower rooms and changing room available.
Grand opening is on 1st Sept, which will be officiated by
Datuk Seri Panglima Clarence Bongkos Malakun
at 2pm.