If you are on the way from Kota Kinabalu to Mt. Kinabalu national park in Sabah, you will pass by the town of Tamparuli. A quaint town of mostly Dusuns population with lots of greenery & beautiful hills surrounding the town. This is also where Team Karabaw Tamparuli gym is located.
Team Karabaw is a local Sabah martial arts & fitness gym founded by Sensei Rayner Kinsiong, ex national karateka & MMA athlete. Team Karabaw has 6 branches in Sabah namely KK, Papar, Keningau, Sipitang, Putatan and Tamparuli.
The Tamparuli branch is led by ex state karateka and also MIMMA alumni, coach Vallerio Gumbilai.
This is also the gym where Lesley Dulamit is training at.
Lesley or fondly known as Guguh by his friends will be among the first few Sabahan debuting as a pro boxer in the much anticipated BoxRanx WBC BoxingFest this 9 July at Midvalley Megamal Convention Center ( read about the pre event write up here ).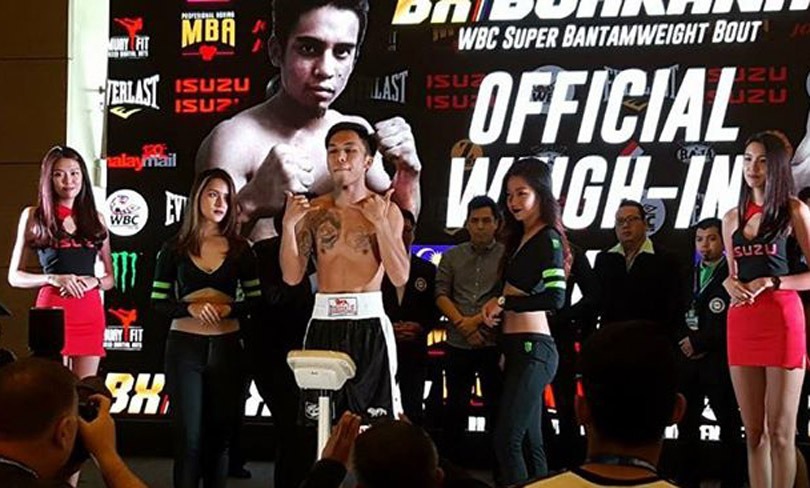 Weigh in done, time for war!
Let's get to know Guguh.
Originally from Tuaran, a town 10km away from Tamparuli, his martial arts journey began at 13 when he picked up TaeKwon-Do. This gave him a good foundation but he did not participated in tournament, instead he took part in Track & Field competiitons.
3 years ago, from his late uncle Jay Banding's encouragement, Lesley picked up Boxing by joining TUBA ( Team Tuaran Boxing ). Uncle Jay was an important figure in shaping Lesley's mind and heart as he always gave him support and motivation.
One of his sweetest memories in Boxing was winning the Gold medal in 2015 President Cup.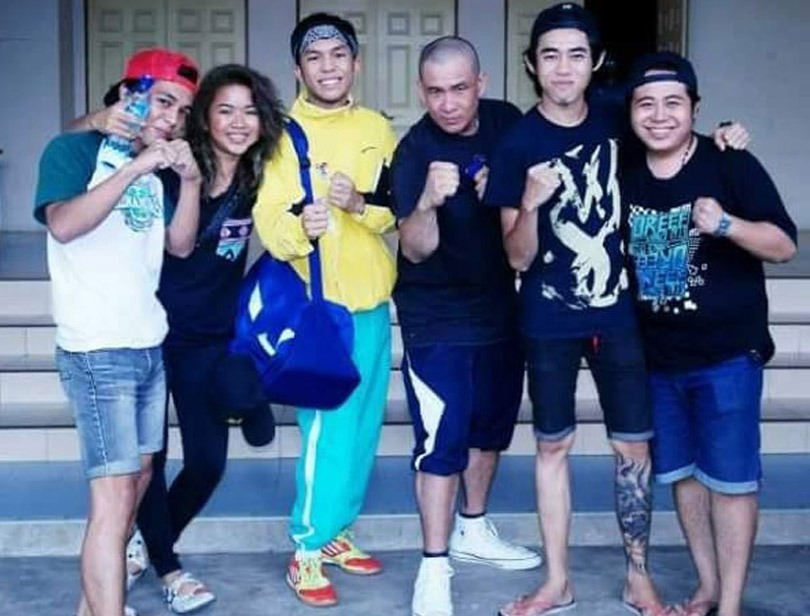 Lesley (middle in yellow) with Tuaran Boxing Team (TUBA)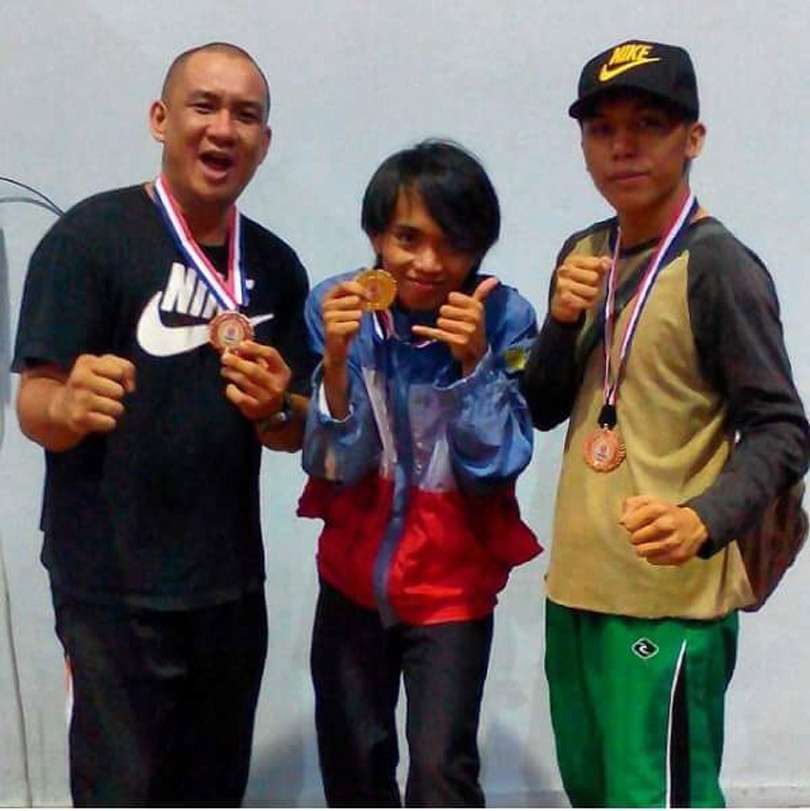 Lesley (R) winning bronze medal in his first boxing match in Ranau.  Here with his late uncle Jay Banding (L) and his best friend since childhood Dexter Ales (middle)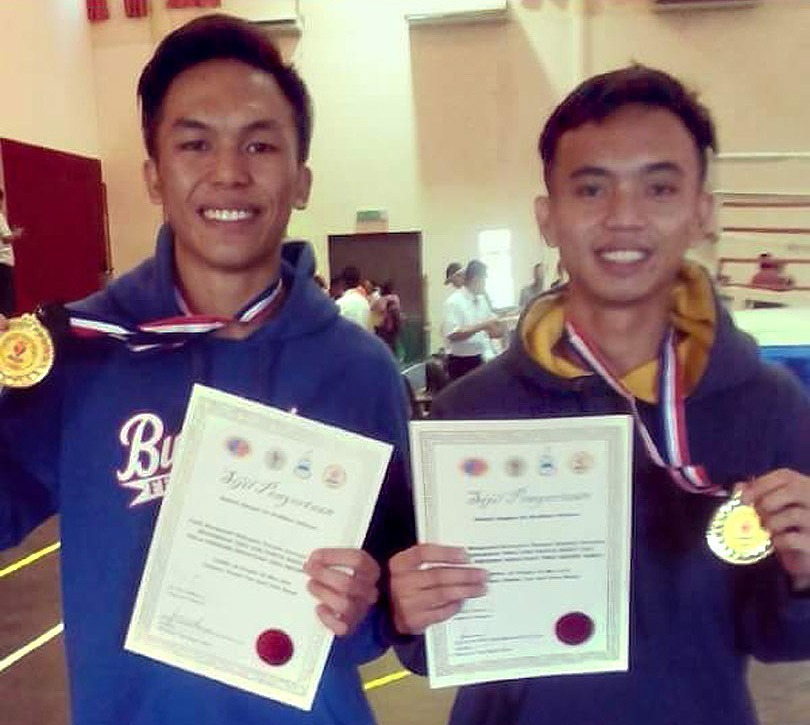 Winning Gold in the 2015 President Cup
To further sharpen his skills and keeping himself active, Lesley joined Team Karabaw Tamparuli. He was one of the pioneering students under Coach by Vallerio Gumbilai. Vallerio began to expose and train him in other martial arts, such as Muaythai and grappling.
Team Karabaw sent a huge team to the MIMMA3 tryout in KK in 2015, to expose their students and newcomer to MMA. Lesley was one of them. This exposure gave Lesley a good taste of many aspect of martial arts and also to learn to be composed under pressure as judges eyes are constantly on you.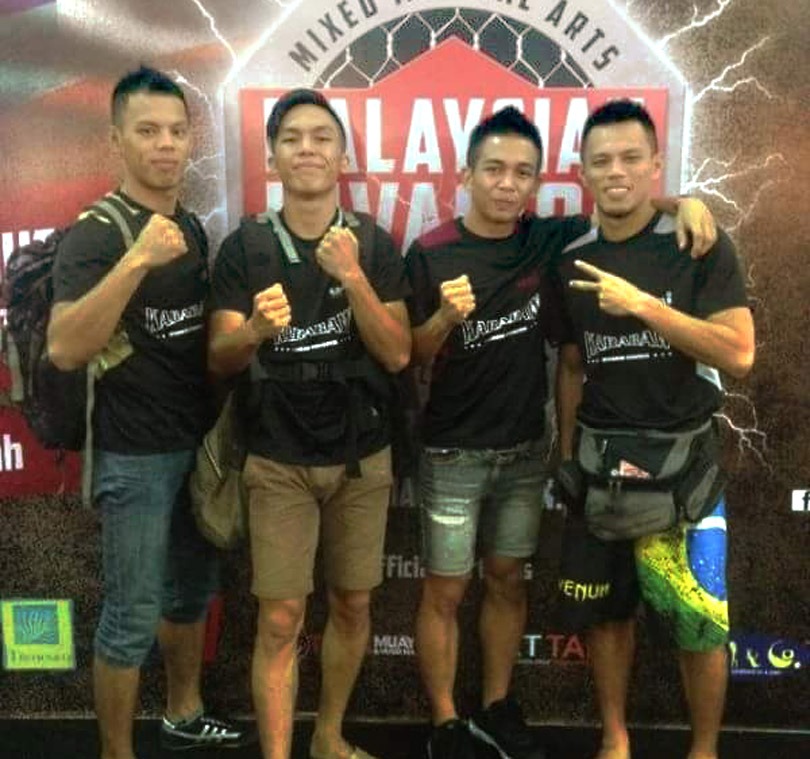 Lesley (2nd from left) with his brother Ashley (3rd from left) flanked by The Kalai Brothers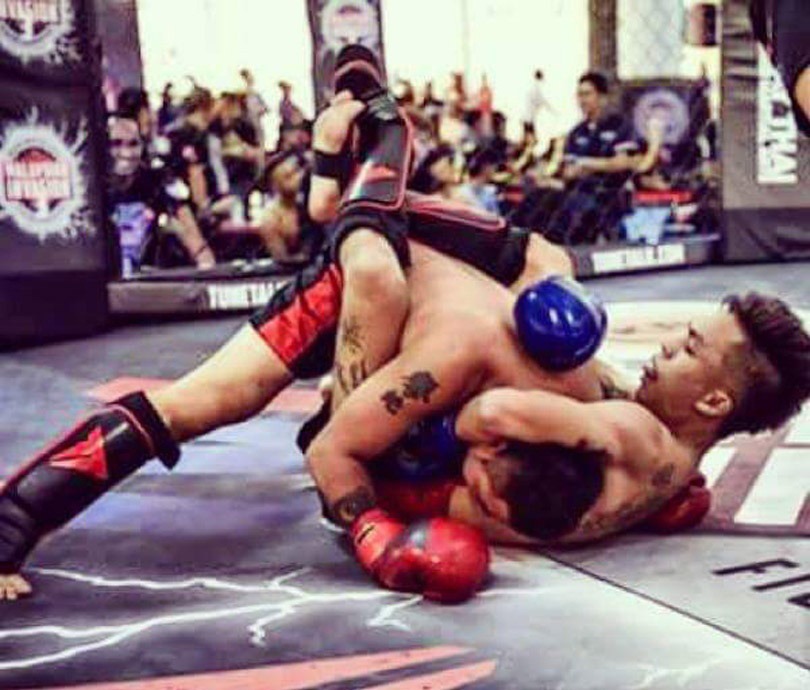 In MIMMA3 tryouts
It wasn't his time yet for MMA as he wasn't selected for MIMMA3. To quench his urge for fights, Coach Vallerio enrolled him in Muaythai competition organised by the Youth & Sports Ministry and it proofed to be good investment as Lesley brought back a silver medal.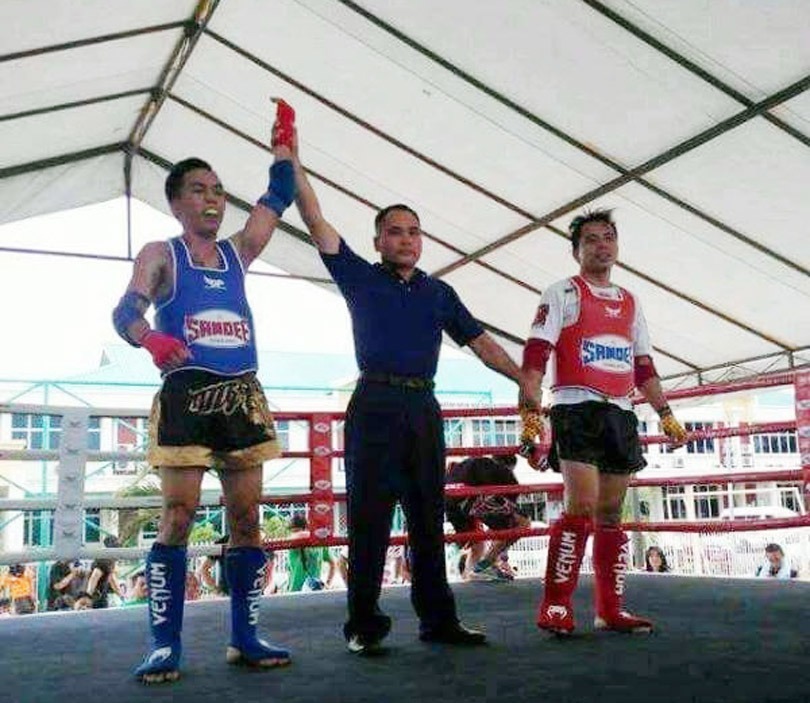 Victorious in his Muaythai debut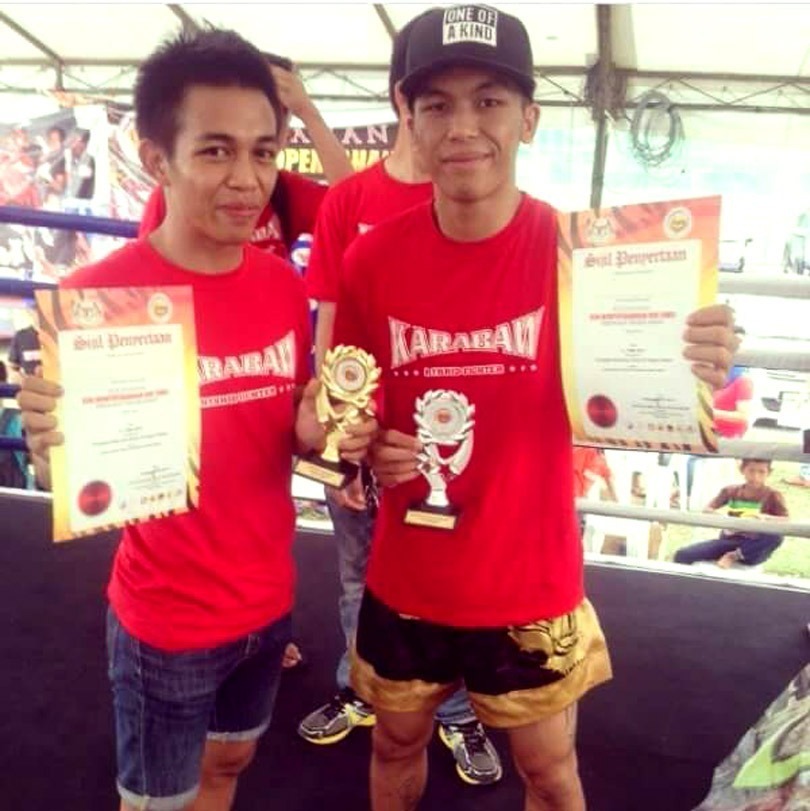 with his brother Ashley Dulamit
Lesley trains regularly but an injury causes him to slow down. After it healed and couple with good conditioning work, Lesley was back to training. In 2016 he again took part in MIMMA4 tryout in KK.
This time he was paired with Muhammad Hasbullah, the 2015 Jesselton Fight League Bantamweight Champion and also his Team Karabaw team mate from Team Karabaw Keningau. Hasbullah brought out the best in Lesley and Lesley was able this time to convinced the judges to select him.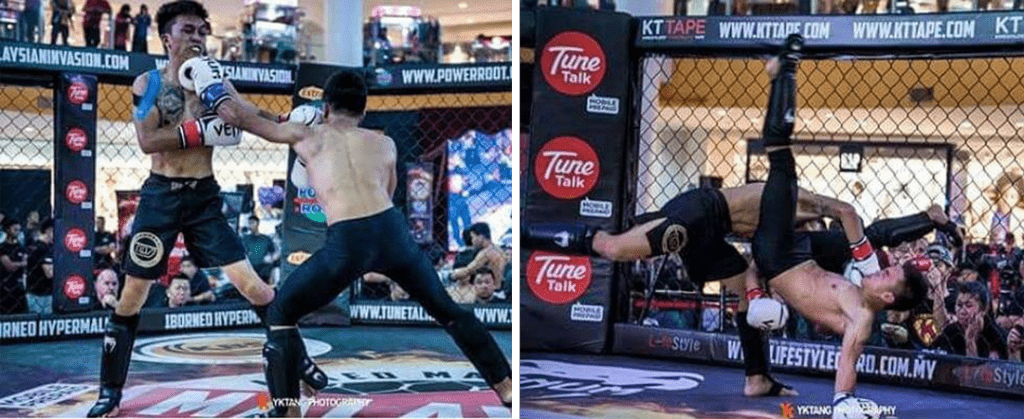 At MIMMA4 tryouts vs Hasbullah
He progressed to the ladder match won it by rear naked choke but lost to fellow Sabahan Joel Nickolson in the quarter-finals.
This year he put his focus on Boxing and began training when he got fight confirmation for WBC Boxing Fest. It's definitely a dream come true for a boxer to compete in a WBC sanctioned event, let alone debuting as a pro.
As head coach, Vallerio began planning carefully for Lesley's training program. Regular sparring session was done with the Tuaran Boxing Team, sparring with Team Karabaw Tamparuli seasoned fighters; lots of pad sessions with Dylon Gumbilai and once a week Team Karabaw head Boxing coach, Ryandell Joe Kitingan will work with Lesley on tactical game plan.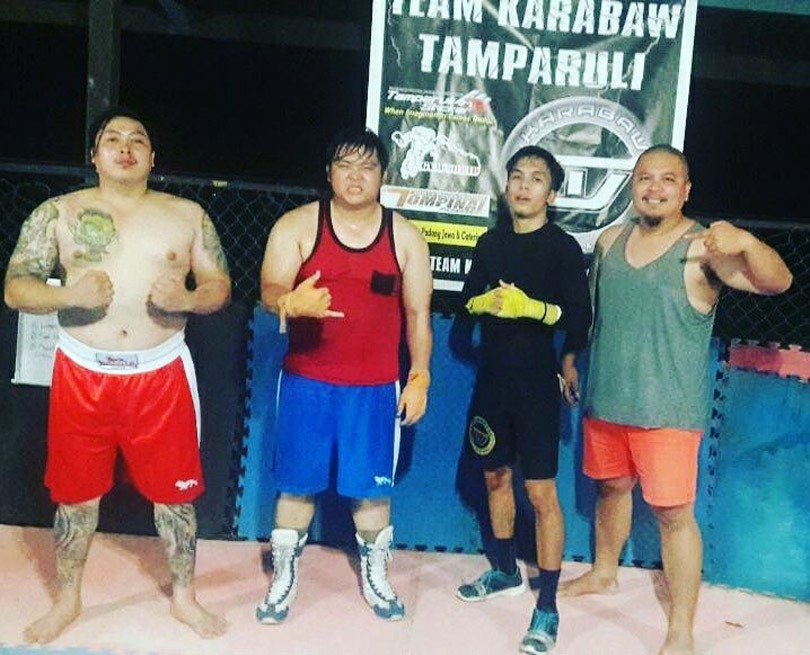 Lesley with Vallerio (R) with Kent Tham (2nd from left) and Ryandell J. Kitingan (L)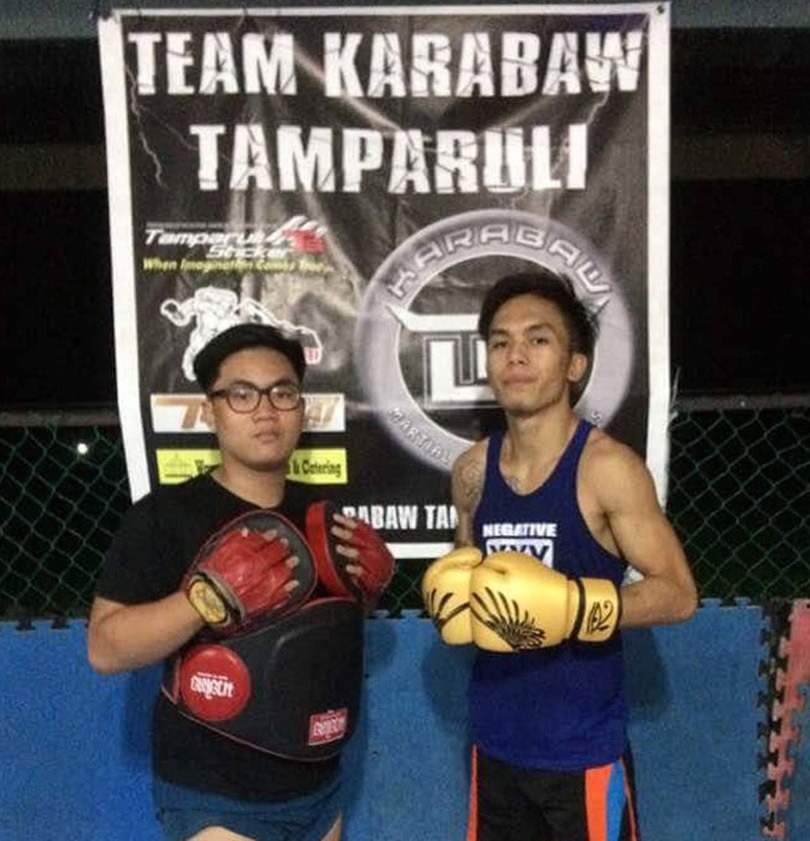 with padmaster Dylon Gumbilai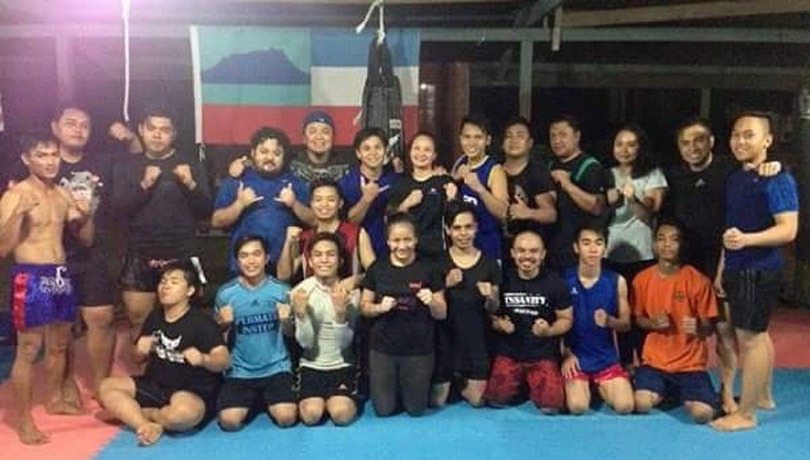 with Team Karabaw Tamparuli
Debuting as a pro this Sunday, Lesley's will be facing another pro debutante, Gerald Salvador. This is a change from his initial opponent, Yuvant Mitadevar. This does not throw off their planning. As Vallerio pointed out that they prepared Lesley to face any opponent. Focusing on Lesley's strength rather than his opponent's style.
Vallerio has been a pillar of strength for Lesley. Lesley has the utmost respect for him. To Lesley, Vallerio is a great charismatic coach that provide him and his team mates plenty of motivation and encouragement.
After each hard session of training, Vallerio always ends it with team briefing and some morale boosting words. This is an important aspect of the fight game where mental preparation is as crucial as the physical part.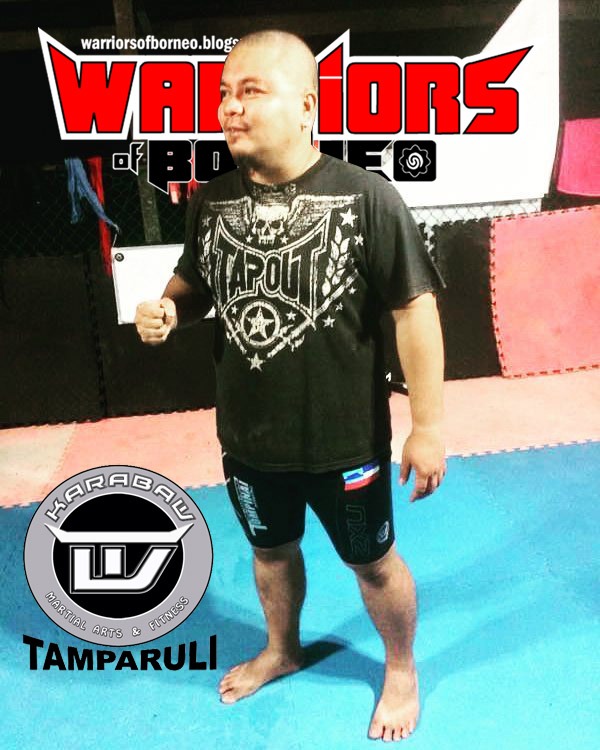 Vallerio Gumbilai, Team Karabaw Tamparuli head coach
Most fighters chooses a high tempo and fast music to boost their mood for training. Lots of the time young newbies full of raging adrenaline always goes into a fight with all guns swinging early on but looses steam half-way through the fight. Lesley's way of dealing with this is Raggae music.
He would immerse himself in Raggae and R&B music, during training and before he sleeps. Lesley felt that this type of music calms him down and enable him to think better during fights.
For leisure when he is not in hard training, Lesley love fishing. Rain or shine if the weekend comes he will filled his time fishing. Lesley said fishing teaches him patience and it's also a time for him to do some catch up and strengthen his relationship with his younger brother and girlfriend.
Foodwise, being a genuine Tuaran boy, definitely the famous fried Tuaran noodle ( a locally produce eggy noodle ) is on top of Lesley's  all time favorite.
Accompanying him in this weekend WBC Boxing Fest will be his Karabaw Team mate Tham Yaw Kent, whom will fight semi-pro today.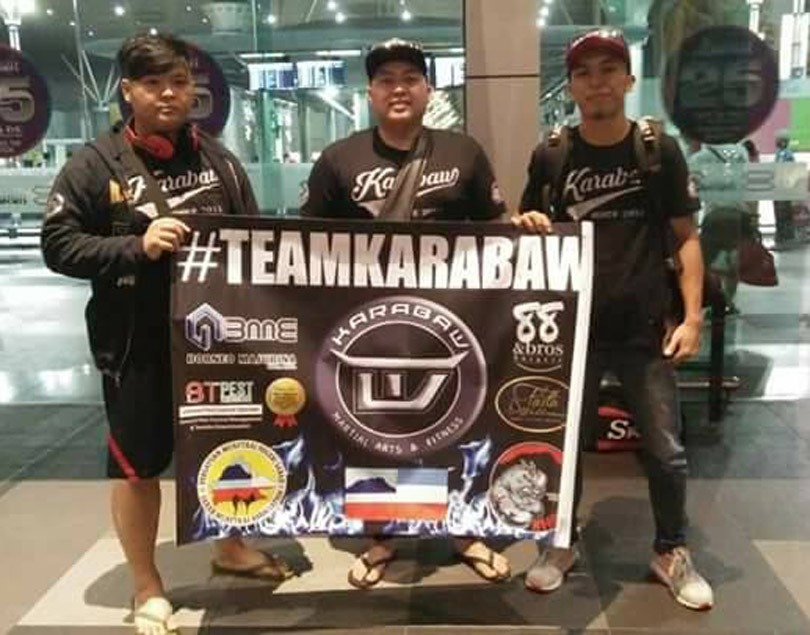 Lesley (R) at KK Int Airport leaving to KL for WBC Boxing Fest with Ryandell (Middle) and Kent Tham (L)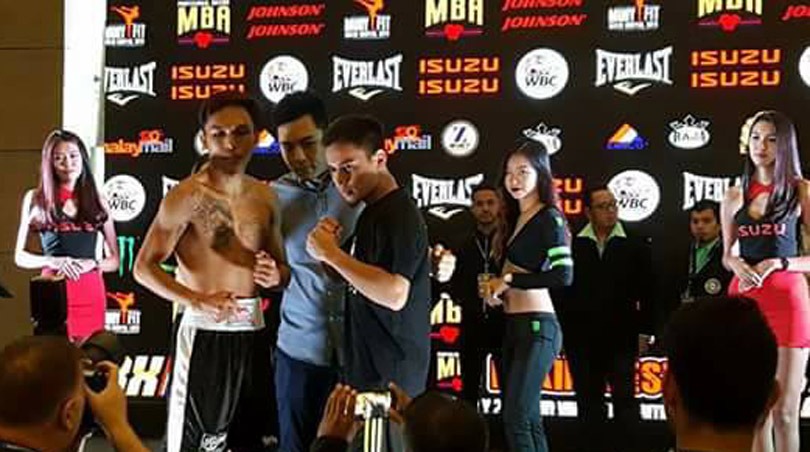 Lesley vs Gerald will be the 1st pro bout on 9 July 2017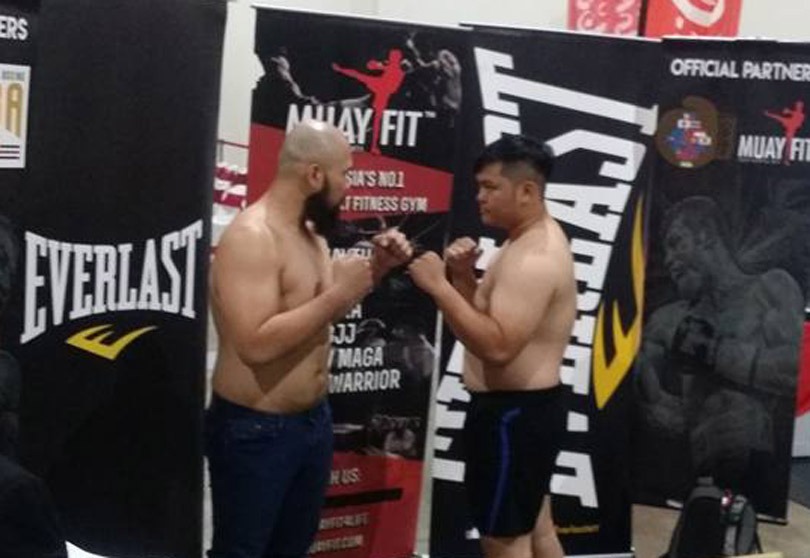 Kent debut in hi semi-pro boxing on 8 July 2017
Warriors of Borneo wishes Lesley Dulamit and Team Karabaw a successful outing this weekend.