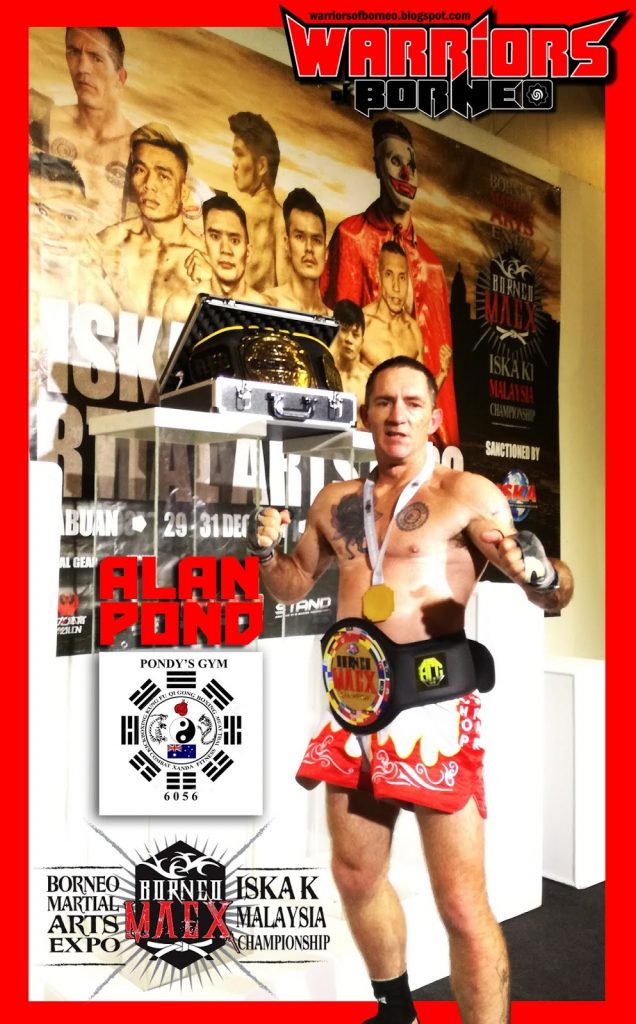 ———#WRB———-
29-31 Dec 2017 will forever go down in history as an important date for martial arts in Malaysia. Happened on the island of Labuan, off the coast of Sabah Borneo, close to 300 hundred martial artist converge in
Palm Beach Resort
to be part of the
1st Borneo Martial Art Expo (B-MAEX).
B-MAEX is the brainchild of
Alvin Chong
. A pro Muaythai athlete and founder of Borneo Combat Gym.
12 pro Kickboxing bouts was contested for various championship B-MAEX belt.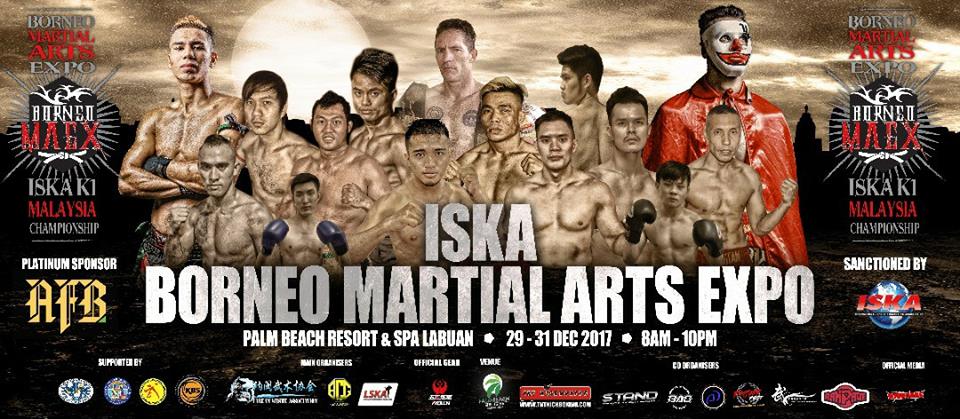 One of the fighter I met that night was
Alan Pond
, an Australian fighter age 47. His bout was against my friend Mohd Rizal from Team Karabaw (in his 30s). I met Alan during the welcoming dinner on 29 Dec. He look rather lethargic…that's because he just came out from the hospital.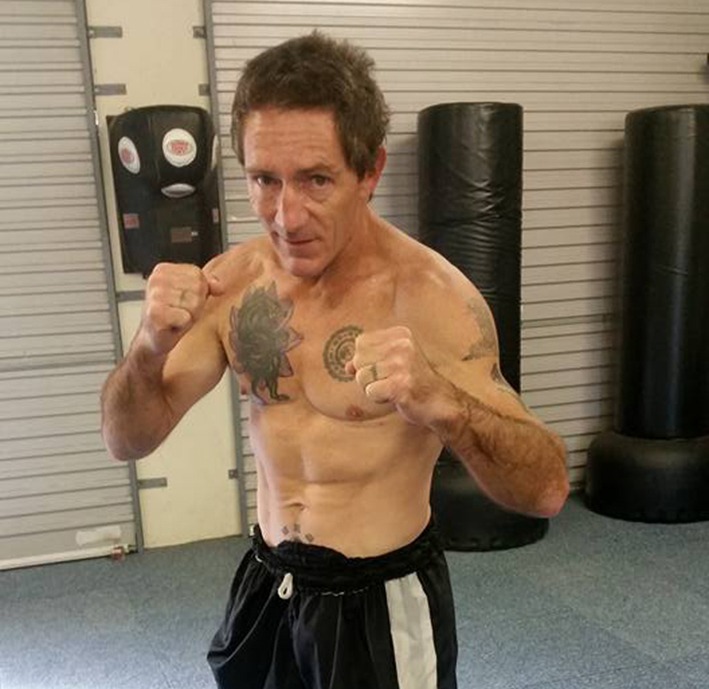 I ask him what happened and Alan explained that he went to buy some food. Shortly after he felt his tummy aching and eventually started vomiting. He was taken to the hospital for treatment and the doctor on duty quickly put him on drip and told him that to have a pro kickboxing fight in that state of condition was really impossible.
Alan somehow made up his mind to fight and defying doctors order he discharged himself and make sure he attend the welcome dinner to soak in the occasion of the fight and prepared mentally for his fight on 31 Dec.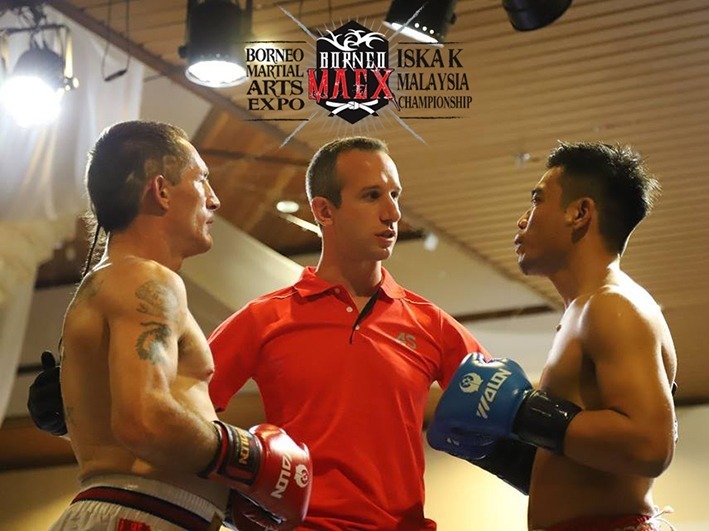 Before his fight night, I had a few chat with him and Alan shared his story on going through a pending divorce case. It was his 2nd marriage and he had to go through this stressful situation all over again. His decision to take up the fight in B-MAEX was to get his mind off the case and focus on his passion…which is fighting.
But things didn't seems to be smooth. Prior to coming to Labuan, Alan had training session in KL. The airline lost his luggage which contains supplements and medicine for his injuries.
At his age, the stress of a legal battle, losing his luggage and then food poisoning in Labuan, frankly speaking I wrote Alan off against the hard hitting Rizal.
Come fight night, was I in for a surprise. Alan started a bit slow, but he picked up momentum as the fight progress and poured on the ammunition in 2nd round and in the 3rd round sealed the victory with a TKO!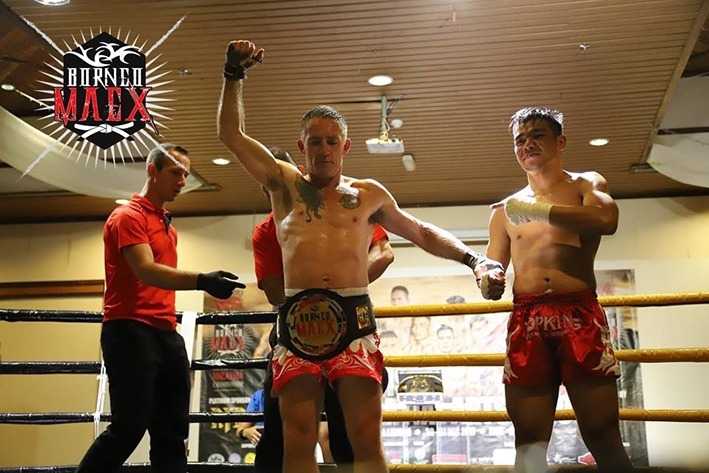 ——–#WRB——–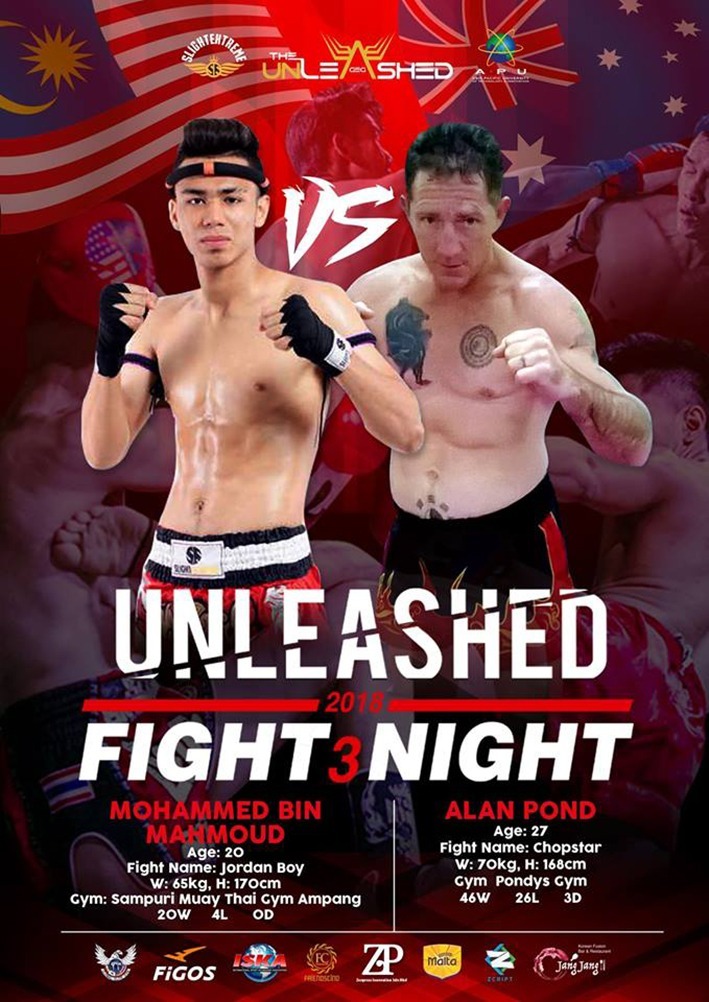 Let's get to know more about this inspiring character – Alan Pond.
Alan, please tell us about yourself.
I grew up in Perth Western Australia. Went to several different schools coz I was "an overactive child" I left home in 1984 at 14 yrs & travelled to the Eastern states to try to find my pot of gold. I was too young, no gold instead it was drugs & trouble. 
How was it growing up as a child in your place? 
My parents split up when I was 4yrs old, (I still remember the night my dad left) so I was raised by my mum, with an older brother & two older sisters. I only got to see my dad on Sundays. He would take us out to play or watch football, BBQs at Kings Park, fishing, camping on school holidays etc.
How did you get into martial arts? Tell us your martial arts journey.
I returned to Perth aged 16yrs in late 1986. I started training in Boxing & Buk Sing Choy Lay Fut Kung Fu at the local Midland PCYC, under the guidance of my Sifu Tony Murace.
I was living in a country town Northam, about 100km away & would get lifts or hitch hike 2 or 3 times a week to & from training. I really enjoyed the early days of training very much. I was like a sponge & was always seeking knowledge & new techniques. I got my drivers license & a car at 17yrs. Eventually I moved closer to the gym coz training was a high priority for me. I thought I'd caught the bug, but now realize it's a curse.

I started competing in Amateur Boxing fights aged 19yrs. I lost my first 2 fights on points & had a hard time dealing with it. (Coz I'm a sore loser) So I concentrated more on Kung Fu & tried to turn myself into a lethal weapon. After a couple of years I returned to competitive Boxing. I trained my body & mind as hard as I possibly could, took any fights I could & pushed myself to be the best I could be. Around this time I decided to make martial arts my life & wound up living at the PCYC as the caretaker. I trained morning & night, pushing myself as hard as I knew how.
As a result I achieved a Silver Medal in the WA State Champs in 1992. Won a Gold Medal in Singapore at the Pesta Sukan International Boxing Champs 1992. Won Gold medal in the WA State Champs in 1993. I also got to represented Western Australia at both interstate tournaments & at the national titles. Silver Medalist at the National Champs in Qld 1993 & represented Australia in New Zealand in 1994. In 1995 I stepped away from competition to concentrate more on Kung Fu & coaching others. 
By 1996/1997 my passion for full contact fighting grew stronger. My students were successfully competing in Kickboxing & Muay Thai contests. I also started refereeing & judging at these events to lend a hand. I had no idea of the level of responsibility I was taking on board. I just wanted to help out & keep it fair.
During the early stages of my career I was involved with the promotion & organization of a few small Boxing tournaments & held my 1st solo promotion at the local town hall in 1991 aged 21yrs. In 1996 I started promoting annual local full contact events under my own name.
In 1999 I returned to competition in Kickboxing (K1 rules) Oriental Rules & Muay Thai fights. I won WMC WA State Muay Thai title, IKBF AUS Kickboxing title, IKBF AUS K1 Rules title, IMTF AUS Muay Thai title, IKBF Australasian Kickboxing title, ISKA South Pacific Oriental Rules title, IFMA Worlds Bronze Medal & Kings Cup Bronze Medal in Muay Thai.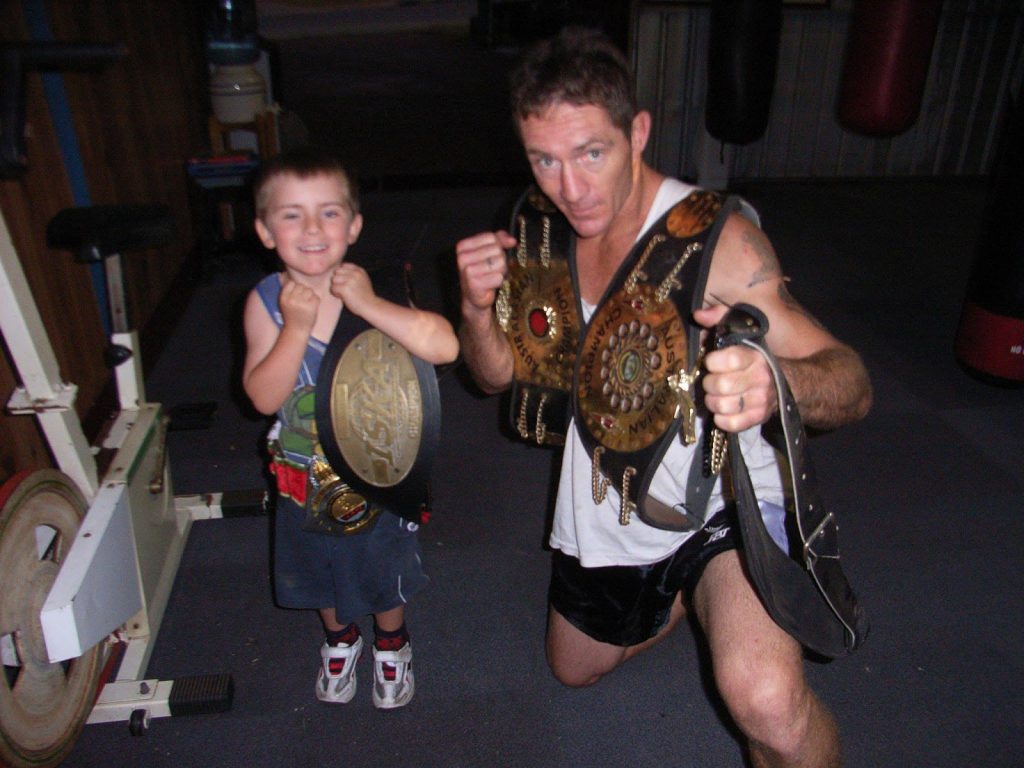 As a coach I've trained a few State Champions, a couple of National Champions, 2x Silver Medalists at the IAMTF World Championships, a Gold Medalist at the IFMA Kings Cup & currently train the ISKA Commonwealth Light Middleweight Champion. I've received great pleasure in helping these fighters reach their maximum potential.
I'm very fortunate to have travelled to most states of Australia, Singapore, New Zealand, Thailand, Philippines, & Malaysia both as a coach & as a competitor. Win lose or draw I always come prepared for war. I've been humbled & learnt many valuable life lessons from these cultural experiences. Martial Arts has taught me to value my fellow man, to respect & work with competitors and to appreciate the individual challenges we all make to keep the fighting arts alive.
In 2000 I fought for the ISKA World Light Middleweight Muay Thai title at 72.5kg. I lost this bout via KO in round 3. This loss is still probably the biggest highlight of my competitive career. I hope that I may get another opportunity to fight for a World title.
In 2010 I started sanctioning my promotions with ISKA through the National Representative Mr Rob Murdoch. We have formed a good working relationship and have worked hard to establish ISKA WA as a government recognized body in this state. I now approve & oversee other promotions, also make title applications for worthy contenders. I teach & train officials in seminars that include hands on training & qualify them to officiate both amateur & professional contests. 
I stopped competing in 2004, apart from one Pro Boxing fight that I took on short notice & lost in 13yrs. I've resumed my career aged 47yrs in 2017
What motivates you to fight at age 47? What keeps you going?
I'm going through Family Court & a Legal property battle with my ex wife. (this was during end of 2017). This is very frustrating & has made me very hurt, frustrated & angry inside. I decided to focus my energy into fighting to keep my sanity. It's what I love & what I am. A fighter. I'm so glad I made this choice. It's helping me stay strong & focused. I can't wait for more action in the ring. 
Tell us about what happen before the fight at Labuan, the situations you went through with the injuries & food poisoning.
I trained very hard morning & night for 10 weeks to fight for the B-MAEX ISKA Pro K1 title. Unfortunately on Xmas Eve I was in hospital with a shin infection on drip & strong antibiotics. I discharged myself to have Xmas dinner with my son & mum before flying out Xmas night.
I arrived KL on Boxing day. The airline lost my bags, containing my clothes, training/fight gear & medication etc… I was stuck in KL for a couple of days, but luckily my bags were returned to me on 28th. So flew to Labuan to prepare & drop a couple of kilograms before the weigh in (67kg target).
66.6kg was just a little bit too light, so I bought a couple of spring rolls & curry puffs from local shop. Bad move! 
I was in emergency hospital the next day with food poisoning/allergic reaction & on the drip again. I discharged myself to represent ISKA AUS at the welcome dinner.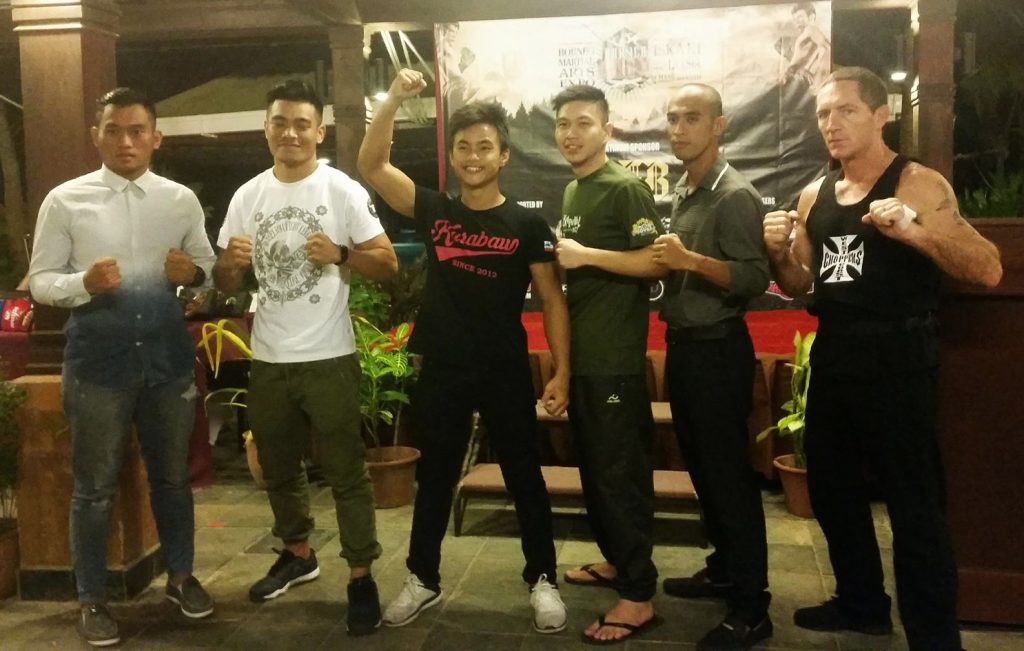 Fighters presentation at B-MAEX welcoming dinner
You were very focus even though you went through a lot. How did you set your mind to do so? Do you meditate? Are you a spiritual person? 
I've been brainwashing myself all year to achieve my dream & be CHAMPION again. I consciously live in denial. I tell myself & everyone else that I'm 27yrs old. Coz I was born on the 27th January. I tell myself that I'm the Champ. I believe in myself & know I can still be the best I can be.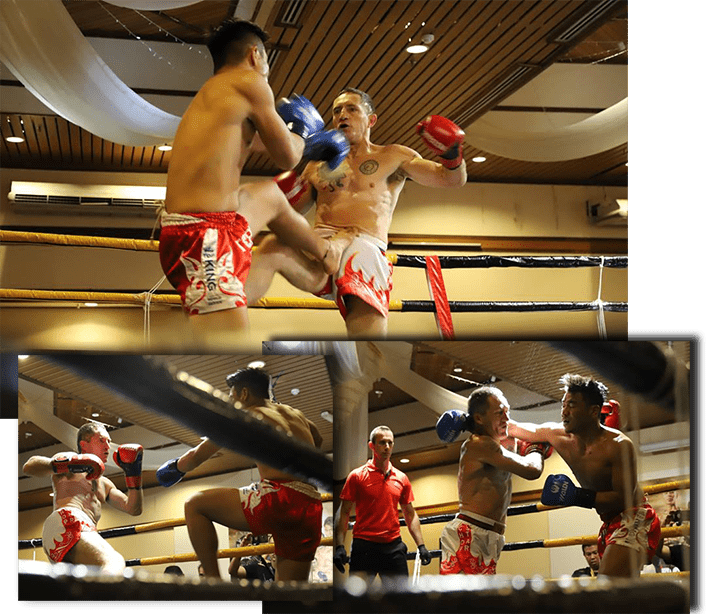 It works for me. I use positive affirmations daily, telling myself that I'm Fitter, Meaner, Stronger, Faster, Smarter, Harder & Sharper than anyone else on the planet. I am. 
I train really hard, spar tidy & busy with younger active Pro Fighters. You can't stop me. Not even with a bullet. It's all pre-programmed & engrained in my head. Nothing will ever stop me from achieving my goals & fulfilling my dreams. I believe in myself & know I can & will succeed no matter what life throws at me.
In that B-MAEX fight what was your initial strategy vs Rizal? Did it change when you were battling to get back to fitness ? How many percent were you during the fight? Did you fully recovered? What went through your mind during the fight?
My initial plan for Mohd Rizal  was to walk forward & pressure him, but being unwell, I ended up using my skills. After the welcome dinner, a good sleep & rest I think I was about 70% better. By the time I got into the ring on Sunday night I was about 80% better. I knew I would have to give 100% in the ring but was smart enough to conserve my physical energy & used my brains instead. 
Tell us about your walkout song? Why that song? And you obviously look like you were holding back your emotions when you sing it post fight…what does it means to you?
I want to entertain as well as fight. I've changed my fight name from Chopper to Chop Star. I will WIN, SING & PARTY when I fight, so "Unwell" by Matchbox 20 was very appropriate. Next fight I will sing "You May Be Right" by Billy Joel.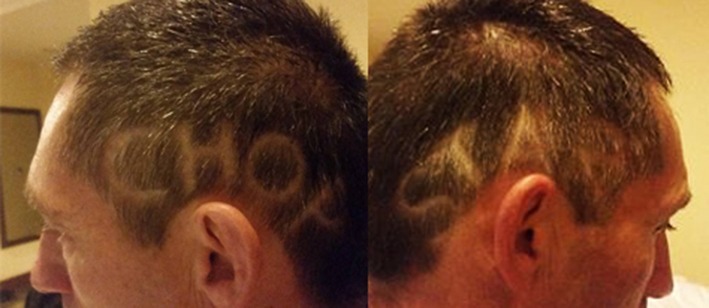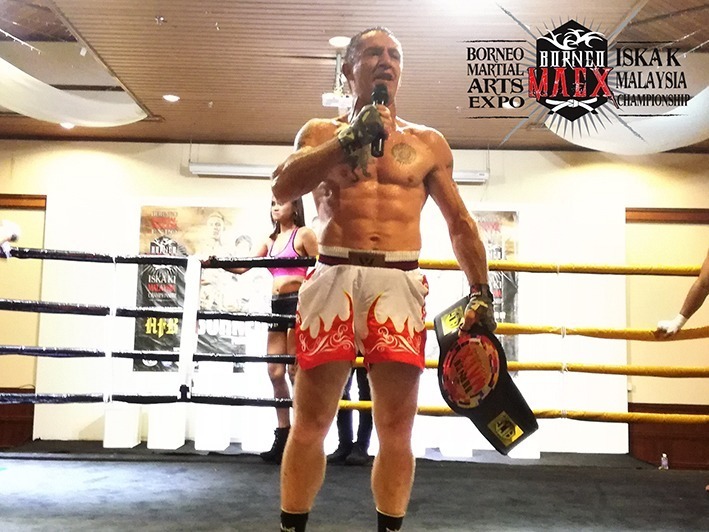 Alan Pond motto's – Win, Sing & Party
You know they always say full contact athletes peak in their late twenties to thirties, forties is kinda like a sunset period of their career, how do u keep yourself fit to do this?
It's all in your head. All part of the Master Plan. You are what you choose to be. A Winner or a Loser. 27 years or 47 years. The choice is yours. I'm living proof that this mentality works. If you Believe you will Achieve.
Tell us how did you celebrated the victory?
Singing Unwell with the crowd was my celebration. I also had a couple of quiet drinks with other fighters at the at the Resorts' Countdown Party. 
How did your friends treat you when you return home with the belt? 
My students & friends seem proud but not surprised of the win. They see me training like a demon & know well of my winning mentality.
You are embarking on a journey to revamp your gym with the change of name, share with us your aspirations for Pondy's Gym.
I'm changing my gyms name from MMA UFC to Pondys Gym. I hope that my name & reputation will bring more clients to Martial Arts & Fitness classes that I teach.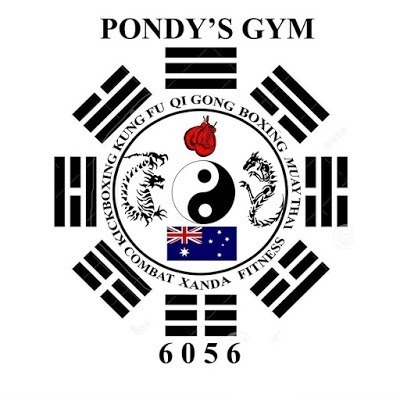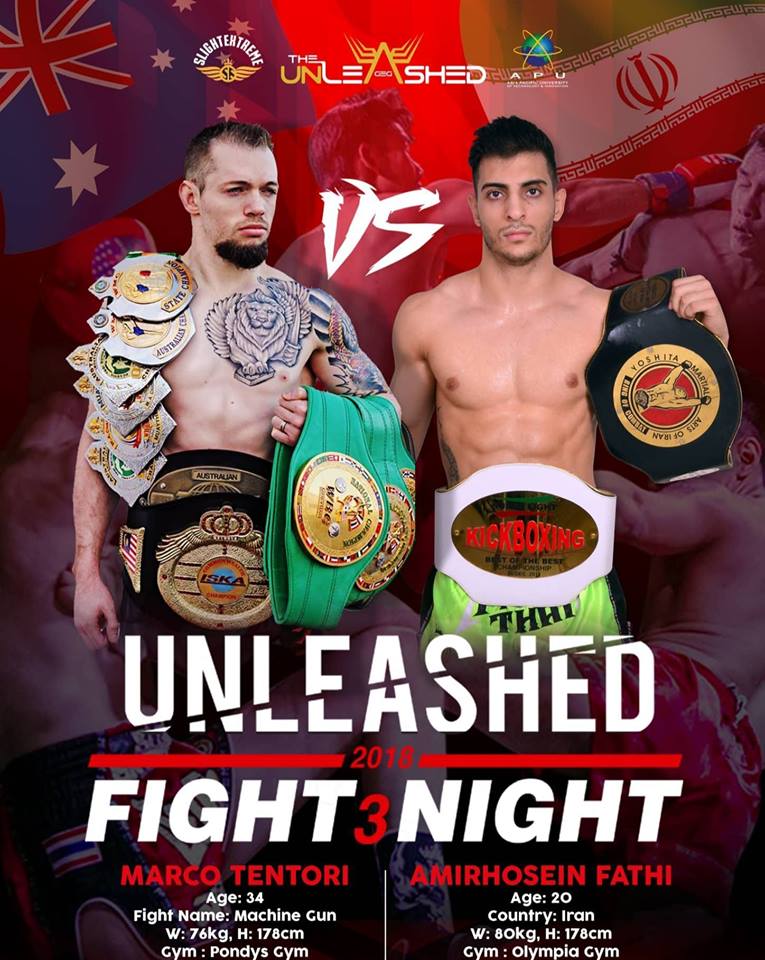 Alan's student
Marco Tentori
will be featured in the main event of Unleashed Fight Night against Amirhosein Fathi of Iran.
Marco has been training under Alan since he was 13 and has great achievement thus far. He is Australia's  4 time State champ.  4 time Aus Champ. WKA Pacific Champ. ISKA Commonwealth Champion with a fight record of 34W 11L.
Alan eloborate:
"Marco comes from same style of Kung Fu as me Buk Sing Choy Lay Fut. We just adapt the basic principles & technical fundamentals of that system combined with Western Boxing & Muay Thai into my system called XANDA. 
We can fight Boxing, Kickboxing K1, Sanda, Muay Thai Oriental Rules, all forms of stand up fighting."
Marco will aim to collect the Unleashed Fight Night title tonight.
Exclusive promotion is available for APU students. Hurry and grab your tickets now.
You will also receive goodie bags worth RM 25 and can participate in our lucky draw to win exciting prizes.
Here's the link to register
https://goo.gl/forms/99fFZNx82xUfQz5H2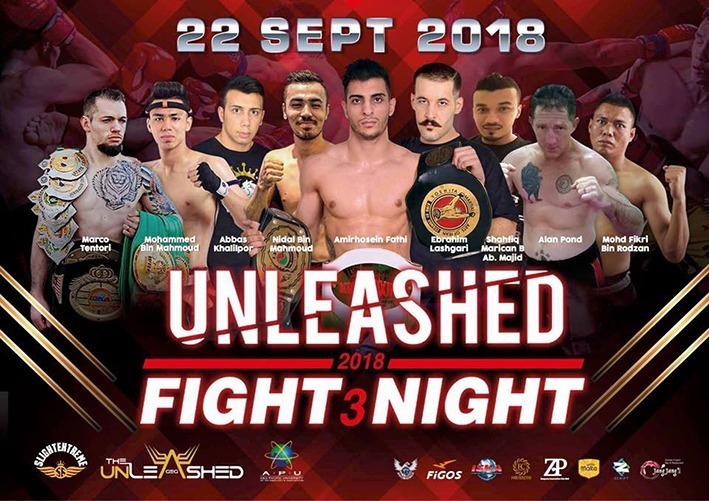 ————#WRB————-