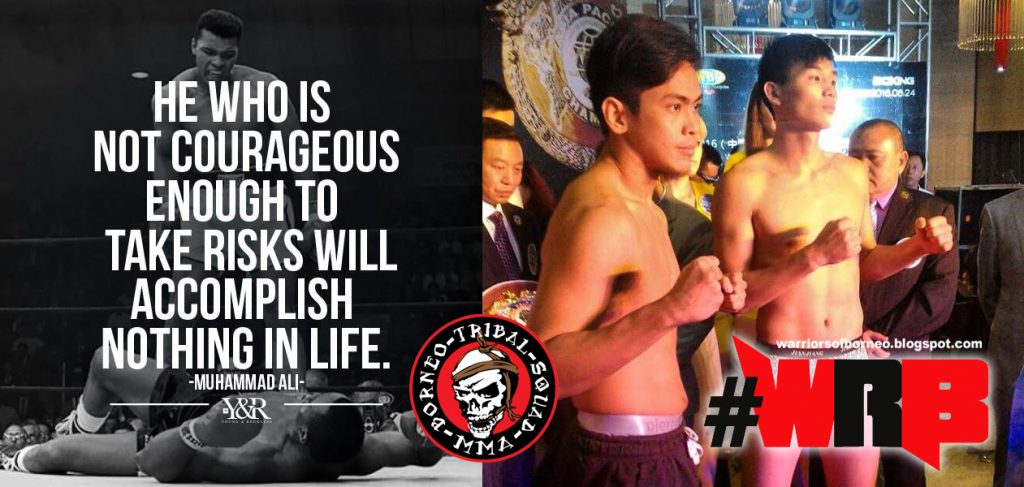 Early this year in February Hisyam Sams of Borneo Tribal Squad (BTS) took on his first pro boxing match in Singapore Fighting Championship 2. Fighting in a 4 man tournament for the World Boxing Federation (WBF) – Asia Pacific Light heavyweight title. It was on short notice as a boxer was injured and AJ Pyro , Hisyam's coach decide to put him in.
In bout 1 he fought Richard Corminal of Singapore.
Below is the excerpt from ASIA MMA reported by David Ash of Singapore Maven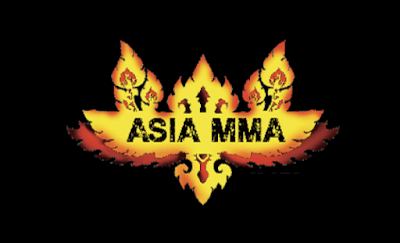 check out ASIA MMA for the latest in combat sports news in Asia
"Hisyam clearly displayed a lot more control throughout the 3 rounds of this bout. He took his time, and waited for Richard to land his jabs before working his jab, right hooks and left uppercut combination. Hisyam demonstrated agility stepping in and out quickly, all that time looking for opportunities when Richard remained exposed to his hooks. Richard's critical mistakes were having his hands down often, giving Hisyam a chance to connect his jabs and hooks. Winner : Hisyam Sams via UD."


In the final…
Mohd Ridzuan Dahari (Malaysia) vs Hisyam Sams (Malaysia)
The main event was an exciting bout between the two Malaysian boxers who were very quick on their feet and deft with their combination. However Ridzuan was the more aggressive fighter in this bout, landing clean punches while Hisyam seemed to have gassed out midway through the first round to turn the fight into a brawl. However in the second round, Hisyam took advantage of a very exhausted Ridzuan by clinching and landing a series of body shots till the sound of the bell. The referee declared Hisyam Sams the winner when Ridzuan could not get off his chair to continue the fight.

Winner: Hisyam Sams via referee stoppage after round 2."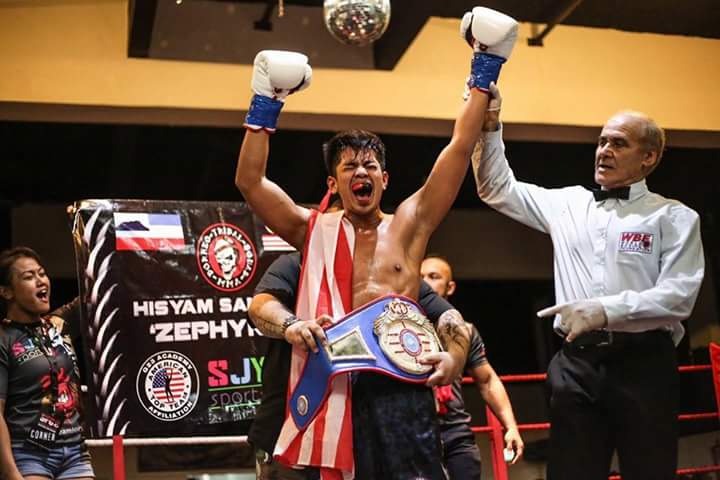 Hisyam is the first Malaysian to win a WBO belt
Emerging as Champion even though he was the lightest boxer among the four.
Hisyam was schedule to fight in ONE Silat in May 2016 and he was training hard in BTS for this, but unfortunately the fight was postpone indefinitely. Coach AJ was actively looking for a match up for Hisyam.
A boxing match in China came up. It was for a middleweight World Boxing Organization (WBO) fight on 24 June 2016. Again accepting this fight in a short notice. By this time Hisyam as a muslim already started fasting as June is the Holy month of Ramadan.
In the month of Ramadan, Hisyam trains cut down his training to night time only. In BTS for normal months they have the crazy energy sapping Spartan Training in the morning.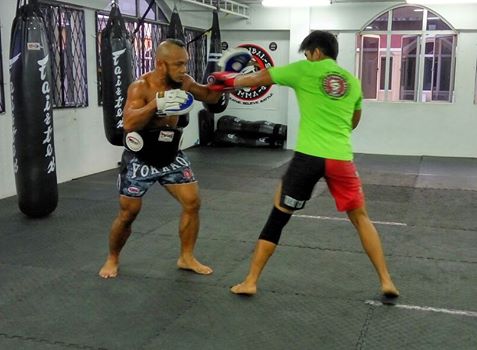 keeping busy with his coach AJ Pyro
During Ramadan Hisyam also take the opportunity to go back to his home town in Tawau to visit his family, while there, he trains at his old gym,
Alamgir
.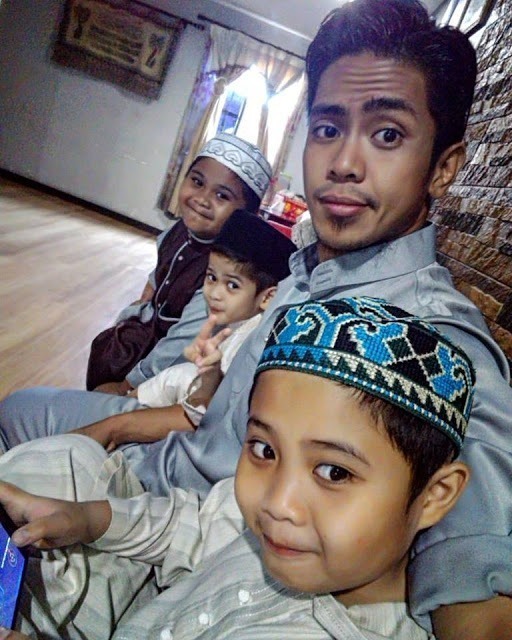 Hisyam is popular among his nephew in Tawau due to his friendly nature
and also how they look up to him as a mentor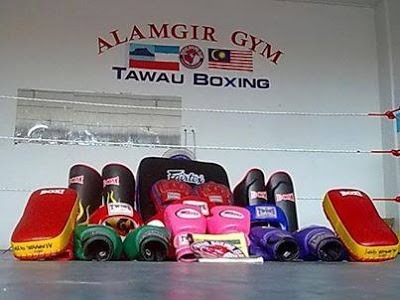 Hisyam lost the fight by TKO. His opponent Wang Fei Hu of China, was taller and a much heavier opponent. Fighting at 76kg, Hisyam had to load up as he walks around at only 72kg. Wang walks around in 79kg. Loading up when you are fasting is certainly a challenge…but for Hisyam, nothing ventured, nothing gained.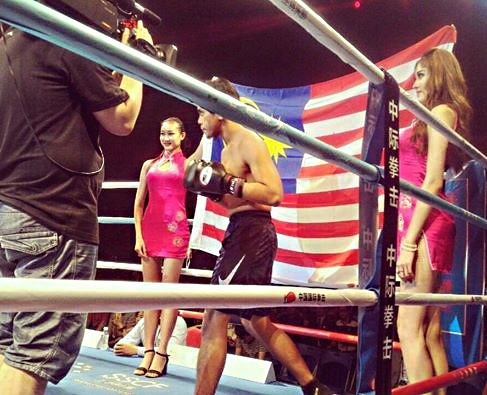 It was a good learning experience for him and as he's only 25, he needs more fights under his record. Furthermore, he is schedule to defend his WBF Belt in Singapore around September 2016.
Much respect to all muslim fighters that had to keep themselves active during this fasting month, I ask Hisyam to share some tips to #WRB readers on this.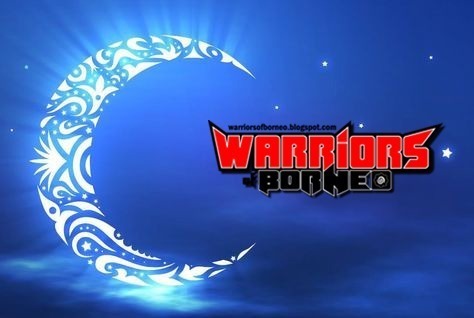 "Well for Ramadan, the fasting month its a good time for those who want to lose weight not to gain weight like me, haha. 
Couple of tips from me to lose weight on the fasting month. 
1. Know how much to eat at Sahur (pre dawn meal) and berbuka (breaking fast) . Eat more on Sahur since you'll need the energy to fast the whole day until the sun down till berbuka/ eat less when berbuka. Why less? Trust me when I say its all your 'nafsu' (desire) that is big. You don't need a lot. Just a small portion is enough and you will feel full. 
Remember the fasting month of Ramadan is the time for Muslim to do good deed not to eat a lot. 
2. Do light exercise daily. Just do light exercise is enough to keep your body in good and healthy condition. Doesn't mean its the fasting month then all you do is sleep the whole day waiting till berbuka. 
You might think sleep doing nothing and not eating will help you lose weight. Well its not. Sleeping meaning you keeping your extra fat when you suppose to burn it and guess what, you not losing weight and worse, your body gets weaker. So make sure do your exercise and sweat it out and burn the fat"