2 September 2016 – Kuala Lumpur, Malaysia: The largest sports media property in Asian history, ONE Championship™ (ONE), electrified the Stadium Negara once more with another spectacular showcase of world-class mixed martial arts action. ONE: UNBREAKABLE WARRIORS featured eight Malaysian MMA superstars defending their home turf in front of a packed crowd cheering them on. In the main event, Malaysian-Kiwi sensation Ev "E.T." Ting emerged victorious over Australian stalwart "Ruthless" Rob Lisita to win by unanimous decision in an exhausting lightweight contest.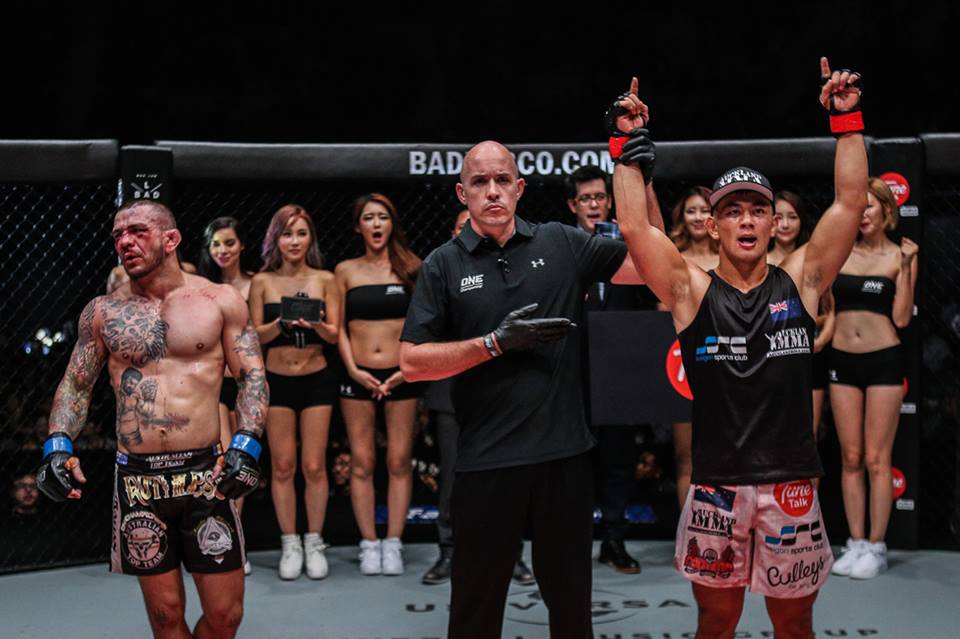 The sweetness of getting your hand raise after a brutal 3 round war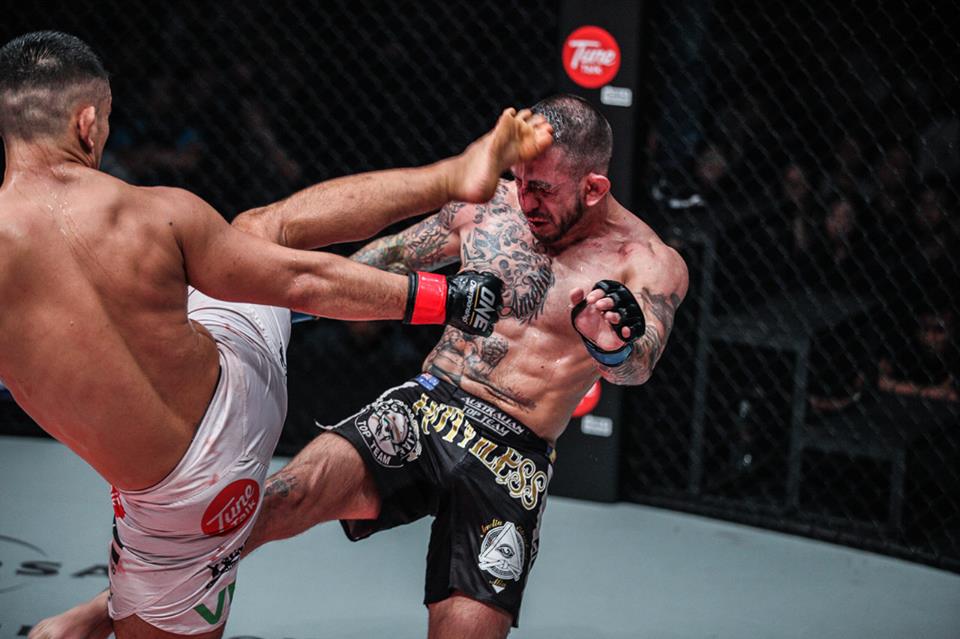 photo credit: ONE C FB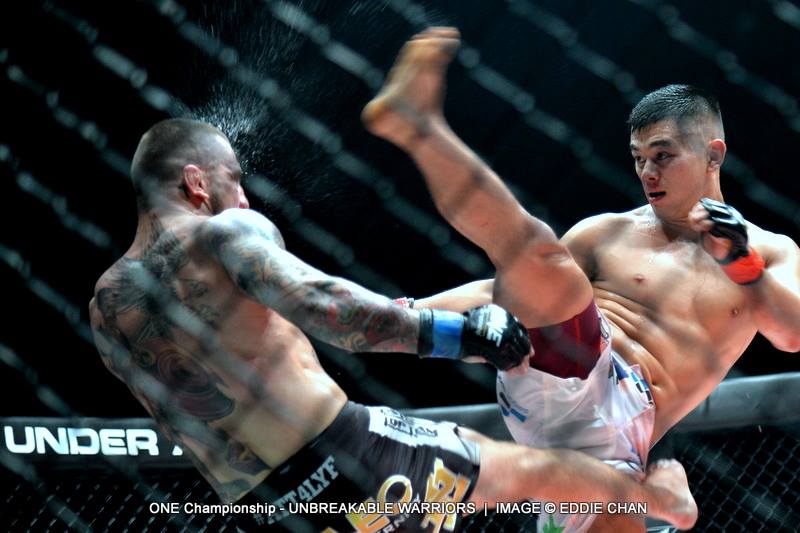 photo credits: Eddie Chan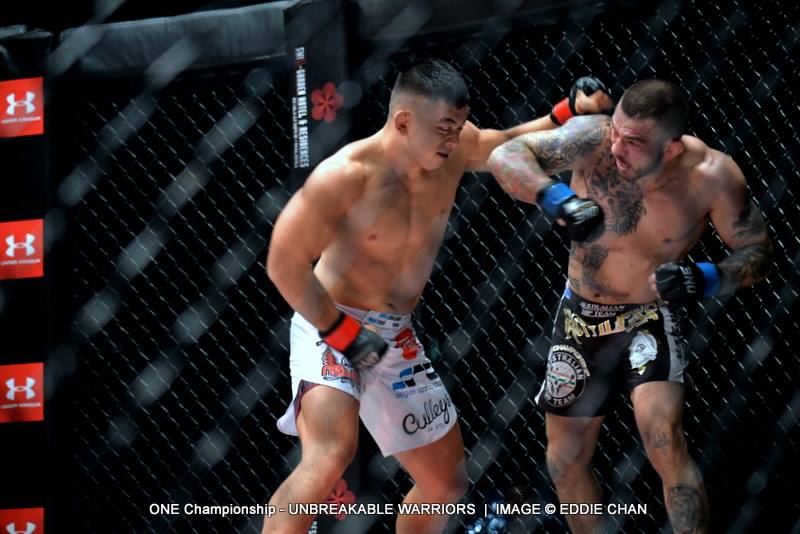 photo credits: Eddie Chan
In an action-packed main event bout at ONE: UNBREAKABLE WARRIORS, Ev "E.T." Ting of Malaysia and "Ruthless" Rob Lisita of Australia completely depleted each other's resources in an exhausting three-round lightweight bout. In a display of pure willpower, the two warriors repeatedly tagged each other with devastating blows that would have dropped and finished lesser men. Each minute of action kept the crowd on the edge of their seats. In the end, Ting simply had more in the tank, earning the unanimous decision by outlasting Lisita who was thoroughly defeated but remained unbowed.
After the bout, Ting took the chance to thank the fans in attendance and called for a title shot.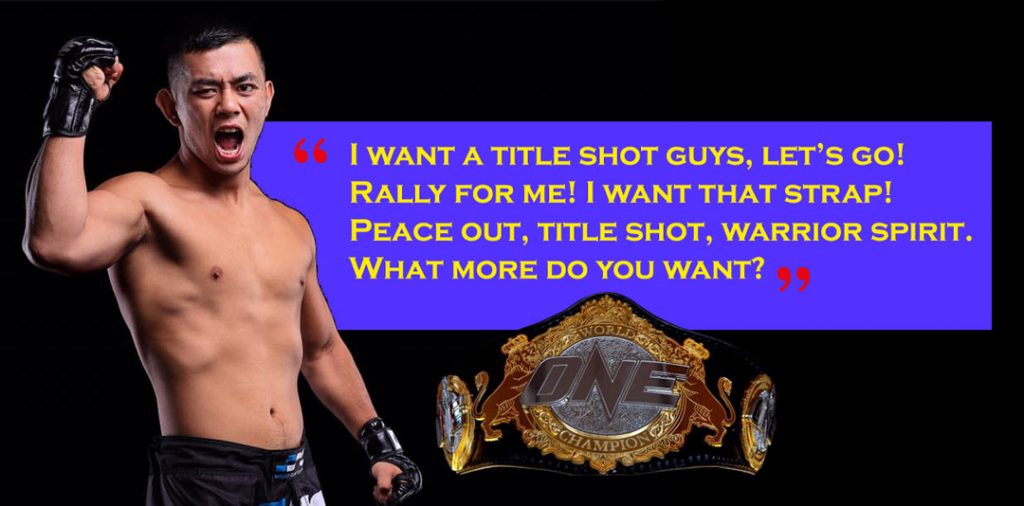 Ev, calling out a title shot at a post fight interview
In a tremendous show of pure heart and determination, top lightweight contender Shannon "One Shin" Wiratchai of Bangkok, Thailand went shot for shot with Malaysia's Peter Davis in a highly entertaining clash of elite strikers. The two fighters gave everything they had and blasted each other every minute of the bout for the duration that it lasted, much to the delight of the packed Stadium Negara crowd. Past the midway point in round two however, a Wiratchai uppercut dropped Davis and an ensuing volley of punches effectively ended the bout.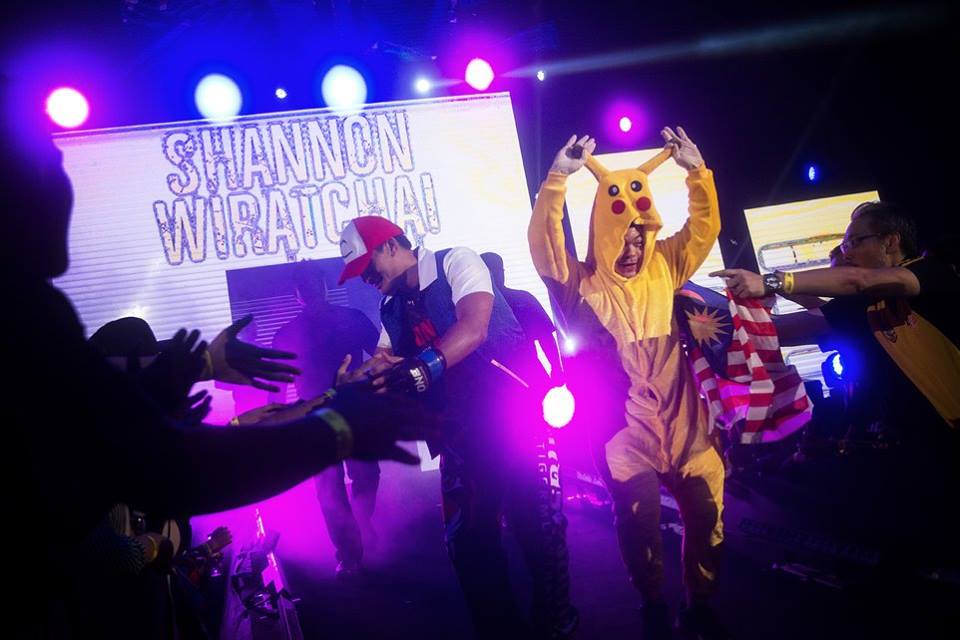 Shannon being the showman, walk in dress up in Pokemon Go theme
22-year old April Osenio of Baguio City, Philippines delivered her most impressive performance yet, submitting top Malaysian female fighter Ann "Athena" Osman in the first round of a scheduled three round women's strawweight bout. Osenio and Osman wasted no time striking and immediately went into the clinch as soon as the bell sounded. The two scrambled continuously on the mat, trading positions on numerous occasions until Osenio caught Osman in a Guillotine Choke to force the tap.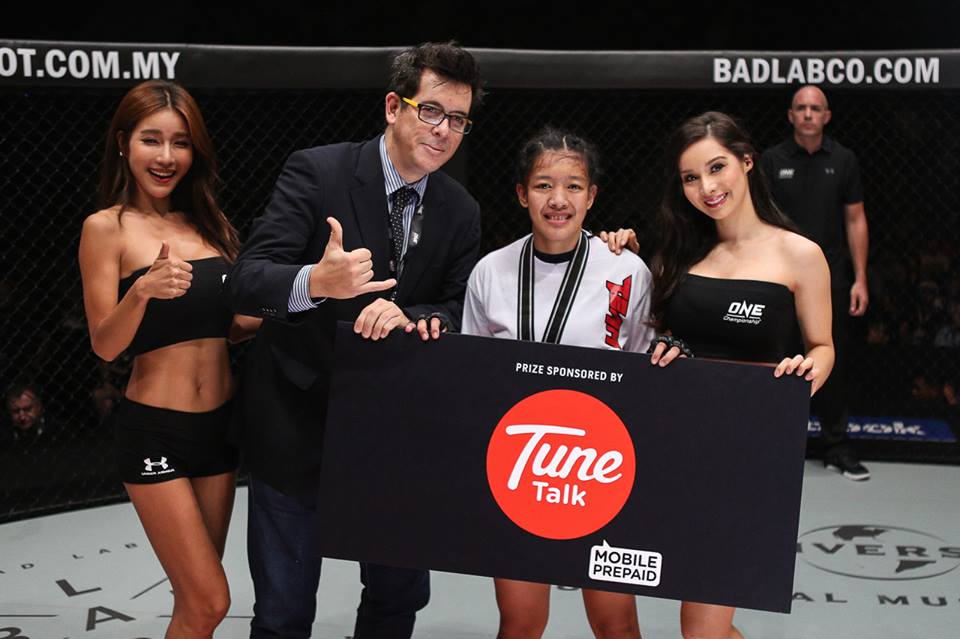 April being presented the prize by Jason Lo, TuneTalk CEO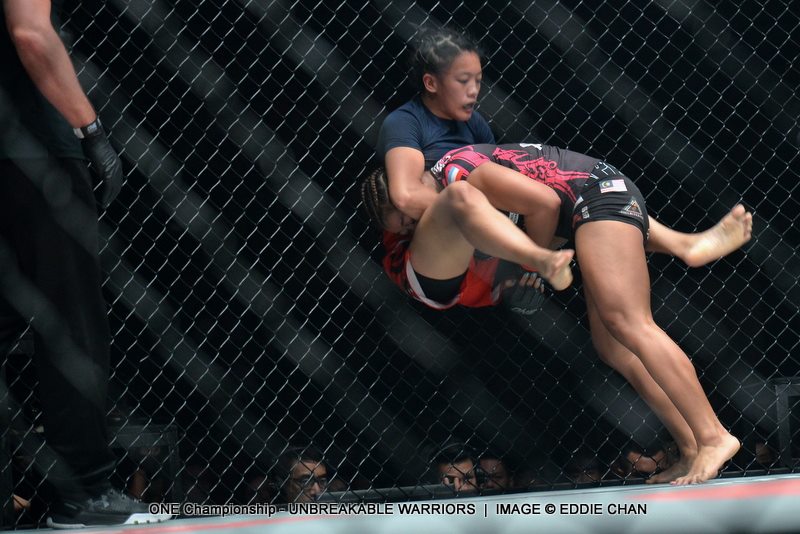 The beginning of the guillotine choke that Ann tap out to…photo credits to Eddie Chan
In a clash of veteran middleweights, Gilberto Galvao of Brazil made a successful ONE Championship debut with a unanimous decision victory over crafty Japanese MMA fighter Tatsuya Mizuno after three grueling rounds. Galvao owned a slight edge in damage inflicted and striking superiority, often landing powerful combinations that Mizuno took very well. Mizuno on the other hand scored repeatedly with highly accurate knees to the body. Towards the end of the bout, Galvao was able to land a couple of takedowns which the judges deemed enough to award him the victory.
Malaysian flyweight sensation Gianni Subba by way of Bali MMA in Bali, Indonesia overcame a spirited performance from enigmatic counterpuncher Yago Bryan of Rio de Janeiro, Brazil. The 23 year-old Subba employed a tactical gameplan, working with his long reach to keep Bryan at the end of his kicks all fight long. The biggest weapon for Bryan was the straight right hand which he threw behind a counter left jab but Subba came well-prepared for the fight and knew he had to stay away from Bryan's deceptive power. All three judges scored the bout in favor of Subba who took home the unanimous decision victory after three rounds.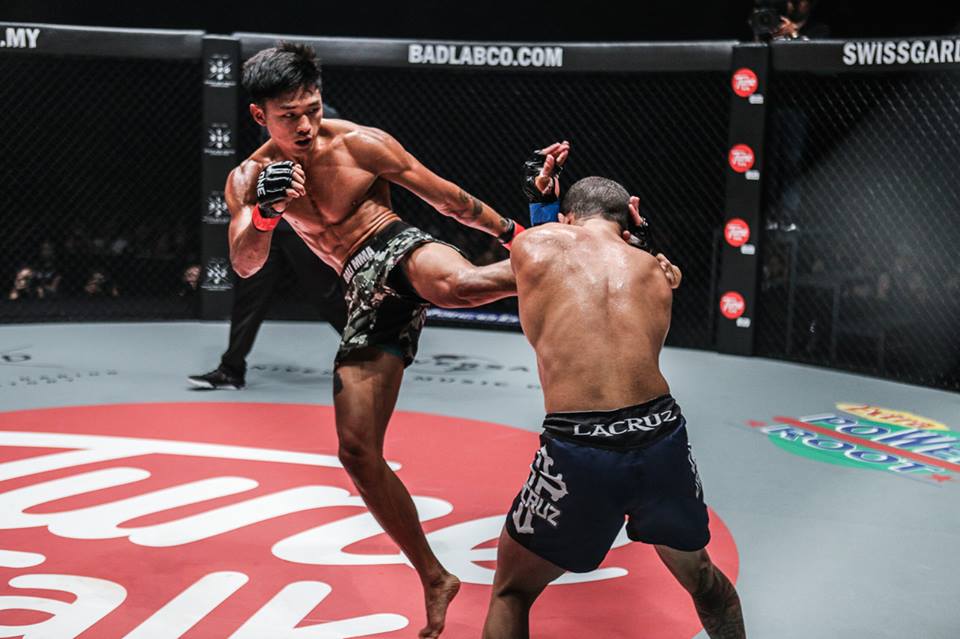 Gianni knowing Yago likes to shoot for take down keeping him at bay with his kicks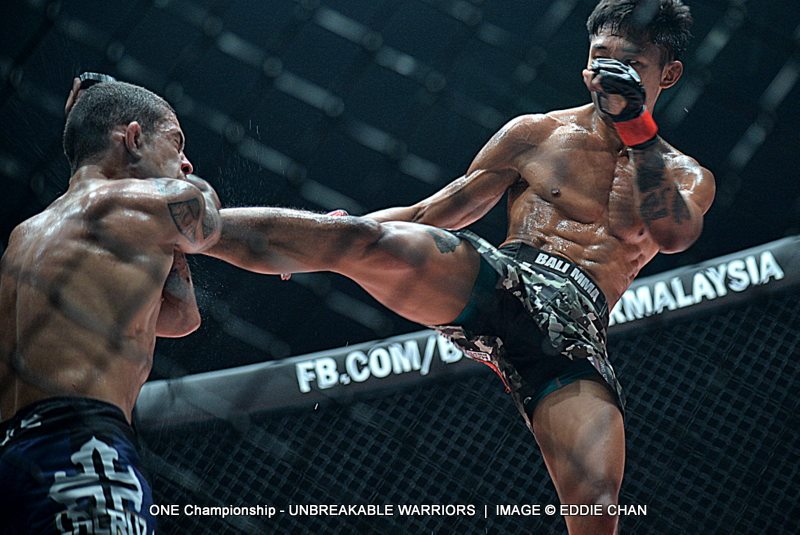 More kicks…snappy and fast, even when Yago try to time it with a counter, Gianni was able to move out of harm's warm fast enough. Photo credit to Eddie Chan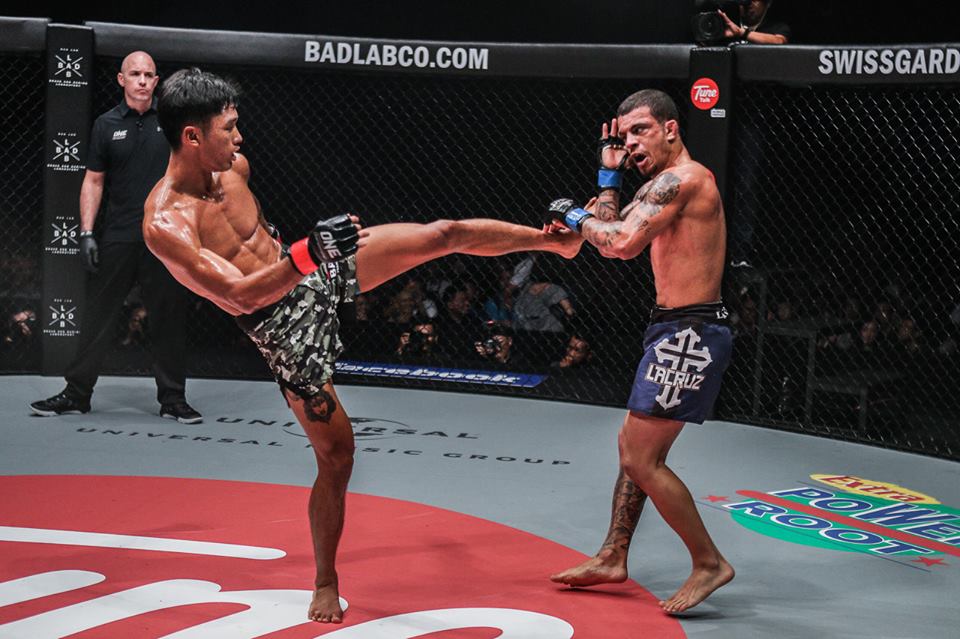 And more kicks…Gianni broke his fist on the 2nd round…which brings him to focus more on using
his leg to earn the unanimous decision win
In the best shape of his career, Malaysian welterweight prospect Agilan "Alligator" Thani extended his win streak to six and kept his unblemished record intact with a methodical victory over the Philippines' Trestle Tan. Thani dominated the fight from start to end, successfully taking Tan to the ground where he worked to finish with brilliant transitions. After taking Tan's back, Thani slid his arm underneath the Filipino's neck and squeezed until his opponent tapped out.
Malaysia's Keanu Subba via Bali, Indonesia returned to his winning ways with a spectacular victory over Pakistan's Waqar Umar. The 22-year old showcased his well-known striking prowess, bringing the fight to Umar who looked to take matters to the ground. After Umar caught a missed kick by Subba, he used the momentum to get the Malaysian prospect on the mat. Subba however executed a sweep shortly after and delivered his trademark elbows and fists from top control to force the Pakistani fighter to tap out.
Chinese featherweight warrior Nuerdebieke Bahetihan shocked the crowd in attendance at Stadium Negara with a scintillating eight second one-punch knockout of Evolve MMA's Bruno Pucci. Pucci came out of the gates looking to throw a combination but a single right hook counter felled the proud Brazilian. The victory earns Bahetihan his third straight win as a professional mixed martial artist.
Female atomweight competitor Jenny Huang of Chinese Taipei clinched her third straight victory inside the ONE Championship cage and fourth straight victory overall with a first round submission of Delhi, India's Jeet Toshi. Despite Toshi's usual willingness to engage, Huang put her grappling skills on full display, submitting Toshi by Arm Triangle Choke just past the midway point of the first round.
Rene Catalan of Manila, Philippines dominated Chinese fighter Zhang You Liang to win by unanimous decision in a three-round strawweight contest to kick off ONE: UNBREAKABLE WARRIORS. Catalan utilized his world-class wushu skills to keep Zhang honest throughout the bout. In the end, Catalan's work rate and accurate striking earned the judges' nod.
In a clash of Malaysian MMA prospects, former MIMMA featherweight champion Muhammad Aiman scored his first victory inside the ONE Championship cage by routing former professional boxer Hisyam Samsudin to win by unanimous decision. After three rounds, Aiman used his superior striking and grappling to convince the judges to score in his favor.
ONE : Unbreakable Warriors is also the third show that feature live music performance. DJ Christine and DJ Jung Jumi provide some hip moving dance tunes in between fights. Meanwhile Malaysian newcomers, Nik Qistina & Natasha Sass entertain the crowds with their new tunes. Before the main card starts , Natasha sang the Malaysian national anthem. Her soulful voice really moved the crowds which gave her a standing ovation. After fight, Malaysian singing veteran & rock queen Ella gets the crowds going with her iconic balladic rock. Followed by Faizal Tahir whom rock the stadium with his fast tempo pop rock. It was certainly a night to remember, good fights and great entertainment.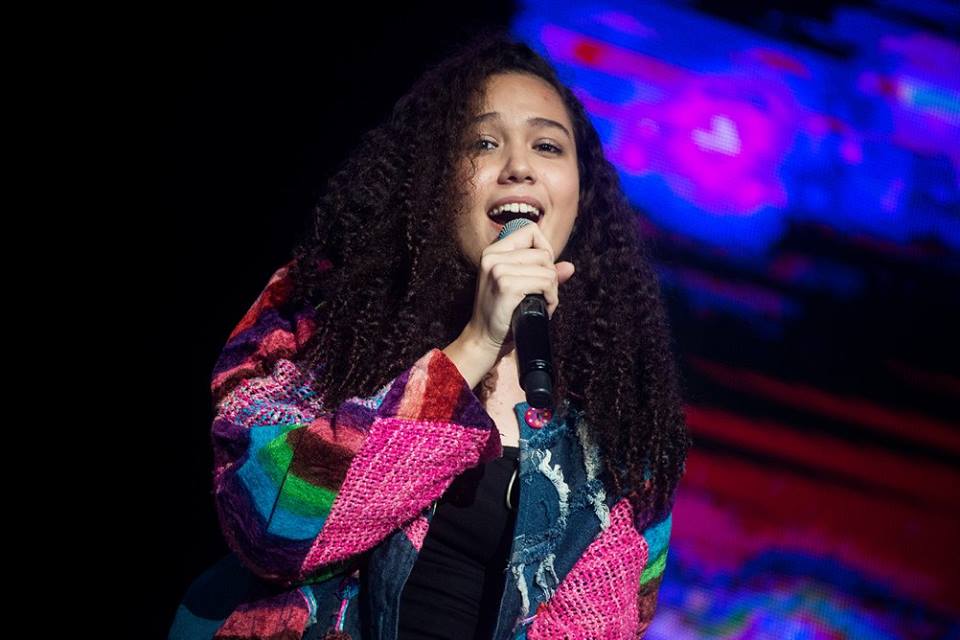 Natasha Sass singing the Malaysian National anthem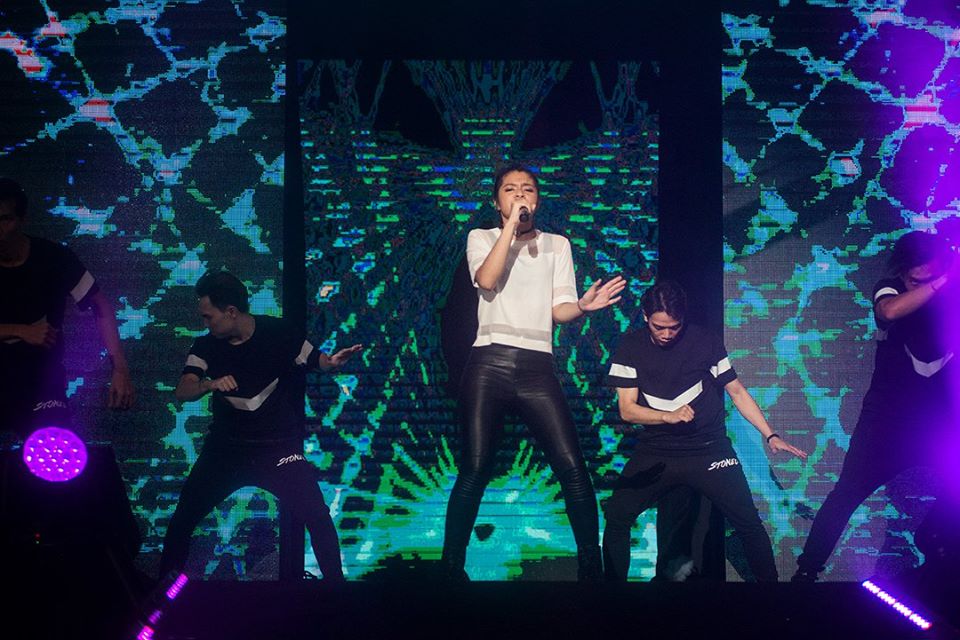 Nik Qistina doing her dance numbers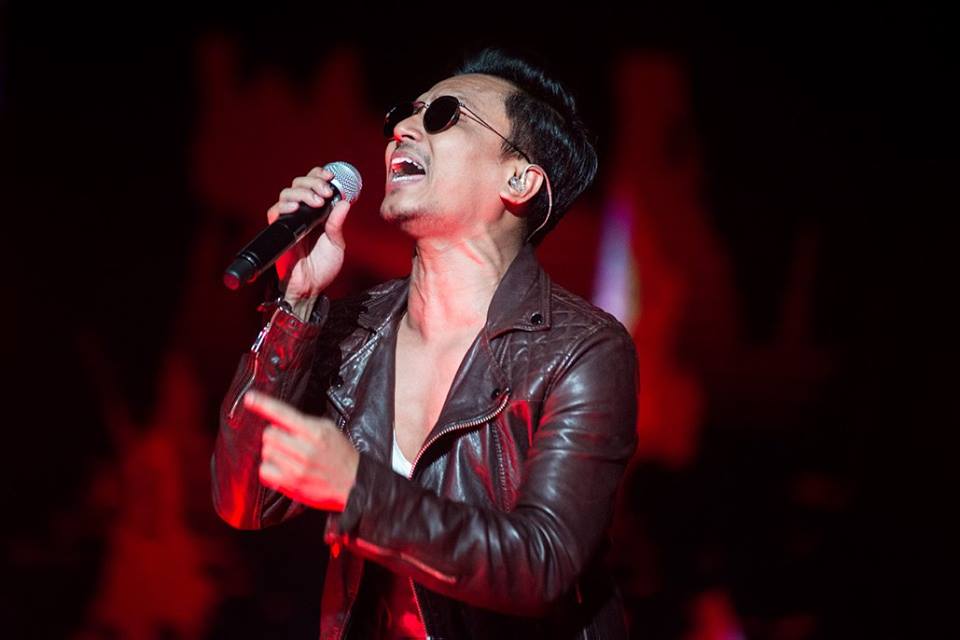 Rockstar – Faizal Tahir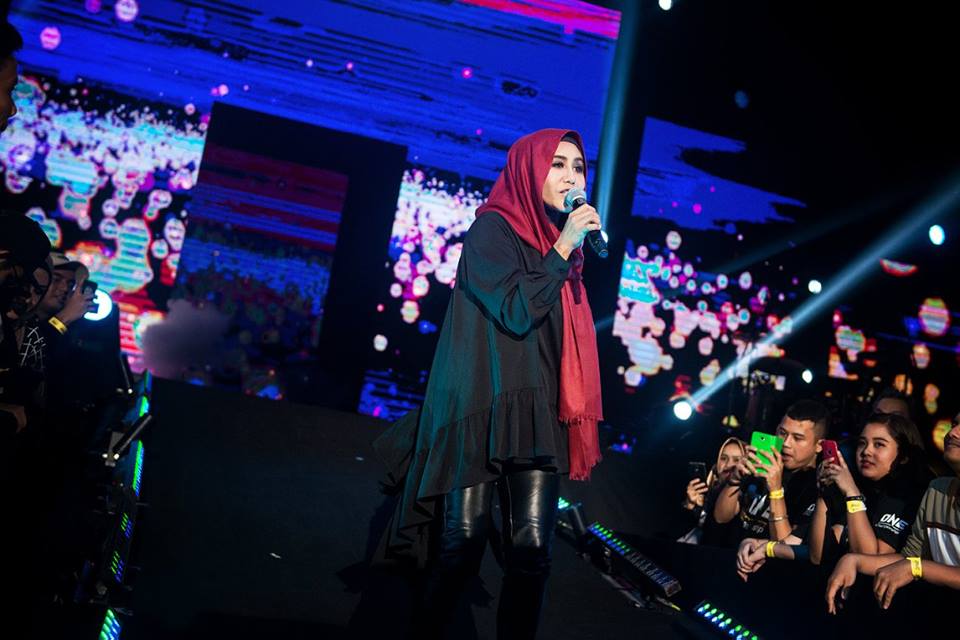 Malaysian Rock queen – Ella
Official results for ONE: UNBREAKABLE WARRIORS.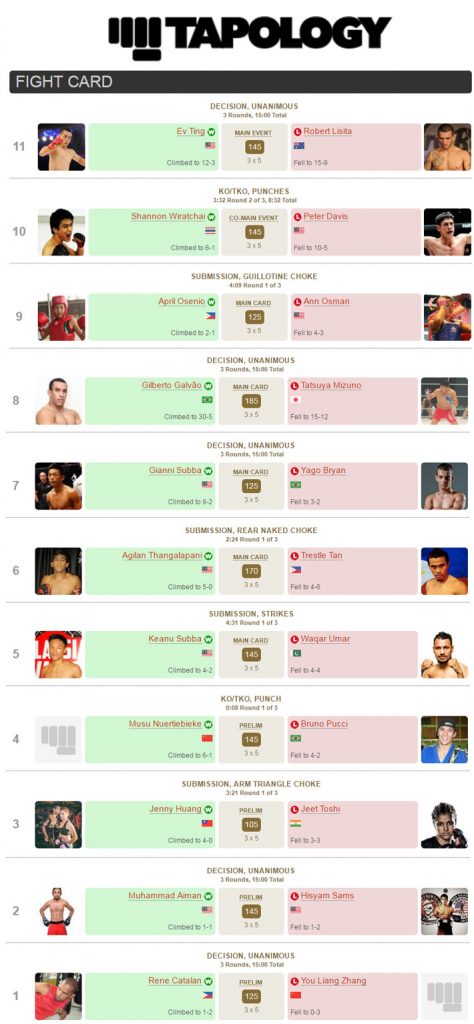 Results sheet from Tapology
For those still haven't got enough of MMA, get your tickets to ONE Championship: State of Warriors at Yangon Myanmar on 7 OCT 2016. New strawweight champion Yoshitaka Naito will make his first title defend vs undefeated Filipino Joshua Pacio.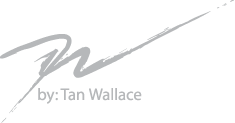 Next up…7 OCT at Yangon