Fight Fest 2 (FF2) happened on the weekend of 6 Sep 2015.
Aptly named : Act of War, for those who witness the fights that went down at Citymall Kota Kinabalu,…they certainly witness a War.
Most fighters came out with gun blazing and there were a few match that was all out War!
Organised by Johan Julian of Kinabalu Fighters, Fight Fest 2 was sanctioned by the International Sports Kickboxing Association (ISKA) Asia, International Mixed Martial Art Federation (IMMAF) & Sabah Mixed Martial Art Association.
Having Citymall as venue sponsor enable the event to be held free of charge, which is Julian's objective of getting the event more exposure.
Power Root introduce it's energy drink – Extra Power Root, giving out free drinks to the crew and the public and organising games for the public in between the fights to keep the crowd entertained.
There are 3 games, namely Game 1 : Most Push up in 2 minutes, Game 2 : Most Power Punches in 2 minutes, Game 3: Most Kicks in 1 minutes.
It's great to see more & more brand are getting themselves associated with martial arts stars. Here we see that Power Root has recently got Peter Davis ( Malaysian MMA superstar ) as their brand ambassador.
Recently also MILO has got Ann Osman ( 1st Malaysian Female Pro MMA fighter ) to appear in their Champions Never Give Up Campaign.
This is definitely a positive sign for martial artist. Let's hope more brands will get local martial arts athletes to be their brand ambassador, especially talented martial artist from Borneo
———————————————————-
For the FF2 fights, here are the official results.( the one in the yellow box = winner ):
————————————————————-
Match 1 Women k1 54kg : Nur Sakinah vs Nur Bahrina
Nursakinah fighting her 1st k1 Kickboxing match at 54kg. Her outing in MMA competition, was a ladder match lost in MIMMA3 but she reached the Semi Finals of JFL loosing to Valerian Rosario in a really hard fought four round that was close.
This K1 fight vs Nur Bahrina of Brunei, lots of punches was exchange in round 1, body shots & head shots by both fighters. 2nd & 3rd round action slowed down a bit as both fighters are tired but the action came sporadic. When Sakinah or Bahrina attack, the punches came in bunches.
Sakinah representing Karabaw Gym Sipitang won by decision.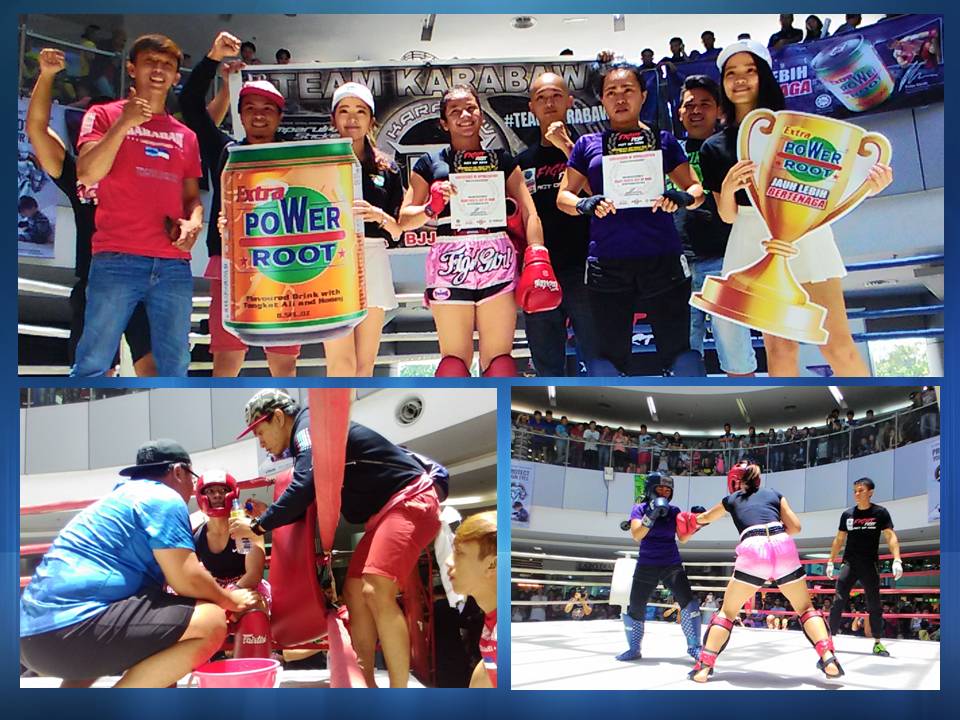 Respect to both fighters, fight with lots of heart and guts 
———————————————————–
Match 3 K1 78kg – Chua Choon Wah vs Kyo Kaede


Can't recall when was the last time Kyo Kaede fight…but it was good seeing him in FF2. Kyo in person is huge, built like a tank. He looks like he weight well over 85kg, but fighting at 78kg, looks like he had a successful weight cut. Having that extra weight during fight day is an added advantage especially when in K1 where leg kicks are the usual features.
Kyo being cornered by Marc Marcillineus of Borneo Tiger MMA, had the more accurate strikes to head. Body kick to body and legs also connected a lot. In round 1, it seems like Chau was asking for a standing count, after Kyo put him in the corner with some hooks to head & body. Match ended in round 1.
———————————————————-
Match 5 K1 65kg – Mohd Danish vs Kevin Soh


Kevin Soh of Cruz Fitness  took this fight at short notice to replace a injured fighter. Going against Mohd Danish is not a matter to be taken lightly as Danish is the brother of Marc Marcillinus, the ex ONE FC pro fighter from Tambunan that now coach in Borneo Tiger MMA.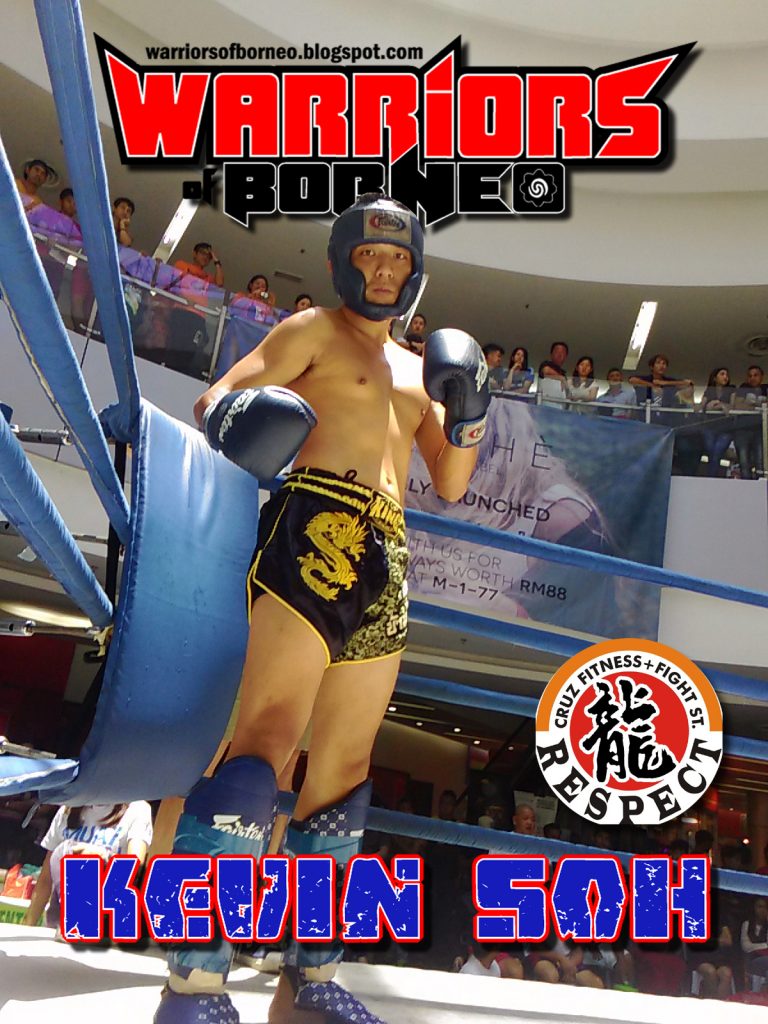 But during the fight , it seems Kevin was more prepared. His conditioning was better and he was able to control the pace with his accurate kicks and punches. Danish was out of breath early, making him hard to execute any effective counter. As the round progress on, Kevin was dominating and won the fight.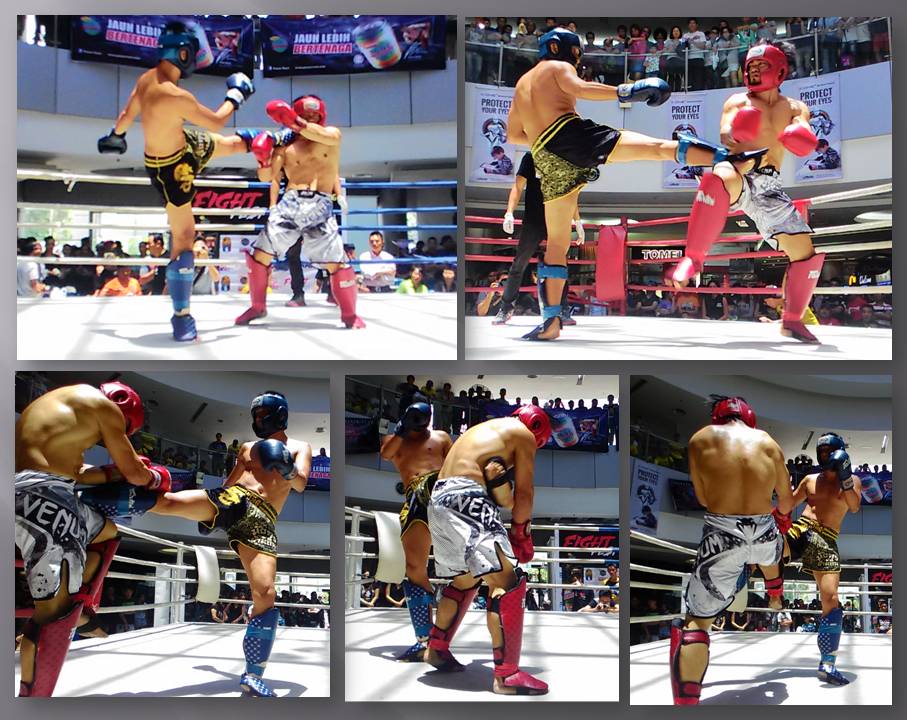 Kevin's gallery of kicks
————————————————–
Match 9 MMA 75kg – Cheng Yun Wah vs Taicho Philemon Headhunters
Cheng of D-30 Muay Thai from Miri Sarawak is a hidden gem of a talent. From top position he rained punches to Taicho's face. Taicho quickly hooked in a triangle & caught Cheng's arm and tried to execute an armbar but Cheng's arm was not extended. Cheng was calm & he lifted and drop Taicho twice. The 2nd one was the fight ender as Taicho was TKO by neck injury it seems. We hope Taicho have a quick recovery.
————————————————–
Match 10 MMA 61kg – Aquila Chu vs Aaron Lo




Aquila represent Sabah Top team, trained by Antonio Battistessa from Italy. The leading coach in Luta Livre in Malaysia. Aaron is from Kuching, representing The GymBox, trained by Matt Pellino, the leading wrestling coach in Malaysia. So this is the fight between two students of well known foreign coaches in Malaysia.
Aquila is more quick and snappy with his strikes, while Aaron was very calm and composed. Aquila initiate most of the strikes as Aaron look to counter . Aquila caught Aaron with a right body shot & left hook but it was not hard enough. Aaron ducked in and threw a number of right uppercuts as Aquila counter with thai clinch and knees.
Aquila manage to trip Aaron but Aaron fell on his side which he quickly reverse and got on top. Aquila quickly got him in a choke. Action slowed down as Aaron keep trying to posture up but Aquila manage to clinch on to his body and neck. Referee stood them up and Aaron end the fight connecting with an uppercut.
2nd round, Aaron pushes forward. Aquila counter with knees and some effective jab. When they got close, Aquila unleashed a flurry of punches. Again at the end of round Aaron found success with few jabs that bleed Aquila.
3rd round, Aaron manage to get a take down and got full mount. Aquila kept his face closed to Aaron's body which kept him away from hard punch from Aaron. Scuffled and Aquila reversed and
moved into Aaron's guard. Aquila with multiple right shots to Aaron's body and hammer fist to Aaron's face as he himself drips blood from his nose onto Aaron's body.
Aquila win by unanimous decision.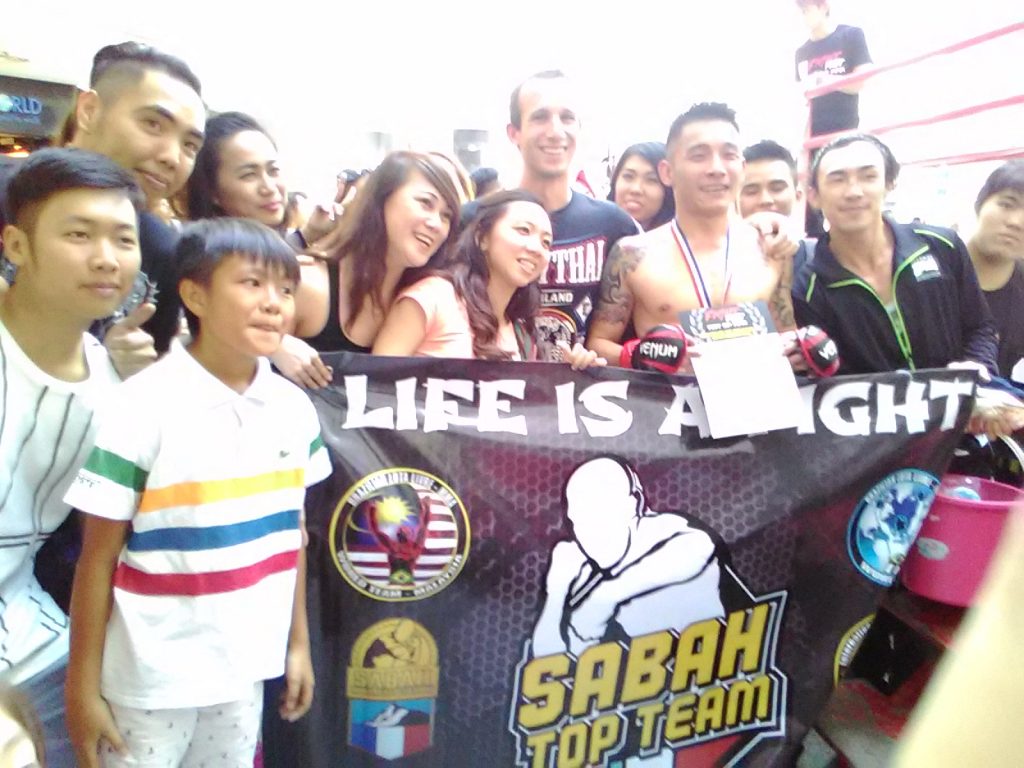 Aquila celebrating his win with his Sabah Top Team teammates, and coach Antonio Batistessa ( middle )
Warriors of Borneo managed to caught up with Aquila Chu to get to know him better:
Which gym you represent?
I'm from Sabah Top Team, training with head coach Antonio
How old are you? How long have you been doing MMA?
I'm 30 years old, been in martial arts for almost 3 years, MMA about 18 months.
What's your core martial art?
Started with Muay Thai as a form of fitness, my 1st fight 6 months after I started, have 3 Muay Thai fights under my name.
Are you looking to have more MMA fights? If yes, which one is your target?
Will prepare for my next fight after my wedding, targeting MIMMA and JFL 2. Gotta do it after wedding…or my wife would kill me!
What motivates u to fight?
I fight for pride, I fight for the people who believes in me, I fight to push myself to my limits. Life is a fight!
Tell me a bit of your family life & source of inspiration?
Well,..I do not have a sob story to tell, I was born into a decent family, my parents did well to bring me up, I went to college, recently got married and is currently doing well in my career.
Born and raised in Brunei to Malaysian parents, I had a normal life growing up. Have always been small and thin in size compared to my peers all the way from childhood to teenage to early adulthood before I took up martial arts, there were times when I felt tired of being the little guy.
Before taking up Muay Thai, i went more than a year without doing any exercise, working, smoking and drinking was my life, so with hindsight, it is the best decision I have made. Today, I have quit smoking, drink much much less (we shouldn't have to quit alcohol), and made exercising an important part of my life.
I look to better myself than I'm the day before, always trying to improve, so that is my inspiration, and let's see where my philosophy will take me in life, did I say that Life is a fight?
What's your fav techniques?
I do not have a particular favorite move, but being a muay thai guy, basic muay thai moves are my go to moves. But currently training in Luta Livre, I'm learning to incorporate takedowns and submissions into my arsenal of skills.
Do you have a day time job? How does it affect your training?
I'm in the telecommunication business, a sales manager in charge of Sabah 1.

Working 8 to 5, and often having to travel outstation, putting in time for training is at times a huge challenge. But I always try my best to make arrangements, and believes that if you try hard enough you will succeed, if not, you will find an excuse to give up.


Thank you for your time, congrats on the win!
————————————————————-
Match 12 MMA Super 4 56kg – Muliadan Danny vs Mohammad Hasbuliah Sanmin

Fight fans ….watch out for this kid – Md. Hasbullah. Marked my words …this kid will be a force to be reckon with in near future. A kampung boy from Keningau, train under Matt Buvvart of Keningau Mixed Martial Arts gym. This kid has lots of heart, he was relentless and fearless during his last fight at JFL Semi Final vs Ahmadjon of Gym Box Kuching, winning the fight against a highly regarded opponent.
Hasbullah is preparing for JFL grand final on 4 OCT 2015 vs Dean Hamsah. He is also polishing his ground game under the tutelage of Matt, teaching him Luta Livre. This can be evident in this fight against Muliadan. It only took Hasbullah 33 seconds in round 1 to finish Muliadan in a deep armbar.
With this win, Hasbullah goes to the final of the Super 4, meeting Teo Seng Ming of Labuan.
———————————————————
Match 22 K1 56kg – Zul Corner Shot vs Faizal Boy Kicap Ismail


This fight was tiring to watch…because it was heart pounding. These two warrior came out to Fight Fest leaving nothing at the gym, they bring out all their arsenal and was on full assault.
Zul came blazing with his thunderous punch, landing hooks & uppercuts. Faizal withdraw defensively but return a left roundhouse that connect, drop Zul momentarily. They went at it again, Zul with hooks and Faizal counter with kicks. At 1:10 Faizal connected with a clean front teep.
2nd and 3rd round basically it's the same with lots of power shot from Zul. He's hand does not seems to tire as each punch was thrown with full bad intention.
This two top kickboxer in Sabah certainly has a lot in their tank. To be able to go all out in 3 round was certainly amazing to watch….for this they won the Fight of the Day award.

Back and forth action between the two top Muay Thai fighters in Sabah
——————————————————


Match 23 K1 Super 4 – 70kg – Suhardi Shasuddin vs Ben Banetto


This is the final match for the K1 Super 4 -70kg. Ben was able to control the distance well. Remaining out of range and using his front teep and roundhouse to score many points. Dropping Suhardi a few times with his kicks.
But Suhardi does not go down easily, he put up a great fight. Throwing hard punches to counter Ben's kicks. Ben won after 3 rounds by unanimous decision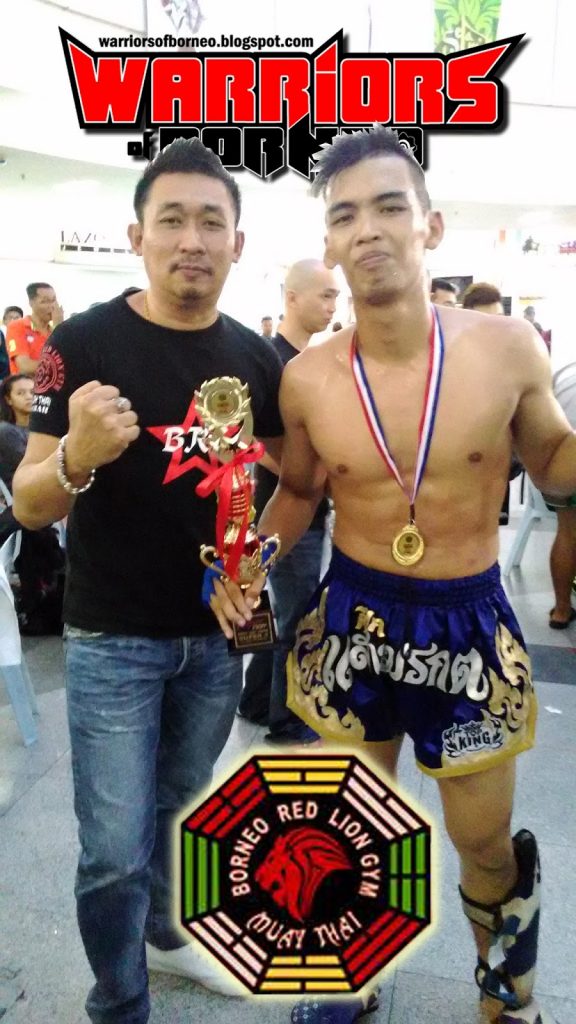 Ben with Borneo Red Lion manager Bee Jay ( L )
————————————————–
Match 24 MMA Super 4 56kg – Teo Seng Ming vs Mohd Hasbullah Sanmin


The final match for MMA again see Hasbullah of Keningau MMA excel in his ground game. Even though at a height disadvantage (Hasbullah height only reaches Teo's neck), but Hasbullah was not intimidated. As they were circling each other in round 1, Hasbullah with orthodox stand facing Teo in southpaw stand… at 10 second, Hasbullah with a short fast left jab immediately unleashed an overhand right. Teo actually sees this coming and already lift his left knee to counter.
But Hasbullah's overhand landed first, on Teo's head and he quickly hooked Teo's knee and followed Teo down to the floor. Immediately got the full mount. Teo tries to use his length to bridge but Hasbullah mounted him higher on his chest, postured up and from there unleashed flurry of punches upon punches that connected clean…even though Teo is gritty enough to absorb all this, but for sake of safety at amateur level, referee Andy stepped in to stop the fight at 40secs for a TKO win to Hasbullah. Claiming himself the Champion of Super 4 56kg MMA champion.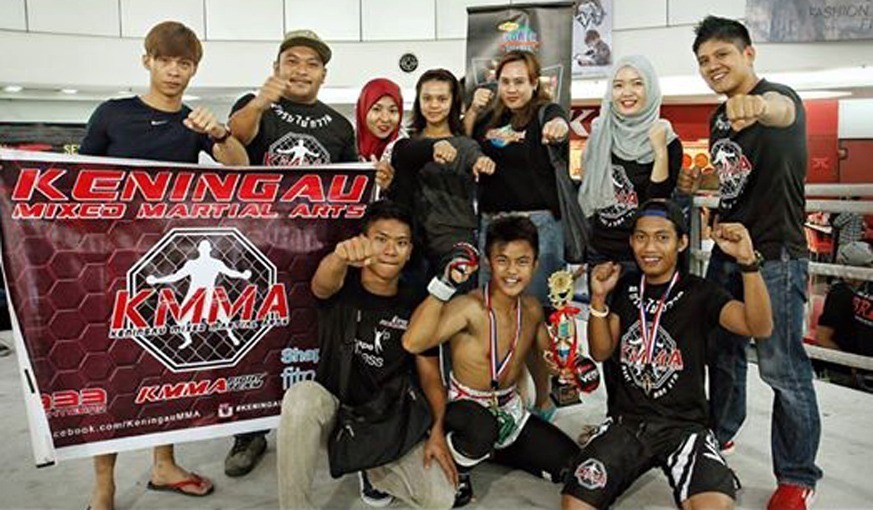 Hasbullah with his Keningau MMA team mates and coach Matt Buvvart ( standing Right )
With this win, it spurs Hasbullah to be more confident in his techniques for the grand final of Jesselton Fight League this 3 & 4OCT 2015 vs Dean Hamsah, a very accomplished Muay Thai stylist.
Hasbullah said his coach Matt has put him on a more structured strength and conditioning training to gain power in his strikes. Ground game is drilled and practice regularly and Hasbullah said he will test his striking with Dean first and if that don't work he is confident he can do well on the ground.
———————————————
Aside from the exciting fights at FF2, there's one thing that I would like to hi-light…the team from Miri Sarawak- D-30 Fight Team.  I'm impressed with them as this team is made up of youngsters whom some are still in secondary school.
Manage by Master Tang, whom is also the head coach. Master Tang has background in Karate and Chinese Kung Fu.  It was due to differing opinion in local martial arts clubs that Master Tang decide to form his own fight team. Most of his students are from Karate base. He sees the potential in these youngsters and would like to guide them to achieve success in martial arts. He trains them in his house in all styles; Karate, Muay Thai, grappling…which naturally when combine the boys will be well verse in MMA. Most of this boys only started training in less than a year
Master Tang felt that it is better for this boys to learn martial art rather than loitering around in shopping malls or in cyber cafe. Master Tang believes through martial arts he can instill good values to them, teaching them courage, being humble, respect, perseverance and sportsmanship. In short…being a honourable person. Sending them to compete is to get them to learn all those values, not emphasizing on winning but on learning how to face their fear and giving their best in a fight.
You can see this in the young boys' fight. Some of them facied accomplished and experience fighters, but they were calm and fearless. They may not have their skills well honed yet but you can see in their eyes their fighting spirit.
Master Tang believes that God guide him to do this and he is using the skills and knowledge God has given him to build a better future for these boys. Naming his fight team D-30, D for King David of the Bible and 30 referring to the 30 great warriors in the old testatment.
It's great to see this development. For the future of this sports I believe we need to develop them from young. Most of the experience and accomplished fighters we see now are already in their late 20s or early 30s. We should be developing fighters from their late teens, and as they progress to peak at their mid 20s and established themselves further in late 20s and early 30s. With good grounding in martial arts value, good and respectable warriors can be produce.