Article By dllsports.com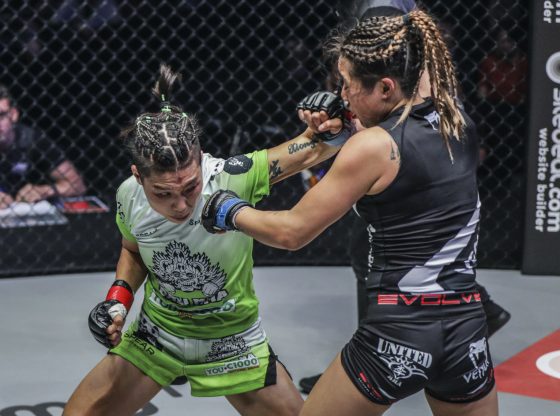 The MMA season returns and it was was an exciting event at the recent ONE Championship that was held at the Ryogoku Kokugikan in Tokyo,Japan. It was a stacked line-up and yielded plenty of amazing results. One of the most interesting fight of the night was the title match for the Atomweight women's division with uprising star Angela Lee taking on defending Strawweight women's champion Xiong Jingnan.
DLL's resident MMA contributor Nick ST breakdowns the fight between 'The Panda' and the 'Unstoppable'.
Round 1
The first round started off clean with Xiong Jingnan and Angela Lee trading strikes. Angela was attempting to close in for clinches and was looking for a window to take 'The Panda' down.
Angela then took quick initiative pinning Jingnan to the cage whilst grappling her way into a takedown while Jingnan scrambles to a North-South position transitioning into a quick half-guard to relieve pressure.
Jingnan then regains control as she moves into a half Butterfly guard position quickly taking away any advantages that Angela had after the takedown.
Analysis: During the first takedown, Angela didn't have the positional strength and did not capitalised well enough to gain a dominant ground position as she gave up the high ground too easily. Jingnan realised this as she methodically took her time to edge her way back to her forte which is striking.
Round 2
The second round starts off as a carbon copy of the first with Angela leaping into a quick clinch with single underhooks but Jingnan being able to repel any takedown attempts this time.
The fight sees many clinches between Angela and Jingnan, as they wrestle for advantage with the Beijing native managing to score a small takedown against Angela.
After these small skirmishes, Jingnan takes the advantage as she keeps pelting Angela with low kicks, quick face shots and body blows which are beginning to accumulate at this point.
Analysis: Jingnan scores more points in this round as she takes the lead with her quick strikes and the one successful takedown attempt. Jing Nan's takedown defence clearly showing its merits here in this round defending multiple attempts while successfully keeping to her game plan.
Round 3
The third round has some big action as Angela scores a quick side drop takedown. Angela applies pressure to Jingnan's guard position as she tries to work her way up top but the Chinese scrambles up quickly denying Angela the time she needs to gain ground.
However Jingnan is quickly brought down again with Angela passing her guard straight into a Kesa Gatame position. Angela managed to get a good hold for a Kimura submission but needed space to finish it which wasn't afforded by Jingnan.
Analysis: Another good show of submission defence by Jing Nan and a wasted chance by Angela as she fails on her positional play and finishing. Angela has been following the opponents' tempo all too well diminishing her advantage on the ground.
Round 4
For Angela, this was the make or break round as she was accumulating quite a bit of damage and she needed to close this out fast.
The round started off quick as Angela aggressively found an opening for a takedown after a quick pin to the cage. She tries to get into the side position, but Jingnan manages to stop the advance with her knee.
Angela then struggles in top half guard as she alternates between trying to get the final pass and pushing off escape attempts by Jingnan. After a few quick tussles, Angela manages to get into a dominant position getting her grips onto a deep armbar attempt.
This was the most dangerous moment for Jingnan, as she was stuck in a Triangle Armbar, defending from two different submissions on her. The round however ends with Jingnan surviving the armbar attempt and Angela fully gassed out.
Analysis: This was the straw that broke the camel's back, as Angela went all in for the submission attempt while Jingnan displayed a high level of endurance here even after a nasty armbar that would have submitted many an opponent. Her perseverance pays off here as Angela was fully gassed out as a result of defending the position for too long.
Round 5
There isn't much to be said about this round as Angela was running on fumes at this point and subsequent strikes from Jingnan blew her defences wide open which led to a quick liver blow that had the referee calling the round short and giving the win to Jingnan.
Analysis: And there you have it, one of the more exciting rounds from ONE Championship: A New Era as Xiong Jingnan defends her title in the Strawweight division.
Article By dllsports.com