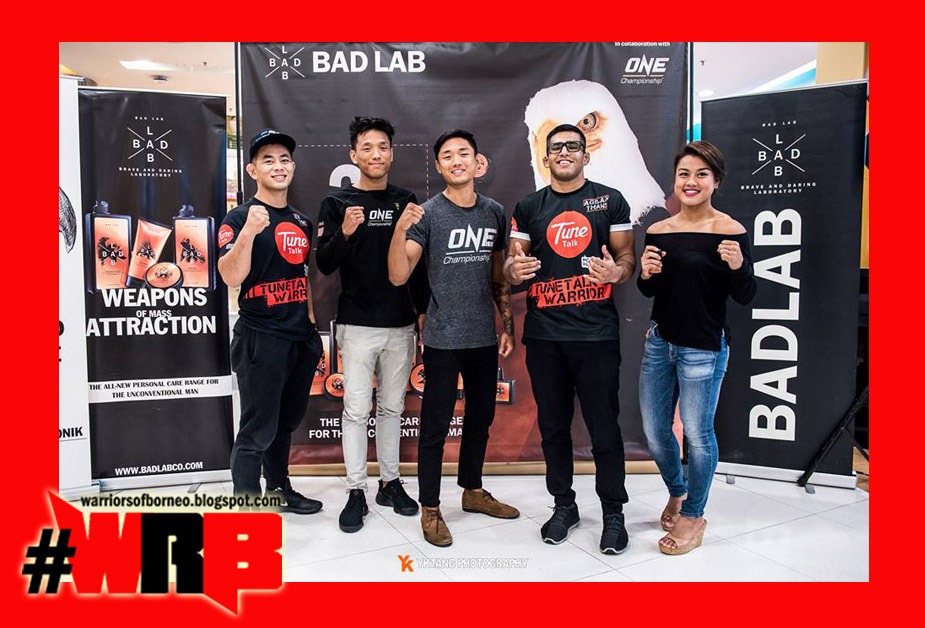 KUALA LUMPUR 18 AUGUST 2017.
ONE CHAMPIONSHIP : QUEST FOR GREATNESS.
ONE returned to the city of Kuala Lumpur in the month of Malaysia's Merdeka month. Five Malaysian 'Tune Talk' Warriors enters the cage for their quest for greatness in which the night ended with mixed results.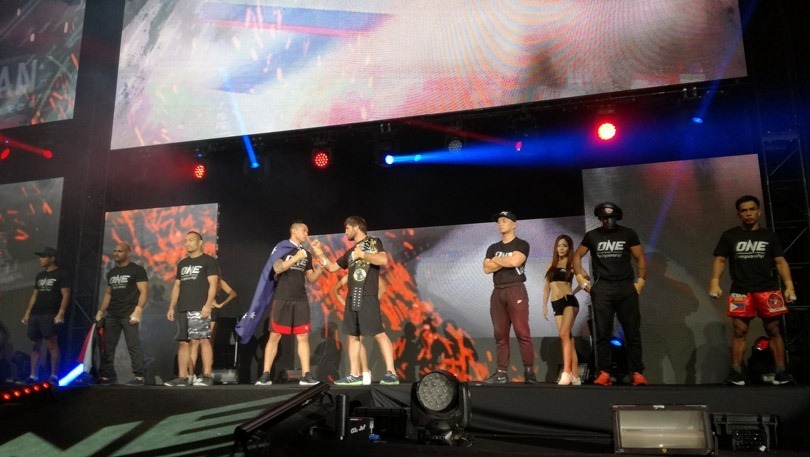 ONE presents the fighters in the main cards in a show of glitzy videos and fireworks
In the main event of ONE: QUEST FOR GREATNESS, Martin "The Situ-Asian" Nguyen of Australia completed his journey through ONE Championship's featherweight ranks by upsetting previously-unbeaten Russian champion Marat "Cobra" Gafurov via knockout within two rounds to clinch the highly-coveted ONE Featherweight World Championship.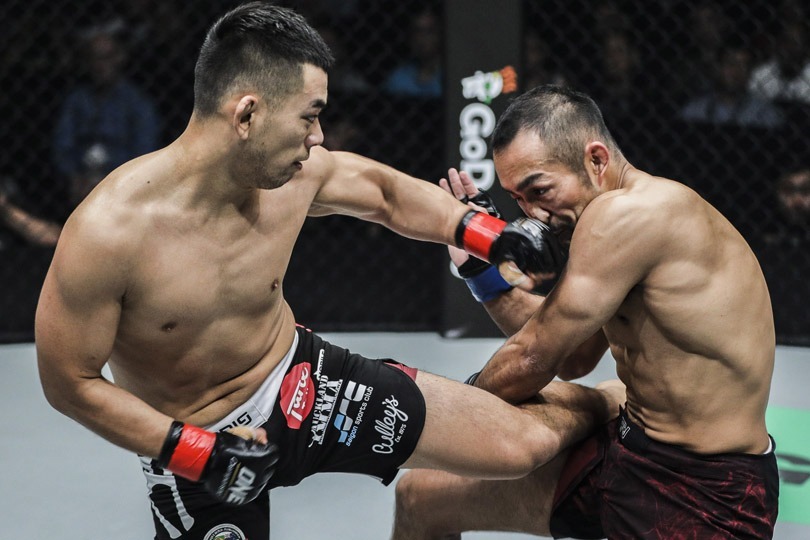 pix provided by ONE
In the co-main event of the evening, former world title challenger
Ev "E.T." Ting
of Malaysia placed his name back in the winner's column by overwhelming Japanese veteran and former ONE Welterweight World Champion
Nobutatsu Suzuki
to win by devastating technical knockout.
From the opening bell, Ting paced himself well, keeping Suzuki at range with his accurate striking before executing the end sequence. After staggering Suzuki with a combination counter, Ting lunged in with a jumping knee, backed Suzuki to the cage. He pressured him there and lifted Suzuki up in the air and slams him on the canvas. Suzuki tried to control Ev's head. Ev peppered him with short punches. Once his head got free, he postured up and rain rapid thunderous left & right which referee Olivier Coste have seen enough & stopped the fight.
Ev is hungry for a rematch with Eduard Folayang . In his victory speech, he call out again to Eduard, that he is ready anywhere, anytime.
Post fight interview, on when he wants the rematch, Ev said,
" I am ready to fight any month of the year. I am a fighter by nature and this is a luxury to fight in front of all of you. We are fighting everyday in the gym, this is just a glorified platform and we are very blessed to be here; Anytime, anytime ( for that rematch )


Ev dedicates this win to his grandmother in Sarawak. A lot of his family & relatives came to KL to support him for this fight and after this he will be visiting his grandma whom is not feeling well in Sarawak.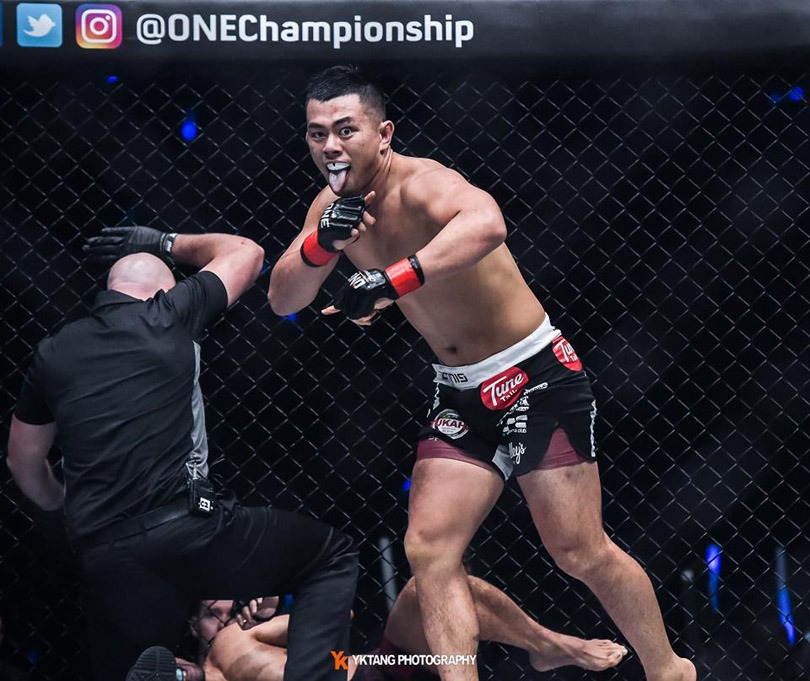 pix by YK TANG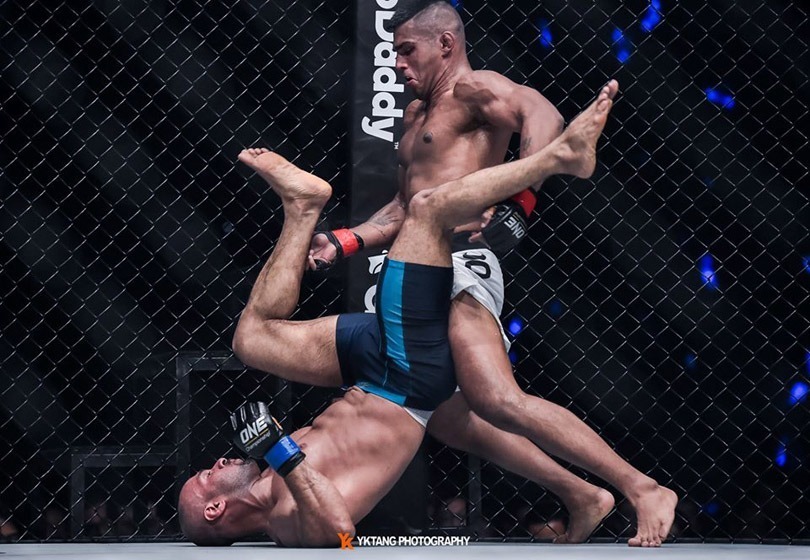 pix by YK TANG
22-year-old Agilan "The Alligator" Thani, gave The "Shark" a good beating to give himself a good reeason to celebrate his birthday on 18 August 2017. His dominant performances placed himself back on the winning track with a unanimous decision victory over Sherif "The Shark" Mohamed of Egypt.
Showing off new skills and techniques that he learned from training with the world-famous Team Quest, Thani swamped Mohamed with his wrestling while stifling his opponent with submission attempts. The former world title challenger finished the three-round welterweight contest on a strong note, delivering crisp ground strikes to the delight of his roaring countrymen.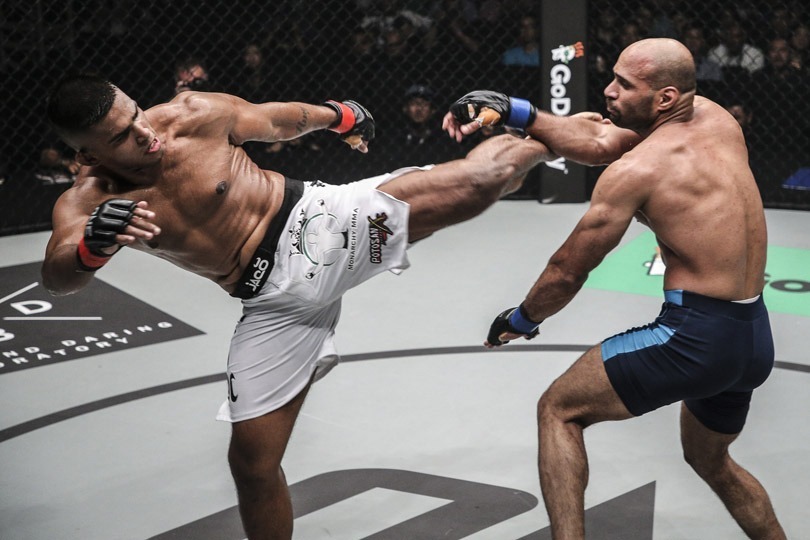 pix provide by ONE
Steve Dawson commented that facing Sherif whom used to fight as a heavyweight & light heavyweight presented a danger for Agilan; that his usual strength and power which he uses to great effect in his pass 6 wins will not be his strong point. But Agilan proofed him wrong when he easily lifted Sherif & slams in on the canvas a couple of times.
Even though it was a dominating performance but Agilan mentioned in post fight interview that he was not too happy as the plan was to win by a finish. His hydration was off the mark and he felt he could have done better. He will not be calling out anyone in particular for his next fight but will focus on sharpening his techniques to become a better fighter and leaving it to ONE's board to pick his opponent.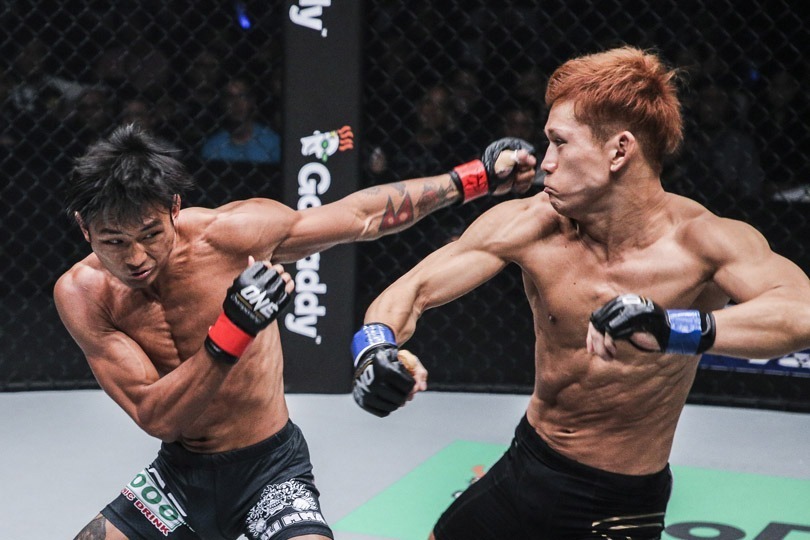 pix provided b y ONE
In a clash of high-caliber flyweights, Malaysia's Gianni Subba captured a hard-earned victory in front of a jubilant hometown crowd by routing Japan's Riku "The Outsider" Shibuya. Subba showcased his pinpoint accurate striking early on, peppering Shibuya with stinging right hands and spinning back-kicks in the first round.
Although Shibuya easily converted his take-down attempts in the succeeding rounds to avoid striking exchanges, Subba kept himself active on the canvas, fishing for submissions while landing the more telling blows. In the end, Subba's efforts were rewarded with a unanimous decision.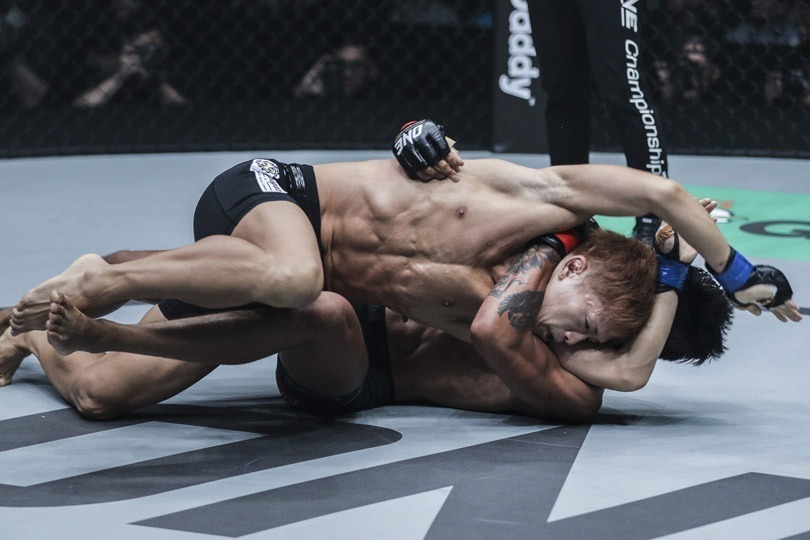 pix provided by ONE
In post fight interview Gianni remark,
" This is my 3rd title contender fight. I just fought 3 guys who fought for the title, so I think I'm a step closer for the title. I really would like to go to Manila in November to get a victory. I'm hungry, I'm ready, I'm gonna go get it."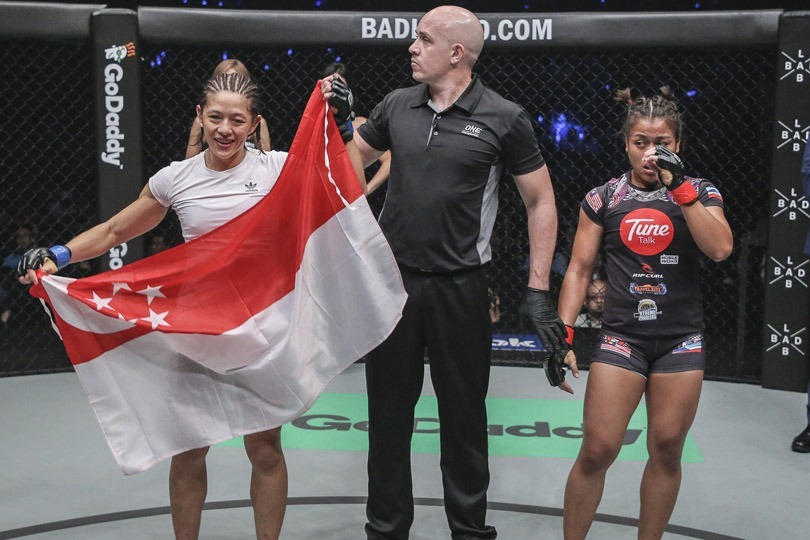 pix provided by ONE
"Mighty" May Ooi of Singapore disappointed the excited bunch of Malaysians supporters in Stadium Negara that night, as she scored a major victory in her ONE Championship debut by submitting Malaysian female martial arts superstar Ann "Athena" Osman in the first round.
In the early minutes, May survived a huge right hand from Osman and Ooi took matters to the canvas, where she maneuvered her cage counterpart with ease courtesy of her impeccable ground game. The 41-year-old Singaporean executed a flawless transition into a rear-naked choke that left Osman no choice but to tap out.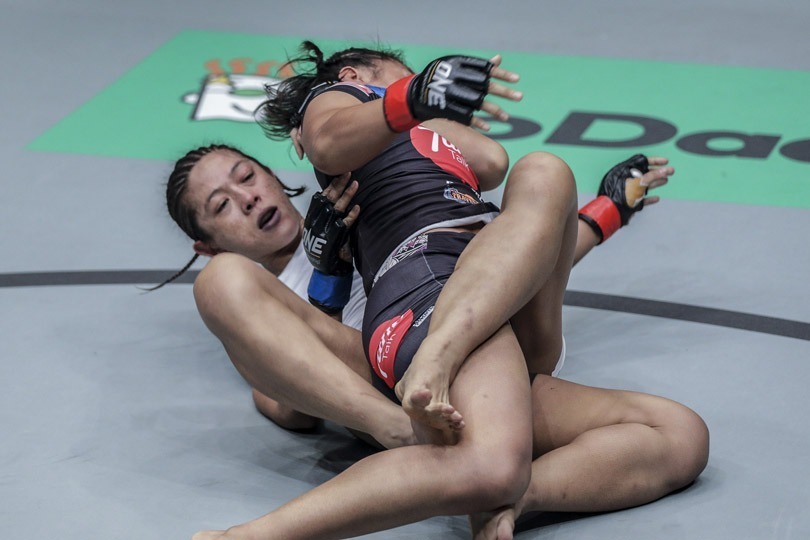 pix provided by ONE
Although sad that she didn't gave the fans a reason to cheer, Ann is taking the loss positively. It's a position she has been in before last year also in Stadium Negara, also losing by a rear naked choke. But Ann bounced back after that loss with a round 1 TKO victory in Feb this year. IT's a small bump in the road for her as she will be going back to the drawing board to correct her weakness and improve on her techniques & promise to be back stronger!
Christian "The Warrior" Lee of Singapore exhibited stellar form, proving himself a top featherweight contender in ONE Championship by scoring an impressive submission over Malaysia's Keanu Subba. Both highly-touted prospects started out aggressively, but it was Lee who showed a more capable set of grappling skills. Lee spun a web of crafty grappling to overwhelm Subba as the 19-year-old Singaporean standout was able to get the submission finish in the third round, making Subba tap from a wrenching armbar.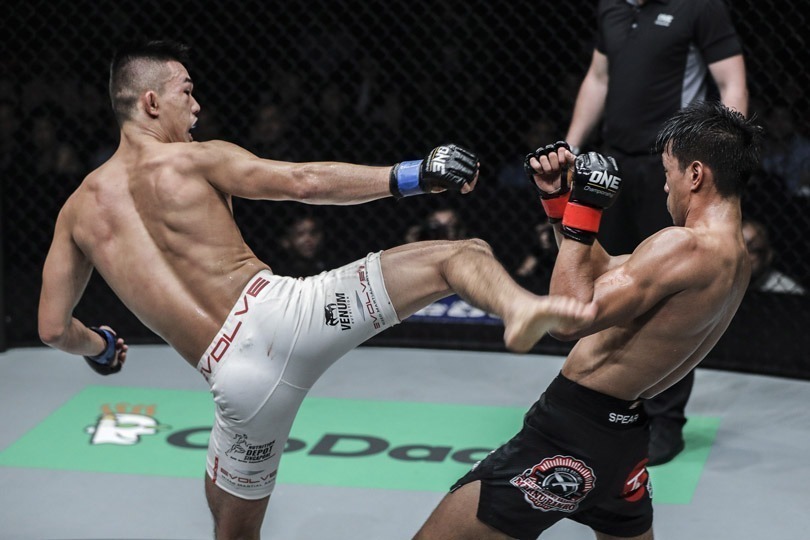 pix provided by ONE
The rest of the results.
Filipino knockout artist Kevin "The Silencer" Belingon completed yet another scintillating finish, his second in a row, by defeating Australian submission specialist Reece "Lightning" McLaren by knockout. Belingon finished the job in just 62 seconds, dropping his Australian opponent with a hard right straight before punctuating with follow-up strikes on the ground to compel referee Olivier Coste to step in and halt the contest. The revered Team Lakay veteran recorded his seventh knockout win as a professional with the impressive triumph over McLaren.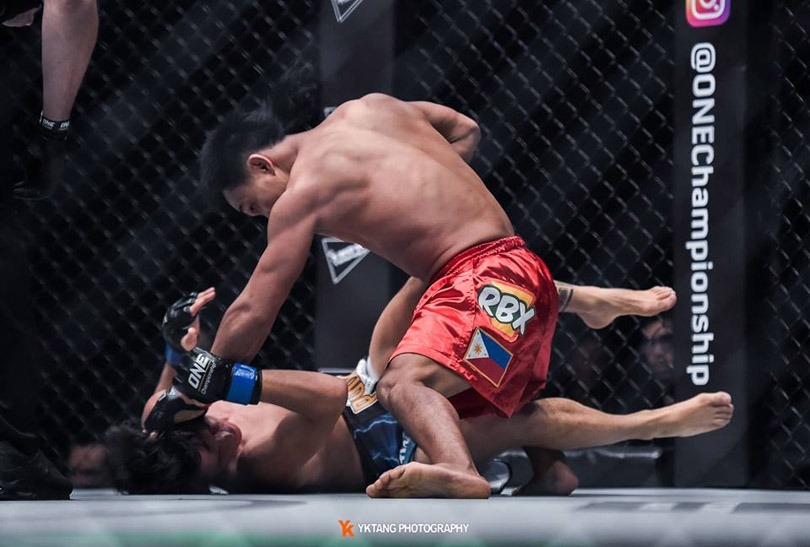 pix by YK TANG
————
Former ONE Strawweight World Champion Dejdamrong Sor Amnuaysirichoke of Thailand brushed off a lackluster start to topple Robin "The Ilonggo" Catalan of the Philippines via second-round technical knockout. Showcasing tremendous power with every strike and drawing cheers from the crowd after each landed blow, Dejdamrong's thunderous knees proved too much for Catalan as the Filipino lost his footing, forcing the referee to wave it off and award the victory to the celebrated Thai kickboxer.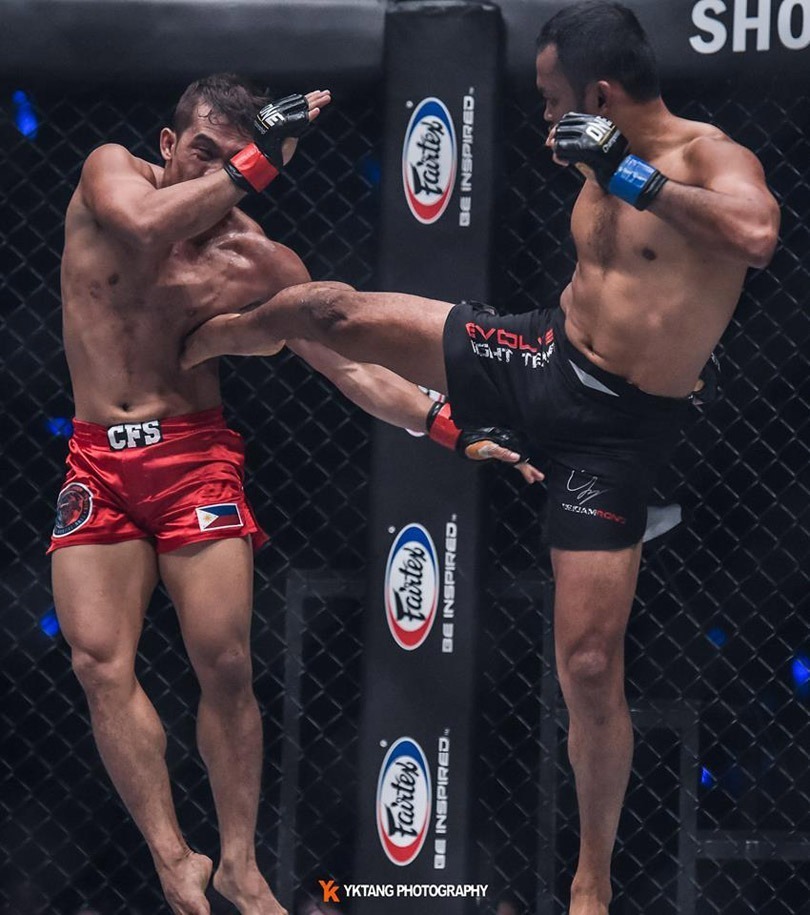 pix by YK TANG
————-
Emilio "The Honey Badger" Urrutia of the United States made a triumphant promotional debut in ONE Championship by edging out Team Lakay stalwart Edward "The Ferocious" Kelly of the Philippines in their three-round featherweight encounter. Urrutia relied on his solid ground game to pacify his Filipino opponent's firepower in the stand-up trade, wearing down Kelly and steering him to a decisive victory by way of unanimous decision.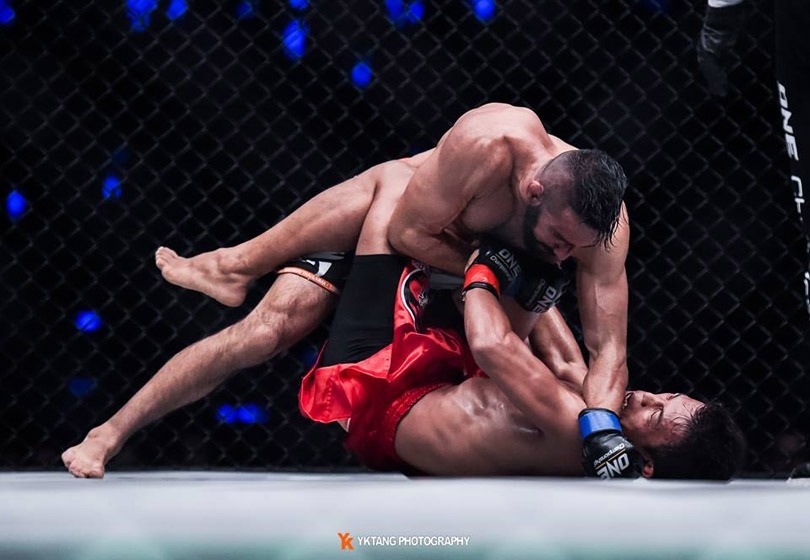 pix by YK TANG
———–
Earlier on, kicking off ONE: QUEST FOR GREATNESS was a strawweight encounter between wushu practitioner Rene Catalan of the Philippines and Chinese grappling prodigy Bu Huo You Ga. After dropping his opponent with a clean left straight in first round, Catalan secured top control and went to work. With a dominant top game, Catalan notched his third straight victory, defeating Bu Huo as all three judges saw the bout in favor of Catalan to win by unanimous decision.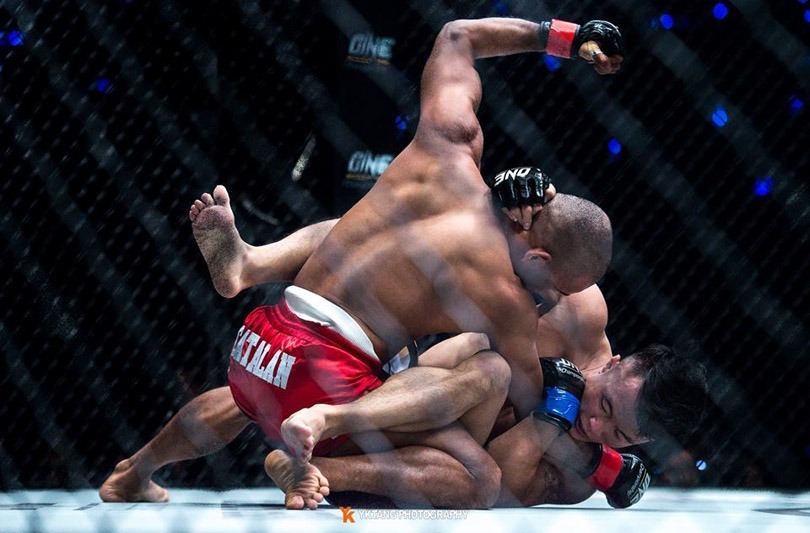 pix by YK TANG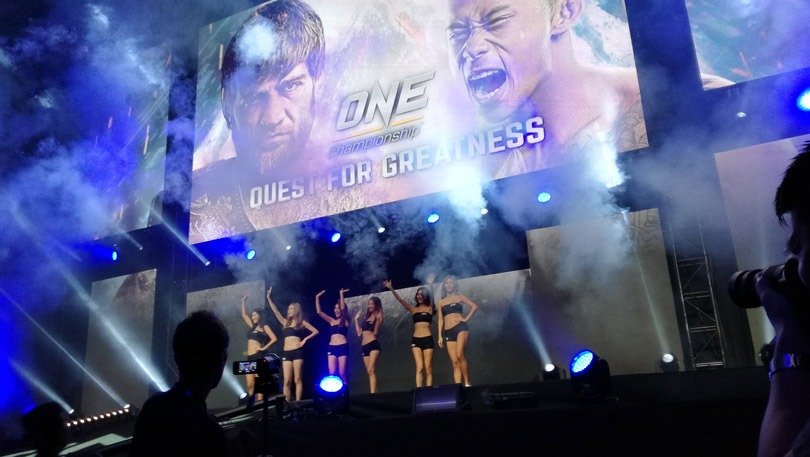 ONE presented a night of  fireworks, gorgeous eye candy and glorious fights in KL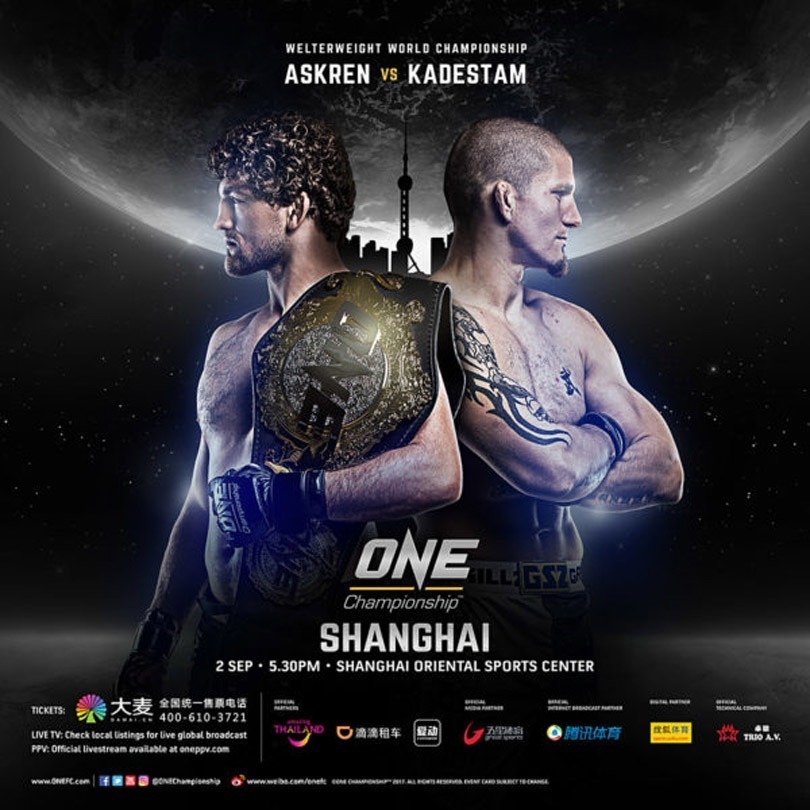 next stop is SHANGHAI!
—————————————-