18 August 2017 – Kuala Lumpur, Malaysia:
It was sweet victory for Martin as his only blemished in his fight record was a lost to the now former champion Marat in 2015; a fight which Martin took on short notice. Losing by the Cobra's signature Rear Naked Choke. Now Martin returned a favour by creating Marat's only loss in his perfect record of 15 wins before that fateful night on 18 August.
Entering this fight, Marat has an aura of invincibility. With a perfect no loss record, unprecedented 6 rear naked choke win in a row, and that 2015 41 seconds 1st round win over Nguyen.
It almost became of a repeat of that 2015 night when Gafuroz dominated the 1st round with numbers of take downs, at one point he got Martin's back & sunk in a rear naked choke. But Martin was calm. Took his time to gain control and reverse.
Nguyen's Quest for Greatness accomplished and that victory also earned him the "GoDaddy Knockout of the Night" award.
Martin Nguyen stated:
On that overhand right that secures him the victory;
Ask on what went through his mind when Marat attempt a rear naked choke on him in the first round,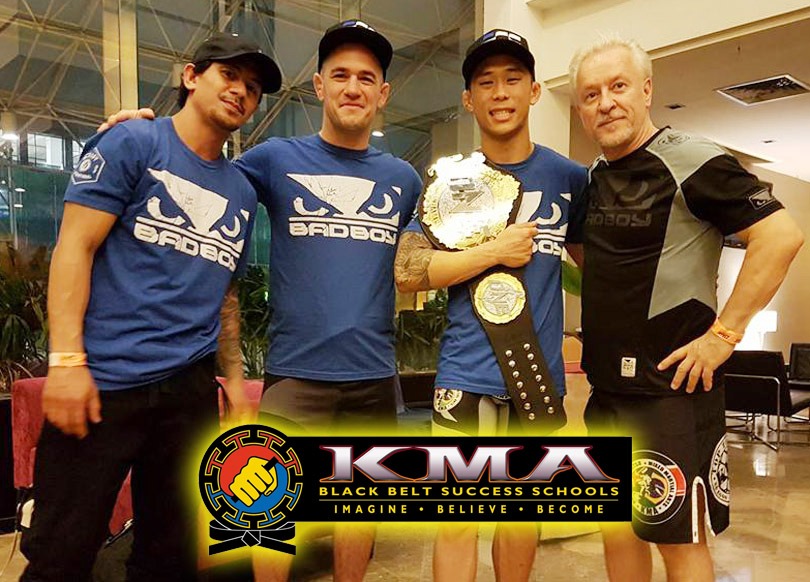 Martin with his KMA Top Team, (left to right) striking coach  Chrysler Esma De Castro, BJJ coach Bernardo Magalhaes,and KMA Head Instructor and mentor Master Fari Salievski.
On what's next.
On the next month or so Martin would just want to spend time with his wife and kids as preparing for this fight has taken up much of his time away from them.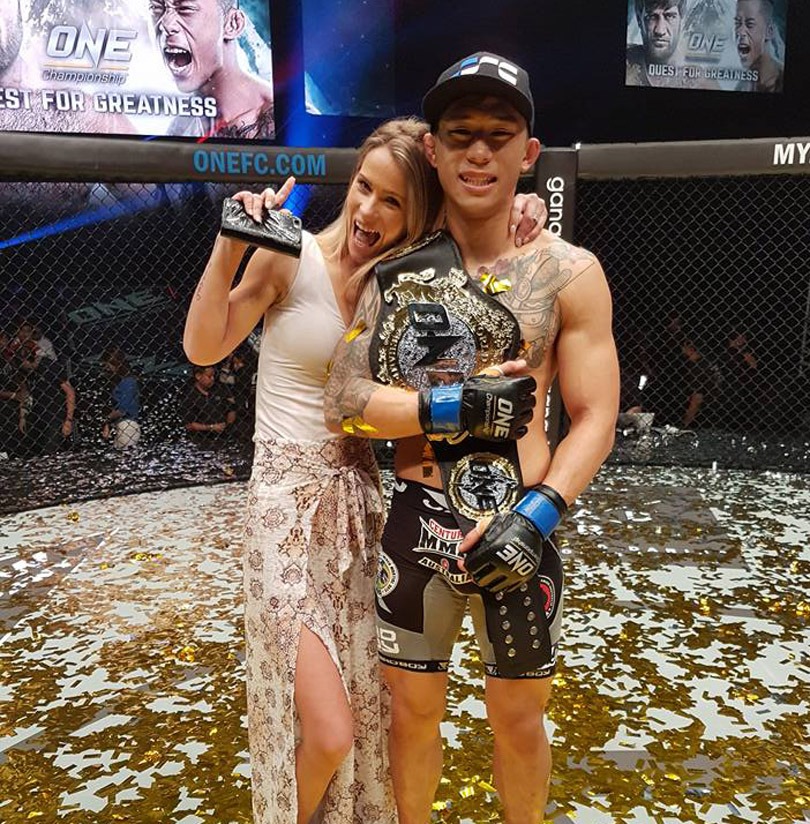 Martin celebrating the sweet moment with his wife Brooke
Full Official results for ONE: QUEST FOR GREATNESS
ONE Featherweight World Championship bout: Martin Nguyen defeats Marat Gafurov by Knockout at 1:27 minutes of round 2
Lightweight bout: Ev Ting defeats Nobutatsu Suzuki by TKO (Strikes) at 3:29 minutes of round 1
Welterweight bout: Agilan Thani defeats Sherif Mohamed by Unanimous Decision (UD) after 3 rounds
Bantamweight bout: Kevin Belingon defeats Reece McLaren by Knockout at 1:02 minutes of round 1
Flyweight bout: Gianni Subba defeats Riku Shibuya by Unanimous Decision (UD) after 3 rounds
Women's strawweight bout: May Ooi defeats Ann Osman by Submission (Rear Naked Choke) at 3:27 minutes of round 1
Strawweight bout: Dejdamrong Sor Amnuaysirichoke defeats Robin Catalan by TKO (Strikes) at 0:46 minutes of round 2
Featherweight bout: Christian Lee defeats Keanu Subba by Submission (Armbar) at 1:11 minutes of round 3
Featherweight bout: Emilio Urrutia defeats Edward Kelly by Unanimous Decision (UD) after 3 rounds
Strawweight bout: Rene Catalan defeats Bu Huo You Ga by Unanimous Decision (UD) after 3 rounds