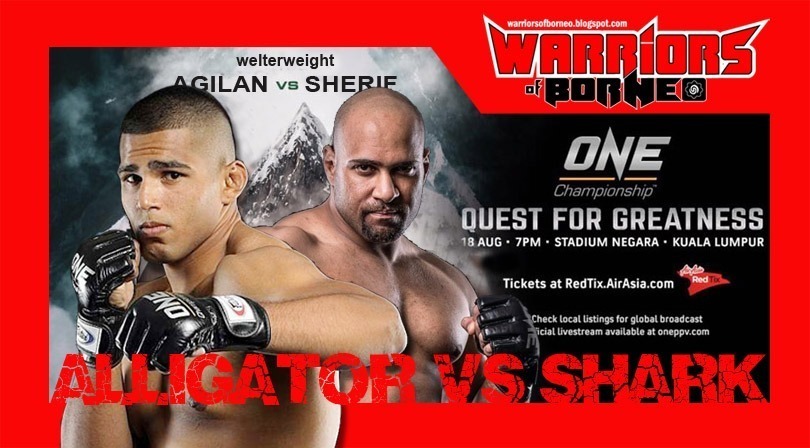 Agilan "Alligator" Thani of Kuala Lumpur, Malaysia, will be making his return to the ONE Championship cage following his first shot at a world title opposite reigning ONE Welterweight World Champion Ben Askren in May this year.
His is of a name now rather well known among casual sports fans. Agilan name first became known when he bulldozed through the welterweight division of amateur tournament MIMMA ( Malaysian Invasion MMA) to became it's 2nd season Champion.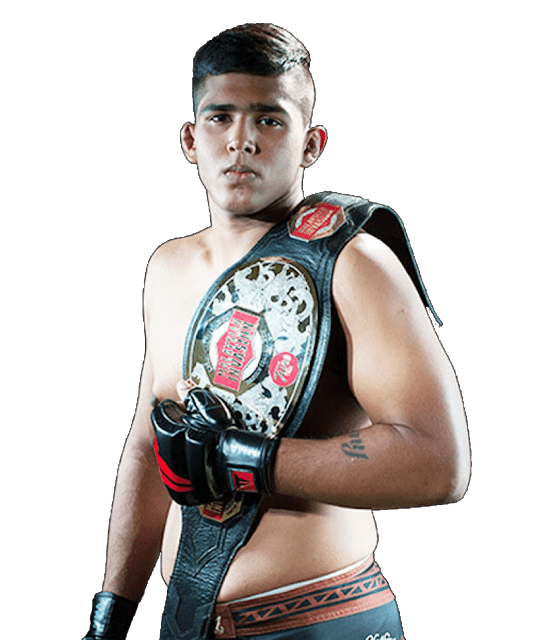 MIMMA 2 Welterweight Champion
As a champion, media attention on him increases as his is a story of young kid overcoming adversity. Growing up in Sentul, an area in KL known to be the Bronx of Malaysia, Agilan had to deal with crime prone enviroment, racism and classism which was rife in his neighborhood. Also constantly bullied and overweight when he was a child, he decided to pick up martial arts to defend himself & loose weight. he never looked back since.
ONE Championship signed him up for his pro debut fight in Mac 2015. Agilan again bulldoze through all his opponent in fights that never went the distance, picking up 6 wins by stoppages. Which sets him up for a title fight against Ben Askren.
The undefeated Askren is a high level wrestler and many consider the best welterweight in the world. Although Agilan had dominated his opposition in the past with relentless takedowns, stellar submissions, and unforgiving ground-and-pound, the tables were turned on him. He experienced his first-ever loss courtesy of the American Olympic wrestler, who took him down and submitted him via arm-triangle in the first round.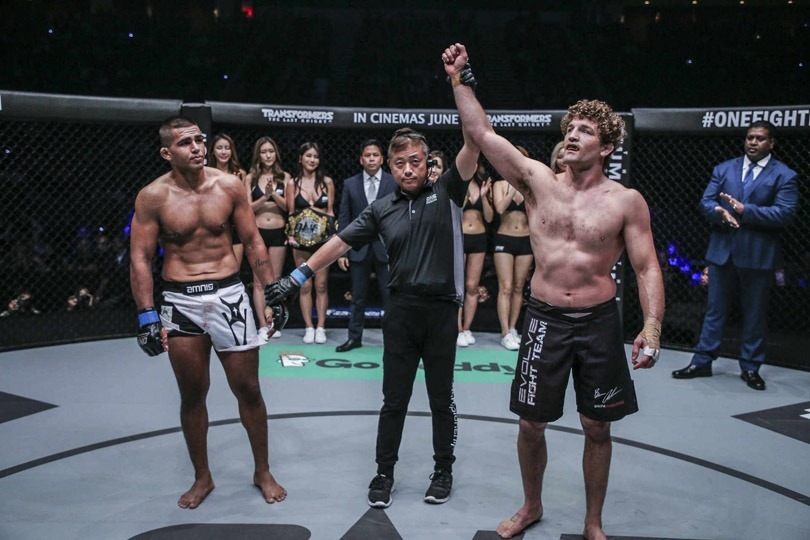 For "Alligator," it was a devastating setback, and a wake up call. Despite appearing to possess unbreakable self-belief, the Malaysian was mentally shaken, and "starstruck" just by the mere glimpse of the legendary Askren. That night, he learned a valuable lesson.
The aftermath of the loss, media attention swarmed on him like never before. Due to some press coverage with press headline that seems to put down Agilan's effort in that title fight, the public and some fans began to reacted angrily. Many questioning the lack of support from the government due to his ethnicity.
Agilan was dissapointed with this situation as he never like begging for assistance and always practice self reliant. He never blamed anyone for that lost but himself.
But this quickly turn around as positive community supports began pouring in. Malaysian Indian Congress gave him recognition and some financial supports. Radio station & the major media began covering him on a better light as a high caliber athlete.
Although Agilan fell short of victory against Askren, he gained a great amount of experience as a result and has emerged as a more seasoned combatant.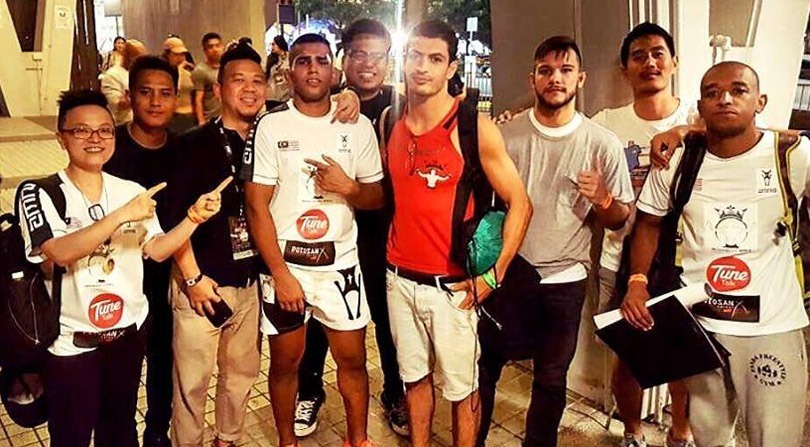 Agilan with coach Samir and his Monarchy MMA team
Usually Agilan will spend his fight camp in the gym he grew up in, Monarchy MMA, under the guidance of Samir Mrabet. For his tonight's fight vs Sherif Mohamed of Egypt, Askren is taking his training up a notch. He travel to US, to learn from some of the best in the business
"I went to the US in mid June and came back end of July. I trained at Team Quest at Temecula, California. (Team Quest is founded by three American MMA legend, Randy Couture, Matt Lindland, and Dan Henderson)

I met Dan Henderson and he gave me some tips in training. I also helped UFC's Sam Alvey prepared for his fight vs former UFC's light heavyweight champion Rashad Evans. I was one of Sam's main sparring partners.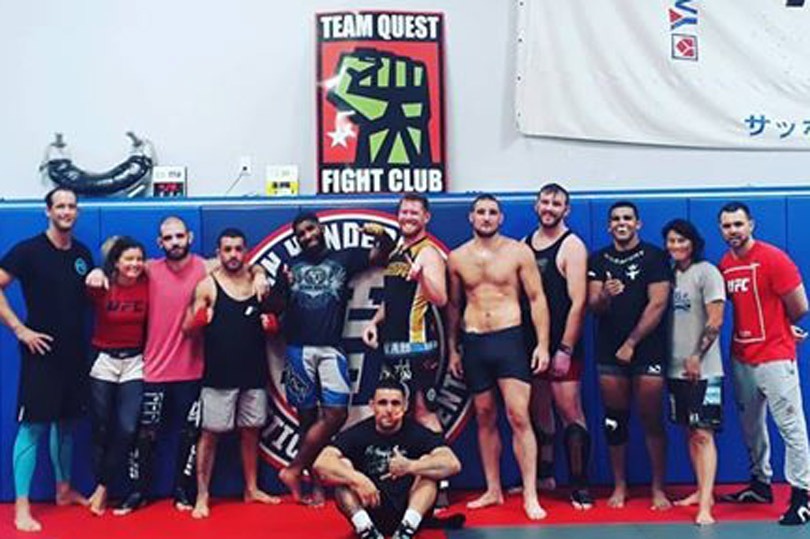 I learn a lot during my stay here. I also met Sean Strickland, Chris Curtis and a lot more guys in Team Quest with a bigger record than me with more fight. The best part is getting to meet all these different people with more experience and vast fight knowledge & trying to pick up and learn from them as much as possible.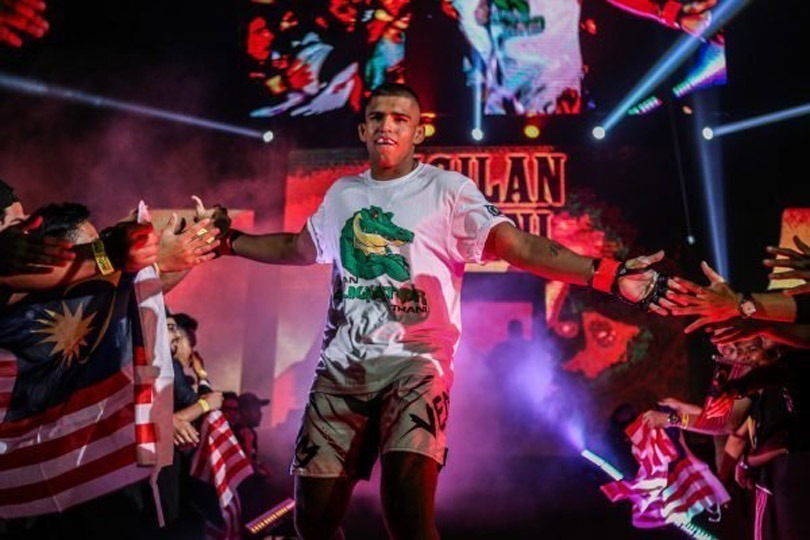 You were very motivated going into the fight vs Askren & you mentioned in pre fight that the pressure was on him & you were not intimidated by his reputation, but post fight you mentioned that you felt you lost the fight because you let him got into your head….why is that? Can u tell readers what happened?
"Well let me get things straight, I said I let the hype of the fight got into my head not Askren himself. Simply put it,  how many times in life do you get to fight for a world title against one of the best fighter not only in Asia but the whole world? 
Ben is rank no. 1 outside of the main promotion not only in Asia but the whole world. Going against him is certainly not an easy task.
It's just that moment when you see someone as big name and skilled as Askren u just get star struck.  And all the media hype plus all the nay sayer and haters, I just haven't got used to it . 
But ultimately the support from all the people from Malaysia has been a really big motivation going into that fight."
There's was lot of media attention after your fight & recognition comes in from various bodies. In fact I felt there was more coverage and attention to you after the fight. How did you deal with all the spot light? How does it makes you feel?
"I was surprised too. I have fought 7 times in my pro career before Askren and I have not got any of these. It was hard to accept at first because all these came from a loss.
But I have learned that blessings are supposed to be accepted the way it is and I am truly grateful to all the support and sponsors who got me back on track."
What's the biggest thing you learn from that Askren fight?
That everything around comes and goes and to fight someone good you have to truly believe in yourself before anyone else does.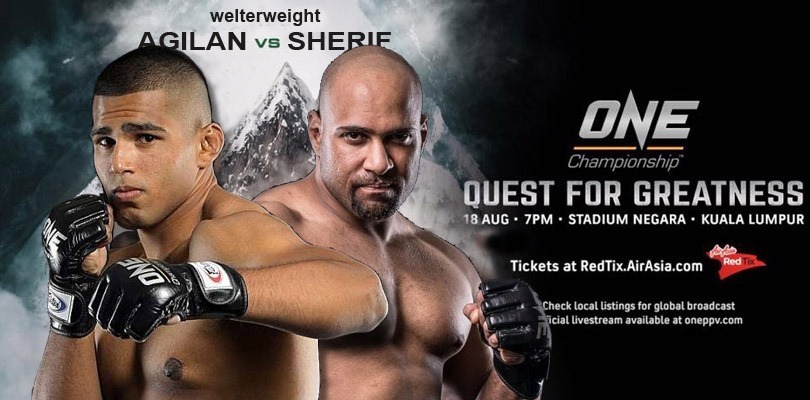 Agilan's tonights opponent is Eygptian Sherif "The Shark" Mohamed. Plying his trade in his early MMA career in EFC, in which he won the EFC Ligh Heavyweight title. He is a big guy.
Sherif is a well-versed kickboxer and wrestler with all eight of his wins coming by finish. Of his total victories, Sherif owns four submissions and four knockouts, proving his versatility and well-rounded game.
Fight Analyst and commentor Steve Dawson puts the disadvantage at Agilan for this fight. Commenting that Agilan's strong points has always been his strength and power. But going against Sherif whom has fought as a heavyweight before, Agilan will need to rely more on his techniques rather than strength.
Agilan don't mind being the underdog and he would love to proof Steve wrong. Spiritually he gain strengths from a Buddhist mantra that he chants each time before entering the cage.
Mentally for tonight's fight, motivation is certainly not lacking as not only is he fighting in Malaysia's independence month, but he is fighting on his 22nd birthday!
He wants to put on a good show and let Malaysian fans and himself have a great celebration afterward.
His girlfriend Amy usually prepares healthy meals for him during his fight camp, but with tonight's win fried chicken and pop corn will certainly be on the menu as these are food he crave during fight camp.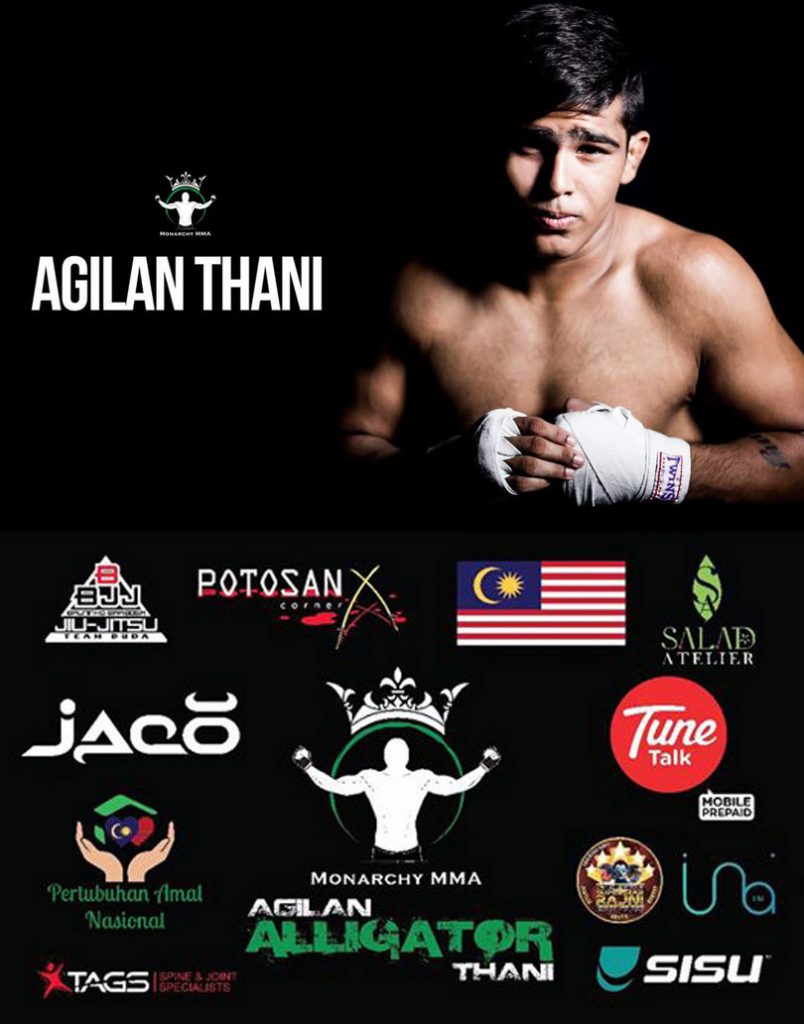 Agilan extending his thanks to all his sponsors & supporters for his fights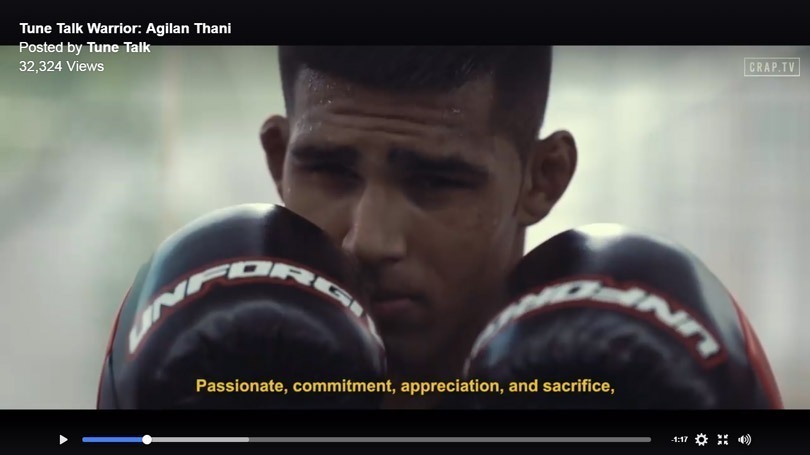 Click to watch Tune Talk video on Agilan's love
Warriors of Borneo wishes a very HAPPY BIRTHDAY to Agilan and may he be victorious in the cage tonight!